10 best hotels in Georgetown
Our top picks
Lowest price first
Nearest to
Best reviewed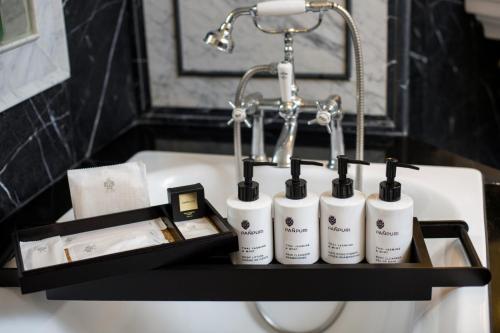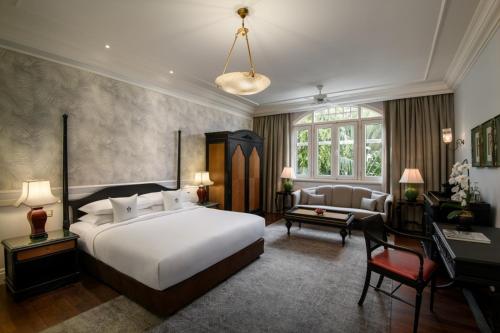 See all
Eastern And Oriental Hotel
Georgetown,Georgetown - View on map
"The best luxury hotel in Georgetown - stay here for the beautiful sea view and luxuriously-fitted rooms. Also not forgetting the storied past of this historical hotel. They even provided a complimentary courtesy car to bring us to a restaurant nearby as we were celebrating a special occasion. This was not communicated well to the driver, though, for he went into the restaurant to ask for payment, making for a little bit of embarrassment. Breakfast buffet standard needs to be improved also. The char kway teow was a disappointment."
Show more
Avg price per night
$ 281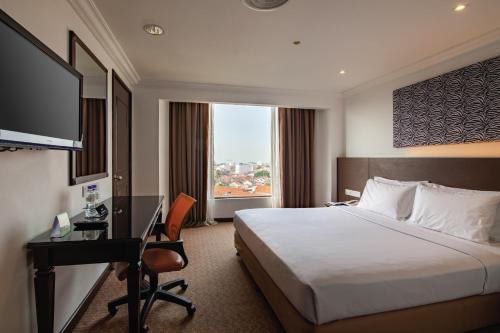 See all
Bayview Hotel Georgetown
Georgetown,Georgetown - View on map
"The bayview hotel in Georgetown is located right in the heart of Georgetown. Near to commercial hub, food courts, shopping malls, entertainment centers, historic and cultural landmarks of Penang. we booked superior room with breakfast. the breakfast served was great and suits our taste bud. the hotel staffs was friendly and services provided was good. we love this hotel very much that we will come back here again the next trip and will recommend it to our friends and family. we had a great trip here in penang. thanks to bayview hotel."
Show more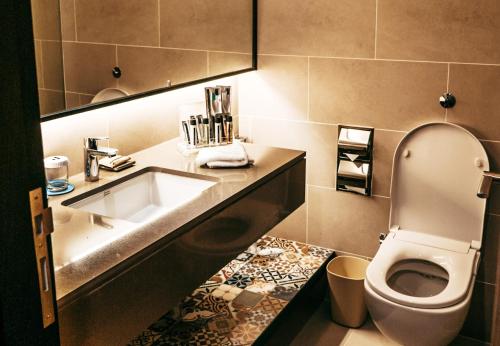 See all
Jen Penang Georgetown by Shangri-La
Georgetown,Georgetown - View on map
"we stayed 5 nights with the traders hotel in georgetown with our two kids (7 and 2) everything was perfect from the exit of the cab. the welcome was warm, the checkin smooth, the rooms very clean even-though it may need some refresh (eg the carpet start to be a bit old). we had a baby coat and the kind size bed was big enough for the parents and the oldest child. the breakfast was very good with an amazing choice. we had a room with the "traders club", providing drinks and snacks during the day and a aperitive-dinner between 6 to 8pm. it was very good as well and very enjoyable to have the possibility to have a quick diner at the hotel with the kids after a long day visiting. the location is great as well, close to 3 shopping malls, lots of bus regular lines and reasonable walking distance from the town center. the hotel provides a free shuttle to the beach and the shangri-la facilities, which is well appreciated by the kids. would we come back to georgetown, we would go back the the traders hotel ! "
Show more
See all
Berjaya Penang Hotel
Georgetown,Georgetown - View on map
"I stayed at Berjaya Georgetown hotel and here are my feedbacks: (1) Hotel is opposite the Adventist Hospital so it is very convenient for foreigners, especially Indonesia from Sumatra, seeking treatments at the hospital or relatives visiting the patient there. This is the only reason I see why this hotel can still 'survive' until now. (2) Check-in was smooth and fast. The front-desk was friendly. The lift was working just fine. (3) Although I booked a single room for 1 person, I was very surprise by how small the room was. (4) The room's carpet was not very clean and smell strange. (5) The air-condition keeps making this awful noise that it won't stop, and I was not able to control the temperature in the room as the controller was not working. (6) I was given a high floor as requested, with partial view of the beach front. But on the other side, it was blocked by this condominium next door whereby you can see every actions that is going on on the other side if you don't draw up the curtains, and vice verse. Really lack of privacy. (6) Another horrible noise was the constant slamming of doors in the morning or night when the gusts goes out or comes back. Not recommended for any businessman that needs a good night sleep. (7) The breakfast was the SAME every day. The coffee or tea was only available (from the kitchen) upon request. Overall my stay was rather depressing. Everything is OLD and not lively at all. One would expect Berjaya Group which has the famous Times Square at KL to have some kind of basic standards and reputation to maintain.""
Show more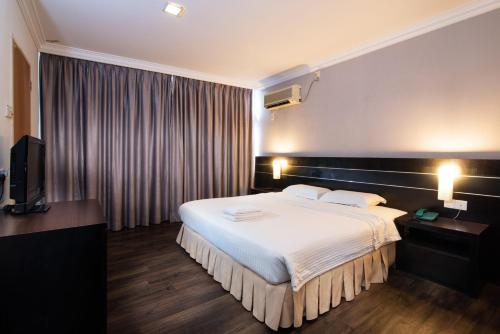 See all
Hotel Waterfall Penang
Georgetown,Georgetown - View on map
"I wanted a 3 star hotel, based on the pictures. In reality the hotel (while it has a nice sleek and modern lobby) was quite dingy. The windowless rooms were very gloomy and our shower did not work properly (only a trickle of cold water and too much scalding hot water). While the room was shabby it was at least clean. The bed was (thank god) very comfortable and in good condition and the AC worked well. But overall it was more of a 2 star hotel with nice beds. We checked in as a group with 3 rooms but only 1 of us got a receipt. When we checked out 2 of us almost did not receive our deposits back because we could not produce a receipt (which we never received in the first place). Eventually they gave us our deposits but it was not the friendliest manner. The distance from the main landmarks is the worst aspect. I should have checked the map but in agoda this hotel is listed as in Georgetown but it's a good half hour outside of the main Georgetown sights and with traffic it's even further. I thought that the rates were good value for money being in Georgetown but now I feel like it's too far outside the city to have such high rates. Beds were comfortable but I would not stay here again if I visit penang. It would be better to book a hotel closer to Little India or Penang Road."
Show more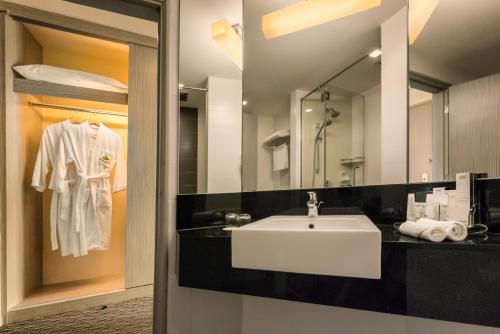 See all
Sunway Hotel Georgetown
Georgetown,Georgetown - View on map
"we resides in mainland of penang and travel quite frequent to penang island. during the recent cny 2013 holiday, we attended a function in penang island that ended quite late in the night so we decided to stay overnight in penang island. after searching through agoda website looking for most attactive and reasonable offer, most convenient location, we selected sunway hotel georgetown. although the hotel is currently under renovation, we feel nothing discomfort, room's clean, service of staff is excellent, nice and comfortable... plenty of local hawker food and shopping centre around the hotel of which all within walking distance..great choice of hotel in georgetown! "
Show more
See all
Tropics Eight Suites
Georgetown,Georgetown - View on map
"Spacious, clean, modern decor. Wi-Fi, kitchen, LCD TV, underground parking. The only catch, poor sound insulation. First night I arrived the next room is having birthday party. I can hear the talking and shouting. Thankfully they stop it by 12 midnight. The windows are not as soundproof as those found in 4-5 stars hotel. Being situated along the mainroad, there are a lot of vehicles, especially motorcycles even into the midnight. My room is situated at the corner facing behind, yet the noise from the road is audible. I did prepare ear plugs but that didn't save me from the dogs barking at 2am for half an hour. Apparently the resident (house) behind kept a dog outside the garden at night. Thankfully it didn't bark the second night. If you are someone who is sensitive to noise, best stay in a hotel instead. The only reason I stay here because I am attending an event nearby."
Show more
See all
Cititel Hotel Penang
Georgetown,Georgetown - View on map
"We have tried several hotels in Georgetown before and this is the best! The location is perfect.. we can just walk to some famous food restaurants and convenient stores. The staff are super friendly especially to our 2 year-old daughter. The hotel did not have much activities for kids but we didnt care because we were there to explore georgetown not the hotel. Room is comfortable and clean."
Show more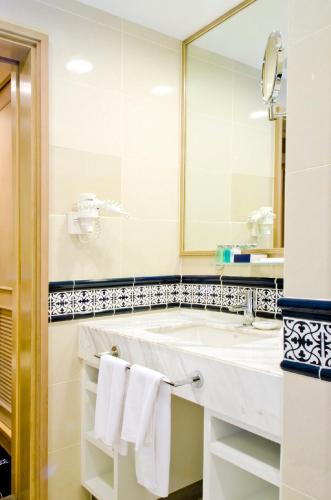 See all
Royale Chulan Penang
Georgetown,Georgetown - View on map
"This was a memory lane trip for me and first for my wife. Selected the Royale Chilean Hotel as best place to stay in Georgetown. I don't regret my choice, staff are the best, they are friendly, helpfully and efficient. The room was big enough for us, with large bed and we'll set out bathroom. Chose Breakfast on booking for each day and was not disappointed with the food available, this covered varieties for and culture or religion. I fully recommend this hotel to any traveller to Penang."
Show more
Avg price per night
$ 160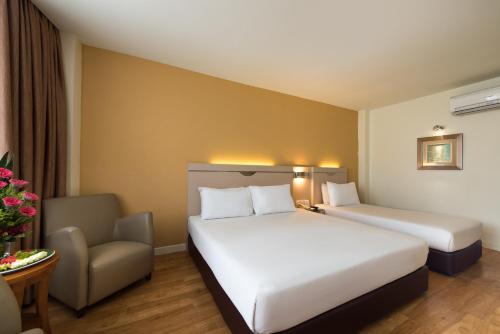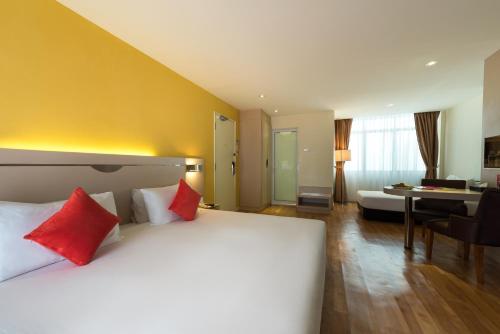 See all
Hotel Sentral Georgetown @ City Centre
Georgetown,Georgetown - View on map
"Really appreciate this nice ckean hotel, room is perfect. clean ,good bed, lcd, nice fllor. abd very good service of staff, very prifessional staff. walk 7 mins to komtar, opposite hitel has many delicious food to select, cheap and yummy. just 3 mins walk to busyop. easy travel and tourbaround penang. i ll come back penang again and absolutely srntral georgetown hotel is first choice I ll stay.. I d give 4 starsbto this hotel.. .. "
Show more
5-star hotels in Georgetown
---
Georgetown is a lovely place that reminds me of what Singapore used to look like when I was a child, when Fullerton Hotel was still a functioning general post office. And E&O, built by the Sarkies Brothers, reminds me of a Raffles Hotel without any pretentiousness. I think I appreciated E&O very much because of the way I travelled to Penang - by rickety train ride fr...
---
It's hard not to come to Georgetown and scurry around to all the tourist spots or make a beeline for all the exquisite food the city has to offer. Being regular visitors to Georgetown, we had our favourite haunts in mind for our stay. However upon checking in to 23 Lovelane, we had to scuttle our plans because we were taken in by the beauty and exotic charm of 23 Lovel...
---
Room was big and clean with a creative and cosy concept. Room was 100/100 for me. Really loved the free breakfast there as well, food was great. Service was good with polite staffs and was even able to request for a late check out. Mentioned that we will be celebrating our anniversary there and they decorated our room with rose petals. Although location is abit further...
---
this bungalow is suitable for large group of people or family gathering. We ,18 of us enjoy the our stay very much. is a cosy and comfortable place. the owner maintained the house very well. and very clean. we'll come back again if large group travelling together.
---
The property is clean and spacious for a group of 8. There are quite a number of stairs (4 floors in total, bedrooms are on 3rd & 4th), hence it's probably not suitable for old folks or those who have difficulty with stairs. Otherwise, the location is near AutoMall (which is pretty decent) and is 10 to 15 minutes away from the main attractions in Georgetown. It's pre...
---
Nice place to stay for 2 nights, the toilets are clean, the room is spacious and clean, the bed is comfortable. The only problem is, why the water is always off? It's difficult when we were going to toilet and shower. Please maintain the water
---
the room is so clean and fit for us that come in 7 person and 1 infant Eventho the location is 15min from town but nearest to penang hill :)
---
Very well maintain, clean and comfortable stay at this apartment. The room is facing seaview and unblocked view.
---
sorry for my bad english , the location is great , its walking distance to adventist hospital , so if you plan come to this hospital , this is the best property for you . im travelling with my mom , near 60 years old , the accomodation located in third floor , you can access by elevator from the back , it has kitchen and stuff ( completed ) , have shared bathroom bu...
---
Find the Perfect Type of Accommodation
---
More about Georgetown
Georgetown spreads over part of Penang's east coast. It's the administrative seat of the island, and hotels in Georgetown are the likeliest place for tourists to stay while visiting Penang. Its colonial Esplanade and Chinese and Indian neighborhoods are fascinating places to explore.

Penang is distinct from greater Malaysia. Its international atmosphere is more pronounced, and there are many more Chinese than ethnic Malays living here. It ranks with Malacca when it comes to historical character, and it's proximity to Thailand means it's a popular side trip from both Bangkok and Kuala Lumpur.

Travelers can hire a trishaw and explore the tip of the Georgetown peninsula. Chinatown and Little India are next-door to each other, with sites including Kuan Yin Teng, Penang Chinese Town Hall and St George's Church all in the same vicinity. Further out, but still in the same area, is Khoo Kongsi clan house, with its intricate Chinese carvings. Other grand structures in the area are Cheong Fatt Tze Mansion and Pinang Peranakan Mansion.

The cultural dynamic of Penang is unique. In addition to its Chinese- and Indian-style temples and colonial churches, it also has a Thai-Buddhist temple, Wat Chaiya Mangkalaram. For an overview of local history and culture, head to the Penang Museum, near Georgetown's founding point at Fort Cornwallis.

The city has countless hotels, and they cater mainly to international tourists intrigued by the city's recent inscription as a UNESCO World Heritage Site. Accommodation in Georgetown includes cozy inns in heritage buildings and lavish five-star giants. The biggest hotels are in reach of KOMTAR, Prangin Mall, Penang Time Square and other shopping centers. An even greater selection is on Jalan Sultan Ahmad Shah, near New World Park theme park.

Penang is well connected to the rest of Southeast Asia. Ferries from Langkawi, Medan and Butterworth land at the ferry terminals off of Pengkalan Weld. Tanjung City Marina, Penang Yacht Club and Chew's Jetty are also here welcoming yachters on holiday. It's possible to take an overnight train from here to both Singapore and Bangkok, making it a popular destination for visa trips.