11 best hotels in Gion
Our top picks
Lowest price first
Nearest to
Best reviewed
Discover the neighborhoods of Gion
---
5-star hotels in Gion
---
I really loved this ryokan. The room was a good size. The service was excellent and done with care by lovely smiling women. The breakfasts were excellent and served in a beautiful room overlooking a pretty little garden. My special memory is the shojin ryori vegetarian breakfasts. I think dinner would be great too, but we walked every evening around the nearby Gion dis...
---
Perched beside a temple in the Gion district, this Ryokan is hidden behind a rocky wall with only a mysterious small door that leads a stony climb. A great Ryokan in Gion, with a very good traditional breakfast offering. The views in the some of the rooms can be a little lacklustre but the Ryokan and it's atrium garden is wonderful.
Michelle
, Brunei Darussalam
---
This hotel is small without many facilities and therefore seems pretty expensive for what you get. The room was lovely though, really spacious and the staff were courteous and welcoming. The location is perfect, right in the heart of Gion and very close to the station for travelling to other sights. Exactly what we needed for our stay.
---
It was our first time staying at a Ryokan, and it happened to be the best one so far! Before we arrived at Ryokan Genhouin I was already anticipating the the famous Ryokan Hospitality, and we were not disappointed. The staff were incredibly friendly and even guided us around the place showing us the facilities that are available. The facilities and rooms were clean an...
---
I can only say this villa is perfect. The design has a good balance of modern and traditional style. The whole villa is clean and new. The pool is the best thing I love. The staff are all very considerate. I would consider their other villa next time when I stay in Kyoto.
Kwan
, Hong Kong SAR, China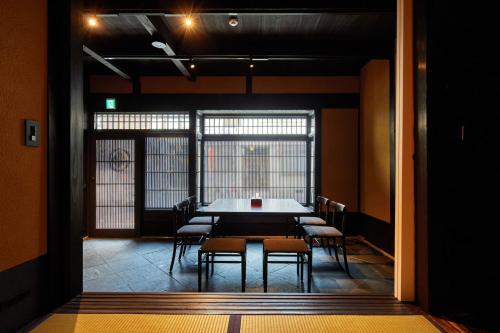 ---
How can I describe this place. It was a mix of historical Japanese style house but with modern amenities! It was so classy well preserved and how the owner took such time to comb over each and every detail of the house. We felt so fortunate to stay here and when we come back. We will only ever stay here.
---
More about Gion
Gion is Kyoto's treasured traditional district, and it has more to offer tourists than any other part of Kyoto. The district's streets were first laid out in the Middle Ages, and the area has been carefully maintained to preserve its historic character. A recent restoration project has strengthened the district's old-world charm.

Many hotels in Gion are housed in restored buildings on the southern end of Hamai-koji Street. Guests in this area can stroll through historic neighborhoods dating to the 1700s, when Gion was the premier pleasure district in Kyoto. This area has as humble, traditional look by day, but it lights up after hours.

Authentic geishas still operate in Gion, though not nearly to the extent that they did even a hundred years ago. These 'women of the arts' are practiced in traditional forms of music and art, and they entertain in the teahouses of Gion. Many of these establishments are ultra-exclusive and only open to the well-connected; however, visitors will certainly see authentic geisha out and about in southern Gion.

To the north are Furumonzen-dori and Shinmonzeh-dori, a pair of streets that are lined with curios and boutiques selling souvenirs, traditional handicrafts and antiques. Art galleries and a few teahouses are also found here, making this an ideal place to go for a walk for anyone staying with accommodation in Gion.