11 best hotels near Bad Monkey
Our top picks
Lowest price first
Nearest to
Best reviewed
Featured Hotels
---
The hotel was clean and offered decent breakfast and the price was reasonable. However, I was told it was bay front but I couldn't see the bay at all from my room because there are other hotels blocking the view. Also there wasn't enough tables to accommodate all the residents for breakfast.
---
We loved our stay here. The atrium view and the birds were awesome. Staff was very friendly hotel was very clean. Just needs some updating. Overall we really enjoyed our stay and will be back.
---
Took a family trip around the Fourth of July. We had a great time. Booking with Agoda was great, we had no problems. Once we got to the hotel, check in was fast and easy. We had an Oceanfront room which had two queen beds and a sleeper sofa, a refrigerator, microwave, sink and they even has silverware and plates in the cabnets. The room was beautiful and we loved ...
---
Friendly and helpful staff...clean and useful facility. No boardwalk
---
It is an old city, every hotel is old in this area. Don't expect the modern decoration or fantasy things. My room was clean n comfortable. I like the view where allows me to see the sunrise n beach. But, I don't like the pillow though. The staffs were extremely helpful n friendly. I will come back to this hotel definitely. =)
Shuk
, Hong Kong SAR, China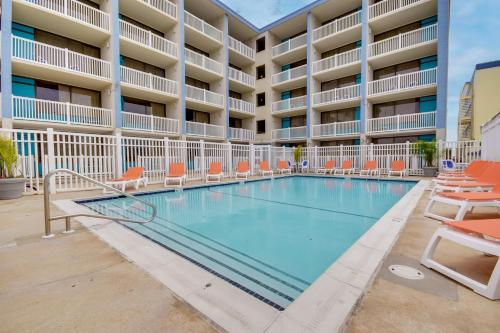 ---
Only complaint was select few cable channels
---
The bed was very comfy. View of the bay beautiful. Room smells odd at first, open windows & it airs out. Tile in the room is squeaky w/ shoes/bare feet. Very kind staff, right in front of Fagers Island (amazing party place). Our tub jets were broken, didnt complain b/c having so much fun but im sure staff would have been helpful. Kitchenette was nice came w/ pots, pans...
---
Check in desk woman very nice & helpful
---
More about Bad Monkey
Discover the Fun Facts about Bad Monkey, a Restaurant in Ocean City, United States
Bad Monkey is a popular restaurant located in Ocean City, Maryland, known for its delicious food and lively atmosphere. The restaurant is situated on the boardwalk, making it an ideal spot for tourists and locals alike. One fun fact about Bad Monkey is that it was named after the owner's pet monkey, who used to hang out at the restaurant and entertain guests. Today, the restaurant continues to be a favorite among visitors to the area, offering a unique dining experience with a fun and relaxed vibe.
Top Reasons to Visit Bad Monkey in Ocean City, MD
There are plenty of reasons to visit Bad Monkey in Ocean City, MD. For starters, the restaurant is known for its mouth-watering food, including its famous crab cakes, fresh seafood, and juicy burgers. The menu also features a variety of appetizers, salads, and sandwiches, as well as vegetarian and gluten-free options. In addition to the food, Bad Monkey is also a great place to grab a drink and socialize with friends. The restaurant has a full bar with an extensive selection of beers, wines, and cocktails, and hosts live music and events throughout the year.
How to Get to Bad Monkey: Your Ultimate Guide
Getting to Bad Monkey is easy, whether you're driving or taking public transportation. The restaurant is located on the boardwalk in Ocean City, MD, at 58th Street and Coastal Highway. If you're driving, there is plenty of street parking available near the restaurant, as well as several public parking lots in the area. If you're taking public transportation, you can take the Ocean City Beach Bus, which stops right in front of the restaurant. The bus runs every 10-15 minutes during the summer months and is a convenient and affordable way to get around town.
Fun Things to Do Near Bad Monkey in Ocean City, MD
There are plenty of fun things to do near Bad Monkey in Ocean City, MD. If you're looking to soak up some sun, you can head to the beach, which is just steps away from the restaurant. The boardwalk is also a popular spot for strolling, people-watching, and enjoying the ocean views. If you're looking for something more active, you can rent a bike or take a paddleboard or kayak tour. There are also several amusement parks, mini-golf courses, and water parks in the area, as well as museums, art galleries, and theaters.
Why Book Your Hotel Near Bad Monkey with Agoda.com?
If you're planning a trip to Ocean City, MD, and want to be close to all the action, booking a hotel near Bad Monkey with Agoda.com is a smart choice. Agoda.com offers a wide selection of hotels in the area, ranging from budget-friendly options to luxury resorts. By booking with Agoda.com, you can take advantage of exclusive deals and discounts, as well as access to customer reviews and ratings to help you find the perfect hotel for your needs. Plus, with Agoda.com's easy-to-use booking platform, you can quickly and securely reserve your room and start planning your trip today.
The Best Season to Visit Bad Monkey in Ocean City, MD
The best season to visit Bad Monkey in Ocean City, MD, is during the summer months, from June to August. This is when the weather is warm and sunny, and the boardwalk is bustling with activity. During this time, Bad Monkey hosts live music and events, making it a fun and lively spot to hang out with friends and family. However, if you prefer a quieter and more laid-back atmosphere, you may want to visit during the shoulder seasons, from April to May or September to October. During these times, the crowds are thinner, and the weather is still pleasant, making it a great time to enjoy the beach and explore the area.
Tips for Travelers Planning to Visit Bad Monkey in Ocean City, MD
If you're planning to visit Bad Monkey in Ocean City, MD, there are a few tips you should keep in mind. First, be prepared for crowds, especially during the summer months. The restaurant can get busy, so it's a good idea to make a reservation in advance. Second, dress comfortably, as the restaurant has a casual dress code. Third, bring cash or a credit card, as the restaurant does not accept checks. Finally, be sure to try the crab cakes, which are a local specialty and one of the restaurant's most popular dishes.
Where to Stay Near Bad Monkey: A Guide to the Best Hotels
If you're looking for a place to stay near Bad Monkey in Ocean City, MD, there are plenty of options to choose from. Some of the best hotels in the area include Harrison Hall Hotel, Bonita Beach Hotel, Castle in the Sand, Plim Plaza Hotel, and Casablanca Oceanside Inn. These hotels offer comfortable accommodations, convenient amenities, and easy access to the beach and boardwalk. Plus, by booking with Agoda.com, you can save money and find the perfect hotel for your needs.
What to Eat Near Bad Monkey: A Foodie's Guide to Ocean City, MD
In addition to Bad Monkey, there are plenty of other great restaurants and eateries to try in Ocean City, MD. Some local favorites include Fish Tales Bar & Grill, The Shark on the Harbor, Liquid Assets, and The Hobbit Restaurant. These restaurants offer a variety of cuisines, from seafood and sushi to Italian and American fare. No matter what you're in the mood for, you're sure to find something delicious to eat near Bad Monkey.