11 best hotels near Changi General Hospital
Our top picks
Lowest price first
Nearest to
Best reviewed
Featured Hotels
---
If you want a very clean, modern and luxurious hotel in the most convenient location to Changi airport, you can't go past the Crowne Plaza. We always stay here when travelling through Singapore as it's the perfect one night hotel to break up a long trip and is really comfortable, quiet and just all round perfect. Room has good amount of room, lovely bathroom (and bath ...
---
From the moment we arrived (late with two children and rather jet lagged) - we were treated with such wonderful customer service - higher than that of 5 star properties we have stayed in!! Our check out time was 12pm ... At 1pm we were called in the room - oops we were all still asleep! Check out was extended until 2pm and then On checking outand further discussion reg...
---
The hotel looks like it is renovated from a Pre-War army barrack left by the British Forces. Very rustic feel. Hotel room is spacious and clean. However, there is this creepy feeling maybe it use to be a hospital or something (Hopefully not a morgue for the old abandon Changi Army Hospital which is nearby). There is just this feel of some sort of negative energy - mayb...
---
I booked Superior room. Arrived at the hotel, the Superior are full booked. The hotel upgraded my room to Suite. Friendly staff, nice and clean room. Near from mall, Singapore Expo and food center. I would recommend this hotel to everyone that has activity around Changi or Singapore Expo.
---
If you have a really long layover in Singapore and you can't stay in the hotels before immigration because you would like to explore the city for a day (without joining the tour group that Changi offers), then the Haven is definitely for you. The nap room is cosy and the shower rooms and toilets, although 'shared', are actually still private rooms for each individual. ...
---
The hotel provided a very comfortable and relaxing overnight stay for our family who were anxious to break our flight from Kho Samui to Australia. The staff were most helpful in referring one of our number to the Changi General Hospital when he required medical assistance.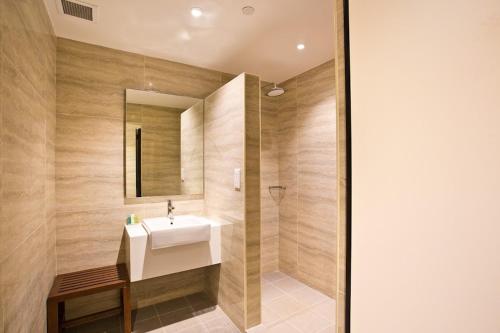 ---
I had an extended/overnight layover at Changi airport, before my flight to Athens. I was looking for a place where I could nap and shower, without leaving the airport. Ambassador Transit Lounge fit the bill. The nap suite was small, but comfortable. Ambassador offers a small gym, unisex toilets and showers, a spacious & comfortable lounge area, as well as food & drinks...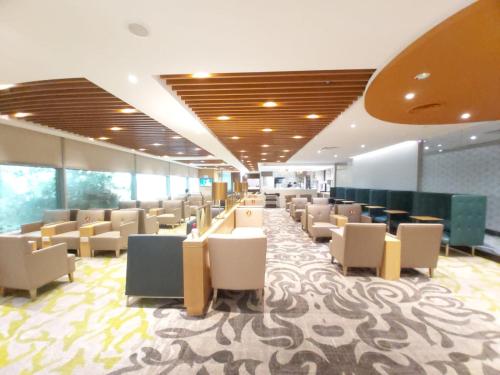 ---
nice place, close to the airport, clean
---
Have stayed at this location on several occasions...plus have tried the other transit hotels at Changi as well. There are so many pluses for the venue: > Comfy beds and bedding > Kettle (I travel with hot water bottle) > Tea, coffee & water in room > Swimming Pool - outdoor!!! > Spacious lounge > Lighting is soft > Clean EVERYWHERE! > In-room amenities - toothbrush,...
---
More about Changi General Hospital
Discover the Fun Facts about Changi General Hospital in Singapore
Changi General Hospital is a public hospital located in the eastern part of Singapore. It was officially opened in 1998 and is one of the largest and most advanced hospitals in the country. The hospital is known for its state-of-the-art medical facilities and highly skilled medical professionals. It is also the largest healthcare provider in eastern Singapore, serving a population of over one million people. Did you know that Changi General Hospital is named after the Changi area in Singapore, which was formerly a British military camp during World War II? The hospital is located close to the site of the former Changi Prison, which was used by the Japanese to imprison and torture Allied prisoners of war during the war.
Reasons Why Changi General Hospital Should Be on Your Singapore Itinerary
While Changi General Hospital may not be the first place that comes to mind when planning a trip to Singapore, it is worth a visit for several reasons. The hospital offers a unique opportunity to see the healthcare system in Singapore, which is known for its efficiency and high-quality care. Visitors can take a guided tour of the hospital and learn about the various medical specialties and services offered. Changi General Hospital is also located in a beautiful part of Singapore, surrounded by lush greenery and parks. Visitors can take a stroll through the nearby Changi Village, which offers a glimpse into Singapore's rich cultural heritage. The village is home to a number of traditional shophouses, as well as the Changi Museum, which tells the story of Singapore's wartime history.
How to Reach Changi General Hospital: Getting There Made Easy
Changi General Hospital is located in the eastern part of Singapore, approximately 20 kilometers from the city center. The hospital is easily accessible by public transportation, including buses and the Mass Rapid Transit (MRT) system. If you are traveling by MRT, take the East-West Line to the Simei MRT station. From there, you can take bus 5 or 9 to the hospital. Alternatively, you can take bus 2 or 29 from the Tampines Interchange. If you are driving, the hospital is located off the Pan Island Expressway (PIE) and the Tampines Expressway (TPE).
Fun Things to Do Near Changi General Hospital: Explore Singapore's Hidden Gems
While Changi General Hospital may not be a typical tourist destination, there are plenty of fun things to see and do in the surrounding area. One of the highlights is the Changi Point Coastal Walk, which offers stunning views of the sea and nearby islands. The walkway is lined with lush greenery and is a popular spot for joggers and walkers. Another must-visit attraction is the Changi Beach Park, which is located just a short distance from the hospital. The park offers a wide range of recreational activities, including swimming, cycling, and picnicking. Visitors can also take a stroll along the boardwalk and enjoy the beautiful views of the sea.
Book Your Hotel Near Changi General Hospital with Agoda.com
If you are planning a trip to Changi General Hospital, it is important to find a hotel that is conveniently located and offers all the amenities you need. Agoda.com offers a wide range of hotels in the area, from budget-friendly options to luxury accommodations. One of the top-rated hotels near Changi General Hospital is the V Hotel Lavender (SG Clean Certified), which offers comfortable rooms and easy access to public transportation. Another popular choice is the Marina Bay Sands, which is located in the heart of Singapore's central business district and offers stunning views of the city skyline.
The Best Time to Visit Changi General Hospital: A Guide to Singapore's Weather
Singapore is a tropical country, which means that it is hot and humid year-round. The best time to visit Changi General Hospital is during the cooler months of December to February, when temperatures are slightly lower and the humidity is less intense. If you are planning to visit Singapore during the peak tourist season of June to August, be prepared for large crowds and higher hotel prices. The rainy season in Singapore runs from November to January, so be sure to bring an umbrella or rain jacket if you are visiting during this time.
Tips for Travelers Visiting Changi General Hospital: What You Need to Know
If you are planning to visit Changi General Hospital, there are a few things you should keep in mind. First, be sure to dress appropriately for the hot and humid weather. Lightweight, breathable clothing is recommended, as well as comfortable walking shoes. Second, be respectful of the hospital's rules and regulations. Visitors should not enter patient rooms without permission and should avoid taking photos or videos inside the hospital. Finally, be sure to bring any necessary medications or medical equipment with you, as these may not be readily available at the hospital.
Where to Stay Near Changi General Hospital: Top Hotels and Accommodations
If you are looking for a place to stay near Changi General Hospital, there are plenty of options to choose from. One of the top-rated hotels in the area is the Hilton Singapore Orchard (SG Clean), which offers luxurious accommodations and easy access to shopping and dining. Another popular choice is the Carlton Hotel Singapore - SG Clean Certified, which is located in the heart of the city and offers modern amenities and stylish rooms. For budget-friendly options, consider the Hotel Boss (SG Clean Certified), which offers comfortable rooms at an affordable price.
What to Eat Near Changi General Hospital: A Foodie's Guide to Singaporean Cuisine
Singapore is known for its diverse and delicious cuisine, and there are plenty of options to choose from near Changi General Hospital. One of the must-try dishes is the famous Singaporean chili crab, which can be found at many seafood restaurants in the area. Other popular dishes include Hainanese chicken rice, laksa, and satay. For a unique dining experience, head to the nearby Changi Village Hawker Centre, which offers a wide range of local street food at affordable prices.
How to Travel Around Changi General Hospital
Getting around Changi General Hospital and the surrounding area is easy and convenient thanks to Singapore's efficient public transportation system. The hospital is located near several bus stops and MRT stations, which offer easy access to other parts of the city. If you prefer to travel by taxi, there are plenty of taxis available in the area, and most are equipped with air conditioning for your comfort. Alternatively, you can rent a bicycle or scooter to explore the nearby parks and attractions.