11 best hotels near Metropolis
Our top picks
Lowest price first
Nearest to
Best reviewed
Featured Hotels
---
At first i was a little bit hesitant to book a room at the MBS, since there were quite a few bad review. But, i went ahead with it, since i thought that i will want to see what was all the fuss about MBS, sooner or later. So i booked the premier ciity view room, for two nights. And it was definetely an experience to remember. Upon check in, the lady said that since we...
---
Would i recommend marina mandarin.? Ohhhh YES i would and would gladly stay here again for another round of staycation!!! While checking in, we were greeted with a wonderful surprise--> a free upgrade to meritus club!!! All in all--> Location checked! Amazing breakfast checked! Convenience checked! And AN AMAZING night view!!! This hotel is NOT only convenient...
---
If you get a Agoda super special on this Hotel just book it, ok doesn't have the best views in town as it's so low down compared to everything else, but the Hotel is based on old colonial Post office converted to Hotel. The Hotel itself is stunning, inside and outside, staff very helpful rooms maybe a little small but we had a upgrade to executive which gave us a huge...
---
I am a local and booked this hotel to watch the National Day Fireworks. Though the staff said that I would have to pay an additional amount to upgrade for the view, they gave me a complimentary upgrade to a room which faced it. I had a fabulous view of the entire Marina Bay Area! Bed was fabulous, really comfortable. Bathroom was fabulous too, good water pressure and r...
---
I booked the room for a staycation. 2 days before check-in, I paid for an upgrade (offered as a choice to HHonors member) so I got to stay in a corner suite with executive lounge access. Great before check-in service. The stay itself is pleasant. Check-in and check-out is not the most fast but not considered slow. Staffs attended my several requests (ice buck...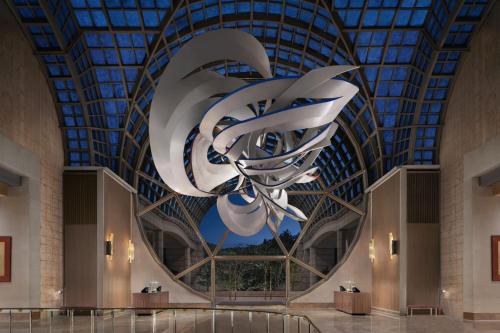 ---
Our sty at the Ritz was memorable and fitting for the occasion. I brought my girl on my business trip because she turns 7 on my departure day. Thus, decided to book a good hotel to celebrate her 7th. Likewise, my best friend with me on my trip was also celebrating her birthday a week after. Thus It was a double celebration. I informed the hotel and they happily upgrade...
---
Even entering the lobby is relaxing. What the hell do they use for air freshener?? Probably real flowers. Or angels' sweat and tears. Fullerton bay makes it really hard for me to enjoy any other hotels anywhere in the world. The staff? Very friendly, very helpful, very attentive but NOT in a creepy, stalker-y way. The breakfast? I would eat there all day, everyday. Fo...
---
one of the best hotels i have ever stayed at.Could not find any flaws right from the moment we arrived at this hotel and till the time we left we were just swept off our feet by the service we received. Hotel itself is excellent in my opinion should be rated 6 star the bars, swimming pool, restaurants, tennis court childrens playroom and playground and overall just too...
---
More about Metropolis
Discover the Best Season to Visit Metropolis
Metropolis is a popular restaurant in Singapore that is worth visiting any time of the year. However, the best season to visit Metropolis is during the months of December to February. During this time, the weather is cool and dry, making it perfect for outdoor activities. This season is also perfect for those who want to avoid the humidity of Singapore's tropical climate. If you're planning to visit Metropolis during this time, make sure to book your hotel in advance as it is peak tourist season.
Uncover Fun Facts about Metropolis in Singapore
Metropolis is a unique restaurant in Singapore that offers a futuristic dining experience. The restaurant is located in a modern building that is inspired by Japanese architecture. The building is equipped with state-of-the-art technology, including a robotic chef that prepares your food. The restaurant is also known for its impressive wine collection, which includes rare and vintage wines from around the world. The restaurant's interior is designed to resemble a spaceship, giving diners the feeling of being in a sci-fi movie.
Top Reasons to Visit Metropolis on Your Next Trip
Metropolis is a must-visit destination in Singapore for several reasons. Firstly, the restaurant offers a unique dining experience that you won't find anywhere else in the world. Secondly, the restaurant is located in the heart of Singapore's business district, making it easily accessible. Lastly, the restaurant's futuristic design and technology make it a popular destination for travelers who are interested in science and technology.
How to Travel Around Metropolis with Ease
Getting around Metropolis is easy thanks to Singapore's efficient public transportation system. The nearest MRT station to Metropolis is Buona Vista MRT station, which is just a few minutes' walk away. If you prefer to take a taxi, there are plenty of taxis available in the area. Alternatively, you can rent a bike and explore the area on your own. The restaurant is also located near several popular tourist attractions, so you can easily combine your visit to Metropolis with other activities.
Where to Stay Near Metropolis: The Ultimate Guide
If you're planning to visit Metropolis, there are several hotels near the restaurant that offer comfortable and convenient accommodation. One of the most popular hotels near Metropolis is V Hotel Lavender (SG Clean Certified). This hotel is just a few minutes' drive from the restaurant and offers modern amenities such as a fitness center and rooftop pool. Another great option is Marina Bay Sands, which is a luxury hotel that offers stunning views of the city skyline. Other hotels near Metropolis include Hilton Singapore Orchard (SG Clean), Carlton Hotel Singapore - SG Clean Certified, and Hotel Boss (SG Clean Certified).
Delicious Food Options Near Metropolis to Satisfy Your Cravings
If you're looking for delicious food options near Metropolis, you won't be disappointed. The restaurant is located near several popular food destinations, including Holland Village and Dempsey Hill. Holland Village is known for its hawker center, which offers a wide variety of local and international cuisine. Dempsey Hill, on the other hand, is a trendy dining destination that offers a range of restaurants and cafes. Some of the popular restaurants near Metropolis include PS.Cafe at Harding, The White Rabbit, and The Dempsey Cookhouse and Bar.
How to Reach Metropolis: The Ultimate Guide
Metropolis is located in the Buona Vista area of Singapore, which is easily accessible by public transportation. The nearest MRT station to Metropolis is Buona Vista MRT station, which is located on the Circle Line and the East-West Line. If you prefer to take a taxi, you can easily hail one on the street or book one through a ride-hailing app. If you're driving, there is ample parking available in the area.
Fun Things to Do Near Metropolis for an Unforgettable Trip
In addition to visiting Metropolis, there are several other fun things to do in the area. One of the most popular attractions near Metropolis is the Singapore Botanic Gardens, which is a UNESCO World Heritage Site. The Gardens offer a peaceful retreat from the hustle and bustle of the city and are home to a wide variety of flora and fauna. Another popular attraction near Metropolis is the National Museum of Singapore, which offers a fascinating insight into Singapore's history and culture. Other popular attractions near Metropolis include the ArtScience Museum, the Singapore Flyer, and the Gardens by the Bay.
Why Use Agoda.com to Book a Hotel Near Metropolis?
If you're planning to visit Metropolis, Agoda.com is the perfect platform to book your hotel. Agoda.com offers a wide range of hotels near Metropolis, ranging from budget-friendly options to luxury hotels. The platform also offers competitive prices and exclusive deals, making it easy to find the perfect hotel that fits your budget. Agoda.com also offers a user-friendly interface and 24/7 customer support, ensuring a hassle-free booking experience. So why wait? Book your hotel near Metropolis on Agoda.com today and experience the best of Singapore.