Featured Hotels
---
My wife and I stayed 4 nights here. We had come from 7 days on Thong Nai Pan Yai and when we hit Thong Sala we were really missing Yai beach. Once we settled into Phangan Island View Hotel we were pleased with our choice of hotel. The staff are friendly and helpful. The pool area while not a beach is still a quiet and nice place to sun then cool off with a quick dip to...
---
This was the best hotel I stayed at in Thong Sala. 10 min from the pier on foot, easy to find thanks to the directions they sent with my confirmation. Good location, central but not quite in the rowdy backpacker district. And the place is gorgeous for what you pay (690 on a good day). The building has terraces and balconies like a Spanish hacienda. The foyer has all ...
---
We stay in First and Frang for arround 2 weeks.. Its a good Hotel just in the middle of the center of Koh Phangan (Haad Salad).. But i recommend to rent a motorbike if you wanna travel arround.. Otherwise for walk from the Pier i guess its arround 15minutes at least.. Very lovely rooms.. Stuff is good aswell just the girl on the reception looks like annoying and was no...
---
Booked here originally for 3 nights and ended up staying 6. The hotel is located in a quite area of thong sala but only a short 5 min walk to the heart of it. The rooms are very clean and air con works brilliant. The pool also was good and it had a bar aswell. The staff were excellent on my stay as l actually injured my foot one evening and the staff made sure l was ok...
---
Angkana Bungalows is located just 15 minutes walking from the pier and from Thong Sala, where the night market is. Nevertheless, you feel like you are isolated from all the busy roads and noises. The beach is not so good to swim but the scenery is fabulous! The staff is super helpful and they will try their best to make your stay very comfortable. We booked for t...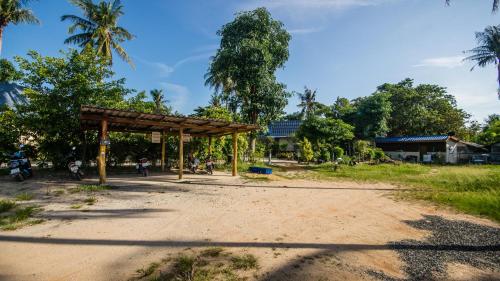 ---
We spent two days at Tropicana Resort, and we really enjoyed our stay. We got an ocean view bungalow which had a huge fan over our bed, and also an air-conditioner, but actulally most of the time the fan was more than enough. The sea was literally 10 meters away from our doorstep, we could hear the waves from our room at night. There is also a hammock on the terrace i...
---
The hotel was in the best location for us, as it was centrally located and you can easily visit the whole island with short motorbike trips. The service was very good but I expected something more for the price of the room (I paid a few hundreds baht more than usual, but the room wasn't any better than other cheaper hotels I've used before)
Alessandro
, United Kingdom
---
We stayed there for five nights and don't really have many complaints the staff there will go above and beyond for whatever you need from extra amenities to waking up at five and setting up a ride to the ferry for you to check out early. It's not near any exciting nightlife but great cheap food all around and any beach is 100 baht there and back so easily accessible. T...
---
We stayed here for the full moon party and it is located in Bantaii. This hotel was really close to the Bantaii centre and close to the shops and the pier. The rooms itself was pretty big and it accommodated all of us and it fit us all okay for the full moon party. Easy to find and all the tuk tuks know of the place. The service was okay and the staff was quite hel...
---
Find the Perfect Type of Accommodation
---
More about Thong Sala Pier
Thong Sala Pier is just one of Koh Phangan's many landmarks to discover. Secure the lowest rates for your trip with Agoda.com at any hotel near Ports/Ferries. Whether it's the The Beach Village or the Awe Resort, many hotels are available for you near Thong Sala Pier.

Through Agoda.com's secure on-line booking form, reservations are made easy for hotels in the neighborhood of Thong Sala Pier. Convenient search tools and informative hotel pages make finding Koh Phangan hotels easy. With more than 2 million customer reviews, more travelers are choosing Agoda.com to book hotels near Thong Sala Pier.