4-star hotels in Ialysos
---
Beautifully appointed hotel. Well maintained. Like the architecture and the pools scattered around. Plenty of lounge chairs and tables Con: location bit of a walk to town however catching a cab was no problem €10
---
K Boutique is a pleasant, clean, low key hotel, with friendly staff, and a nice pool area. It's not a big impersonal hotel chain, so they sometimes run low on stock, but they're always happy to nip to the supermarket next door to stock up on whatever you need.
---
The resort is in a good location, pretty close to the airport. the beach is not very good for kids, but the hotel has many pools and different facilities such as play rooms and shows to entertain children of all ages. we traveled with a 11 month and almost 3 y/o and they were constantly having fun!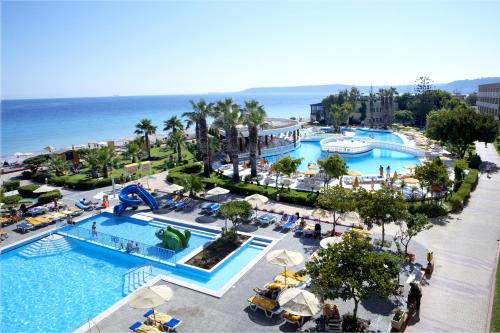 ---
The hotel is located about ten minutes drive from the airport in a very nice little town, the staff is very courteous and provides excellent service. The beach below the pool is a few steps away. The rooms are of a good standard and have provided the expectations, definitely strongly recommended an amazing hotel. We will definitely return.
---
5-star hotels in Ialysos
---
Great vacation at villa di Mare
---
Attended a conference at this hotel and enjoyed it very much. The room has a balcony facing the beautiful sea. Cool and clean. The breakfast is second to none and its omelette is a must-try. The location is good and easy to walk to small pubs, convenient stores (labelled as supermarket by themselves...), and car rentals. I will consider it again if coming back to Rhode...
---
After reading a lot of good reviews about Amathus Beach Hotel Rhodes my expectations were very high. My expectations were however not met during our stay. Let's start with the bad stuff. We stayed in Bungalow 1, which was perfectly situated on the top floor with a big balcony. The room standard was not great though, the bathroom door did not close and our double bed wa...
---
Nice hotel in good location - a 9 Euros taxi ride to Rhodes Town. Service, cleanliness, food, and facilities were excellent. The only negative was the hotel private beach has lots of stones, and inadequate beach chairs for the size of hotel. We ended up paying 10 Euros each for places on the public beaches. I would still recommend this hotel unless you are particularly...
---
when we arrived at 1:30pm, we heard the classic line, "there's been a system error, and we've put you up in another 5* hotel". but i specifically wanted the ixian grand (and spent days researching a quiet anniversary get-away on top of booking it 8 months ago). we did move for the first night, but was nicely upgraded for the remaining nights. we were glad to return ...
---
We stayed at the hotel for four great nights and it was exceptional. The staff was very kind, and you could see they always put extra effort in order for us to have a great time. The food was delicious and diverse. The room was great and the pool and beach were also great. Definitely a 5-star holiday.
---
Discover the neighborhoods of Ialysos
---
More about Ialysos
Ialysos supplies the perfect mix of tranquility and entertainment in the exciting city of Rhodes. With a wide number of attractions to discover, this sought-after part of town will not cease to amaze you. Ialysos has a lot to offer: famous sites, great restaurants and a range of exciting entertainment.

Be sure to seek out Agoda.com for the best rate available in Rhodes. Ranging from the friendly Barbie Hotel Apartments to the comfy Elite Suites by Amathus Hotel, Agoda.com offers a wide variety of accommodations to fit all your needs. Tell us your ideal travel dates in Ialysos and we'll tell you the ideal rates available.