Polluted beaches and waterways is the second biggest concern regarding tourism impact on the environment, according to Agoda's 2021 global Sustainable Travel Trends Survey. So, on October 29, the day after Youth Pledge Day, 175 participants, including 50 Agoda volunteers and 100 hotel partners, did their bit to clean up the popular Kuta Beach in Bali, Indonesia.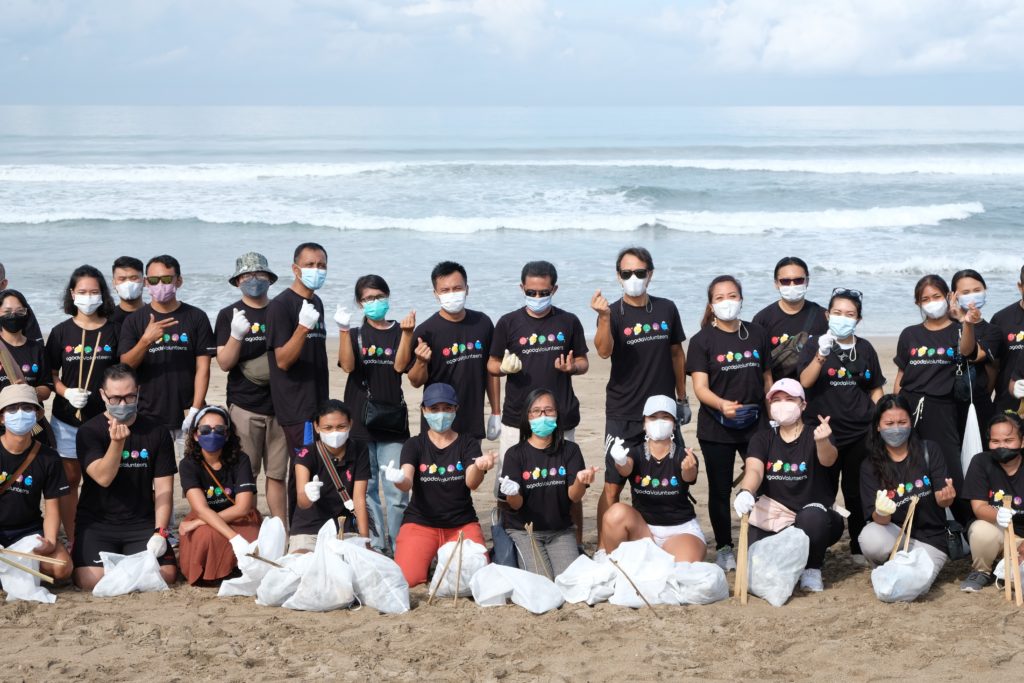 Agoda employees clean Kuta Beach, Bali, Indonesia
Kuta Beach is a popular destination in Indonesia and the amount of garbage builds up during the rainy season as tidal sea water brings garbage from the middle of the sea or from land. There is a lot of plastic waste which is not environmentally friendly and harmful to marine life.
Armed with gloves and community spirit, Agoda employees and accommodation partners rolled up their sleeves to pick up bags of trash along Kuta Beach, doing their part for the environment by tackling beach waste.
"Giving back to community is part of the Agoda culture. We encourage our employees to take a paid day off to volunteer for causes that they believe in and that support the communities in which we work. Today, Agoda volunteers are proud to be able to work together with our hotel partners to give back to the local community in Bali and be part of the change, helping to protect the coast as we gradually open up for tourism, and thus contributing to a better experience for beach-goers," said Gede Gunawan, Senior Country Director, Indonesia, Agoda.
The #MyPledge beach clean in Bali is the third in the series of Agoda's global #MyPledge beach clean events following the first two activities in Singapore and Phuket, which kicked off in August and September respectively. Agoda will continue to roll-out this employee activity in other markets globally, including Hong Kong and Bangkok, until the end of this year.
As part of the #MyPledge campaign, Agoda worked with influencers across the region to raise awareness of tourism impacts on environment and invited the public to share their pledges of simple steps they might pledge to travel more sustainably in the future.
This beach clean-up activity supported by Legian community, tourism community including Agoda Hotels Partners, Bali Hotels Association, Indonesian Hotels General Manager Associations (Bali Chapter), Bali Sales & Marketing Community, and Nawacita Pariwisata Indonesia (Bali Chapter).