Digital travel platform Agoda launches its latest Vaxxed to Go campaign to offers special deals to vaccinated travellers with up to 15% discount. Through Vaxxed to Go, Agoda hopes to support Indonesia's nationwide vaccination efforts, and galvanise others in the travel and hospitality industry to come together to help the country to re-open travel safely.
With Vaxxed To Go, hotel partners can offer discounted rates to fully vaccinated travellers. In return, participating partners will be featured across various Agoda product and marketing touchpoints, including social media, banner promotions, customer emails and in app pop-ups. Consumers will also be able to easily browse through their ideal Vaxxed to Go packages, which will include hotels with Agoda's Hygiene Plus feature, through dedicated landing pages.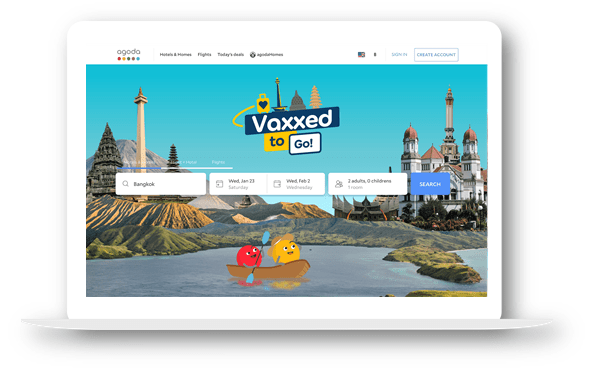 "After months of restricted travel, Indonesians are no doubt looking for traveling again as it becomes safe to do so. According to a recent Agoda's Travel in 2021 survey, Indonesians were least likely among the region to splurge on accommodation. With a campaign like Vaxxed to Go offering exclusive deals for vaccinated travelers, Agoda aims to help Indonesians feel safe and confident to travel again while securing a good discount," said Gede Gunawan, Senior Country Director, Indonesia, Agoda.
As part of the Vaxxed to Go campaign in Indonesia, Agoda will also be supporting communities that have been affected by COVID-19 through a donation to Scholars of Sustenance. This partnership with Scholars of Sustenance will provide essential food packs equivalent to 200,000 meals to some of the hardest hit communities in Indonesia. Agoda also plans to involve employees in Indonesia to help with the distribution of these packs.
"Joint initiatives, like Vaxxed to go, with our accommodation partners, are just part of Agoda's efforts made to kick-start the recovery of the travel and hospitality sector in Indonesia. We have all been impacted by COVID, with many who struggle even with their daily meals. As a global digital platform committed to Indonesia, Agoda is partnering with Scholars of Sustenance as part of our ongoing CSR activity and support for the communities in which we live and work, to donate and distribute food packs to the less privileged in Bali and Java," said Mr. Gunawan.