Discover the neighborhoods of Al Iskandariyah
---
4-star hotels in Al Iskandariyah
---
I had booked a sea view room through agoda but when i reached the hotel, they told me it is not sea view and they gave me a side view room.. i was so disapointed that i don't get what i've booked.. i came from Cairo to spend only one night in a good hotel with a sea view.. that was my only desire..who should compensate this?? The hotel or your website??? And by the way...
---
After two weeks and many hotels throughout Cairo, Luxor and Aswan, I was very pleasantly surprised by the fantastic Metropole in Alexandria. Situated so that it can see the glorious Alexandria harbor front, the view of the Mediterranean as you arrive is worth the price of entry alone. And then you go inside. You can feel the plush, rich history from every part of...
---
I spent 2 nights in this hotel. The stuff was very kind abd helpful. They offered a sea view room with no extra charge. The view was amazing even if it wss a little bit noisy, bit this is Egypt :) The room was clean but need some improvements ( change the extension cords , I was afraid to put smth to recharge ). The food very delicious ....wide selection for all tast...
---
As a solo traveller, I enjoyed my stay at the Grand Plaza hotel, I feel though that they don't realise how attractive their property is for solo travellers and they treat it like it's made for families. I found them very helpful and quick on their feet with my requests and enquiries, one lady in particular was very nice and friendly at reception. I especially liked ...
---
- Rooms are good. There are keys for the rooms, which restricted our privacy. - Well maintained gardens. The green areas are well maintained. - Very good activities, we enjoyed volleyball matches. Very nice, reasonable size football pitch. - Very nice swimming pools. One swimming pool dedicated to females. - Very nice staff. - I would like to mention one specific st...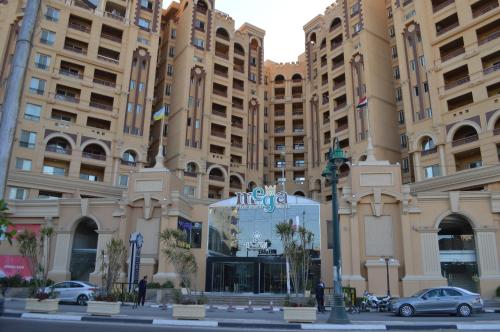 ---
I found the hotel real value for money. The rooms were spacious, the staff were always helpful and it had good facilities.
---
the place in not very far from Alexandria 77 kilometer. The place is clean with good maintenance. It is well designed with wide places and apartments. They have many recreation activities with good animation team. The food is well cooked with no extra spices and in large amounts and fresh. the staff are very nice and friendly.
---
Good place, I advice every one who is seeking a quite, clean, pleasent and with a sea view hotel to go there. It is in the middle of the corniche road that you can go every place easily. I spent only one night but it was a memorable experience. In the nearest future, I aim at repeating the visit to that hotel.
---
5-star hotels in Al Iskandariyah
---
My family stay two weeks @ executive twin room with sea view and private balacony, the hotel decoration is normal and the room furniture is new and clean but not stylish the bathroom sets is old and to be renew. I think this hotel should be rated as 3+ stars.
---
My stay was for 4 days 2 adults 2 kids 9 and 5 yrs superior double room every thing was very good except the extra charge for my daughter 5 ys acoording to the hotel policy extra bed is for free , only one child stay free but the second child i have to pay (special thanks for cooperative receiption senior stuff Mr Haytham ), location and sea view was perfect , anima...
---
Sea view and good location but no any meal no breakfast inclouded
---
nice safe hotel. a little far from the center of alexandria with the trafic. there is a free closed parking. Chopping center is verry near. sometimes it is verry noisy because of al the restorants outside the hotel. From the entrance to the farest rooms it is 2 km walking who is verry far also you have to take 2 elevators. this hotel was verry clean in comparation with...
---
We had a great stay there. It all started with the car parking which was great. The room was well decorated and the bed was very comfortable. The was very quiet considering the location of the hotel in a noisy area. The private beach was awesome, especially with the tunnel that runs under the beach road. Breakfast could not be better with a huge variety of food choice...
---
i stayed on this hotel just one night, but i enjoyed my stay there & the hotel is very clean & it's rooms have a very good view
---
very bad stuff, cleanless rooms, poor treating from the management, every thing needs maintainance, no respect for the guests , i advise all don't even think to go to this hotel
ahmed
, United Arab Emirates
---
More about Al Iskandariyah
No trip to Egypt is complete without a visit to the Governorate of Al Iskandariyah. Search for special offers from over 263 hotels on Agoda.com. A visit to Alexandria, Agami, Ad Dayr will make your trip to Al Iskandariyah worthwhile. Just as it has hotel options to suit every pocket, Al Iskandariyah has activities to suit every interest. More travelers are choosing Agoda.com to book accommodation in Al Iskandariyah, with over 170,000 hotels worldwide.