Discover the neighborhoods of Amazonas
---
4-star hotels in Amazonas
---
The value and quality for the price is phenomenal! Not like a hotel in the states how we see things, but the staff are on it and go above and beyond to take care of every little detail! I have stayed twice now and will definitely go back again! :)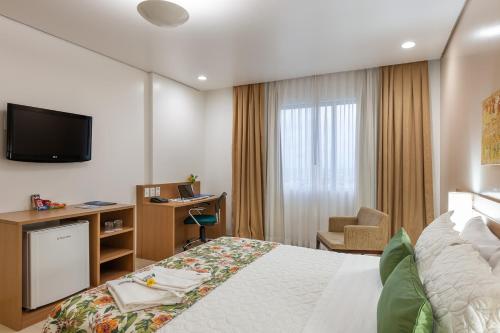 ---
Well...Manaus doesn't have a lot of options when it comes to nice hotels...and we just wanted somewhere for one night between arriving in Manaus and going to Juma Lodge...we had a young daughter (two years old). This hotel was convenient to the airport, had some cafe style restaurants next door and also a small grocery store for water etc. rooms were clean and large.
---
5-star hotels in Amazonas
---
I did the Rio Negro cruise; excellent excursions, good food with numerous choices, very friendly staff. I travelled in early May and we only had a few short rain showers and no mosquitos at all - they don't do well in Rio Negro. Plenty time to chill in the pool and jacuzzi with great drinks - all inclusive. Highly recommend this trip to everyone. I travelled on my own...
---
More about Amazonas
Can't decide how to spend your time in Brazil? Start with a trip to the Federal State of Amazonas. Agoda.com offers incredible hotel deals in more than 7 cities in this Federal State. The great Amazonas is teeming with tourist attractions and popular cities such as Manaus, Paricatuba, Amatari. Whatever your appetite demands, you can find in one of many wonderful restaurants around the Federal State. With availability in more than 22,000 cities worldwide, more travelers today are choosing Agoda.com to search for hotels in Amazonas.