Discover the neighborhoods of Anuradhapura District
---
4-star hotels in Anuradhapura District
---
It was our second stay at Heritage hotel in Anuradhapura and management did not disappoint us again, on the contrary. Staff is again friendly and service minded, especially for one of our disabled companions. The scenery from the hotel is magic: the beautiful view of Thissa Wewa with all the 2000 year old large Dagoba's on the horizon. Breakfast and dinner are buffets ...
---
The best value for money hotel in Anuradhapura. Big rooms, keep improving with all the amenities and a fruit bowl and welcome drinks. Kids loved the swimming pool. Very friendly staff. We will visit again!
---
This hotel really awesome..front office guys they are realy helpfully.If you requested any hard thing cannot be find easier, they will help you to get this.when you are check out they will see tell you to some guides to avoid waste your time.that thing not happened to me but i saw it.. But few issues having their restaurant. Buffet also small..restaurant stewards also...
---
Wonderful place to spend the night at Anuradhapura. Room is clean, modern and comfortable. Dinner and breakfast was exceptional.
---
absolutly lovely staff and hotel owner Upali we stayed for 2 nights all brilliant highly recommended will come back again
Krzysztof
, United Kingdom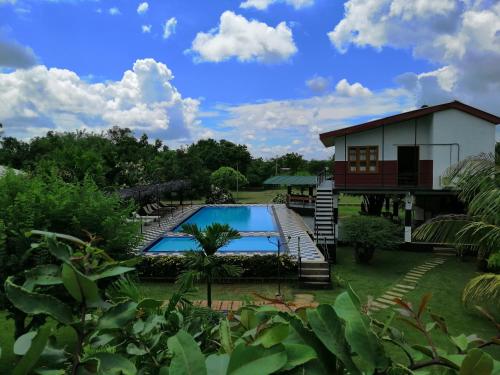 ---
This is a great place to stay if you want to get away from the hotel chain sort of thing. Situated a short bike ride (free from the hotel) to Mihintale this lovely hotel has the best kept gardens we came across in Sri Lanka. We thought the sights at Mihintale were far more interesting than those at Anuradhapura. A dip in the super clean pool at the end of a hot tour da...
---
We were satisfied with my friends. Stuff was very friendly. There are beautiful rooms and beautiful swimming pool. I recomend this accomodation!
---
5-star hotels in Anuradhapura District
---
After the long road from Colombo, we arrived to be greeted with a welcome drink and notifying the other guests of our presence, in the form of ringing the ceremonial bell. We were immediately sold our chalet by the manager. He said we have chosen you one by the pool and near the restaurant, as though that were a benefit, and on three accounts mentioned the proximity to...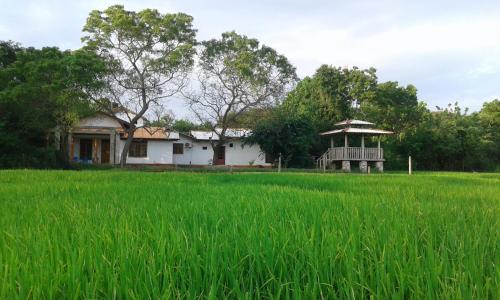 ---
Very basic housing close to the Willpatu National Park. Very basic accommodation, largely sufficient to stay overnight prior to the safari. Staff extremely friendly and helpful - that makes the stay there a very family-like evening. Food very tasty. Well recommended
---
More about Anuradhapura District
No trip to Sri Lanka is complete without a visit to the District of Anuradhapura. Agoda.com makes it easy to find the best rate for your next trip to this wonderful District. While in Anuradhapura, be sure to visit Anuradhapura, Medawachchiya, Palagala. Our website has been designed to help you discover exciting and interesting things to do and places to see. Getting around Anuradhapura is easy with the District's major airports as access points to major cities. More than 3,500,000 travelers have chosen Agoda.com to find the perfect hotel in Anuradhapura.