Discover the neighborhoods of Aswan Governorate
---
4-star hotels in Aswan Governorate
---
We stayed 2 nights in Isis Corniche hotel in Aswan. The location is really good which is just near the Nile river. The swimming pool, the restaurant and the cafe offer a great view to the Nile River. We can enjoy the beautiful sunset just in the hotel. Just across the street, you can enjoy the big market of Aswan. The rooms are a little bit outdated which is dark insi...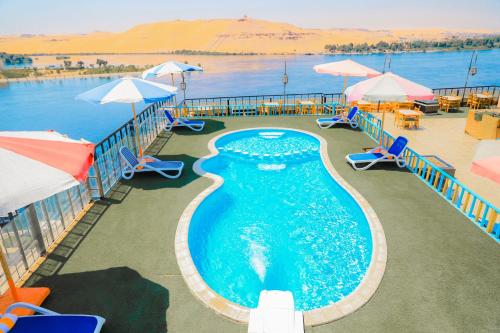 ---
Hotel is well located, contains a shopping mall in the same building, staff are very welcoming and friendly. The room size is good, bed is very comfortable, cleanliness is excellent. in general the hotel is much better than other hotels in Aswan.
---
The revolution has hit the tourist business hard and I was one of 8 guests in the 150 odd rooms. I enjoyed it but it would have been better if there were more guests to liven the place up a bit. Good view of the Nile and nice cold beers.
---
Abu Simbel has only one "good" hotel, which is this one. This hotel is over-price. During the tourism recession in Egypt, this hotel try to cut cost in every way. Also, they try to overcharge in every detail as a hidden cost. Only good thing is about location and scenery.
---
5-star hotels in Aswan Governorate
---
Overall the hotel is fantastic. The gym is a little lacking if you are looking to workout. There also isn't much in the area but you're in Aswan for the historical sights not the city itself.
---
Pros: Location Cons: cleanliness, room status and restaurant/room service
---
what can i say about the aswan movenpick ..its the best of the best in aswan.. quiet , clean, away from the hustle but yet close enough to enjoy a stroll to the market.. staff are absolutely wonderful...will only stay one place in aswan .. movenpick for me
---
More about Aswan Governorate
Whether it's your first visit or your fiftieth, Aswan is a great destination for a vacation. Agoda.com has a fantastic range of hotels to help you make your trip to this beautiful Governorate a memorable one. With 3 cities and some of the country's most popular tourist attractions, Aswan offers plenty to do and see. Getting around Aswan is easy with the Governorate's major airports as access points to major cities. With availability in more than 22,000 cities worldwide, more travelers today are choosing Agoda.com to search for hotels in Aswan.