Discover the neighborhoods of Battambang Province
---
4-star hotels in Battambang Province
---
my friend and i were travelling in cambodia and we had arrived in battambang after a remarkable 10 hour river trip from siem reap. we were exhausted from the boat trip and our previous punishing schedule round angkor wat temples. we had booked a night at another hotel in battambang from where we had planned to continue to the thai border. having spent one night at the...
---
This hotel was a gem and excellent value for money. Stayed here 1 night while on business in Battambang. Hotel staff were attentive, the free dessert/bananas was a nice touch and the pool was clean and refreshing! Rooms were clean and spacious. Internet reliable and fairly fast. Food was fairly standard fare and cheap, nothing too exciting, but was ok for a one night s...
---
This is one of the best hotels in Battambang, hotel was very clean, very convienient location. Staff were very helpful too. Only little problem is hot water is only available until 11:00 pm. Do not shower after 11:00 pm. Great value for money!
---
The Maisons Wat Kor resort is a short distance outside of Battambang (about $3 by tuk tuk). There are 8 rooms in a very "green" environment with bushes, trees and a large pond, in addition to the pool. The staff could not have been more helpful. During our 4 night stay, we had breakfast every day and dinner on 3 nights. The food, both in taste and presentation, togethe...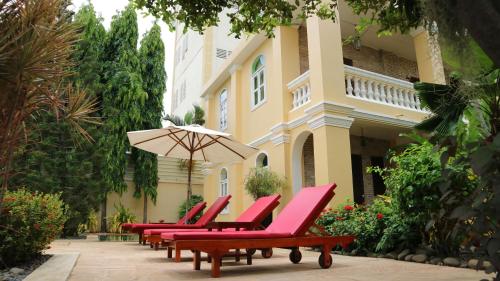 ---
My second stay in Battambang, and we stayed in the top two rooms with the vaulted ceilings. The hotel has a beautiful Indichinese French Colonial style that sort of takes you back to the 1950's with it's dining room details and and the staff is so helpful and dinner options are high quality. I would highly recommend this hotel. If you are looking for a beautiful, low...
---
Au Cabaret Vert is a diamond in the rough. For the price they charge you get a beautiful room, location, pool, atmosphere, was definitely one of the highlights of our stay. The french owners are super-friendly and the food is fantastic. It's a little outside the main area of Battambang which we liked, and it's only a 10 min walk or a 2 min tuk-tuk ride into town. Would...
---
5-star hotels in Battambang Province
---
Pros. 10 beautiful bungalows and a huge beautiful pool. Amazing place, large room beautiful comphy bed and a beautiful couch, also a large bathroom with a separate stone bath. The owner, Namfy was brilliant and nothing was too much trouble. It is a little out of town, which we liked (quieter and not so polluted). Namfy would take us in to town in his lovely big car any...
---
More about Battambang Province
Battambang is one of the 25 regions of Cambodia that travelers like to visit. Agoda.com offers incredible hotel deals in more than 1 cities in this Province. The great Battambang is teeming with tourist attractions and popular cities such as Battambang. Just as it has hotel options to suit every pocket, Battambang has activities to suit every interest. More than 3,500,000 travelers have chosen Agoda.com to find the perfect hotel in Battambang.