Where to stay in Binh Dinh Province
---
4-star hotels in Binh Dinh Province
---
We stayed at the Casa Marina for three nights and unfortunately it rained the ENTIRE time we were there. Despite the weather we ventured out to the beach which was beautiful, one of the cleanest we've seen in Vietnam. Unfortunately we had to spend most of our time inside, so it's good that the resort comes with a free pool table and smart TVs in the rooms. We logged in...
---
The Service at the resort is so outstanding that I can say it is the best I have ever experienced. And I have been to many, many places. The Manager, Mr. Kirill , is extremely friendly, welcoming, personable and provides you as a guest with a superior VIP service treatment. He will also provide you with a local knowledge recommended itinerary. Staff members are English...
---
Quy Nhon is a Beautiful coastal town with many motorbike trips to do. If you are looking for a tourist place with everything all set up for you, this is not the place. Quy nhon is still very much Vietnamese and that is why its on my hot list for places to visit. Day One: hire motorbike, explore the city and some of the temples and pagodas. Day Two: Bike to Phu Phoun...
---
We visited Quy Nhon on our way from Danang to the mountains. The hotel was very busy with alot of local visitors and a wedding in the reception venue on the ground floor that made arriving and checking in a very noisy business. The beach rivalled some of the best we have seen. Our room was very clean and comfortable. The view from the balcony worth paying the litt...
---
We were traveling budget this trip but found this a tired five star stay which we really enjoyed. Huge room and impressive breakfast. We saw no other Europeans in this out of the way stop on our train trip from HCMC to Hue.
---
Like all of Vietnam we have enjoyed great service and accommodation only criticism about most rooms and same as this hotel, they don't understand that the front room overlooking the road is NOT the best room in the hotel. The noise in our room at the front facing the beach was very very noisy.
---
We have been back from our trip of 10 Thank you Aurora for your hospitality, friendly, supportive, being thoughtful and giving us such a surprising present both traditionally and westernly. I did not really know how you knew our anniversary. You made a special night to us. Would love to highly recommend you to others.
---
We booked Standard room but moved to VIP room. The standard room was small and run down, but the VIP room was spacious and comfortable. Our friends stayed in family room said it's also spacious and clean. Overall we enjoyed our stays, the staffs were friendly, the breakfast buffet was good.
---
1. This hotel has great views where you could basically see the whole city lies next to the beach. I could not get over the gorgeous decorations and wood furnitures. It gives you a very cozy yet fancy feels. The staffs were lovely as well, they were informative and lend me a portable charger 🤣 Not to mention the Karaoke rooms here! However, the hotel hasn't provid...
---
Luxury hotels in Binh Dinh Province
---
Hotel is quite new and super clean. Staffs are very friendly, helpful and professional. Location is convenient to travel Eo Gio, Ky Co or Quy Nhon city. Everyday hotel supports free shuttle buses two rounds to interesting places and back. Breakfast is perfect, delicious local dishes with many choices. However, the rest room door is nearby sleeping bed and there should ...
---
Yes, i had totally supprise to know how amazing and luxury this 5 star hotel is when came and register. They all friendly and have us warm regards. Me and my friends booked a villa with 3 bedrooms to stay for 2 nights then i regconized i will NEVER COME BACK. - 4 hour after check in, one of my friend step direct on piece of broken glass which is not acceptable for 5 st...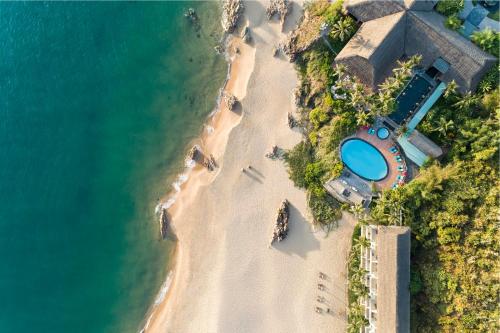 ---
We loved the Life wellness resort in Quy Nhon. It is situated in a beautiful bay (water and beach much cleaner and nicer than on the beach strip in Quy Nhon). The resort is very well maintained (beach, garden, restaurant, pool). From the pool you can overlook the beach. By the way: from every room's shower you can overlook the beach as well (best shower I ever had!). T...
---
More about Binh Dinh Province
Can't decide how to spend your time in Vietnam? Start with a trip to the Province of Binh Dinh. Agoda.com offers a superb selection of top quality hotels to meet your accommodation needs and requirements. While in Binh Dinh, be sure to visit Quy Nhon (Binh Dinh), Bong Son, Huynh Giang. Our website has been designed to help you discover exciting and interesting things to do and places to see. Getting around Binh Dinh is easy with the Province's major airports as access points to major cities. With availability in more than 22,000 cities worldwide, more travelers today are choosing Agoda.com to search for hotels in Binh Dinh.