Discover the neighborhoods of Cephalonia
---
4-star hotels in Cephalonia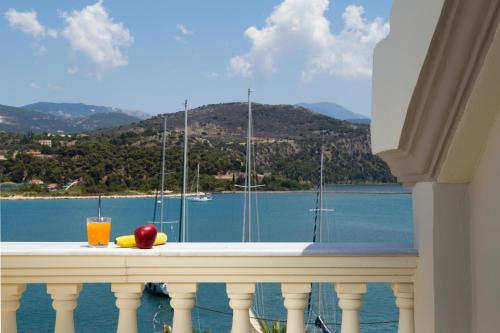 ---
Very clean hotel. Everyone is kind and helpful. Location to the Plateia is 1/2 a block and only 10 min drive to the beach. Even though the streets are busy there is a parking lot about a block away and had no trouble finding parking my entire stay.
---
Excellent and exceeded expectations. Lovely boutique hotel feel to the place. Quite select and up market. Fab pool. Excellent sun deck and gardens. Excellent staff. helpful, smiling, polite & friendly. Nothing too much. Very stylish reception, lounge and outdoor areas ultra modern. Daily hot and cold breakfast very good but surprised they didn't do more fresh fruit sel...
Christopher
, United Kingdom
---
Pleasant and convenient. Very easy to get to the main beach.
Alexandros
, United Kingdom
---
So in love with this hotel. The room was huge and the view is amazing facing the beach. The staff was so helpful. The manager and the owner was so kind. Location is quite far from skala but the hotel provide free shuttle to the town and also will pick u up as well.
---
The stay in the hotel was great. The rooms are large and it has a swimming pool. It is ideal for couples and families. No matter where you stay you must rent a bike or car as you will need it to move around!
---
The journey from the airport is around 1 1/2 hours but it's so worth it. The hotel, the POOL, Fiskardo and the amazing staff. It's a perfect holiday to relax and unwind. We seldom (never) go back to places we've already been, always preferring to try something new, but might just break the rule for here.
---
Villa Valentina, 2 bedroom, 2 bathroom, kitchen, living room and terrace in front of the Pool. Lovely sunset. Need some foodstuff to stay. Restaurants quiet a walk. Best to have transport as it is a bit away from things. There are a few low flying planes (apparently no more Thomas Cook) but it is not really much of a problem, at least in Mid September. Not so sure duri...
---
More about Cephalonia
Can't decide how to spend your time in Greece? Start with a trip to the Department of Cephalonia. Agoda.com offers incredible hotel deals in more than 9 cities in this Department. The great Cephalonia is teeming with tourist attractions and popular cities such as Kefalonia, Stauros, Poros (Kefalonia). Getting around Cephalonia is easy with the Department's major airports as access points to major cities. Agoda.com is trusted by more than 3,500,000 travelers, booking accommodation in famous regions like Cephalonia.