4-star hotels in Corfu Department
---
The hotel could be a landmark for the city. Beautiful building great location. But it has to be renovated immediately. There is a smell of sewage in the elevator, and a smell of mold in various places. The building has not been undergone any major refurbishment (apart from the windows) since it was built I believe. Breakfast was far below expectation. It is really a pi...
---
No one there when we arrived. We booked late and there is not reception, but they were very helpful on the phone and someone got there in about 30mins. Nice room, clean with balcony. Nice swimming pool however to cool for us to use. Note a great beach
---
When booking this room it says "price per room, including taxes" but there is a fee on 3 euro per night that you will need to pay at the hotel. -very loud, and noisy students living in the hotel. -the breakfast was not as good as one could expect from a 4 star hotel. Mostly eggs.. Different kind of eggs (scramble, fried), bread, ham and cheese. No vegetables, f...
---
Positives - the team in the kitchen and the lovely driver Negatives- if you're looking for an all inclusive place to share with over 800 people, where you can forget you've even travelled to a Greek island this might be the place for you. On arrival we were 'upgraded' from what looked online to be a bungalow with a large terrace and a direct sea view to a room in the...
---
we actually only stayed for 1/2 a night because we had booked the hotel to use prior to our flight which was at the ridiculous hour of 3am. however, the night watchman made us a lovely cup of coffee, offered us cake and got us into our taxi. we were in one of the garden rooms which are actually in a separate part of the hotel. we happily accepted this because we were...
---
Our villa was lovely. Good amenities, spacious, comfortable and clean. Their breakfast is very good. We had lot's of room to spread out & were very comfortable here for 5 nights. Probably best to hire a car if you are staying here, as it is about 40 minutes from Corfu Town. We were more than happy with our stay. Thank you
---
5-star hotels in Corfu Department
---
Glad to find we were put in a bungalow. Fantastic infinity pool/ view. Went down for lunch. YUK. Sort of hamburger hell. You have to eat in view of bare topped hairy tatood ogres. Grateing music. Sweet Greek staff. Hotel main building crumbly 70's totaly lackluster. Hortible brown dark interior. Glad we chose 5 star. 3 star might have no furniture.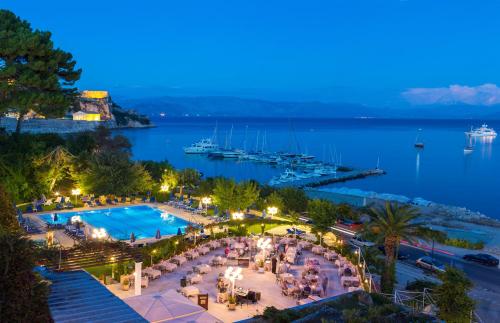 ---
good hotel 10 minutes away by foot from Corfu town, also due to the lack of beach area in corfu town, the swimming pool was great. Food and drinks at the hotel were very expensive.
---
This hotel is not 5 star. 3.5 star is what I would give it. It's a mass tourist haven if that is your sort of thing. Staff not properly trained, not helpful, food subpar.
---
We had a great time! The service was personable and friendly but not ingratiating. The dining options were delicious and the space was beautiful.
---
Facilities are great. Stone stairs everywhere and steep - older travelers may not be able to navigate to bungalow, pool, beach and other amenities. Food in main hotel area is buffet style and pricey. No small cafe for coffee or tea. Staff is cordial but no concierge or help for travelers. Seems best suited for a destination resort vacation. Very cold in mid April...
---
Discover the neighborhoods of Corfu Department
---
More about Corfu Department
Can't decide how to spend your time in Greece? Start with a trip to the Department of Corfu. Agoda.com offers big savings on 2799 hotels in top locations. A visit to Corfu Island, Paxos, Roda will make your trip to Corfu worthwhile. Enjoy the quintessential Corfu experiences with Agoda.com as an ideal starting point. With availability in more than 22,000 cities worldwide, more travelers today are choosing Agoda.com to search for hotels in Corfu.