Where to stay in Daegu City
---
4-star hotels in Daegu City
---
we changed hotels in daegu - before we were at the exco, which was completely out of the way, when we moved to the eldis regent, it was so nice to be close to downtown, to one of the markets as well as other attractions and shopping. this hotel's selling point is location, location, location. the knowledge of english of the staff was not great, but they were smiling an...
---
Novotel in Daegu city is, by far, the best hotel I the city. I have experienced other hotels in the Daegu area but the Novotel is way k top of the list. Thir service, attention and different buffets (breakfast, lunch and dinner) are extraordinary with excellent variety in international foods in all services. The rooms are very modern and with view to the city. I would ...
---
This is the best hotel in Daegu. When I come to Daegu I always stay in this hotel. It is in a great spot. I often go to the KNU and this hotel is a great place that is not too far. There are plenty of good restaurants nearby and Costco is a short taxi ride away. I would stay here again and again. you really should give it a try.
---
I stayed here for 2 weeks. Location wise - it is great. Less than 200 meters from the nearest train station; screen golf/baseball right next door; various restaurants and coffee shops nearby. Catholic church 400 meters away. Good neighborhood to jog around. Another plus - visiting baseball teams playing against the Daegu team stayed at the hotel while I was there (mid...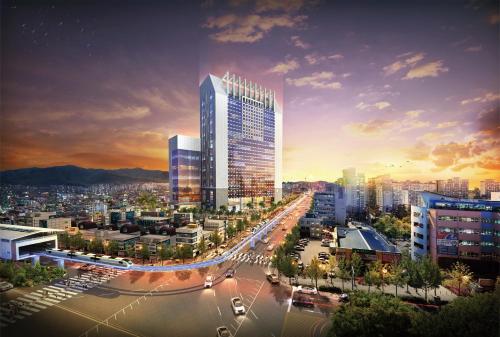 ---
Very clean and comfortable. I recommend even if not in city center.
---
I booked this room for its price and it looked clean from online pictures. Upon arrival I was correct as both were as expected. The staff was friendly, it was clean, the price was below other options, it's directly linked to airport. My room looked out onto the runway where people were boarding for Jeju, Beijing or other destinations, but I never heard a plane or peopl...
---
I would not stay anywhere else when I visit Daegu. I did not expect such a nice place for the price, it was a great, comfortable stay. Location is great, 1 block from the metro.
---
This hotel feels a bit down on its luck, but it's still a clean, solid non-love motel option for Daegu. The location is excellent - - a short walk from the subway station, and I feel like we were a 6,000 won cab rode from anywhere we wanted to go. One peeve... The photo shows an Angels in Us coffee shop (seriously tasty coffee chain) , but it's not. It's an in house co...
---
Luxury hotels in Daegu City
---
I visited this hotel second times. This time,my fight was morning. I asked call a taxi bell desk staff. He deal with my request in English and smoothly. Room was cleaned and very comfortable room. Really awesome hotel with great staffs. I'm very recomend this hotel to staying in Daegu. I'd like to stay here again...
---
this hotel should be rated at 1 to 2 stars not 5. rooms are terrible. a/c doesn't come on until after 5pm. my a/c was noisy, asked staff to send a repairmen up or change my room (5 minutes after arriving), they didn't believe me. terrible experience.
---
Find the Perfect Type of Accommodation
---
More about Daegu City
Daegu City is one of the 16 regions of South Korea that travelers like to visit. Agoda.com offers a superb selection of top quality hotels to meet your accommodation needs and requirements. The great Daegu City is teeming with tourist attractions and popular cities such as Daegu, Chilgok-gun. Agoda.com offers plenty of ideas to help make a getaway to Daegu City easy, fun and exciting. More travelers are choosing Agoda.com to book accommodation in Daegu City, with over 170,000 hotels worldwide.