Where to stay in Fujairah Emirate
---
4-star hotels in Fujairah Emirate
---
everything is fine with this hotel. they realy care the guests. Good service, Mr. Vishnu is very cooperative person. Breakfast was nice. in such low price its really value of money. I will recommend this hotel in fujairah if your budget is low
Syed
, United Arab Emirates
---
located in the center of fujairah, nour arjaan is an easily accessible and pleasant place to stay. the rooms are very spacious and offer apartment-like amenities (large closets, refrigerator, cooking range, etc.). at the same time, the entire property has the feel of a higher end tourist hotel and with excellent service to match. a nice pool and health club round ou...
Huda
, United Arab Emirates
---
This hotel is situated on the coast of natural bay surrounded by mountains, but at the same time it is connected to the Khor Fakkan city with it's parks, corniche, small restaurants and groceries. Fujairah city is not very far too. As a part of Sharjah state with it's strict policy on alcohol, the place is ideal for families with children, very quiet and safe. The hote...
Marina
, United Arab Emirates
---
This resort had everything we needed and we had the best time, so peaceful and relaxing and the room was clean and spacious. The location is perfect and we didn't need to leave the resort once, everything is on your doorstep. We had never snorkelled before and I'm not the best of swimmers but it was so easy to get out to snoopy island and we saw so many different fish....
Amy
, United Arab Emirates
---
The room was lovely and well worth the money for a fun stay in Fujairah. The hotel was conveniently located less than two blocks from the sea. My room had a view of the mountains, so I was very happy with that. The bar-restaurant had delicious food and was reasonably priced. There were a number of choices for dining and entertainment without even leaving the hotel!...
---
If you are looking for a beach holiday away from the hustle and bustle of Dubai then Dibba offers a quiet getaway. Royal Beach Hotel & Resort is a few kilometres out of town and provides a private beach, the usual cafe and restaurant set up and decent and clean rooms. We came to go diving, but found the best diving was over the border in Oman. Nomad Divers (based at th...
---
Luxury hotels in Fujairah Emirate
---
Our weekend stay here was the BEST among the number of times we stayed in other hotels in Fujairah. Even though it's Ramadan, it was a very comfortable stay inside the premises. We were suppose to go around & see the city instead we opted to stay and enjoy the view & facilities. Beach line was endless, 5 public pools & very family friendly. Staff was really customer o...
---
Fujairah Rotana very cool and beautiful hotels where they had lived note I vacation in the United Arab Emirates moved to Fujairah to enjoy knowing that I live Abu Dhabi has booked in more than 10 hotels in Fujairah, but was the most beautiful Rotana The piece would Book the second time in this hotel
KARIM
, United Arab Emirates
---
A great end to the Eid holidays, the Fairmont Fujairah is truly an amazing resort to spend a holiday at. The facilities available include a gigantic pool called the Lava pool with 6 jacuzzis that has a happy hour too! The restaurants on the property are moderately priced with some great cuisine options available, there is even a 7/11 available which is quite convenient...
Rubina
, United Arab Emirates
---
The most beautiful hotel we have stayed at. Next to Fujairah mall and near by Fujairah city center. It has very nice facilities and a great open buffet breakfast. Friendly and professional staff. Beautiful room ambient. If they keep these good rates we will come back again.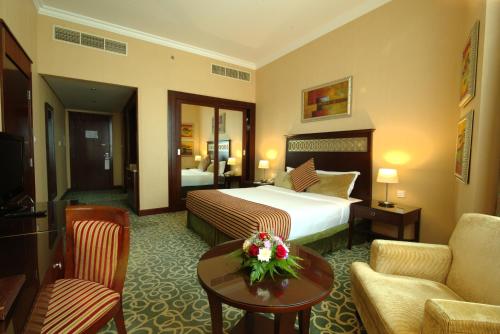 ---
This hotel is one of my favorite hotel in Fujairah. Check in and check out is fast, and laundry service is clean and fast.
---
nice room but rather small, hotel and outdoor areas look great. huge pool + decent indoor pool as well. beach front area is nice too. buffet breakfast was one of the best i have ever eaten. there is a night club attached to the hotel (one of few in fujairah/al aqah).
---
Waleed from reception checked in and informed us hotel activities that i can join for free. Also activities schedule for my 18 months old. He is very helpful and explained me about restaurants and hotel facilities. I thought travelling with kid and staying overall night is a hassle but it is not true here. I can ask someone to reheat my baby's food. My kid is enjoyi...
Sohaib
, United Arab Emirates
---
Undoubtedly Hilton Fujairah Resort is GALAXY OF STARS where each and every one made sure that all our 6 rooms are very well taken care Journey starts with Reservations who made sure that everything is well noted and each reservations has trace inside with certain requirements. One of couple was "Honeymoon" who had fabulous experience when received a surprise cake to...
---
More about Fujairah Emirate
Can't decide how to spend your time in United Arab Emirates? Start with a trip to the Emirate of Fujairah. Agoda.com offers big savings on 50 hotels in top locations. Our instant confirmation gives you piece of mind and more time explore popular cities such as Fujairah, Dibba Al Fujairah, Sinadil. Whatever your appetite demands, you can find in one of many wonderful restaurants around the Emirate. Book now on Agoda.com and save up to 75% on Fujairah hotels.