5-star hotels in Guanajuato State
---
Rooms were spartan and minimalist. Breakfast was really a letdown, especially since the hotel restaurant is supposed to be highly rated. Weak coffee, bad fruit and truly awful entrees. Overall,, this property is way overrated and not worth the premium price.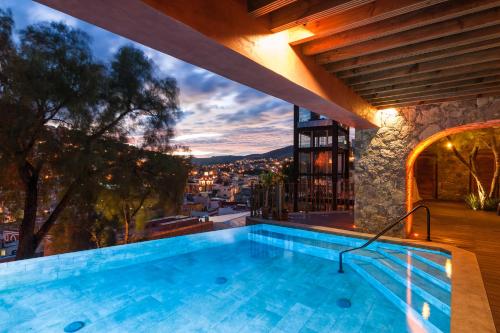 ---
This place is really a luxury boutique. Incredible architecture envirinment. Do not miss this place!
---
Booked on agoda.com & got 50% off the hotel's published rate, so we were lucky. Would not stay there at $200++ US, but would for $90-125. Lovely facility & a very welcoming staff. I made an arrival date error on our reservation, but the staff politely changed it, & still honored our rate. Even upgraded us to a much larger room, since the standard room booked was not a...
---
After one week staying at a franchise hotel for business, I decided to spend my last day in the center to I chose this small hotel for the location, price and guest reviews mostly. It exceeded my expectations. Awesome rooms, excellent service, I will defeinitely choose it again when I return. If you travel light (the only disadvantage of the hotel is that it has no ele...
---
More about Guanajuato State
Guanajuato is one of the 32 regions of Mexico that travelers like to visit. Agoda.com has a fantastic range of hotels to help you make your trip to this beautiful State a memorable one. A visit to San Miguel De Allende, Guanajuato, Leon will make your trip to Guanajuato worthwhile. Getting around Guanajuato is easy with the State's major airports as access points to major cities. More travelers are choosing Agoda.com to book accommodation in Guanajuato, with over 170,000 hotels worldwide.