4-star hotels in Irkutskaya Oblast
---
Loved this place, small modern hotel in a perfect city center location. Staff were wonderful and lived the modern room and decor. Room was a good size, great shower, a/c, free wifi, remote control drapes, great bed side lighting and the list goes on and on. The hotel also had a great breakfast and a 24 hour Libby bar. Aldo has a Japenese restaurant which is not bad, co...
---
I have been living and travelling around Russia a lot, but this hotel really made impression. Maybe design of the hotel and rooms is not the best (this a common thing here) but the service was well above the average. Having early morning departure they prepared a breakfast just for me. Nice surprise. Very friendly stuff. Reasonably priced during the weekends.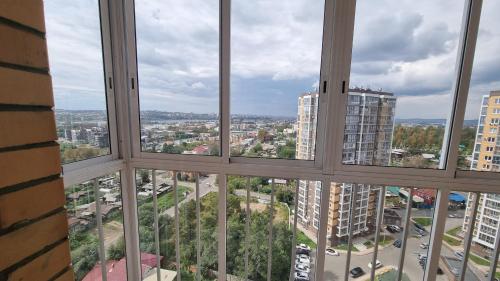 ---
Though it is a bit far from the city, the environment is very nice and the hostel is fully equipped and clean. Free transfer to and from airport services are very useful!
Cheuk
, Hong Kong SAR, China
---
Facilities were clean and the architecture of the buildings is beautiful. Staff are friendly and helpful and the rooms are cosy and clean. Beautiful views of the river mouth and lake baikal.
---
Pleasant stay with an overall good feel about the place even though they are a business hotel that seems to be very busy but staff willing to always help.
---
Rooms are clean, breakfast choice was great with western and local selections. Staff was service oriented and detailed, even prepared a birthday cake for my friend. Good location with nearby shopping mall with supermarket.
---
The front desk was very polite and accommodating and gave complimentary internet access because they could not provide early check-in. The food at the restaurant was amazing, especially the Karlian Trout salad and Russian soup. The staff were very prompt and attentive the whole time. Breakfast was also great variety and very fresh. I loved the Bliny (Russian pancake...
---
5-star hotels in Irkutskaya Oblast
---
All the staff are nice, perfect position just on the other side of the bus station. If you got some big luggage, better choose main building cuz outbuildings got no elevators, but that won't change our appreciation to this hotel. If we'll and I'm sure I'll be back to Listvyanka, and I'll choose Mayak
---
More about Irkutskaya Oblast
Can't decide how to spend your time in Russia? Start with a trip to the Oblast of Irkutskaya. Agoda.com offers big savings on 1002 hotels in top locations. With 28 cities and some of the country's most popular tourist attractions, Irkutskaya offers plenty to do and see. Just as it has hotel options to suit every pocket, Irkutskaya has activities to suit every interest. More than 3,500,000 travelers have chosen Agoda.com to find the perfect hotel in Irkutskaya.