Discover the neighborhoods of Khios
---
4-star hotels in Khios
---
THERE WAS A WEDDING PARTY JUST NEXT TO OUR SEA VIEW ROOM AND FINISHED AT 02:00 AM I ASKED TO ANOTHER ROOM BUT RECEPTIONIST INFORMED ME THERE WAS NO ANOTHER ROOM. I WROTE THIS CLAIM TO AGODA THAN SUDDENLY THEY FOUND ANOTHER ROOM WITH A LITTLE BIT SILENCE ROOM THAN WE MOVED TO THAT ROOM ARROUND 01:30 AM. BUT COULD NOT SLEEP WITH NERVES. WE HAD TO WAKE UP AT 06:00 AM TO ...
---
Our stay at Sea View Resorts & Spa was pleasant as it was perfectly located on the hill that provided a stunning view of the beach that is only a 3 minute walk away. I was disappointed however that the day spa was closed on Sunday & Monday.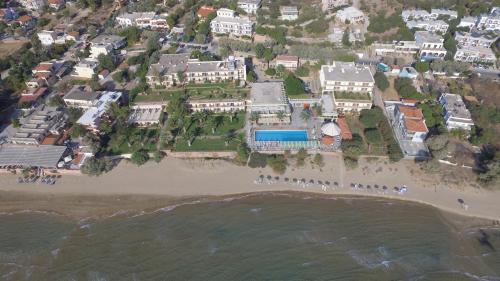 ---
This is a very good hotel in Chios. Right on the beach at Karfas with a great swimming pool as well. Pool & bar staff excellent. Front desk could improve. Rooms need new towels & bed linen.
---
More about Khios
Whether it's your first visit or your fiftieth, Khios is a great destination for a vacation. Agoda.com offers incredible hotel deals in more than 19 cities in this Department. Our instant confirmation gives you piece of mind and more time explore popular cities such as Chios, Agia Trias, Limnos. Just as it has hotel options to suit every pocket, Khios has activities to suit every interest. With more than 2 million customer reviews, more travelers are choosing Agoda.com to book hotels in Khios.