5-star hotels in Lower Normandy
---
a lovely property set at port en bessin, which is a great base to explore the normandy beaches and do your requisite day trip to pont st michel which is about a 2 hour drive away. the emotive amercian cemetery is also a 15 minute drive from the hotel - we thought we would spend 30 mins there but spent almost 2 hours as it deserved the time. we only had one night her...
---
The Hotel is very well situated tight on the beach at Cabourg. The staff were all very attentive. We had a very large bed and sea view as booked. the bathroom was amazing, except that the shower was over the bath. However, it is very expensive - breakfast was £30 each! we will save up to return for longer.
---
This is a very special hotel that everyone should experiance once in a lifetime
---
Fantastic stay with use of spa facilities. Don't miss the restaurant as it's a dining experience to remember. Great attention to detail and lovely staff. A bit of a drive out of town but well worth it and free parking
---
We loved our stay and would highly recommend to anyone visiting the area. It was super clean and the rooms were exceptionally comfortable. It is in the heart of the village. Just a short walk to restaurants and shopping and the train station. Also within walking distance of meeting up with the shuttles for our tours of Normandy and Mont Saint Michel. The staff were exc...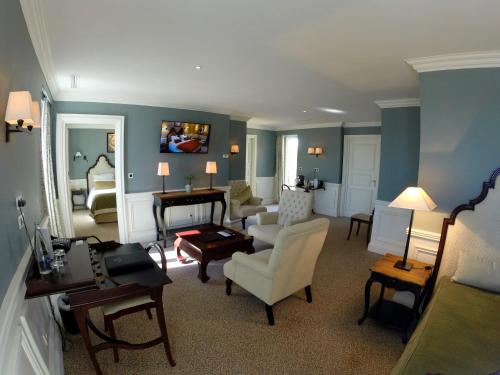 ---
This hotel is newly built, 4 months old. The husband is the owner and welcomed us warmly. His English is ok but his wife doesn't speak English although she is at hotel with her child always. And they have a dog which is cute. There is a female staff who speaks English very well. She is very helpful to manage our requests. The room is big and nicely designed but not pra...
---
Discover the neighborhoods of Lower Normandy
---
More about Lower Normandy
Can't decide how to spend your time in France? Start with a trip to the Region of Lower Normandy. Search for special offers from over 2576 hotels on Agoda.com. A visit to Mont Saint-Michel, Honfleur, Bayeux will make your trip to Lower Normandy worthwhile. Just as it has hotel options to suit every pocket, Lower Normandy has activities to suit every interest. With more than 2 million customer reviews, more travelers are choosing Agoda.com to book hotels in Lower Normandy.