5-star hotels in Misiones Province
---
The Sheraton is perfect in its location. You reach the Iguazu Falls trails in 5 minutes walking, just down the hill. Plenty of great nature trails around and you can access the park early morning before all the tour groups show up. Once they arrive, around 10am, it makes it impossible to take a picture without at least 10 other people in it. It is so convenient to ...
---
The hotel says 5 stars on the front but is not comparable to other 5 stars I've stayed at...but in Iguaza it would probably pass. We stayed a couple nights at the hotel on Sept 6 and 7 on 2009 and enjoyed our stay. The breakfast was quite good which offset how expensive dinner was. For dinner you could either choose a selection from the menu or pay for the buffe...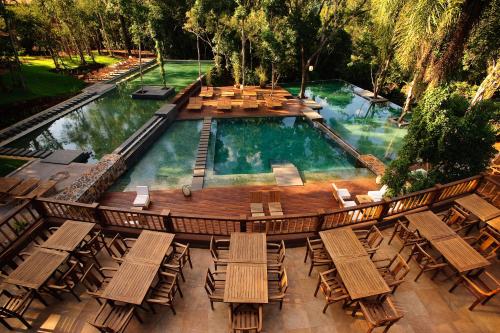 ---
there are not many great hotels in the iguazu area but loi suites really stands out from the moment you enter the property. the design is top notch with a lobby featuring soaring ceilings and a stunning pool with trees in the center of it. it is actually three separate pools that are connected to one another. the staff is very friendly and the second floor restaurant i...
---
This hotel had a great location only being walking distance into town. You could walk into to town to catch the bus to the falls for a cheaper option or just take A taxi right from the hotel. Hotels pool was great and view from the pool simply amazing!!! Only disappointment with this choice was the hotels front desk staff weren't very friendly and not helpful at all. ...
---
Many people would opt for a hotel closer to the falls, but this hotel is very close to town, if you like to explore a good places to eat and enjoy the good wine, do some shopping, I would recommend it. Argentine side of the falls is very safe, and the people are friendly, I felt very comfortable walking around the town, even at night.
---
If u cannot get a room at the cataratas or sheraton hotels within the national park - this is a good option - coz provides a view of the intersection of 3 countries paraguay, brazil and argentina from the river view rooms, interesting. But hotel is very poorly maintained - toilet seats are absolutely discolored, bathrooms look worn n old. no complimentary bottle of w...
---
More about Misiones Province
Can't decide how to spend your time in Argentina? Start with a trip to the Province of Misiones. Agoda.com has a fantastic range of hotels to help you make your trip to this beautiful Province a memorable one. Home to 23 cities, you will never run out of things to do and places to see in this wonderful and exciting Province. Agoda.com offers plenty of ideas to help make a getaway to Misiones easy, fun and exciting. With availability in more than 22,000 cities worldwide, more travelers today are choosing Agoda.com to search for hotels in Misiones.