4-star hotels in North Denmark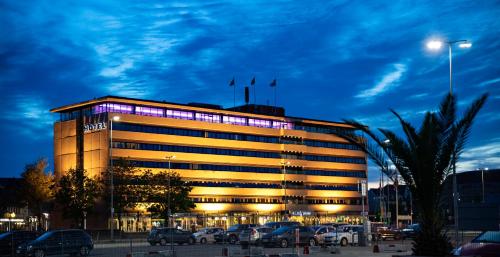 ---
The hotel is ok for business travellers who just want to stay for one night. It has seen the best times and should undergo a renovation. My room was of a reasonable size. The most disappointing fact was a bad smell from the shower. If possible try to book a room with view to the sea, overlooking the harbour. Parking is possible behind the hotel for DKK 59 per night. Di...
---
The hotel is located within walking distance to the beer street and main shopping districts! The hotel has a sauna and car park. Rooms are large and are equipped with all required amenities.
---
Staff were very helpful about the few things we needed. A minor problem with the hot water was dealt with really quickly. Their friendly attitude creates a nice atmosphere. The restaurant is seriously overpriced. £80 for 4 burgers and chips and a drink each? We ate there just the once! I realise that Danish prices are higher than UK but this was a true rip-off. ...
---
I found this hotel to be very conveniently located right next to the train station and across the road from the aquarium. It was exceptionally child friendly, with even an indoor play area. You could always purchase the tickets for the aquarium at a cheaper cost. The only negative was that the rooms needed to have the windows opened as they smelled as if the windows ha...
---
Agora seems to be the only website that still calls this hotel First Hotel Europa after a couple of years of having it's name changed. This hostel is called Scandic Aalborg and was good. The naming error resulted in a costly taxi ride and a delay in finding the correct hotel, ams the First Hotel on Aalborg's waterfront is NOT the same hotel.
---
More about North Denmark
Can't decide how to spend your time in Denmark? Start with a trip to the Region of North Denmark. Agoda.com makes it easy to find the best rate for your next trip to this wonderful Region. With 98 cities and some of the country's most popular tourist attractions, North Denmark offers plenty to do and see. The Region receives many visitors due to its unique and interesting features. More than 3,500,000 travelers have chosen Agoda.com to find the perfect hotel in North Denmark.