Luxury hotels in Punjab
---
Hotel is clean and nice, but there were no view from the room (just a wall) and they don't serve alcohol, which is strange in Punjab. The roof top pool is very nice and quite, the staff is little bit too pushy
---
We had two rooms, one was very elegant and plush with large rugs on the floor and an upholstered bench outside the bathroom. The other room had cold wooden flooring and a dark bathroom area. The lighting in both rooms were quite low so it wasn't great for putting on makeup whilst at the mirror. Having said this, there was one thing that would make me return and that...
---
I loved staying in the hotel and it was good experience. Breakfast was fine but i haven't liked their tea and coffee.. One of thing I faced problem is i told their Drivers to get me few things from car and they refused which was very annoying.. i had to go myself to get my things from car from parking.. Otherwise hotel is Great.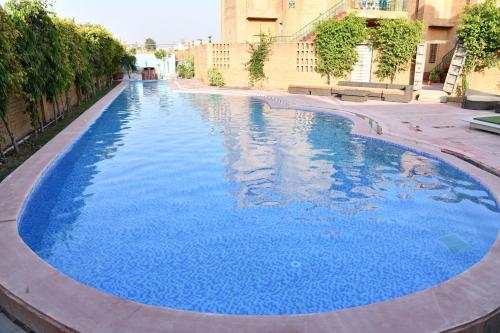 ---
We had a very nice welcome and stay at Heritage. We had a great Taxi Driver Guide from the hotel and we were really blessed to have found this gem. Nice restaurant nice food tasty decoration
---
More about Punjab
Discovering Punjab: Fun Facts and Reasons to Visit
Punjab is a state in northern India that is known for its rich history, vibrant culture, and delicious cuisine. The state is home to several UNESCO World Heritage Sites, including the Golden Temple in Amritsar, which is one of the most revered religious sites in the world. Punjab is also the birthplace of Sikhism, a religion that is practiced by millions of people around the world. Aside from its religious significance, Punjab is also known for its agricultural industry. The state is often referred to as the "breadbasket of India" due to its fertile land and abundant crops. Visitors to Punjab can take a tour of the many farms and fields that dot the countryside, and even participate in the harvesting and processing of crops. If you're interested in history, Punjab is a must-visit destination. The state has a rich and storied past, with influences from the Mughal Empire, the British Raj, and the Sikh Empire. Visitors can explore ancient forts and palaces, as well as museums and galleries that showcase the region's art and artifacts.
Getting There: How to Travel to Punjab
Punjab is easily accessible by air, rail, and road. The state has several airports, including the Sri Guru Ram Dass Jee International Airport in Amritsar and the Chandigarh International Airport. There are also several major railway stations in the state, including the Amritsar Railway Station and the Ludhiana Railway Station. If you prefer to travel by road, Punjab is well-connected to other parts of India via a network of highways and expressways. The state also has a robust public transportation system, with buses and taxis available for hire.
Exploring Punjab: Fun Things to Do and See
There are plenty of fun and exciting things to do in Punjab, no matter what your interests are. Here are just a few of the top attractions: - Golden Temple: This stunning temple in Amritsar is one of the most sacred sites in Sikhism. Visitors can take a dip in the holy waters of the temple's pool, and enjoy the beautiful architecture and intricate artwork. - Jallianwala Bagh: This public garden in Amritsar is the site of a tragic event in Indian history. In 1919, British troops opened fire on a peaceful gathering of protesters, killing hundreds of people. Visitors can pay their respects at the memorial in the garden. - Wagah Border: This border crossing between India and Pakistan is famous for its daily flag-lowering ceremony. Visitors can witness the spectacle, which includes marching soldiers and patriotic songs. - Anandpur Sahib: This historic town is the birthplace of the Khalsa, the community of initiated Sikhs. Visitors can explore the many gurdwaras (Sikh temples) in the town, and learn about the history and traditions of the religion. - Punjab Agricultural University Museum: This museum in Ludhiana showcases the history and development of agriculture in Punjab. Visitors can see ancient farming tools, learn about the latest agricultural technologies, and even participate in hands-on activities.
Booking with Agoda.com: The Best Way to Stay in Punjab
Agoda.com is the best way to book your accommodations in Punjab. With a wide range of hotels and resorts to choose from, you're sure to find the perfect place to stay, no matter what your budget or preferences are. Plus, with Agoda.com's easy-to-use booking platform, you can quickly and securely reserve your room, and even make changes or cancellations if your plans change. Some of the top hotels in Punjab include the Ramada by Wyndham Amritsar, Hotel Swaran, Country Inn's, WelcomHeritage Ranjitvilas, and Hotel Kabir Residency. These hotels offer a range of amenities, from luxurious spas and swimming pools to on-site restaurants and bars. Plus, many of these hotels are conveniently located near top attractions and transportation hubs.
The Best Time to Visit Punjab: Seasonal Tips and Recommendations
The best time to visit Punjab is during the winter months, from November to February. During this time, the weather is cool and pleasant, making it ideal for sightseeing and outdoor activities. Plus, many festivals and events take place during the winter, including the famous Lohri festival, which celebrates the winter solstice. If you're planning to visit Punjab during the summer months, be prepared for hot and humid weather. Monsoon season also occurs during the summer, which can bring heavy rains and flooding to some parts of the state. However, if you don't mind the heat and humidity, summer can be a great time to visit, as the crowds are smaller and the prices are lower.
Traveling to Punjab: Essential Tips for a Hassle-Free Trip
If you're planning a trip to Punjab, here are some essential tips to keep in mind: - Dress modestly: Punjab is a conservative state, and visitors should dress modestly out of respect for local customs and traditions. - Be prepared for crowds: Punjab is a popular tourist destination, and many attractions can get crowded, especially during peak season. - Watch out for scams: Like any tourist destination, Punjab has its fair share of scams and frauds. Be wary of people who offer you unsolicited services or try to sell you things. - Respect religious sites: Punjab is home to many religious sites, and visitors should be respectful of local customs and traditions. Remove your shoes before entering temples and gurdwaras, and cover your head if required.
Where to Stay in Punjab: A Guide to the Best Accommodations
There are plenty of great accommodations to choose from in Punjab, no matter what your budget or preferences are. Some of the top hotels in the state include the Ramada by Wyndham Amritsar, Hotel Swaran, Country Inn's, WelcomHeritage Ranjitvilas, and Hotel Kabir Residency. These hotels offer a range of amenities, from luxurious spas and swimming pools to on-site restaurants and bars. For budget travelers, there are also plenty of guesthouses and hostels to choose from. These accommodations offer basic amenities at affordable prices, and are a great option for backpackers and solo travelers.
Tasting Punjab: A Culinary Journey Through the Region
Punjab is famous for its delicious and hearty cuisine, which is characterized by its rich spices and flavors. Some of the must-try dishes include: - Butter chicken: This classic Punjabi dish features tender chicken in a rich and creamy tomato-based sauce. - Sarson ka saag: This vegetarian dish is made from mustard greens and is often served with makki ki roti (cornbread). - Chole bhature: This popular street food consists of spicy chickpeas served with deep-fried bread. - Lassi: This sweet and creamy yogurt drink is a refreshing way to cool off on a hot day. - Tandoori chicken: This flavorful chicken dish is marinated in spices and cooked in a traditional tandoor oven.
Getting Around Punjab: Transportation Options and Tips
Punjab has a well-developed transportation system, with buses, taxis, and auto-rickshaws available for hire. The state also has several major railway stations, as well as airports in Amritsar and Chandigarh. If you're planning to explore the countryside, renting a car or motorbike can be a great option. However, be aware that traffic in Punjab can be chaotic, and road conditions may be poor in some areas. Overall, Punjab is a fascinating and vibrant state that offers something for everyone. Whether you're interested in history, culture, or cuisine, you're sure to have a memorable trip to this beautiful part of India.