Discover the neighborhoods of Puttalam District
---
4-star hotels in Puttalam District
---
We were a bit concerened on our short ride from the Marawila town due to the remote location of the hotel, there's hardly a surrounding restaurant - cetainly not any that I would have ventured out to try out at least. Our entrance to the lobby wasnt that spectacular either with the area being quite dull. I can distictly remember my wife saying that she didnt like the l...
---
Dolphin Beach was the first stop on our 10 day tour of Sri Lanka and we spent 4 amazing nights here. The rooms were beautiful with some great quirky features - only complain I would have is that you cannot lock the tents. Not too much of an issue for us but may be concerning if you had young children or anything super valuable? Dean the manager was very friendly and e...
---
I loved every minute of my time at Bar Reef; it was tranquil, supremely relaxing, and the highlight of my stay in Sri Lanka. The staff was the best I had experienced in a month in Sri Lanka-- very helpful, friendly and also highly professional, attentive to detail, and creating an atmosphere of respect and peace, which allowed me to enjoy the quiet of being in nature. ...
---
Aarya marked the start of our trip, and the staff takes great care of its guests. We booked the dolphin tour through the resort and it was a beautiful, magical experience. The resort property was beautiful, with 6 rooms that give you a view of the lagoon. The chef was amazingly competent and served us fantastic meals - must-try the garlic butter squid and curry cashe...
---
Agoda failed to provide proper information about the hotel and marketed non excited Hotel ... It's a very Poor Services by Agoda and marketed as 4* Hotel . No Hotel on this name New owner changed name as bay watch Bad location - 10 km from. Main road through sandy beaches - no vehicle access- No information provided No of contact numb...
selvavinayakam
, United Kingdom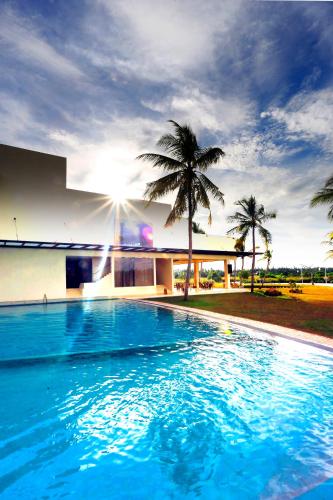 ---
Good place and first impression to stay here
---
5-star hotels in Puttalam District
---
We stayed here for 2 nights at the beginning of our tour. The staff were amazing and went out of their way to make sure we had everything we needed. We stayed in a deluxe room overlooking the sea, with a huge bath. We were on our honeymoon and the staff had decorated the bed with flowers and hung up little heart decorations. The room was clean, and very nicely decorate...
Catherine
, United Kingdom
---
- Very nice home and rooms - Very clean - Staff was awsome and very gentle - Food is incredible, best curry we tried in Sri Lanka and amazing price - Very windy, and has nothing to do except Kite Surf (perfect location for kite surf) - Close to wilpattu park
---
The owner's intentions are commendable. He is trying to create a high end resort that is in tune with nature. My husband and I experienced this sort of accommodation with a safari in Africa organized by CC Africa. The villas blended in with nature, but were insect and bug proof. However at Dutch Bay Resort, because the bathroom is open to nature, lizards and insects g...
---
There are just 3 tents which are definitely for 'glamping'. This is not roughing it in any sense of the word. There is not much to do here except for a few trips out in a boat and a more substantial, but unmissable, trip to see the dolphins. You can walk from the tents to the village a couple of km away.... if you can be bothered. This is a place to chill. The food...
---
Had a 3 night stay here on the way to Jaffna. Lovely position on Lagoon side, beautiful sunsets. Good stopping point for transit or to visit wildlife, culture or just enjoy quiet time. I had a room with en-suite but I think some rooms have shared bathroom. The place was spotless. An oasis of calm. I cannot praise all the staff enough for their care and attention. Altho...
---
More about Puttalam District
Can't decide how to spend your time in Sri Lanka? Start with a trip to the District of Puttalam. Agoda.com offers a superb selection of top quality hotels to meet your accommodation needs and requirements. While in Puttalam, be sure to visit Kalpitiya, Marawila, Arachchikattuwa. Our website has been designed to help you discover exciting and interesting things to do and places to see. The District receives many visitors due to its unique and interesting features. With more than 2 million customer reviews, more travelers are choosing Agoda.com to book hotels in Puttalam.