Discover the neighborhoods of Ratnapura District
---
4-star hotels in Ratnapura District
---
Boulder Garden Hotel is literally built around a majestic boulder. The hotel is built around the rain forest; it slips into the setting rather than forcing itself unnaturally in the environment. Because of this seamless integration, you get to wake up and fall asleep to the sound of rainforest birds and the wind of the rainforest. It's off to the beaten track, so th...
---
Everything about our stay was excellent! This was the best place we stayed in Sri Lanka, wish we would have booked for 2 nights. The tents were clean, big and comfortable. It was great to have AC and hot running water in the tent. The king bed was comfortable. Staff were attentive and friendly. Close to Uda Walawe park. We booked our safari through the hotel and were v...
---
Far away from the crowd retreat in the trees. From main road 2km of single car road in the rice fields. Then 200m on small track. Need driver to go. Very relaxing. No luxury but clean functional for this type of place. Very warm welcome. Very good breakfast and diner from local ingredients. We were the only guest that night out of 3 or 4 rooms. Had a walk before diner ...
Arnaud
, Hong Kong SAR, China
---
We loved our second stay at this hotel. A perfect get away from the city
---
5-star hotels in Ratnapura District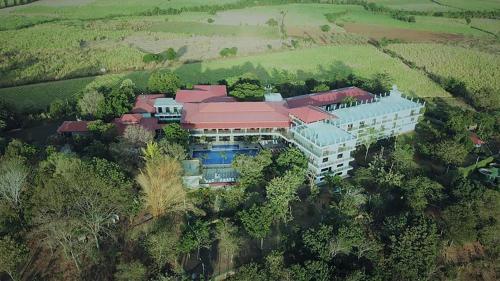 ---
New and beautiful hotel. One of the best experiences in Sri Lanka. But not all staff spoke English well, and not all staff were attentive to the guests either. There's room for improvement. The dinner was tasty but pricey. I also tried the Ayurveda massage in the hotel. The massage itself was good. But they can do better to enhance the whole experience e.g. dim the ...
wai
, Hong Kong SAR, China
---
We loved this place, a little over priced but I'd still go back. Staff are amazing, very on point with there advice and made us feel like VIP at all times. Only one thing that I could suggest to the hotel and any fellow travellers if you book a safari for the morning where warm clothes as we left the hotel in the usual attire for Sri Lanka being shorts and shirt but ...
---
We were blown away by the hospitality at Plumeria from the second we arrived. Our lovely hosts had a bath ready (in the most amazing outside bathroom!) when we got there. They took care of taxis and organised our jeep safari to Udawalawe which was superb - our guide made sure we saw all the animals we could and was really informative. We were even lucky enough to spot ...
---
We are so happy to have chosen so stay with them. The overall experience was just above our expectations. Our Safari guide was just the best. Would definitely recommend! (we were with our 5 months baby and 3 years old daughter)
---
Excellent place to stay with family , very friendly staff.
---
More about Ratnapura District
Whether it's your first visit or your fiftieth, Ratnapura is a great destination for a vacation. Agoda.com has a fantastic range of hotels to help you make your trip to this beautiful District a memorable one. Home to 8 cities, you will never run out of things to do and places to see in this wonderful and exciting District. Getting around Ratnapura is easy with the District's major airports as access points to major cities. With availability in more than 22,000 cities worldwide, more travelers today are choosing Agoda.com to search for hotels in Ratnapura.