Where to stay in Samut Prakan Province
---
4-star hotels in Samut Prakan Province
---
We had to visit a relative in hospital and this was a convenient place to stay. The majority of the guests here are Chinese tourists stopping over on their way to Pattaya and so there are large numbers of coaches revving up and manoeuvring up until late evening which was quite disruptive / not relaxing. The wifi system was patchy, either able to connect but no connec...
---
isanook' manager, Tim is an open-minded person. he made our stay comfortable. his coffee from Chiang Mai is wonderful. it was a good stay for our family. it will be the best choice as a transit hotel if the hotel provide the shuttle from BKK.
---
Luxury hotels in Samut Prakan Province
---
This my second stay at Paeva. I really love this location. It is remote in terms of access to major shopping malls and city centre, but within 30 minutes drive of all. Plenty of top class golf courses nearby.Staff n hotel are polite and helpful. Rooms are spacious and pool is excellent. While the breakfast was disappointing the restaurant served excellent food for dinn...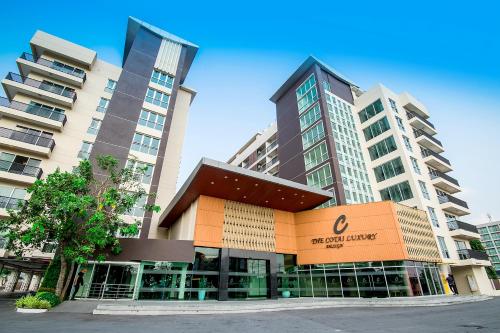 ---
I booked this hotel for my Mother and Brother for 2 nights. Receptuon would not issue a second key for the room so they could not really go out separately. Also, this hotel is geared up only for Chinese tourists. The breakfast area was very noisey and unpleasant. The presentation of the food was disgusting. For example the butter was contaminated with other foods and...
---
Giving them an excellent review is a fair thing I have to do! I have much enjoyed at this lovely hotel, In the morning I found many hummingbirds at 7 floor. I got a nice specious luxury room. Most recommended!
---
Find the Perfect Type of Accommodation
---
More about Samut Prakan Province
Discovering Samut Prakan: Fun Facts and Reasons to Visit
Samut Prakan is a province located in central Thailand, just south of Bangkok. It is known for its rich history, unique culture, and stunning natural beauty. One of the most interesting things about Samut Prakan is that it is home to the world's largest crocodile farm, which houses over 100,000 crocodiles of various species. The province is also home to the Erawan Museum, a stunning three-headed elephant statue that houses a museum of Thai art and culture. Other attractions include the Ancient City, a park that features replicas of Thailand's most famous landmarks, and the Bang Pu Recreation Center, a popular spot for locals to relax and enjoy the beach. Samut Prakan is a great destination for travelers looking to experience the best of Thailand's culture and history. The province is home to some of the country's oldest temples, including Wat Asokaram and Wat Prok Noi. These temples are renowned for their stunning architecture and intricate carvings, and offer visitors a glimpse into the rich spiritual heritage of Thailand. In addition to its temples and historical landmarks, Samut Prakan is also known for its traditional festivals, such as the Songkran Festival, which celebrates the Thai New Year, and the Loi Krathong Festival, which involves floating lanterns on the water to honor the goddess of water.
Getting There: How to Go to Samut Prakan
Samut Prakan is easily accessible by various modes of transportation. For those arriving by air, the nearest airport is Suvarnabhumi International Airport, which is located just 30 minutes away from the province. From the airport, visitors can take a taxi or use public transportation to get to their hotel. If you are coming from Bangkok, you can take a taxi or a bus to Samut Prakan. The journey takes around 45 minutes to an hour, depending on traffic. Alternatively, you can also take the BTS Skytrain to Bearing Station and then take a taxi or a bus to your destination in Samut Prakan.
Unforgettable Experiences: Fun Things to Do in Samut Prakan
There are plenty of fun things to do in Samut Prakan, no matter what your interests are. For nature lovers, a visit to the Bang Pu Nature Reserve is a must. This reserve is home to a wide variety of wildlife, including birds, monkeys, and reptiles. Visitors can take a guided tour of the reserve and learn about the different species that live there. For those interested in history and culture, a visit to the Ancient City is a must. This park features replicas of Thailand's most famous landmarks, including the Grand Palace, the Temple of the Emerald Buddha, and the Bridge over the River Kwai. Visitors can explore the park on foot or by bicycle, and learn about the history and culture of Thailand. Another popular attraction in Samut Prakan is the Crocodile Farm and Zoo. This farm is home to over 100,000 crocodiles of various species, and visitors can watch crocodile shows and even hold a baby crocodile.
Why Book with Agoda.com: Your Ultimate Guide to Samut Prakan Hotels
Agoda.com offers a wide range of hotels and accommodations in Samut Prakan to suit every budget and preference. Whether you are looking for a luxury resort or a budget-friendly guesthouse, Agoda.com has you covered. One of the top-rated hotels in Samut Prakan is the Baan Paknam Hotel. This hotel is SHA certified, which means that it follows strict hygiene and safety protocols. The hotel offers comfortable rooms with modern amenities, as well as a restaurant and a swimming pool. Another great option is the Rimkhobfa Urban Resort. This resort features spacious rooms with private balconies, as well as a restaurant, a swimming pool, and a fitness center. For those looking for a budget-friendly option, the Carnation Residence is a great choice. This guesthouse offers clean and comfortable rooms at an affordable price, as well as a shared kitchen and a rooftop terrace.
Best Time to Visit Samut Prakan: A Seasonal Guide
The best time to visit Samut Prakan is during the cool and dry season, which runs from November to February. During this time, the weather is pleasant and comfortable, with temperatures ranging from 20 to 30 degrees Celsius. This is also peak tourist season, so expect larger crowds and higher prices. The hot season, from March to May, can be quite uncomfortable, with temperatures reaching up to 40 degrees Celsius. The rainy season, from June to October, can also be a challenging time to visit, as heavy rains and flooding can occur.
Travel Tips: What You Need to Know Before Visiting Samut Prakan
Before you travel to Samut Prakan, it is important to know a few things to make your trip more enjoyable. First, be sure to pack lightweight and breathable clothing, as the weather can be hot and humid. It is also a good idea to bring sunscreen, insect repellent, and a hat to protect yourself from the sun. When visiting temples or other religious sites, be sure to dress modestly and remove your shoes before entering. It is also important to be respectful of local customs and traditions. Finally, be sure to bring cash with you, as many smaller shops and restaurants do not accept credit cards.
Where to Stay in Samut Prakan: Hotels and Accommodations
Samut Prakan offers a wide range of hotels and accommodations to suit every budget and preference. For those looking for a luxury stay, the Syama Nana is a great option. This hotel features spacious and modern rooms, as well as a rooftop pool and a fitness center. For a mid-range option, the Iconic Hotel Suvarnbhumi Airport is a great choice. This hotel offers comfortable rooms with modern amenities, as well as a restaurant and a swimming pool. Finally, for those on a budget, the Baan Paknam Hotel and the Carnation Residence are both great options. These guesthouses offer clean and comfortable rooms at an affordable price.
Culinary Delights: What to Eat in Samut Prakan
Samut Prakan is known for its delicious cuisine, which features a mix of Thai and Chinese flavors. One of the most popular dishes in the province is khao tom pla, a soup made with rice and fish. Other must-try dishes include tom yum soup, pad thai, and green curry. For those with a sweet tooth, be sure to try the kanom krok, a type of coconut pudding, and the mango sticky rice, a dessert made with sweet rice and fresh mango.
Exploring Samut Prakan: How to Travel Around the City
The best way to explore Samut Prakan is by taxi or tuk-tuk. These modes of transportation are readily available and affordable, and can take you to all the top attractions in the province. Alternatively, you can also rent a bicycle or a motorbike and explore the province at your own pace. Just be sure to wear a helmet and follow traffic rules to stay safe.