Fast facts about Brazil
| | |
| --- | --- |
| Accommodations | 354 properties |
| Popular City | Rio De Janeiro |
| Nightly rates from | $5 |
| Reasons to visit | Shopping, Beaches |
4-star hotels in Brazil
---
my wife and i stayed here for 5 nights. we were greeted very courteously by hugo at reception who made checkin quick and straight forward. we had originally booked a luxury room, and the room we were initially given was very spacious, but noisy as it was located just above the bar. we moved to another luxury room which was not as big, but decided to upgrade after our f...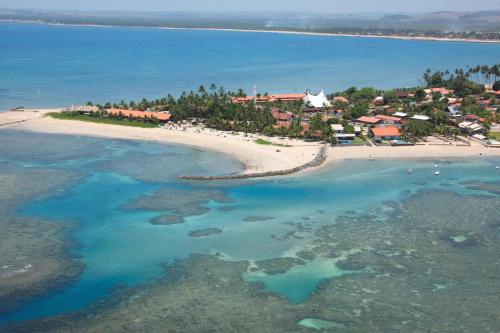 ---
It was absolutely wonderful. The setting is amazing.
---
Location: not downtown which is good as the beaches are not very good there Food: we only had the breakfast which wasnt that bad, but it finishes at 10am, quite early for a hotel Drinks: the waiters never came to check on us, and the caipis are expensive. Rather get drinks from the beach Clean: this place was not clean. The toilets flush broke every day (!!!), there w...
---
We needed to find a hotel for one night near the airport and were very pleasantly surprised by the staff, the amazing buffet and the lovely beach, at such an affordable price. Next time we'll stay Longer.
---
Overall the hotel is great specially for those w kids. Nice breakfast, the staff is very friendly and the area is very green and the beach is excellent. A bit far from everything and there is no others options of restaurants close by. Don't expect a 5 stars resort "Maldives" level but for Maceio the hotel was really great and fun, I would come back. They even provide b...
---
5-star hotels in Brazil
---
The hotel room wasnt ready. There was no towels in the bathroom as we had to request for it. Also, the bed wasnt well prepared as their blanket was just a sheet of thin linen without actual blanket. The blankets were in the closet. The hotel didnt provide any free bottles of water and they charged over priced, about USD 3-4 per bottle (approx 250ml).
---
They first gave me a wrong room clas, but compensated me with a ever higher room clas when the understood that did a mistake. I was very happy with me Junior Suit in the sea Front. Well done!
---
I had a Great time! the hotel and the location are very nice. Close to the Praia do Forte village, you can walk from the beach or take a cab
---
The bathroom is very simple, need to renovate. The hotel's rate is too much for what they have to offer.
---
Fantastic hotel! Will definitely go back! 😊
---
Find the Perfect Type of Accommodation
---