Fast facts about New Zealand
| | |
| --- | --- |
| Accommodations | 37 properties |
| Popular City | Auckland |
| Nightly rates from | $5 |
| Reasons to visit | Shopping, Sightseeing, Museum & arts |
Discover the regions of New Zealand
---
4-star hotels in New Zealand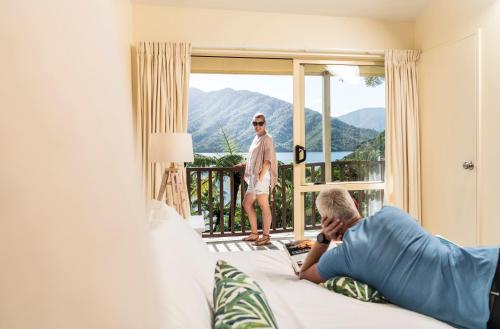 ---
This resort is in a beautiful location, the rooms are well spaced out and have nice views of the bay. There is a pool and a spa. The restaurant has amazing views and very good food. The staff here were very helpful. There is an excellent flat spot in front of the beach with grass, games and loungers. Maybe a tad overpriced, but it is an amazing resort.
---
The hotel is a bit further from the town..about 15 minutes from the town and within the Ramada Resort compound. The unit is owned by a private owner and we were entertained by Sherene, a friendly lady. The venue was awesome where it is fronting a lake..very cooling and with beautiful scenery. I love the apartment and it was a comfy stay that made us happy to come again...
---
We were a group of 4, initially we booked the spa room, coz the picture showed us there will be 2 bedrooms. When we checked in, the spa room turned out only has 1 bedroom with 3 beds, and another bed at level 1 living room. We spoke to the receptionist if we can change to 2 bedrooms suite, and glad that receptionist accomodated our request. Stayed for 1 night only, d...
---
My brother and I stayed here during our month long exploration of NZ by motorcycle in April 2018. Good location up on a hillside overlooking the beach which is a nice fifteen minute walk through the rain forest. Indoor pool and hot tub as well as outdoor hot tubs and a pool. The property doubles as a day spa but this is not a problem and is in fact a benefit as I was a...
---
Paul provided discrete but attentive service, Munish provided tasty meals, well presented. Golf Course was challenging if a bit windy on the occasion we visited. Well worth a visit for Golfers on a Northland tour. The KariKari estate wines were good. I liked the Martinborough Pinot best.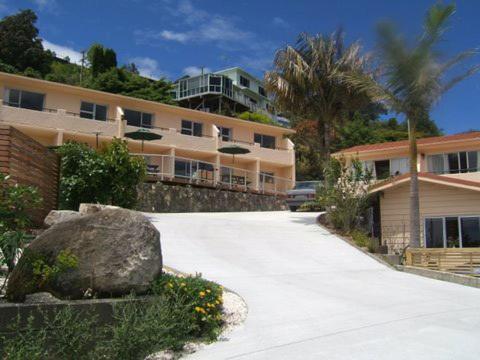 ---
The stuff is very nice and friendly!They provide lots of useful imformation about the area,and that beautiful lady prints the map for us.That's so sweet!The room is so clean, new and comfortable. we can enjoy beautiful sea view.
---
Loved our stay at castaways the cabins are amazing and the views are to die for! Staff at the restaurant could have been a bit friendlier we had lunch at the restaurant and had to get our own menus as no one was coming to bring us menus and then we had to ask a waiter to order after no one had been to take our order for lunch 15 mins! Food was delicious!
---
5-star hotels in New Zealand
---
Stunning clean, bright, well designed building and rooms Fresh, new, charming and delightful Great food, views, scenery Helpful staff One of most luxurious sophistication that money can buy
---
The Millbrook Resort is recommended highly. From the time we arrived, to the time we left, we had a great time. Rooms were spacious and the view of the mountains incredible. Our room had a king size bed which was really, really comfortable. Food on the resort is superb, but like most food in NZ, if you are an Australian, as I am, its quite expensive to our standard...
---
Stayed New Year's Eve and went to their special dinner which was delicious. Also had a massage which was great. The room was lovely. The only grievance I had was the spotty Internet connection, which I've noticed pretty much thoughout New Zealand.
---
Lovingly renovated convent in the middle of a vineyard, in the middle of the Marlborough wine region (think Napa Valley with 1/20th the tourists). Rooms/facilities/grounds are first-class, in tip-top condition. Staff are excellent. Food is top notch. Hard to find fault in anything. However, nearby vineyard had 3 air canons firing every ~15 minutes to scare birds ...
---
The location, accommodation, staff, dining and facilities were all magnificent at the Bay of Many Coves Resort. Thanks Kim, Graeme and the team for a memorable experience.
---
Set in a remote but beautiful location, it's well worth the drive to get there. However if your budget can stretch to a helicopter ride it's only 10 mins from Wellington. The cottages are generously sized with every comfort you would expect and more. The staff really are lovely and we were made to feel like the centre of attention with every interaction. Their sty...
---
Incredible in every way. Beautiful rooms overlooking a majestic landscape, with views to the ocean. Everything about Kauri Ckiffs is nirvana, with an incredible staff, and wonderful food. Stay as long as you can, three days was not enough.....
---
Amazing stay very attentive staff we are already planning a longer visit back
---
it is a beautiful resort. simply best
---
Top cities in New Zealand
---