10 best hotels in Sanur
Our top picks
Lowest price first
Nearest to
Best reviewed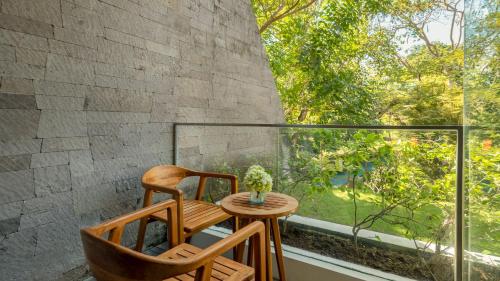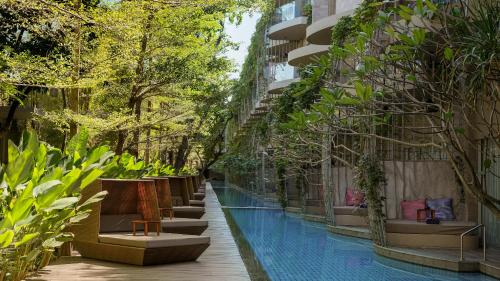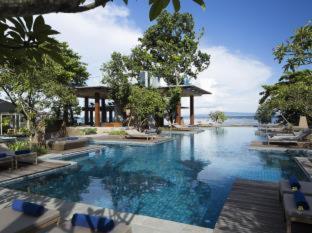 See all
Maya Sanur Resort and Spa
Sanur,Sanur - View on map
"We stayed at The Maya for a week, we had 5 days booked but after a not so enjoyable stay at another Sanur resort we decided to cut our stay short at that resort & move to the Maya 2 days earlier. I am so happy we did. It is so beautiful, tranquil & the service we recieved was truly 5 stars. We were lucky to be upgraded from the garden view to a pool view room which was greatly appreciated, thanks to Barry the Duty Manager who was so helpful to us during our stay, thanks so much Barry. The pool view rooms have a table & 2 chairs on the balcony where as the pool view rooms have a very comfy day bed to lounge on. The rooms are all spacious with all the amenities you could want. Breakfast was ample with your eggs cooked how you want. Also the cappuccino was great something you would expect from a 5 star property. Staff @ breakfast & in the restaurant were lovely, friendly & so willing to please, a big thankyou to Krishna & Padmini who looked after us during breaky & dinner. Padmini went over & above when realising my husband was sick in bed with bali belly on our first morning she came to the room with bread & tea so he didn't miss out on breakfast. The pool over looked the beach & was gorgeous & my only complaint about the pools in Bali is they are not heated, l like a heated pool. This hotel is well worth a look if staying in Sanur it is probably one of the best as it is a boutique hotel. A big thank you to all the wonderful staff at the Maya Sanur."
Show more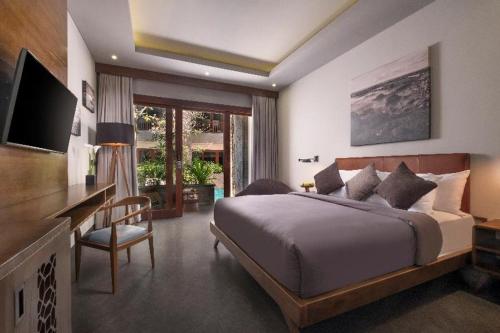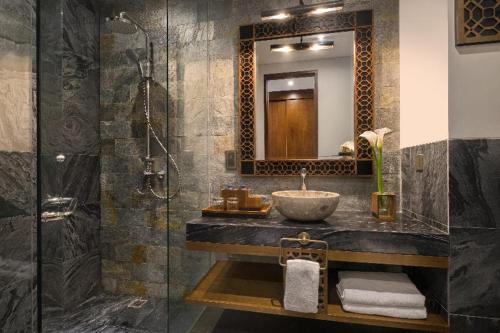 See all
Akana Boutique Hotel
Sanur,Sanur - View on map
"This is a new hotel in Sanur and as expected, the bedding was all brand new and so comfortable! The room itself was a nice size, great HUGE TV, massive bathroom and even a chair on the deck overlooking the pool with a drying rack (so handy). The staff here were incredible, so helpful and friendly, it was sad to say goodbye to them after a week. We ate at the restaurant and the food was definitely better than most other places on this street, served in a very nice setting (inside or out, your choice). We were in room 304 which is at the back of the hotel and we experienced no noise problems at all. This is Bali so you expect to hear scooters, dogs, roosters, bar music - but we heard nothing. Deep slumbers every night! Can't say enough good things about this place, loved it, will be back again. "
Show more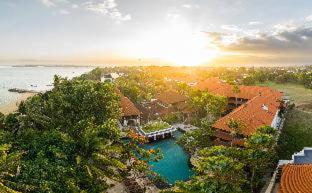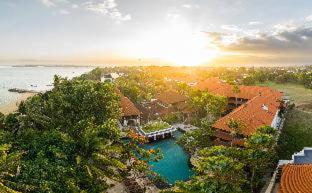 See all
Puri Santrian Beach Resort & Spa
Sanur,Sanur - View on map
"Me and my partner travelled throughout Bali and Lombok during August and early September, this was the last hotel we stayed at and decided to treat ourselves to an expensive, swanky hotel. We had stayed in Sanur previously so had the chance to view all the large beach front hotels - the Puri Santrian was by far the most appealing looking. The staff were unrivalled in their service (most places have friendly staff, but they often get distracted easily which is generally funny unless you are hungry!), they were attentive and the food was excellent. Location wise the hotel is very good, beach and 2 pools are clean and easily accessible, even if getting loungers is a challenge after 10.30 am. Many bars and restaurants can be found just outside the hotel and the main road is a 10 min walk or 10,000 Rp bemo (for 2) or 20,000 Rp taxi away. Rooms were large and clean, lighting was a little poor (not very bright) and the air-con unit placement was "unconventional" to say the least but still just about did its job. There are hotels in Sanur that cost only a fraction of the price (we paid around a third of the price for our other Sanur hotel which was also very good clean, air conditioned and with a pool) that are equally spacious and comfortable - this would be my one real negative point, however these hotels do not boast the same quality in location or breakfast provision (both in range of food available and quality of food)."
Show more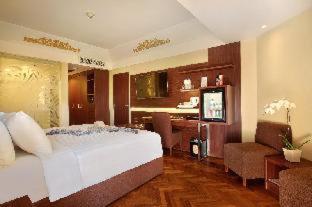 See all
Prama Sanur Beach Bali Hotel
Sanur,Sanur - View on map
"Its was my third time staying with Prama Sanur Beach Hotel. This time I visited with my six years old daugther. We had a blast. The hotel is a beachfront property with mini waterpark, kids club, and plenty of restaurant options within walking distance. The hotel is very clean and well maintained. It has plenty of gazebos, and places to relax. Prama Sanur Hotel has always suprises me with their extra care of attention for their guests to fill comfortable and taken care of. Sanur is also a good place to do watersports such as paddle boarding, surf, paraglidding, etc. I also recommend a local yet vibrant western asian fussion restaurant called Batu Jimbar Cafe. Its a must cafe for me to dine in when im in Sanur area. The food is AMAZING and the staff are so friendly. As for driving aroud Bali I recommen hiring car+driver with Astra Trac Rental Car. They have alot of brand new clean car options with proffesional yet punctual service. The drivers are always so polite and informative "
Show more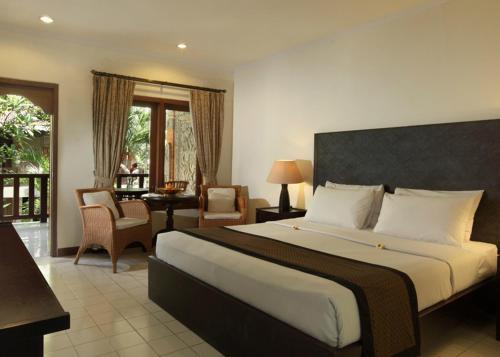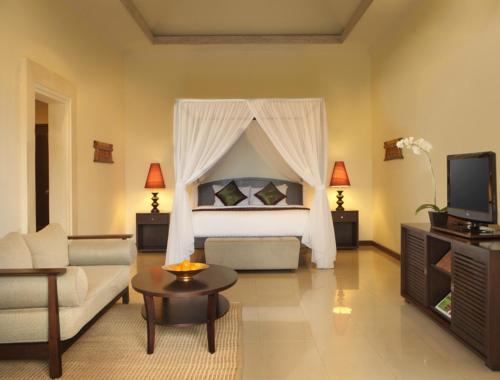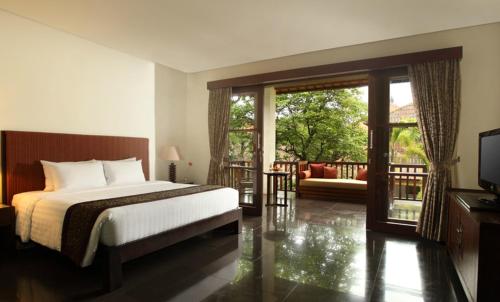 See all
Griya Santrian a Beach Resort
Sanur,Sanur - View on map
"The majority of the Sanur hotels and resorts were built 25 to 50 years ago and Girya Santrain was built in 1970's however it's been updated several times since but the rooms still have a dated atmosphere. The reason I mention this is because the majority of the beach front hotels in Sanur can't be compared with the more modern hotels rooms elsewhere in Bali. It's context, Sanur with its white sand and peaceful atmosphere is different to the hectic pace of the Kuta, Legian, Seminyak side where the hotels are more modern. Griya Santrain would be one the better beach front hotel/resorts with several pools, the pool bar looks like lots of fun and with direct access to the beach it a great spot. The gardens are well established and beautiful. A dated but a decent sized bathroom with separate shower and bathtub which is a blessing, the need to not get into the bathtub to have shower was certainly appreciated. Very comfortable bed and a selection of pillows with quality linen. Perfect! The "Pool View" room was great, but if you wanted peace and quiet I imagine the Garden View rooms would suit. The hotel restaurant set right on the beach is very nice however I think the hotel management should increase the budget of the kitchen… if you get my meaning. Breakfast, I guess it could be classed as equivalent to 3 star hotel. The morning coffee is either the brewed style or AUD$4.20 extra for a cappuccino which is equally as bad… skip the coffee and go to one of the other beach front hotels with a trained barista at the machine. In general, the food is below par of what is served elsewhere in Bali, why management doesn't improve the situation is astonishing. They have good, friendly capable staff, the perfect location therefore why not make it the point of difference between other eateries in Sanur? Send the kitchen staff to some of the places in Seminyak. For breakfast and lunch "The Nook", for dinner there are too many to mention. People do pay for a great meal and also retur"
Show more
See all
Swiss-Belresort Watu Jimbar
Sanur,Sanur - View on map
"Another wonderful stay at our favourite hotel in Sanur. Sumawan gives us great advise regarding our business trips to Bali not to mention the other friendly staff, Lintang, Ragan & of course Wirrik (i think thats how you spell it) who is always there to bring our coffee when she sees notices us sitting down. Highly recommend this hotel, best in Sanur..."
Show more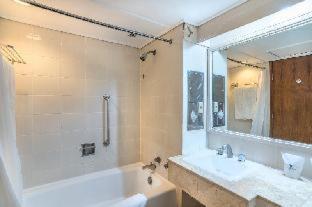 See all
Inna Bali Beach Garden
Sanur,Sanur - View on map
"Great area with fabolous plenty flower and tree, location were amazing, close to airport, denpasar down town, sindhu market, jazz and grill bar, also surrounding with great restaurant and bar along the beach with cheap price, hotel is front of the beach giva a plus, you can whach sunrise when enjoy breakfast, breakfast good to with many kind of american and continental menu, staff give their best to serving guest,very kind and profesional with smile, excellent service, we feel like we are a king and queen here, quite atmosphere and ambience give us comfort and want to stay here more and more, clean room with good facilities make it a place like a paradise, hotel has big swimming pool adult and children, beach also clean too, white sandy sanur beach very calm and safe given us a unforgetable memories, we definitely will return in nearly, hotel very recommended and we give 10 of 10 star for this hotel,thank you Inna Bali Beach Garden"
Show more
See all
Anindya Homestay
Sanur,Sanur - View on map
"The rooms are spacious with a balcony where you can chill and relax."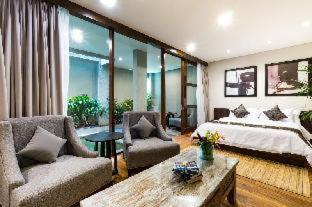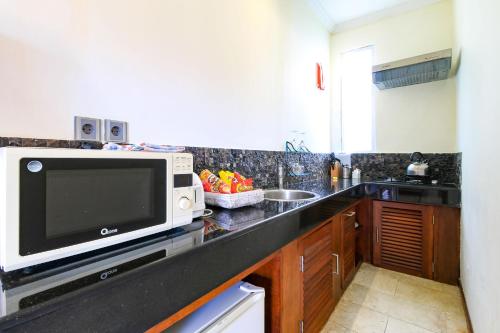 See all
Aleesha Villas
Sanur,Sanur - View on map
"The best thing about Aleesha was the very friendly staff. All the staff especially the manager Evie were very customer oriented and always ready to lend a helping hand. The staff make you feel that your needs are always their priority. A disadvantage though is the location because you have to go through a winding road (8 minutes walk) before you get to the main road. I don't mind making this walk during daytime but at night and when it rains it's not very comfortable. The hotel is also near a lot of good restaurants and near the main road. "
Show more
See all
Hyatt Regency Bali
Sanur,Sanur - View on map
"hyatt regency sanur is really nice hotel. the location is not center of sanur but, there are many nice restaurant nearby. steps are kind , room condition is really good. It has not been long since I finished the remodeling, so the water is very clean. I didn't get dirty at all in six days with my personal showerhead. the garden is wonderful that center of building . swimming pools were not crowded, beach side was very safety and clean. everything was very nice. The only regret is that there are so many mosquitoes in the room that I couldn't sleep at night. I thought that's because, they opened the door when they cleaned the room, and when they asked to close the door when they cleaned, they quickly accepted it and did it."
Show more
Find the Perfect Type of Accommodation
---
More about Sanur
As the first upscale resort to rise out of Bali, Sanur was proof that this island appealed to more than just backpackers and surfers. The resort community is actually an extension of capital city Denpasar, and it was popular with Western travelers even before WWII.

The number of honorary consulates stationed in Sanur is testament to the community's tranquility and stability. Local consulates include those of the UK, Czech Republic, Germany, Sweden and the Republic of Hungary. Sanur accommodation in this area appeals to high-end travelers including diplomats, officials and up-market tourists. Sanur is also a popular base for retired expats.

A few sightseeing attractions are found here. The Stone Pillar has Sanskrit inscriptions detailing battles that took place more than a thousand years ago. It's an important relic for archeologists, as it demonstrates just how long Hindu culture has flourished here. The former residence of Belgian artist, Adrien Jean Le Mayeur is also in Sanur and has been converted into a museum of his work.

Given the number of expats and foreign employees living in Sanur, the community has a great selection of shops and facilities. Beyond everyday shops, visitors enjoy the beachfront art market or the handicraft market at the far north of Jalan Pungutan. As four- and five-star hotels in Sanur are a fixture, this community also has beautiful parks and botanic gardens (including an orchid garden) and an excellent selection of golf courses.