4-star hotels in ShangCheng District & Hangzhou Main Train Station
---
It is very hard to find a hotel for non-chinese tourist. this 4star hotel is indeed walking distance to West lake and Qinghefang Ancient Street. It is also 5mins walking from LongXiangXiao Metro (ExitD).It is easy to find food and shopping for branded items,ranging from China Local brand to High-End Brand such as Hermes ,Cartier and etc. If you need for wholesale cloth...
---
The hotel was warm and welcoming and allowed me to relax after a busy day of sightseeing. The location of the hotel allowed me to walk to the West Lake and back to the hotel quite easily. Catching a taxi to the train station was also easy as the hotel is located on a main road. The staff were accommodating and ensured that I had a non-smoking room as requested. I would...
---
5 minutes walking distance from alighting from shanghai bullet train at hangzhou railway station. also 2 minutes walking distance from shuttle bus depot to the hangzhou binghai international airport. shuttle bus depot is adjacent to the goethe hotel which is right next to the redstar culture hotel. nice firm bed, room quite spacious and with in room safe. two bottles ...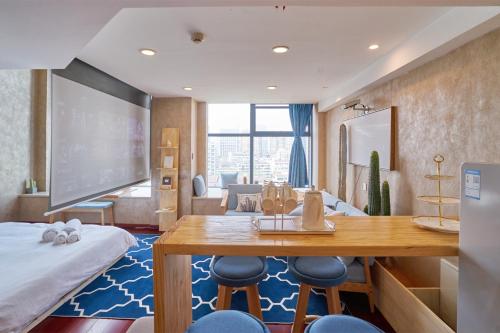 ---
Very nice, cosy and homey apartment which is very suitable for family members. I would recommend anyone to come and stay here at any time.
---
Great place, value for money, location is accessible. CNY 97 from XiaoShan airport CNY 12 to Hangzhou Railway Station CNY 11 to Xi Hu (was informed it's walkable abt 10-15 mins) Good for those budget travellers
---
When i reached the hotel at midnight,i still can find a few restaurants which are still open. During the day time there are alot of restaurant a long the street and corners serving nice food. I stay the hotel for two night and transit to shanghai for 4 days. I book again at this before travelling to shanghai for my return stay for another two night before travelling ba...
---
Pleasant, nice little canal on side of hotel, and nice street stalls. Near the lakes.
---
5-star hotels in ShangCheng District & Hangzhou Main Train Station
---
I went to the hotel by train, so it's really easy for me to go there by foot! The staffs were quite friendly. Since my family and I reached the hotel before 12am, they didn't let us wait long to check-in. Maybe this will still be my prior choice next time I go to Hangzhou.
---
In and around ShangCheng District & Hangzhou Main Train Station
---
10 best hotels in ShangCheng District & Hangzhou Main Train Station
Our top picks
Lowest price first
Nearest to
Best reviewed
More about ShangCheng District & Hangzhou Main Train Station
Shang Cheng District might not have as much to offer tourists than West Lake District, but is a convenient transportation junction with access to the local university scene. Most of the people booking hotels in Shang Cheng District are either Chinese business travelers or relatives of students.

The Qiantang River flows through the district and guests of local hotels can get out for walks on the riverside in the morning and evening. It's spanned by the modern Qiantang River Bridge. Centuries ago, this area hosted four classical academies: Ziyang, Wansong, Qiushi and Zongwen. Some of these are still schools today.

For tourists, Hangzhou Railway Station is all they'll see of Shang Cheng District. Trains regularly arrive from Shanghai, the fastest of which connect in two hours. Regular trains also depart for Suzhou, Beijing and several nearby towns.

Most of the accommodation in Shang Cheng District is in the immediate vicinity of the railway station. From here, it's possible to walk to West Lake and even easier to get to He Fang Pedestrian Street, which is Hangzhou's premium shopping street. It leads into Nanshan Road, a famous bar district on the east coast of the lake. There is also plenty of after-hours activity in Shang Cheng thanks to the university crowd.