Finding the perfect Sydney accommodation can go a long way towards making sure that visitors have an outstanding trip. Sydney is an amazing metropolitan city in Australia and offers visitors so much to see and do. Travelers who are looking to maximize their time in the city should plan on staying in a neighborhood that best suits their needs. If visitors wish to spend a lot of time at the beach, a stay near the water is a better fit than staying in an area that's further inland. Fortunately, Sydney has a variety of neighborhoods to choose from, so travelers can decide which one suits them best or move around during their trip to enjoy everything the city has to offer.

Sydney Accommodation – Sydney's Top Neighborhoods
Travelers may wish to consider which season would be best for them for a visit. High season in Sydney is when the weather is the warmest, and happens between December and February, while the low season is between May and August. Sydney is fairly temperate, with summer highs around 25 degrees Celsius, and summer lows around 19 degrees Celsius. In the low season, the highs are around 17 degrees Celsius, and the lows are around 9 degrees Celsius. So, no matter whether travelers are visiting during the high season in the summer, or during the low season in the winter, the temperature should be relatively comfortable.
For travelers who are looking to minimize costs, a trip to Sydney during the low season should end up saving them some money on accommodations. However, travelers will have to compromise with weather that isn't as nice as it is during high season. The average price for double occupancy in Sydney is around 240 AUD per night. While the average price (weekend night) will depend on the type of hotel and time of year, visitors can save some money by planning their trips for midweek dates or during the low season. The average price (weeknight) will also increase depending on demand, and it can reasonably be expected that weeknight bookings are going to be less expensive than the weekend, as travelers won't be competing with locals who decide to take weekend excursions to the city.
Sydney Accommodation near Bondi Beach
Bondi Beach is the perfect place for young backpackers, students, surfers, or people who love to sit out in the sun and get a tan. With its iconic white-sand beach, Bondi Beach is one of the most well-known beaches in Australia.
Top Accommodations in Bondi Beach
Hotel Bondi – Within walking distance of Bondi Beach, this hotel offers free Wi-Fi in all rooms, air conditioning, casino, onsite dining, airport transfer service, and more.
QT Bondi – Crisp, modern accommodations located minutes away from Bondi Beach, this hotel also offers air conditioning, free Wi-Fi in all rooms, a fitness center, garden, bicycle rental services, and more.
Adina Apartment Hotel Bondi Beach Sydney – Mere meters from Bondi Beach, this hotel also provides free Wi-Fi in all rooms, hot tub, swimming pool, air conditioning, airport transfer service, onsite dining, and more.
Best Tourist Attractions Near Bondi Beach
Bondi Beach Markets – This weekly market (open on Saturday from 10 a.m. to 4 p.m. and from 9 a.m. to 1 p.m. on Sunday) offers great crafts, furniture, clothing, and jewelry from local sellers.
Bondi Openair Cinema – Located next to Bondi Beach and Bondi Pavilion, this open-air cinema provides great movie nights in an iconic setting.
Bondi Pavilion – Both a cultural landmark and a place that hosts many amazing events throughout the year, including festivals, art exhibitions, theater performances, and more.
FIND & BOOK A HOTEL IN SYDNEY TODAY
Sydney Accommodation in Surry Hills
Surry Hills is known for being a trendy and fashionable area in Sydney, so not only is it a great area to get some shopping done, but it's also home to fantastic eateries, art galleries, pubs, and wine bars. This is a great area for travelers who are looking for an upscale neighborhood to stay in with plenty of dining options, as well as great shopping and culture.
Top Accommodations in Surry Hills
Adina Apartment Hotel Sydney Surry Hills – Located in the heart of Surry Hills, this hotel offers amazing amenities, including a pool, sauna, spa, gym, and BBQ area. The hotel also offers onsite dining, free Wi-Fi in all rooms and public areas, airport transfer services, and more.
Little Albion a Crystalbrook Collection Hotel – Minimalist and modern, this hotel is a great choice for travelers in the area as it's close to public transit options and features free Wi-Fi in all rooms and public areas, free daily breakfast, an onsite bar, air conditioning, and much more.
Shakespeare Hotel – Quaint budget accommodations, ideally situated in the center of Surry Hills. With vintage décor, an onsite pub, air conditioning, Wi-Fi access, and more, visitors can enjoy this hotel's classic feel with all the modern amenities.
Best Attractions in Surry Hills
Brett Whiteley Studio – This site was the former home and studio of Australian artist, Brett Whiteley who was known for his avant-garde style. It's filled with finished and unfinished artwork, as well as personal memorabilia from the artist.
Prince Alfred Park – This gorgeous park features a heated pool that's open all year, a café, and tennis courts. A great place to enjoy the sun and relax in the park for a bit.
Surry Hills Markets – Held on the first Saturday of each month from 7 a.m. to 4 p.m., these markets are full of vintage wares, handmade goods and crafts, and delicious snacks.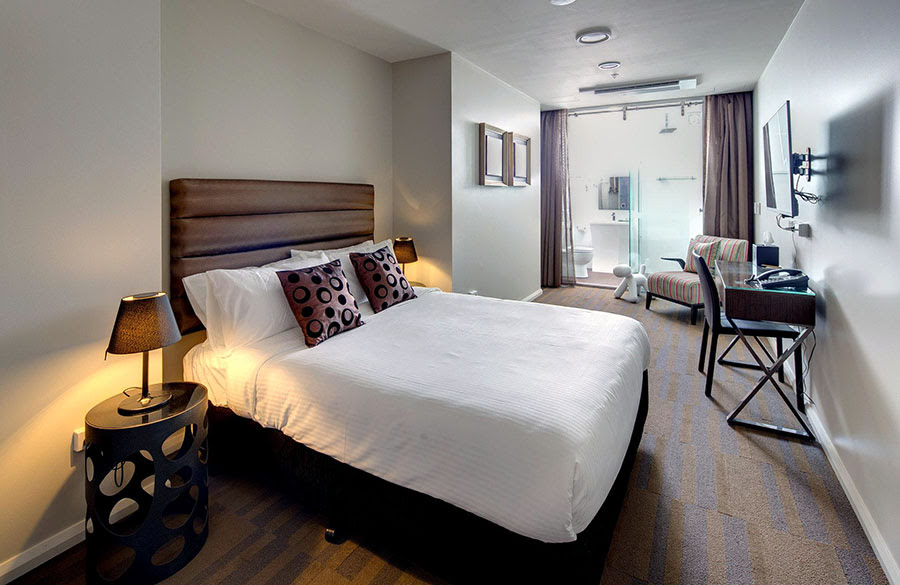 FIND & BOOK A HOTEL IN SYDNEY TODAY
Sydney Accommodation in Darling Harbour
Darling Harbour is a great choice for families, or for individuals who are looking for lots of great attractions in one location. With great pedestrian-only areas, this is a fantastic area to explore on foot, as there are plenty of attractions within walking distance of each other. Located near the water, there are plenty of photo-worthy places to explore at Darling Harbour, and a variety of hotel options are available for travelers to choose from.
Top Accommodations in Darling Harbour
Ovolo 1888 Darling Harbour – This hotel provides free Wi-Fi, air conditioning, a fitness center, onsite dining, and more. Ideally located near the city center, the hotel also offers airport transfer services and is close to public transit options.
The Capsule Hotel – Offering a unique experience in Sydney, this hotel offers space-efficient capsule-style rooms that are available for single, couples, or even family use. With free Wi-Fi, an onsite bar, air conditioning, and more, this hotel provides an inexpensive place to say in a great city.
Primus Hotel Sydney – Ideally located in the city center, this hotel offers free Wi-Fi, a fitness center, outdoor pool, onsite dining, babysitting services, and more. With airport transfer and shuttle services and babysitting services, and located near public transit options, this is a great hotel for families.
Best Tourist Attractions in Darling Harbour
Queen Victoria Building – This 19th century heritage building is an iconic sight in Sydney. Immaculately designed and decorated, this building is home to great dining and high-end shopping, all in a gorgeous setting that's spread across five levels.
Australian National Maritime Museum – This maritime museum offers free entry to the galleries (some special exhibits have entry fees) and is a unique attraction that provides an indoor and outdoor experience. Explore real, in-water fleets, and learn about the Royal Australian Navy and more in this distinct museum.
Tumbalong Park – This park was designed with plant life that is native to Australia, and this five-hectare park offers play areas for kids, including a waterpark, and is home to the Chinese Garden of Friendship, and a variety of cafés and restaurants.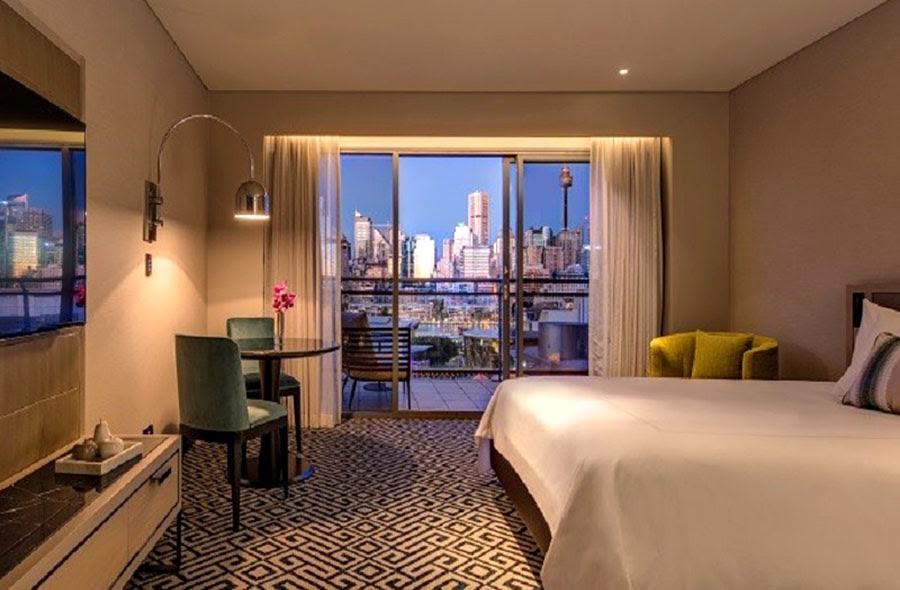 FIND & BOOK A HOTEL IN SYDNEY TODAY