Sydney national parks provide awesome opportunities to explore nature in New South Wales. Visitors will find an abundance of walking trails, Aboriginal cave art, picturesque beaches, and charming campgrounds at any of the national parks near Sydney. Plan a daytrip from Sydney to explore the outdoors in southeast Australia!

Sydney National Parks | Archaic, Aboriginal Art Sites
Well before Sydney was developed, natives populated the hills. Cave art, basin paintings, and forests of historic sites paint a picture of the creativity and vitality of Sydney's ancient Aboriginal inhabitants. Some of the most popular attractions include:
Basin Aboriginal Art Site at Ku-ring-gai Chase National Park. These alluring engravings in the basin rock are fundamental signatures of Aboriginal ancestry in Sydney.
Dark Point Aboriginal Place at Myall Lakes National Park. Among the Aboriginals, there are numerous tribes. The Worimi Tribe gathered here for clan feasts and even used the land as burial grounds. Here, you have access to gorgeous coastal views and can even see Broughton Island.
Red Hands Cave at Blue Mountains National Park. The Red Hands Cave Loop Walking Track leads you to this site – an original collection of historic rock art.
Bulgandry Aboriginal Art Site at Brisbane Water National Park. This is another indigenous site that has maintained Aboriginal rock art for thousands of years.
Aboriginal Engravings Site at Grotto Point. Enjoy breathtaking views on the way to Dobroyd Head to get a close-up view of the ancient rock art at Grotto Point.
These sites are sacred, and the land of the national parks in Sydney is protected. Please remember to view respectfully.
FIND & BOOK A LODGE NEAR SYDNEY TODAY
Sydney National Parks | Hiking Trails
Hiking in Sydney national parks is one activity that's always available! You can walk through forests and coast lines and take in impeccable sights as you breathe in fresh Australian air.
Two Creeks Track is a 9.5km hike near Sydney with varied terrain and lots of side trails.
Manly to Spit Bridge Coastal Walk is a 10km scenic coastal walk that overlooks the South Pacific Ocean between Reef Beach Track and Manly Beach .
FIND & BOOK A LODGE NEAR SYDNEY TODAY
Sydney National Parks | Mountain Biking Trails
The landscape in Sydney is hills and valleys. Paths through the region offer many types of terrain and host fascinating plant and wild life. Biking and hiking trails present exciting and healthful ways to view Sydney in all its glory.
Kings Tableand Road is great for both cycling and 4-wheel-drive adventures. Overlooking Lake Burragorang in the Greater Blue Mountains region, this trail runs 42km from Wentworth Falls to McMahons Point Lookout.
Big Yango Loop Trail in Yengo National Park is a 22km trail that is also ideal for both mountain bikes and 4WD ATVs. Choose from three different campgrounds (Big Yango House, Blue Gums, or Mountain Arm) in Yengo National Park for access to the Big Yango Loop Trail.
Barrington Trail offers a 15km challenge every year between October and May! If you are seeking an outback 4WD camping adventure, check out your options in Barrington Tops National Park.
Murphys Road in Blue Mountains National Park is a 14km trail through which you can bike or drive from Woodford Station to Murphys Glen campground. This is a great place to set up camp. During your stay, there are a variety of scenic trails and quaint picnic areas to savor. This is also a great place to relax and watch birds.
FIND & BOOK A LODGE NEAR SYDNEY TODAY
Sydney National Parks | Scenic Drives
You don't have to ride a bike to enjoy the scenic trails in Sydney! There are a number of roads you can drive on that offer amazing views of the landscape and coastline. Granted, you may really want a 4WD vehicle for many of them, but most hotel accommodations in Sydney include a reduced price on a rental.
Cambridge Plateau scenic drive actually begins in Casino. This is a route for which 4WD is not a requirement. It's a 32km, one-way drive through a colorful rain forest with a low grade and glorious views.
Hastings Forest Way touring route in Werrikimbe National Park is another easy drive that offers pleasant views. This route is a 122km, medium-grade trail that takes you through Gondwana rain forest and comes with the option of camping during your adventure.
Getting around Wadbilliga National Park on Wadbilliga Road is a whole other adventure. You're definitely going to want to make sure you have 4WD for this excursion. It's a 35km, one-way drive with variable terrain and snow-capped mountain views.
Oberon Colong historic stock route is a 63km, one-way, medium-grade trail through Blue Mountains National Park for which you will also need a 4WD. The trail leads to an old-time mining ghost town located in Yerranderie Regional Park.
While you're looking at 4WD adventures, make sure to check out Howes trail in Yengo National Park. This 30 km, one-way, minimum-grade route takes you through the gorgeous open forests of Sydney.
The final 4WD expedition involves two trails. They are Carrai trail and Coachwood trail. Located in Carrai National Park and Oxley Wild Rivers National Park. Combined, this one-way route is 137km of riveting scenery.
FIND & BOOK A LODGE NEAR SYDNEY TODAY
Sydney National Parks Events Calendar | What's On in 2020?
The National Park & Beach Exploring Adventure is scheduled for Saturday, March 21 from 10:00 AM to 8:00 PM in North Sydney. Enjoy a full day of beach and trails, exploring the outback with family and friends.

Sydney Coastrek 2020 is a charity event in Sydney for Mental Health. This event offers a 15km walk, a 30km walk, and a 60km walk along Sydney Harbour. Treat yourself to alluring ocean views and walk with purpose on March 27. Visit the Coastrek event page for more information or to register or donate.

The Bobbin Head Cycle Classic charity ride is scheduled for Sunday, March 29, 2020. This charity events features four different ride lengths. Riders ages 12 and above may register for the 27km and 57km ride. For the 80km ride and the 104km ride, riders must be age 15 or above.

The Lane Cove National Park, Riverside Circuit Walk is scheduled for Sunday, April 5, 2020. This 10km circuit walk is a fabulous way to explore the exquisite beauty of Lane Cove National Park.

On Friday, April 17, 2020, aspiring junior rangers can attend a mapping and orienteering educational event at Blue Mountains National Park. The event is from 10:00 AM to 12:30 PM and is open to adolescents between the ages of eight and twelve years of age.

Sydney Harbour National Park is hosting the Thriving Workplace group from Thursday, May 28 to Friday, May 29, 2020. The Thriving Workplace is a group of highly motivated individuals who are pioneering positive advancements in the workplace. Inspired, progressive minds carve out ways to enhance your life so you, your loved ones, and your business can thrive in unforeseen ways.

The Royal Agricultural Society brings the National Poultry Show to Sydney from Saturday, June 6 to Monday, June 8, 2020 at Sydney Olympic Park.

The 2020 EF Retreat is coming to Manly on August 16, 2020. The retreat continues through August 18, 2020 at Q Stations Sydney Harbour National Park.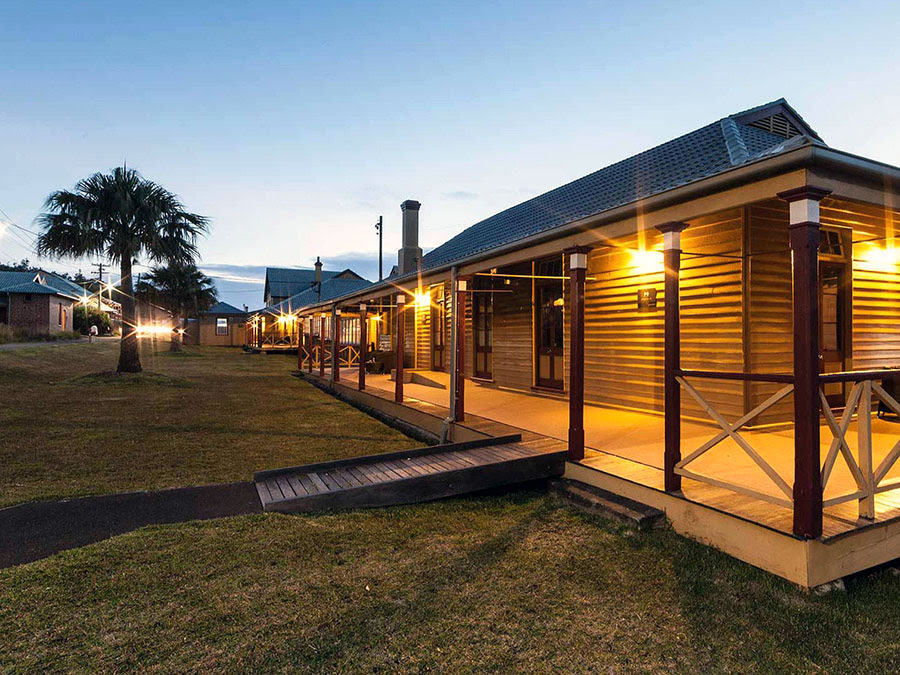 FIND & BOOK A LODGE NEAR SYDNEY TODAY