Located in the 6th arrondissement of Paris, Saint Germain des Prés is a beautiful neighborhood and is known for its trendy shops and upscale dining, as well as for being the location of many famous cafés, including Les Deux Magots, and the Brassiere Lipp. Home to the oldest church in Paris, the medieval Église Saint Germain des Prés, Saint Germain has one foot in the fast while the other is right in the present which makes it a fantastic location to visit when you are in Paris.
Saint Germain is a great location for a home base during your visit, as you can stay in hotels that have a number of suites to choose from, though you may wish to book early as the total number of rooms available in some hotels may be limited. St Germain is also very well connected by public transit (metro and bus), and also has plenty of access to taxis, so no matter where you're coming from in the city or where you want to go, travel to and from Saint-Germain-des-Prés is simple.
Not only is St Germain beautiful, but it is also famous for being a hub for thinkers. The philosopher, Jean-Paul Sartre, and the writer Simone de Beauvoir, helped popularize Existentialism, and were known to frequent cafés in the area and would use these locations to spread their knowledge as people sat and listened while sipping on a café au lait.
Saint Germain also embraced Jazz music, which flourished in the neighborhood after the first World War, and can still be heard in a few clubs around the area even today. With a rich and varied history, Saint Germain remains a trendy and upbeat neighborhood that draws music lovers, philosophers, and shoppers from all over the world. Saint Germain's upscale shopping delights and it is also home to one of the world's first department stores, Le Bon Marché. Whether you're just stopping through during your visit to Paris, or are planning on making Saint Germain des Pres your home base during your trip, there is plenty to see and do in this wondrous Parisian neighborhood.
Shopping & things to do near Saint Germain des Prés
Saint-Germain des Prés is known for its shopping, so if you are looking to spend some time (and some money) while in Paris, you can't go wrong with this region of the city! But not only is there shopping in Saint Germain des-Prés, there are also many great museums and historical locations to visit in the quarter, so no matter what you choose to do with your time, Germain's offerings are sure to please! The following locations are just a few suggestions for places to visit in the area.
Le Bon Marché: Founded in 1838, Le Bon Marché is one of the world's first department stores and it endures today. With a great total number floors and departments that cater to all sorts of tastes, including departments for children, books and stationery, home, beauty, men, women, and more, there's much to choose from at Le Bon Marché.
Museé du Luxembourg: If you love European art but don't want to wait in long lines at the Louvre, consider visiting the Museé du Luxembourg, especially if you are a fan of the artist Alphonse Mucha. Be sure to spend some time in the Gardens afterward (Le Jardin du Luxembourg), for a real treat.
Visit the Ecole des Beaux-Arts: Visit the school that taught some of France's most famous artists, including Renoir, Valentino, Garnier, and more. This school has exhibits open to the public, but guided tours are available if you wish to see more of the school itself.
Best places to eat near Saint-Germain-des-Prés
When you're in Paris, there is an abundance of choices when it comes to food as this country is known for its cuisine, and Saint-Germain-des-Prés is no exception. This affluent neighborhood is known for its high-dining options, but for individuals on a budget, there are also great restaurants and eateries to choose from that won't break the bank. But, if you're staying in the St Germain neighborhood, you may wish to splurge on a night out or a special dinner. Here are a few suggestions to get you started:
Aux Prés: With a MICHELIN star to its name, Aux Prés is a vintage bistro in the Saint-Germain des Prés neighborhood, featuring beautiful décor and contemporary food offerings that were dreamed up by celebrity chef, Cyril Lignac.
Cook'n Saj: Intimate and tasty, this Lebanese restaurant is a haven in the Germain des Prés neighborhood, though space is limited so arrive early.
La Société: Known for delicious French food, beautiful plating, and upscale dining experiences, stop by La Société if you're looking for a treat in the Germain-des-Prés area.
Bars, lounges, & nightlife near the St-Germain-des-Prés
No visit to Paris is complete without a night out on the town and, fortunately for visitors, Paris has many wonderful and varied nightlife experiences to choose from. Whether you want to see some live music, go dancing, or sip cocktails, anything and everything is available in Paris and, with many great options to choose from in the St Germain neighborhood, you won't have to go far from your hotel to have a great time out.
Le Rive Gauche: If you're looking for an upbeat nightclub where you can dance to some fun 70s music, or sip on some drinks, then Le Rive Gauche is for you.
Le Bar des Prés: This brilliant bar and restaurant mix will leave your taste buds satisfied and your stomach full. Enjoy this location's contemporary sushi offerings with a Parisian twist as you sip on a delicious cocktail during your night on the town.
Chez Papa Jazz Club: Live music, great food and drinks, and fun times are to be had at Chez Papa Jazz Club. If you're a fan of Jazz music, don't miss this experience!
Transportation options at the St-Germain des Prés
The Saint-Germain-des-Prés station on Line 4 of the Paris metro is situated right in the Saint Germain-des-Prés neighborhood, making the metro a great choice for transportation to the area. If you are traveling to the Saint-Germain-des-Prés area from somewhere else in Paris, it is possible that you will need to switch over to Line 4 at a station or terminal, so if you are on a different line, be sure that you are traveling towards a station that intersects with Line 4 so that you can travel to the St-Germain area.
The Paris metro has been in use since 1900 and is expansive, but also a great way to travel around the city. However, if you are coming from an area that doesn't have connected public transit, or you aren't familiar with how to use a subway system, the scope of the Paris metro can be a little daunting. But don't worry! The platforms are clearly marked and there are plenty of signs to indicate which trains will travel where inside the stations themselves. It also helps to plan your route ahead of time so that you know which stations you will be disembarking at to reach your destinations. Once you get a few rides under your belt, you will probably come to enjoy the Paris metro as it is a convenient and inexpensive way to see the city.
Some helpful tips to keep in mind when taking the metro in Paris:
Pickpockets work on the metro! Watch your belongings carefully and consider using a money belt. Paris has very industrious pickpockets who target distracted tourists and they work very quickly. If possible, leave most valuables in your hotel safe.
Not all metro stations are accessible for everyone! As the metro is over 100 years old, the metro still uses a lot of stairs. Some metro stations have elevators, but if you require an accessible metro station, you should check ahead to make sure your metro route will be able to accommodate your needs.
Do not lose your ticket! You need to keep your validated ticket on you while riding the metro, otherwise, you may be fined if you are caught without a proper ticket.
Move away from the doors! When entering the metro train, it is polite to let other passengers disembark first before moving onto the train. Likewise, when you are traveling between stations, unless you are getting off at the next spot, it is polite to move away from the doors to let other passengers get off the train easier.
Other means of transportation near the St Germain des Prés Quarter
If you are traveling to or from the St Germain neighborhood, then there are plenty of options aside from the Paris metro to choose from. If you are looking to skip public transit altogether, then hiring a taxi is the way to go, especially if you need to get to somewhere by a certain time (the airport or an event). If you are planning to take a taxi to the airport, be sure that you confirm the rate before you get on the road as most taxis should charge a flat-rate for the ride.
Paris also has a great bus system for public transit and it can take you all over the city with ease. Be sure to purchase a ticket from the driver or, if you have picked some bus tickets up ahead of time, be sure that you validate your ticket at one of the stamping machines that are located throughout the bus as, if you are caught without a validated ticket, then you can be fined. Be sure to leave the bus through the rear doors as most people will enter from the front. Buses and other forms of public transit can get quite busy during morning and afternoon commutes, so try to travel out of peak hours, otherwise, your ride may be rather squishy.
If you are planning on seeing the rest of the country, then consider taking a train from one of Paris's many train stations. With both regional and rapid transit trains, you can explore the country easily by train. Be sure to purchase your tickets ahead of time as seats can sell out, especially if you are looking to visit busier areas, and ticket prices can increase the closer you are to your departure date.
If you are able to travel by foot, however, seeing Paris with your own eyes as you walk along the Seine River is one of the best ways to see the city. Walk through Paris and marvel as you stumble upon one of the many beautiful landmarks in the city. You never know where your feet will take you next and, once you wish to return to St Germain, simply hop on the metro, hail a taxi, or jump on a bus and you'll soon be back in the neighborhood.
Check In to a hotel or apartment around Saint Germain des Prés
Hotel Louison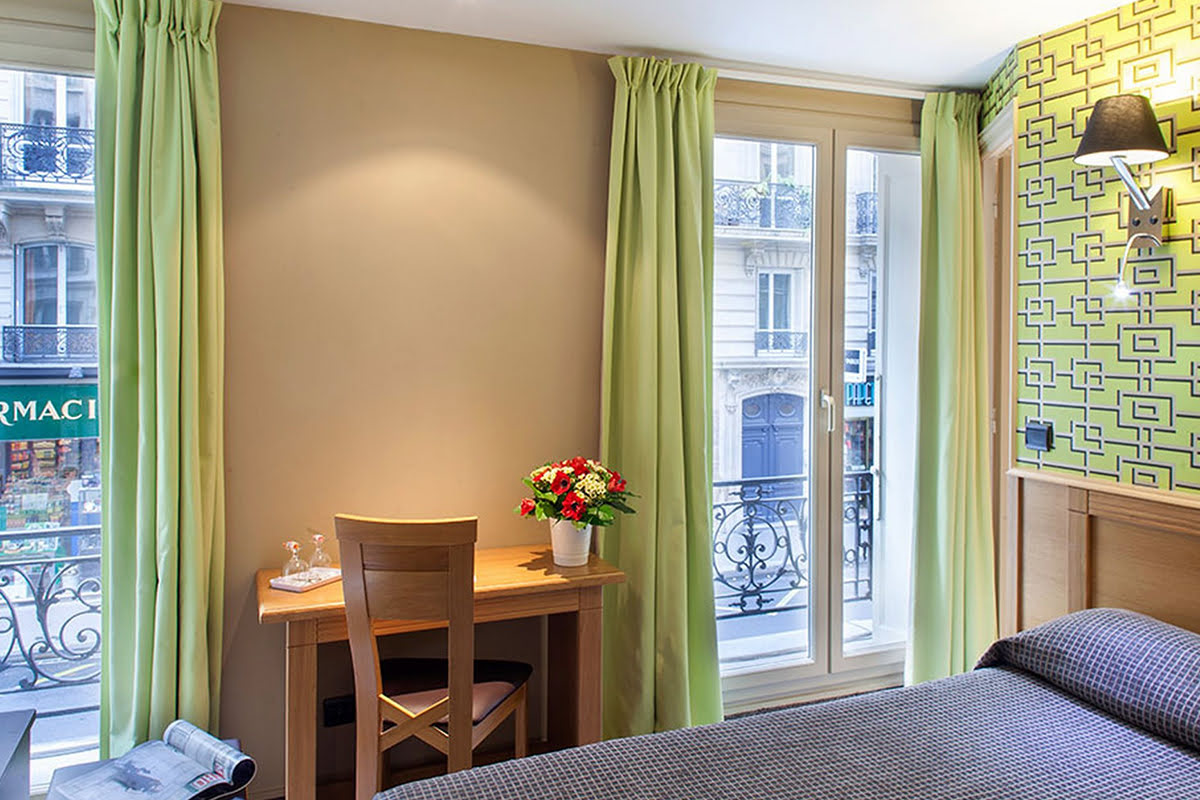 Hotel de Saint Germain