Bali day trips encompass every aspect of the island's culture and diversity. Holidays in Bali's southernmost parts, like Kuta, Ubud and Sindhu, almost plan themselves, but going beyond Bali for group travel, backpacking and family holidays might require some help from locals. Line up a beach and temple excursion, or set your sights on mountains and waterfalls.
AGODA EXTRA: Bali is an island, but it is a province, too. The entire region consists of the main island of Bali and a cluster of smaller islands, each worth a visit. Take a half-hour boat ride off the east coast to Nusa Penida, Nusa Lembongan and Nusa Ceningan for a day trip of surfing, snorkeling, roaming country roads and soaking up rays on some of the quietest beaches in Bali.
Bali Day Trips | 1. Uncover the secrets of LOVINA BEACH
Backpackers and families alike can appreciate a day (or two) of sightseeing at Lovina Beach, where the sun sets over black sand beaches and rises over dolphins swimming in the Bali Sea. Swimming with the dolphins is just one of Lovina Beach's heavenly draws. This north-island secret beach getaway offers an entire day's worth of goodies, including a trek to Singsing Waterfall, a Dutch monument and Brahmavihara-Arama Buddhist Temple Monastery, which features a 40,000-square-meter miniature replica of Borobudur, the world's largest Buddhist temple and a Javanese archaeological site. Seek thrills at Krisna Funtasticland, and then take a break in the warm pools of Banjar Hot Springs. Before you leave, though, don't forget to snap a selfie at the famous Lovina Dolphin Statue!
FIND & BOOK A HOTEL IN BALI TODAY
Bali Day Trips | 2. Relax in a natural spa at BANJAR HOT SPRINGS (AIR PANAS BANJAR)
Escape to Bali's northern coast for a day of wellness, rejuvenation and spectacular views at Banjar Hot Springs. Perfect for both a romantic couples spa or a full day with the family, the three main natural sulphur springs are situated on a three-tiered landscape and heated to a cozy 100 degrees Fahrenheit (37-38 C). Stand under one of eight dragons' mouths, which feed the descending pools with spring water, for a soothing, water-powered massage. The centuries-old hot springs have been modernized over time to include a massage facility, rows of art and souvenir shops and Restoran Komala Tirta, which overlooks the tropical gardens that surround the complex.
Also near the hot springs, visit the Brahmavihara-Amara Buddhist Temple Monastery. The largest Buddhist temple in Bali features five complexes that highlight activities and stories from the Buddhist religion as well as magnificent views over a terraced landscape.
FIND & BOOK A HOTEL IN BALI TODAY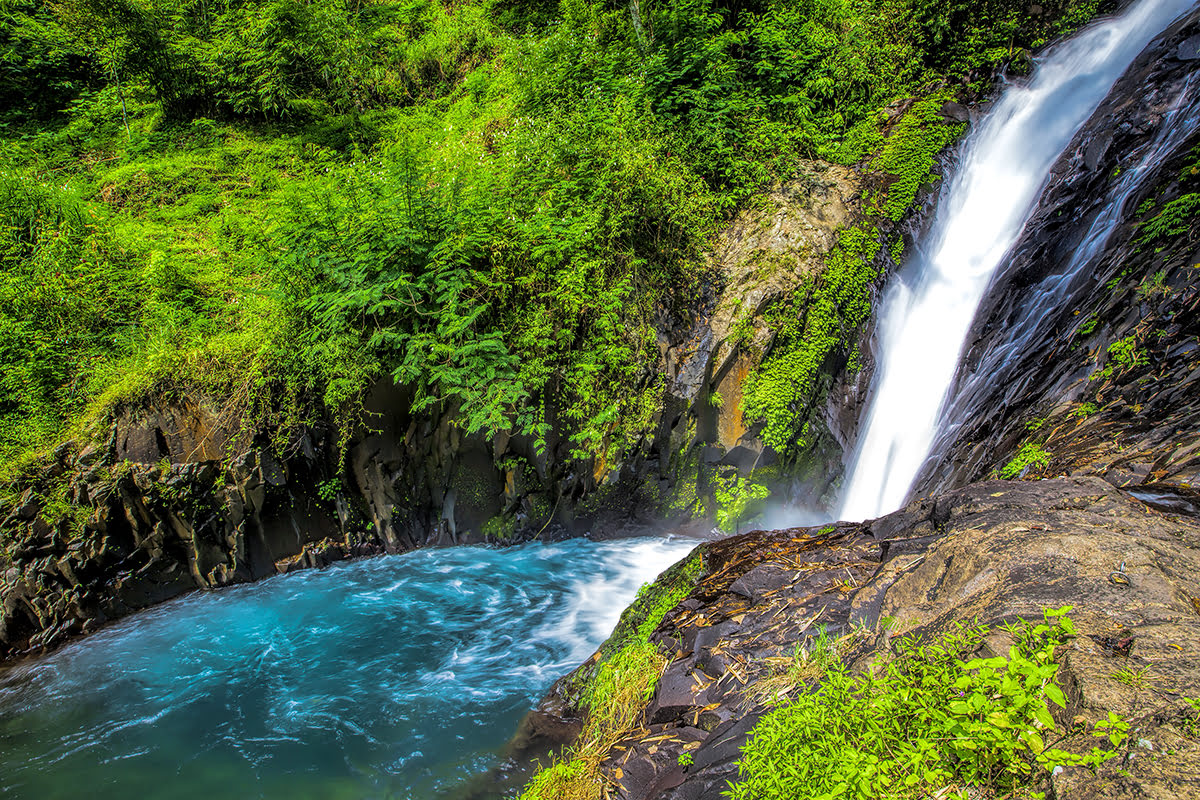 Bali Day Trips | 3. Take a dip in GITGIT TWIN WATERFALL (AIR TERJUN CAMPUHAN)
Bali's most popular tourist destination, Gitgit Waterfall makes an excellent stopover during a journey to Bali's northern coast. Nestled between rice terraces and native farmlands, the "Twin Falls" flow from a height of about 30 meters and feature a wading pool, excellent for an early-morning dip or an afternoon of beating the heat. Embark on a trekking adventure to find two smaller falls created from Gitgit's overflow, as well as coffee and clove plantations, birdwatching areas and local souvenir shops. Trek through nature all day in the northern region, where you'll also find Aling-Aling Waterfall, Sekumpul Waterfall, Air Terjun Bertingkat, Air Terjun Colek Pamor and Sambangan Village: The Secret Gardens of Sambangan.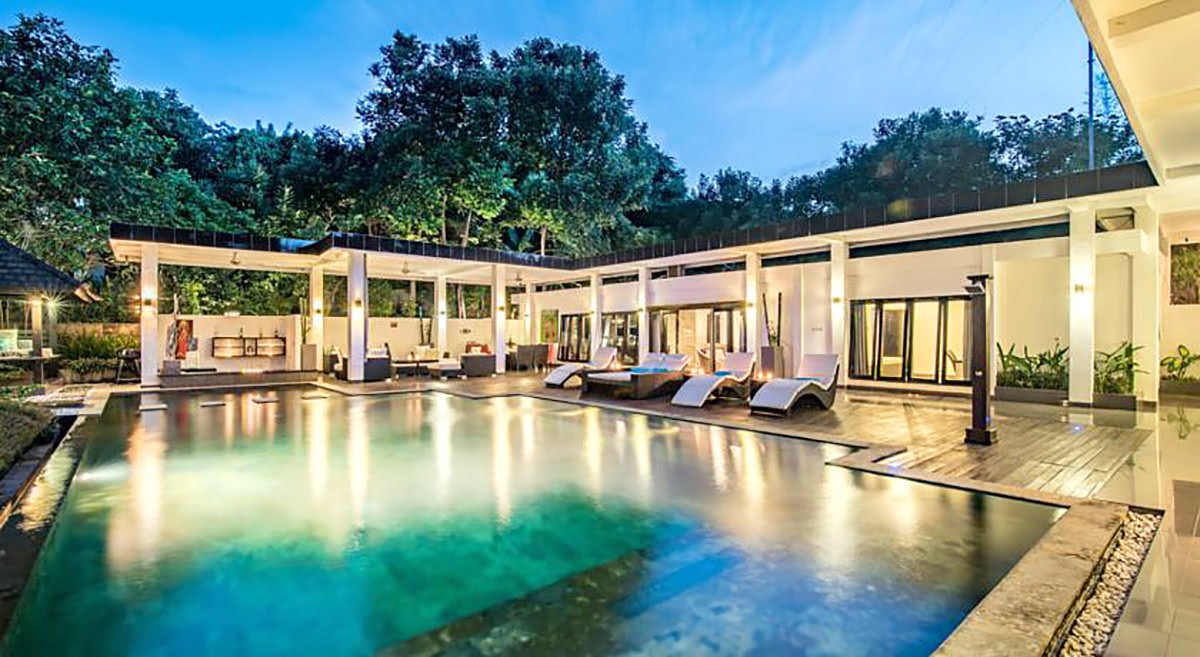 FIND & BOOK A HOTEL IN BALI TODAY
Bali Day Trips | 4. Discover the best-kept secret of wedding photographers at ULUN DANU BERATAN TEMPLE
Situated on the edge of Lake Beratan (Bratan Lake), Bali's second largest lake, Ulun Danu Beratan Temple is a sweet holiday retreat for locals, families and backpackers alike. In addition to a 17th-century complex featuring five temples and one Buddhist stupa, the area also hosts loads of outdoor activities, like paddle boating and riding traditional jukung (fishing) boats. Children love the on-site playground as well as taking photos with live, exotic animals, like eagles, chameleons, bats, owls, an albino python and great hornbills. The "holy mountain," surrounded by native rice terraces and plantations, provide a stunning backdrop for wedding photographers and a magical landscape for family gatherings, art festivals and religious ceremonies.
FIND & BOOK A HOTEL IN BALI TODAY
Bali Day Trips | 5. Check out the world's largest wild orchid collection at BALI BOTANIC GARDEN (KEBUN RAYA BALI)
Spend a day with nature at the crossroads of Bali in Bali Botanic Garden (Kebun Raya Bali) in Bedugal. Besides the largest display of wild orchids, the gardens also feature the world's largest begonia collection, carnivorous plant displays and a vast assortment of traditional Balinese medicinal plants. The 1.5-square-kilometer complex serves as a leading research center for plant biodiversity and conservation in Indonesia and provides fun environmental educational programs for students of all ages. Trek through a tropical rainforest, and take a photo with a colossal fig tree before heading off to the ultimate outdoor adventure at Bali Treetop Adventure Park, where you can tackle a series of rope-walking circuits and zip-line through rasamala trees. Daytrippers like to combine a visit to the park with a tour of Ulun Danu Beratan Temple and Beratan Lake (Bratan Lake), just 3 kilometers east of the gardens.
FIND & BOOK A HOTEL IN BALI TODAY