Bali is one of the top honeymoon and romantic getaway destinations in the world. While a favorite among solo travelers, it also provides the ultimate travel experience for couples. There's something to do here for every kind of couple, whether you prefer to relax on the beach or immerse yourself in the local culture. If you're searching for a romantic, one-bedroom villa, then here's a look at some of Bali vacation rentals for couples in the popular areas of Jimbaran, Seminyak, Ubud, and Uluwatu. Each room on this list comes with WiFi and air conditioning for a comfortable and convenient stay.
Romantic One-Bedroom Villas in Bali | Jimbaran
Jimbaran is a tranquil locale situated on Jimbaran Bay and backed by tropical forests. A fishing village that also doubles as a coastal resort, it still retains much of its traditional charm. The curving, sandy beaches are perfect for sunbathing during the day and taking romantic strolls in the evening. The calm, clear waters are also ideal for swimming and snorkeling. The area is also very well known for having a wide variety of seaside cafes offering fresh seafood. As you dine, you can sink your feet into the soft sand and enjoy the fantastic entertainment offered by wandering traditional musicians and dancers. Jimbaran is easily a top choice for romantic holiday rentals.
Top attractions in Jimbaran
1. Romantic room in Jimbaran
Romantic room in Jimbaran is a bright and airy villa for two located within walking distance of Jimbaran Beach. The well-appointed interior features a mix of modern and traditional decor and the beautiful outdoor space comes with your very own private pool. A relaxing atmosphere pervades the entire villa, which includes an indoor sitting area and an extra outdoor sitting area beside the pool. You can cook up some romantic meals in the kitchenette, which has a refrigerator, a stovetop, a microwave, and even a dishwasher. The bathroom is large and spacious, with two sinks so that you can both get ready at the same time and a nice big tub to relax in at the end of the day.
Romantic One-Bedroom Villas in Bali | Seminyak
Seminyak is a lively tourist and residential area along the southern end of Bali that serves as a hub for the island's expat population. It is among the most well-known and popular spots in Bali due to its many fine dining and high-end shopping opportunities. You'll find some of the best in Indonesian food as well as cuisine from all around the world. There are also a wide variety of bars and cafes, as well as some lovely galleries that you can pay a visit to. Of course, there is no forgetting about the beaches, which face west and offer incredible views at sunset. For a romantic getaway with a bit of extra excitement, choose a holiday home in Seminyak.
Top attractions in Seminyak
2. 1BDR Romantic Honeymoon villas
1BDR Romantic Honeymoon villas provide couples with everything they need to enjoy a romantic stay in Bali. The rooms have an open design and feature charming wood paneling on the walls as well as floor-to-ceiling windows that let in plenty of light. Take a midday dip in your private outdoor pool and relax in your pick of an indoor or outdoor lounge area. The villa is well-suited for longer stays as it comes with a fully equipped kitchen. Guests can even request a grocery delivery or find what they need in the on-site mini-market. Each room comes with a flat-screen TV, a dryer, a large tub, and complimentary toiletries. There is also free parking available at the villa if you have decided to rent a car for your travels.
3. Suites in Seminyak with Pool+Garden+Terrace!
Suites in Seminyak with Pool+Garden+Terrace! is a lovely property with different suites to suit all of your needs. The rooms have a clean and fresh feel, with beautiful wood furniture and charming decor throughout. There is a shared pool with a spacious pool area that comes with plenty of lounge seating. Each room has a flat-screen TV with satellite channels and a DVD player, and guests are treated to a free continental breakfast every morning. You can choose a room with or without a kitchen depending on whether you plan to use it. Free parking is included with your stay at the villa, or you can book an airport shuttle for an additional charge. Guests can also enjoy room service and a 24-hour front desk.
4. One Bedroom Private villa in Maharaja Seminyak
One Bedroom Private villa in Maharaja Seminyak is located in the hustling and bustling heart of the Seminyak area. The property was designed by a renowned architect in royal Balinese style, giving it a very romantic feel. Each villa is its own miniature palace, with a royal garden and a private swimming pool where you can spend uninterrupted hours together. The bedroom and bathroom are both very large and feature mood lighting for added ambiance. There is also an outdoor dining area in every suite as well as a bar/lounge area on the property where you can meet fellow travelers. Guests can enjoy free breakfast and free parking while staying at the villa, and you can even request an in-room massage.
5. 1BDR Luxury Villa Near Seminyak Beach
1BDR Luxury Villa Near Seminyak Beach is a top choice for couples that are looking to be close to the beach as well as to a variety of shopping and dining options. The property also provides free shuttles to many of the surrounding areas. The villas feature a roomy, semi-open plan, with a large bedroom and a separate living area that offers plenty of seating. Bathrooms are equipped with a spa bath and shower so that you can truly relax. Each room comes with a 42-inch flat-screen TV with cable channels and a DVD player, a fully equipped kitchenette, and its very own private pool. The outdoor space is complemented with beautiful greenery and mood lighting for an extra romantic touch.
6. Luxury Honeymoon Villa in Kerobokan Seminyak
Luxury Honeymoon Villa in Kerobokan Seminyak is committed to providing guests with the romantic Bali vacation of their dreams. A package stay at this luxury villa comes with numerous perks and benefits, including daily a la carte breakfast, one bottle of wine (red or white), a romantic candlelit dinner, a 60-minute Balinese massage, and pick-up and drop-off at the airport. If you are coming here for your honeymoon, then you will also find flower decorations in the pool and bathtub upon your arrival, as well as a special honeymoon cake. The rooms are bright and open, with high ceilings and in indoor-outdoor living layout. Wood paneling adds a touch of the traditional while a minimalist design lends the space an overall modern look.
Romantic One-Bedroom Villas in Bali | Ubud
Ubud offers the iconic Bali experience. Though it is tucked away in the uplands and therefore not close to any beaches, it is surrounded by a landscape of beautiful, lush jungle and terraced rice paddies that promotes a sense of tranquility throughout the whole town. It is a perfect destination for couples looking for a romantic escape where they can truly focus on one another, with no shortage of activities to check out when you're not lounging in your luxurious villa. From yoga classes and charming cafes to beautiful temples and historic sites, there is always plenty to see and do in and around town. Renting a vacation home in Ubud will leave you feeling refreshed, rejuvenated, and more connected as a couple.
Top attractions in Ubud
7. One-bedroom suite near the monkey forest in the heart of Ubud
One-bedroom suite near the monkey forest in the heart of Ubud will have you feeling relaxed and serene the minute you walk through the doors. Suites come with a lovely garden view and the ensuite bathroom features stunning stone tiles and a large tub so that you can soak all of your worries away. There is a shared pool surrounded by comfortable lounge seating and backed by beautiful trees and greenery. This property is located in a highly walkable area, with all sorts of shops, restaurants, and unique activities just minutes away on foot. It is also situated within driving distance of many of the area's most famous landmarks. You can request pick-up and drop-off services from the property for an additional fee.
8. 1 BDRM Villa Damai Katak, Ubud
1 BDRM Villa Damai Katak, Ubud is located in a more peaceful and quiet area of Ubud, though with very easy access to the town and all of its must-see destinations. The complex is made of five gorgeous villas situated around a shared pool space. Each individual villa features bright, white rooms with high ceilings and minimalist modern design. The bathrooms are also very large and have a separate area just for the shower and soaker tub. Guests are provided with all of the amenities they could want, as well as with a free breakfast every day of their stay. The entire property is filled with greenery and all sorts of colorful plants, making it a joy to walk around.
9. Lovely designer villa with own pool
Lovely designer villa with own pool is another great choice if you want to be a little further out of town to enjoy the peace and quiet. The property is surrounded by rice paddies and native jungle, making it feel like a secluded escape. Every villa has its own, generously sized private pool that you can have a refreshing dip in, and the property also has a shared pool where you can go for a swim. The floor plan is very spacious and the windows let in ample sunlight to illuminate the well-decorated interior, which features a mix of modern and traditional decor. Your room booking will include free parking and you can also include a fresh, healthy breakfast every day for just a small additional cost.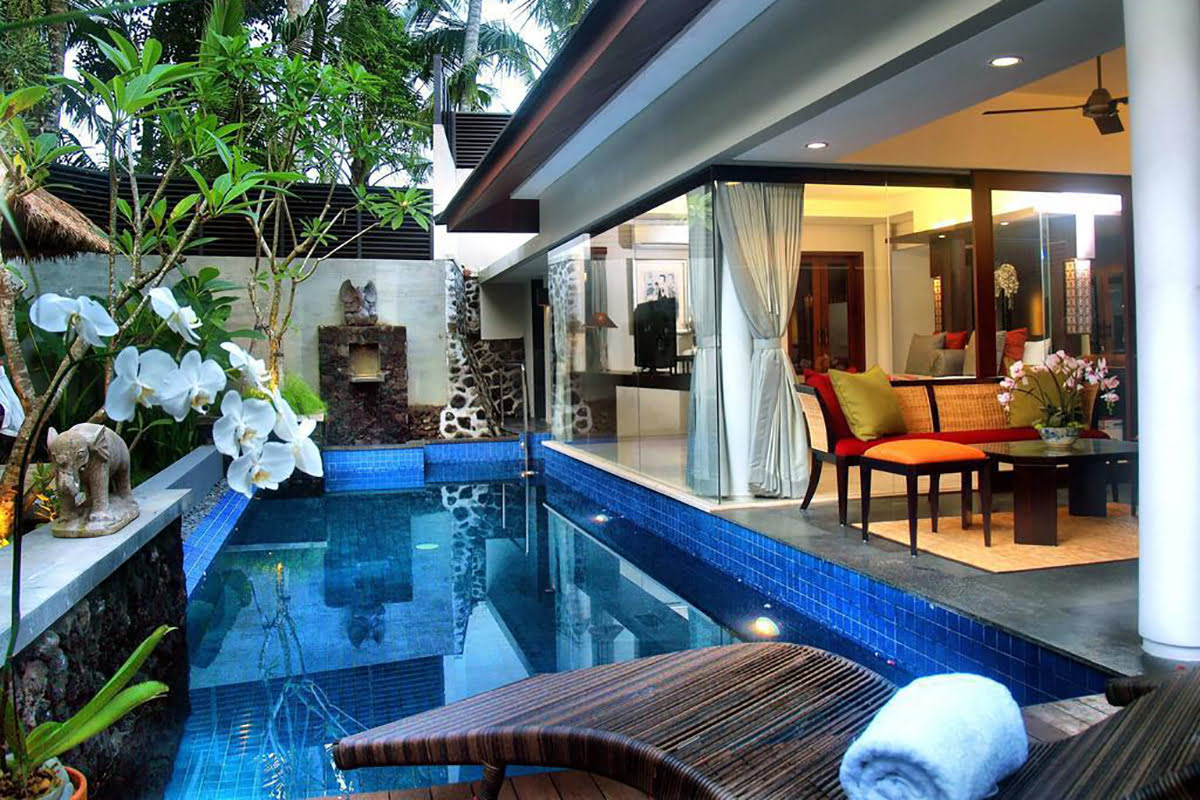 10. Kamuela 1-BR Romantics Luxury Villa Private Pool
Kamuela 1-BR Romantics Luxury Villa Private Pool is situated right in town, just a short distance away from popular restaurants, boutique stores, art galleries, and more. However, because it is surrounded by tropical gardens, it feels very secluded. The property features a large shared pool with a hot tub, a gym, and a chic bar and lounge area. Each villa is also completely self-contained, with its very own pool, satellite TV, and minibar, so that you can enjoy your romantic trip in private. The large windows offer fantastic views of the gardens. Breakfast is included in your stay, and the villa can provide airport transfer or pick-up from another hotel in Bali. There is a 24-hour front desk concierge service.
Romantic One-Bedroom Villas in Bali | Uluwatu
For a more laid-back experience away from the crowds of some of Bali's more popular tourist spots, consider renting a villa in Uluwatu on the southern peninsula. A true coastal paradise, Uluwatu is brimming with beaches that are interspersed with majestic and picturesque limestone cliffs. The waters here are particularly popular among surfers, attracting wave-riders from all around the world. Spend your days lounging on the beach with cold drinks in hand, enjoying the stunning sunsets, and taking in some of the many cultural performances held regularly throughout the area. Though easy to get around, Uluwatu has an off-the-map vibe that makes it feel that much more romantic.
Top attractions in Uluwatu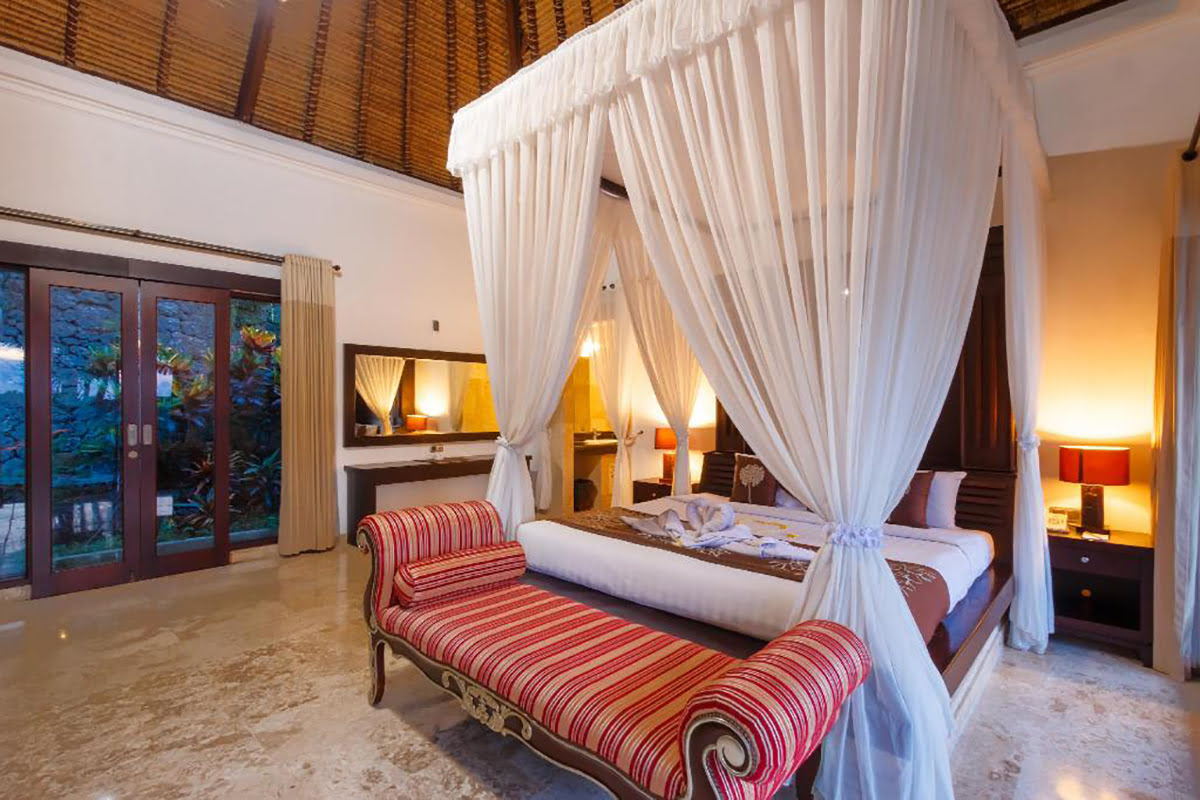 11. Romantic Hideaway Villas at Uluwatu
Romantic Hideaway Villas at Uluwatu are in a prime location for exploring the different beaches of the Uluwatu area, though you'll definitely be spending a lot of time at the villa itself. The property comes with a shared swimming pool and hot tub, and each villa has its own private pool complete with a small grassy area. Rooms feature high wooden ceilings and a romantic ambiance bolstered by elegant decor. The bathrooms come with double sinks and a large, sunken tub where you can relax with a drink at the end of the day. Guests are provided with free parking or free shuttle services, as well as with an array of in-house activities such as dance classes and a traditional spa.