Nestled in near the hillside of the Higashiyama District in Kyoto, Maruyama Park is a stunning natural oasis of beauty and charm. It is home to hundreds of cherry blossom trees that bloom in a fragrant whirlwind of sweet aroma during the early part of April, and because of its beautiful landscape, Maruyama Park attracts visitors from all over the world. Encompassing over 86,000 meters, this park offers a restful retreat from the hustle and bustle of Kyoto.
A Guide to Visiting Maruyama Park
Delighting visitors from all over the world with its fragrant beauty and perfectly manicured landscape, Maruyama Park plays an important role in the culture of Kyoto. This place is a popular destination for visitors during the month of April when the cherry blossom trees are in full bloom. Within Maruyama Park, travelers will find an assortment of walking trails that span the distance of the park as well as benches and recreation shelters. A weeping cherry blossom tree takes center stage and attracts massive amounts of people after the sun goes down for a nightly tree lighting ceremony. The park is open 24 hours a day and hosts special events for the public to enjoy throughout the year. While visiting the park, tourists are invited to sit down by the pond or under the trees and enjoy a quiet picnic with loved ones.
Attractions Near Maruyama Park
After spending some time among the blooming cherry blossom trees found at Maruyama Park tourists are invited to check out all of the other amazing attractions the community has to offer. From local art galleries to historic landmarks that have been around for centuries, visitors will get a glimpse into the culture and traditions of Japan. Let's take a look at some of the most popular attractions near Maruyama Park.
Yasaka Shrine
Constructed over 1000 years ago, Yasaka Shrine is the most visited shrine in all of Kyoto and the oldest in the entire country of Japan. It is known as Gion Shrine by the locals, and the property consists of a main shrine and an assortment of smaller buildings. The main building of the shrine features a sanctuary and an offering hall that visitors can tour on their own or in the company of a tour guide. Guests are welcome to meditate or engage in reflection while visiting. The outside of Yasaka Shrine is adorned in ornate architecture that was abundant in the Heinan Period. The interior of the buildings are simple in nature with historic art and structures. Each night the shrine hosts a lantern release ceremony where visitors can enjoy watching orbs of light float away into the night sky against the softly lit ambiance of the shrine.
Summer marks a special time for celebration around Yasaka Shrine as this place welcomes visitors for the annual Gion Matsuri summer festival. It is a fun-filled event where guests can take part in games and cultural events as well as dine on delicious Japanese street food. This celebration happens during the month of July and is fun for the whole family. Be sure to wander through the gardens located at the shrine as they are in full bloom during the spring and summer months. The shrine is open 24 hours a day, and admission is free to all.
National Museum of Modern Art, Kyoto
Located in a stunning art-deco building in the heart of Kyoto, National Museum of Modern Art, Kyoto showcases art and documents from the 20th century to today. This museum opened its doors in 1986 and features fine pieces from local as well as international artists. National Museum of Modern Art, Kyoto is housed in an expansive building that is several floors high and has over 2,000 square feet of exhibit space. It is recommended that guests spend at least a couple of hours at the museum to take in all of the wonderful pieces on display. The museum features permanent collections as well as nearly a dozen rotating special exhibits. Guests will find traditional to modern Japanese paintings, drawings, sculptures, and more.
National Museum of Modern Art, Kyoto is open from 9:30am to 5pm Monday-Thursday and 9:30am to 8pm on Friday and Saturday. Admission to get into the museum is 1,000 JPY for adults, 500 JPY for students, and free for kids.
Gion District Street
For those who want to explore the true culture of the Gion neighborhood, be sure to stroll down Gion District Street where visitors will find all of the geishas for which the area is known. Gion District Street is home to experimental Japanese food, historic homes that have been transformed into boutique stores, an assortment of bars, and theaters where guests can watch geishas perform traditional music and dance acts. Gion District Street is a highly sought out destination during the busy travel months of the year.
Gion District Street is fun and funky and appeals to visitors of all ages. The street is open 24 hours a day, and businesses within the area have special opening hours.
Heian Jingu Shrine
Constructed in the late 1800s in celebration of Kyoto being pronounced the capital city of the island, Heian Jingu Shrine honors the memory of the emperors who made it possible. This ornate shrine was constructed in traditional Japanese architecture and offers a stunning facade that invites visitors to step in and explore its interior. Stop in for a guided tour where historians will explain the importance of this shrine to the city. The exterior of Heian Jingu Shrine is adorned in fragrant cherry blossom trees and native vegetation that give it a relaxing and whimsical ambiance. The shrine overlooks a pond that adds to its majesty. For those who will be in the area in October, the shrine hosts an annual celebration called Jidai Festival where guests can join locals in celebrating the founding of Kyoto.
Heian Jingu Shrine is open daily from 6am to 5:30pm, and admission is free for all.
FIND & BOOK A HOTEL IN KYOTO TODAY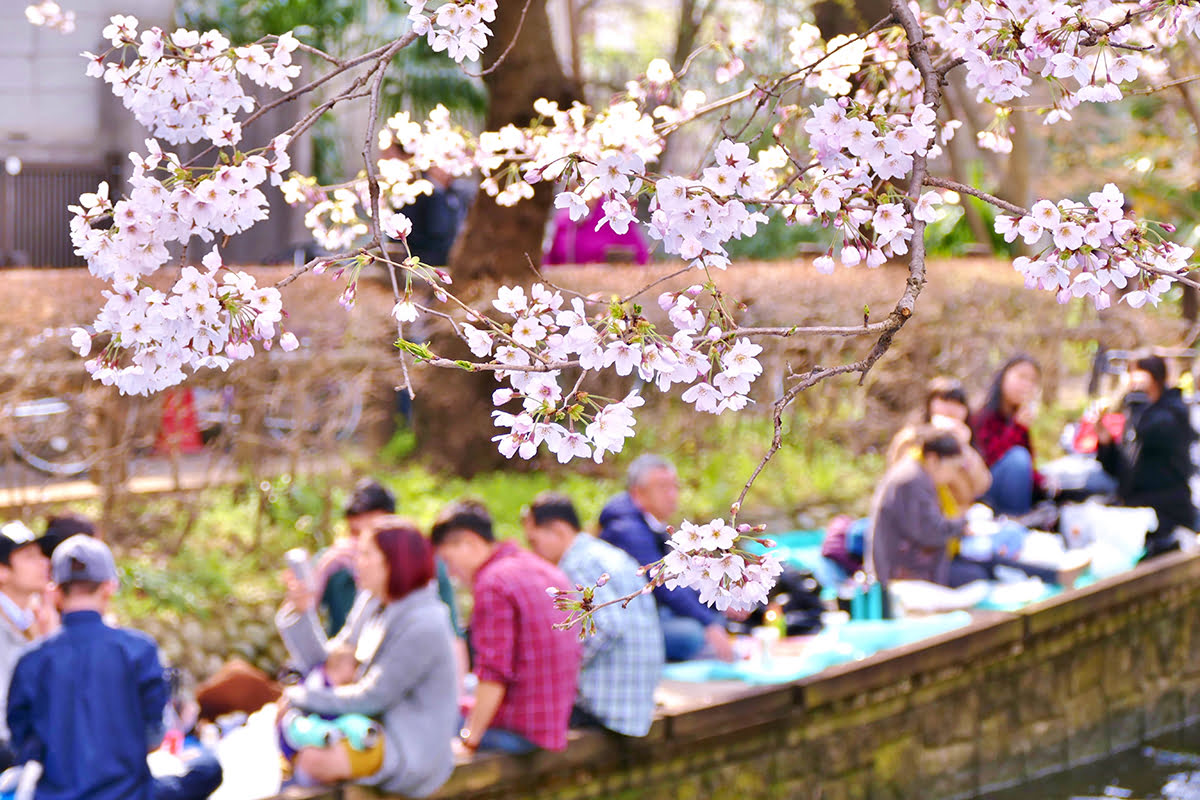 Restaurants and Shopping Near Maruyama Park
Maruyama Park is situated in a prime location where fine restaurants and unique shopping opportunities are in abundance! The park itself even features an outdoor eatery where guests can dine under the cherry blossom trees while they are in bloom. Here is a look at some of the dining and shopping opportunities available within a short distance from Maruyama Park.
Dinner Under the Cherry Blossom
When the cherry blossom trees within Maruyama Park come alive during the month of April, the streets fill with food trucks, ready to serve hungry tourists. Pull up a seat at one of the many picnic benches located within the park and sample some new and unusual Japanese cuisine. From snacks to street food, guests will find a large selection of delicious treats to eat while admiring the beauty of the park. During the cherry blossom blooming season, the street vendors are around to dole out their homestyle goodness day and night! Prices vary by vendor.
Kagizen Yoshifusa Japanese Teahouse
A hotspot for traditional Japanese matcha green tea and an assortment of tantalizing sweet and savory treats, Kagizen Yoshifusa Japanese Teahouse invites guests to stop in for a morning or midday meal and a cup of tea. This tea house features a charming ambiance with warm and cozy decor. Guests can sample an assortment of delicious Asian sweets while savoring the taste and aroma of tea that is harvested locally.
Kagizen Yoshifusa Japanese Teahouse is open daily from 9am to 6pm, except for Monday.
Kyoto BAL
Guests will be in for an extraordinary shopping experience when perusing the fine assortment of stores located within Kyoto BAL, located just across the Kamo River from Maruyama Park. This indoor shopping mall is home to popular Japanese department stores and boasts an elegant and classy feel. Whether visitors are on the hunt for new jewelry or traditional Japanese clothing, they are bound to find what they want at Kyoto BAL.
Kyoto BAL is home to over 30 carefully curated stores and is open from 11am to 8pm daily.
Gion AYA Maiko & Geisha Makeover
For those who have ever dreamed of dressing up like a geisha, Gion AYA Maiko & Geisha Makeover is a one-stop-shop for all of your clothing needs. The expert seamstresses at this shop assist customers with picking out the perfect traditional Japanese kimonos and clothing so that they emerge looking their best. At Gion AYA Maiko & Geisha Makeover, guests will be treated to hair, makeup, and the whole geisha experience. Stop on in and be ready for a total transformation!
FIND & BOOK A HOTEL IN KYOTO TODAY
Hotels Near Maruyama Park
From budget-friendly hostels designed for lone travelers to 5-star resort hotels, there are plenty of amazing lodging options located near Maruyama Park. Here are some popular hotels in Kyoto.
Kyoto Yura Hotel – MGallery
Newly constructed in 2019 and offering luxury accommodations in a luxury setting, Kyoto Yura Hotel – MGallery is a stunning hotel that can be reserved for just under 13,000 JPY per night during the non-peak travel months of the year. Conveniently located less than a mile from Sanjo Keihan Subway Station and Kyoto Shiyakusho-mae Subway Station, it provides quick access to both Maruyama Park and the entire city of Kyoto. Kyoto Yura Hotel – MGallery features the best in comfort and luxury amenities and guests are welcome to book a room here and indulge.
While staying at Kyoto Yura Hotel – MGallery, guests have a variety of floor plans to choose from depending on their party size. From standard rooms with single beds to superior rooms with multiple king beds, you will not be disappointed with the selection offered at this hotel. Amenities offered at Kyoto Yura Hotel – MGallery include a world-class fitness center with free weights and state-of-the-art workout equipment, massage services, an onsite bar, a concierge service, and onsite restaurants. Each room at Kyoto Yura Hotel – MGallery is decked out in cool shades of gray, blue, and white, which give it a spa-like ambiance. Rooms include an electric kettle, complimentary toiletries, and an abundance of fresh linens.
The Westin Miyako Kyoto Hotel
A classy hotel with modern appeal, rooms at The Westin Miyako Kyoto Hotel start at 45,500 per night during non-peak travel months of the year. The staff at this hotel treat guests like royalty! The Westin Miyako Kyoto Hotel is located in downtown Kyoto, near Keage Subway Station and Higashiyama Subway Station. Guests staying at the hotel can walk down to the subway stations and have quick access to all of the attractions in the city. The hotel is also nearby a fabulous assortment of restaurants and high-end stores.
The Westin Miyako Kyoto Hotel is home to world-class restaurants and the very best service possible. The hotel features an expansive ballroom that is perfect for special events and large conferences. Guests can dine at the buffet and take in beautiful views of the city while they eat. There is also a classy coffee shop where guests can choose from an assortment of coffee or tea beverages and sip on them while doing some work or socializing with others. Rooms at The Westin Miyako Kyoto Hotel are adorned in vibrant white linens, plush carpeting, and neutral tones that promote rest and relaxation. Each room provides its own private bathroom, fully loaded with high-end toiletries. For those who would like to enjoy a quiet evening in their room, drinks and meals can be delivered directly to you with room service.
Gion Hatanaka
For around 34,000 JPY per night, visitors can retreat to a relaxing oasis amid tropical flora and fauna when reserving a room at Gion Hatanaka. This fine 5-star hotel is located in the heart of Kyoto and is within walking distance to Gion Shijo Subway Station and Higashiyama Subway Station. Gion Hatanaka is considered to be a ryokan, so guests are likely to interact with the friendly owner while staying at this hotel. The building is decked out in traditional Japanese style architecture and offers a warm and ambient feel.
Along with an onsite onsen that guests are welcome to use while staying at Gion Hatanaka, guests can also wander around the garden taking in the beautiful views of the yard. There is also a hot tub located on the property and visitors can book professional massage services to work kinks out of tight travel weary muscles. Gion Hatanaka has 21 rooms to choose from and each are decked out in cozy Japanese decor. While staying at this hotel, head down to the day spa and take advantage of health and wellness services that are sure to rejuvenate your soul. By night, guests are welcome to wander down to the onsite restaurant and indulge in traditional Japanese cuisine.
Eco and Tec Kyoto Hotel
For those who are looking for a lodging option that is comfortable and affordable, look no further than the rooms offered up at Eco and Tec Kyoto Hotel. Rooms at this simple but charming hotel start out at just 4,496 JPY per night. While staying at this hotel, guests have access to rental bikes that can be used for touring the neighborhood. Eco and Tec Kyoto Hotel is also located within walking distance of Higashiyama Subway Station and Sanjo Keihan Subway Station providing guests of all ages with quick access to the rest of the excitement Kyoto has to offer.
Eco and Tec Kyoto Hotel is a three-story hotel with many amenities to offer all guests who lodge here while in the city. Not only is this hotel close to public transportation, but many of tantalizing restaurants and shopping centers are also located within walking distance. For some authentic Japanese fare, check out Sammikoan Honten or Jingumichi Hatano. Each room offered at this hotel features plush Japanese style bedding and traditional Japanese furnishings. Rooms measure in at approximately 115 square feet, making this place ideal for lone travelers and those who are traveling as a couple. Downstairs, guests will find a community dining room as well as vending machines, coffee pots, tea kettles, and kitchen utensils. Most rooms have a private bathroom that is stocked with complimentary toiletries.
Yuzuya Ryokan
For around 52,000 JPY per night guests can experience a tranquil hotel stay at Yuzuya Ryokan in downtown Kyoto. It is a fabulous privately owned hotel where customer service is their top priority. Yuzuya Ryokan is located within walking distance of shopping centers, fine restaurants, and all of the amazing attractions located in the city center. Guests will have access to a complex, but easy to navigate, public transportation system that will take them wherever they wish to go.
Yuzuya Ryokan provides guests with a couple of room floor plant options which include a Japanese style couples or family room or a smaller single room for solo travelers or couples. The rooms are adorned in warm Japanese colors and decor that provide for an ambient setting. In each room, guests will find plush Japanese bedding, a traditional mat and table dining set, and toiletries that make it easier to relax and enjoy your stay. Yuzuya Ryokan features an onsite day spa with mineral baths and expert massages as well as a community lobby and a restaurant that serves fine Japanese food. The staff at Yuzuya Ryokan are all about ensuring that guests experience the best stay possible.
FIND & BOOK A HOTEL IN KYOTO TODAY