The nightlife scene in Japan's third largest city takes a different spin on late-night activities. Rather than clubs and bars, Kyoto nightlife is largely centered on cultural activities, such as geisha experiences and theater performances. Learn about the vibrant, eccentric and enticing nightlife that awaits visitors after the sun sets over Kyoto.

Kyoto Nightlife in the Geisha District of Gion
Gion is Kyoto's geisha district, making it a unique and exciting cultural experience that travelers come from all corners of the earth to see. Though Kyoto is considered the birthplace of geisha culture, the geisha of Kyoto actually do not refer to themselves as geisha, which translates to "artist" or "person of the arts." Rather, they prefer to call themselves geiko, which most closely translates to "a woman of art." Both terms are used to refer to the historical and cultural significance of the geisha.
Best time to visit Gion
While walking the streets of Gion, especially around 5:45-6 p.m., you're likely to see many gorgeous geiko in full make up, with their faces painted white and their lips bright red. Their garb is typically bright, including colorful printed kimonos, and their outfits are often topped off with intricate, elaborate hairstyles. You may also spot some maiko (which translates to "dancing child"), who are younger ladies or children apprenticing under the geiko, in hopes of becoming geiko themselves when they are older.
History of geisha and maiko
Geisha are a renowned part of traditional Japanese culture, and it is noteworthy that their art form has remained relevant in Japan to this day. Maiko spend at least five years apprenticing and learning their trade before they can be considered a geiko. They train in the arts of singing and creating music, often learning to play the shamisen (sometimes called samisen or sangen), which is a traditional Japanese instrument similar to the Western guitar or banjo. A shamisen consists of three strings, a long neck and a body that resonates as the strings are played. In addition to the art of making music, geisha spend long hours learning to dance. They memorize each step to the many dances that are done in celebration of the changing seasons.
Not only do geisha learn these arts of showmanship-style entertainment, but they are also trained at the art of entertaining guests well, and of being good hostesses. They learn to be graceful in every movement, bringing a striking elegance to actions that may otherwise be seen as mundane, such as pouring drinks. In the interest of serving as excellent hostesses, they also learn to speak with great eloquence, becoming brilliant, charismatic conversationalists sure to charm their every guest.
Proper etiquette & how to book a geisha experience
Should you have a chance to see or interact with a geiko while in Gion, it is important that you follow a few customs to ensure you don't insult or disrespect them. If you'd like to take a photo, it is preferred that you ask permission, and that you do not photograph geiko while they are with guests. If you'd like to be a guest to a geiko, you may book an evening at an ochaya (tea house) for a private tea ceremony and the company of a geiko for about an hour and a half. This is the best way to have an authentic geiko experience, during which she will likely sing, dance or play for you and you will have the opportunity to ask her questions about her life and her art. Keep in mind, though, that this experience will cost you a pretty penny. For less expensive, slightly less authentic, yet highly entertaining geiko experiences, read on about Gion Corner and other Kyoto nightlife attractions.
Previous guests of Kyoto Granbell Hotel say:
"Hotel staff were very friendly and helpful, I was recommended to a few hidden treasures and places of interests that were not that touristy or crowded in this season, really grateful!"
"Prime Gion location for Kyoto night walks, and a great Onsen. Small efficient and new rooms. Highly Recommended."
"Get to know the bus lines serving the main street and you will be set as there are many routes to all of the spots in Kyoto you would want to go."
FIND & BOOK A HOTEL IN GION TODAY
Kyoto Nightlife | Traditional Performances at Gion Corner
Gion Corner is a stage in Gion that features seven different types of traditional Japanese performance arts. Gion Corner is a kid-friendly attraction, so families can enjoy this aspect of Kyoto nightlife together. Most performances at Gion Corner last an hour or less, and each adult ticket can cost anywhere from ¥2,200-¥3,150, depending on the size of your party. Children six years old and under get in for free, tickets for children of ages 7-15 are ¥1,900, and tickets for students ages 16-22 are ¥2,200.
The seven types of performances you can attend at Gion Corner are Kyomai dance, a tea ceremony, flower arrangement, koto, gagaku court music, kyogen theatre and bunraku puppet theatre.
Cultural performances at Gion Corner
Kyomai performances involve this elegant style of dance that originated in Kyoto during the Tokugawa period. It is inspired by the sophistication and manners of the Imperial Court. Kyomai dance is performed only by geisha and maiko. At Gion Corner, you can witness this delicate art form performed by local maiko dancers in elaborate, ornate dress.
A tea ceremony is a time-honored tradition in Japan that involves steeping, preparing and serving tea to guests. Gion Corner holds this ceremony in the ryurei style, in which the host is seated at a special table before all of the guests, and the guests are seated at their own tables. The term ryurei itself refers to the formal bows that the host performs at the beginning and closing of the ceremony. This style of tea ceremony was developed for the comfort of non-Japanese visitors who may be more comfortable sitting in chairs, as opposed to the traditional method of partaking in a tea ceremony, which involves kneeling on a tatami floor.
A flower arrangement performance at Gion Corner involves taking in the beautiful intricacies of this art form in action. In Japanese culture, the artistic practice of arranging flowers is called kado, which literally translates to the "way of flowers." This practice originated in Japan with the rise of Buddhism, as it was a customary ritual in the Buddhist religion to place flowers upon an altar as an offering to the spirits of the dead. Creating these offerings grew to become an intricate art form that considers colors and angles, bringing emphasis to unexpected areas of an arrangement in a way that is pleasing to the eye.
A koto performance at Gion Corner involves the playing of two of these harmonious ancient Japanese instruments. The koto, which is the national instrument of Japan, is a type of zither, or harp, typically comprised of 13 strings strung over 13 movable bridges atop a hollowed-out wooden body. The koto is played by kneeling over it and plucking the strings with picks that are attached to the musician's thumb, pointer and middle fingers on their right hand. At Gion Corner, a duo of musicians play two kotos in harmony with one another, creating a tranquil, ethereal song together.
A gagaku court music performance at Gion Corner involves this indigenous, classical Japanese music and dance that was historically done at the Imperial Court, shrines and temples. In this performance, an orchestra of string, wind and percussion musicians performs live off to the side, while one or more dancers adorned in ornate, vibrant garb and intricate headpieces take to center stage. This form of artistry is fascinating and very unique to witness.
For those looking for some comic relief, you'll want to make room in your schedule to attend a kyogen theater performance at Gion Corner. This style of traditional Japanese theater involves lots of delightful slapstick and satirical humor. The actors (typically no more than three) dramatize their every movement, bringing a larger-than-life excitement to the art form. Much like in Western theater, there are many famous kyogen plays that are performed much more often than any new, original acts.
The last performance available to attend at Gion Corner is the bunraku puppet theater. Originating in Osaka during the 17th century, this type of theatre has since been named as one of the world's Masterpieces of the Oral and Intangibdle Heritage of Humanity by UNESCO. It involves elaborate puppets with faces that often are capable of very complex movements, including eyes shifting from side to side, eyebrows wiggling and more. It takes a skilled specialist to carve the heads of these puppets with such human-like mechanics and facial expressions. While live music plays in the background, bunraku theatre is performed by a troupe of puppeteers dressed in all black. As the number of bunraku puppeteer troupes in the world is waning, this is a rare, must-see performance.
Gion Corner is located a nine-minute walk across the Kamo River from Kyoto-Kawaramachi Station, and in the warmer months, hosts performances beginning at 6 and 7 p.m. every evening. However, performances are only on Fridays, Saturdays, Sundays and national holidays from December to the second week of March. The theater is closed on July 16, August 16 and from December 29 to January 3.
Previous guests of Hotel Granvia Kyoto say:
"Many items were provided for the young kids, like baby cot, indoor slippers, toothbrush and a bin just for disposing the used diapers."
"The concierge and reception staff had been extremely helpful. Before we arrived at the hotel, they had been helping us with the reservations of restaurants and all arrangements to celebrate our wedding anniversary with lots of initiatives."
"The service, room, food and location were just superb. If you are visiting multiple cities in Japan, staying near the train station is a plus point as the train booking office is nearby and it makes transition smooth and hassle free."
FIND & BOOK A HOTEL IN GION TODAY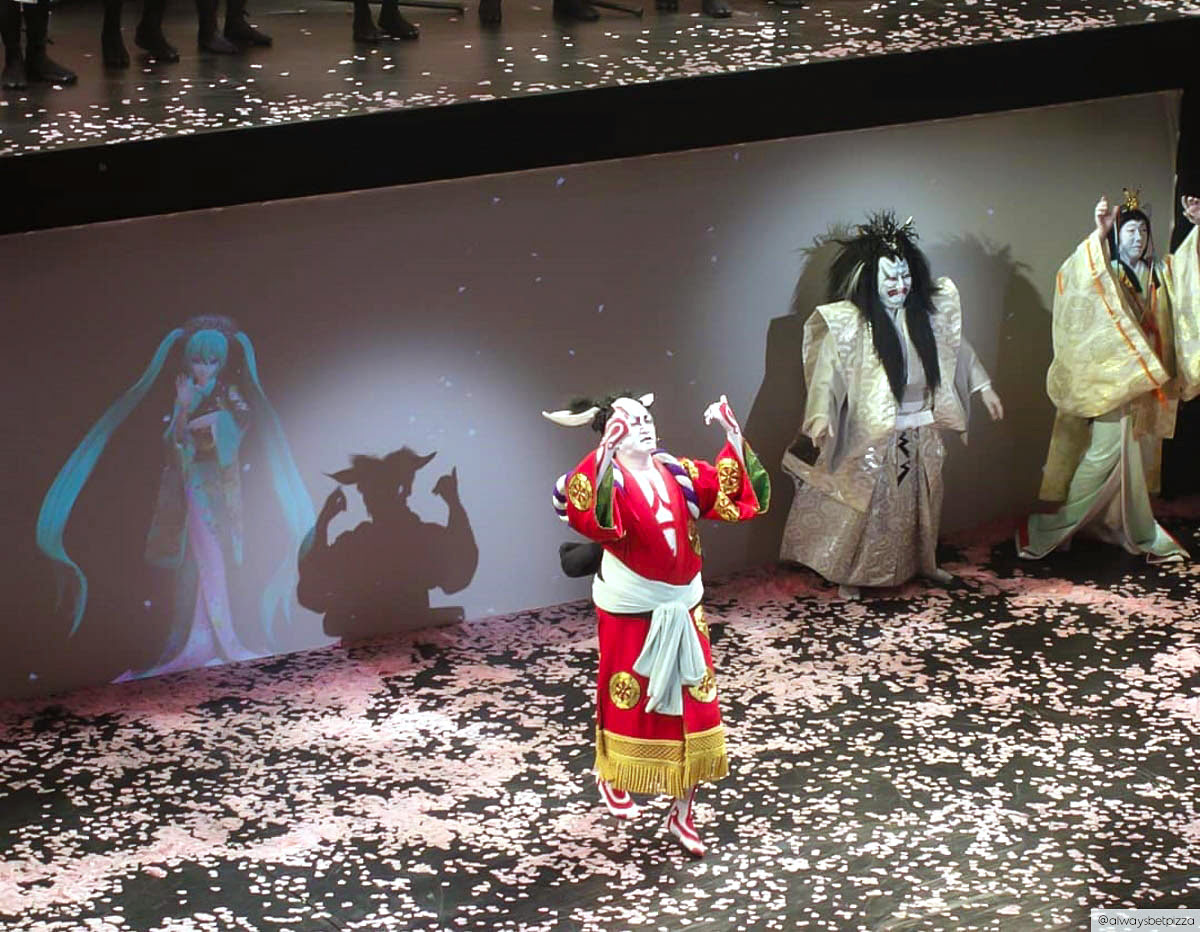 Kyoto Nightlife | Kabuki Performances at Kyōto Minami-za
Kyōto Minami-za is renowned as the best place to see a kabuki performance in Kyoto. This theater is a piece of Japanese architectural art in and of itself. The building boasts sweeping, ornate thatched roofing, gilded accents all along the interior, and a grand theater featuring three levels of deep red seats with Japanese lanterns lining the perimeter of the room. As soon as you enter, it is clear that you are in for an enticing experience.
What is kabuki?
Kabuki is a Japanese style of dance-drama popularized in the 1600s. It is known for the elaborate makeup worn by the performers, and the highly stylized way in which the drama is performed. Like bunraku, this form of Japanese theater is named as one of UNESCO's Intangible Cultural Heritages of Humanity.
Kabuki plays are said to be more about their showmanship than their content, which is why you may find that a single performance will last for a number of hours. Many intermissions are worked into the scheduling of kabuki theater, allowing for ample opportunities to take in a portion of a performance without disrupting the action. Kabuki's focus is typically on the dramatization, elongation and intensification of a single moment in a story, as opposed to telling the story on the whole. It is about pinpointing a moment and making an extravaganza of it. You may often see fairly renowned actors who are known for their TV or movie roles in kabuki plays.
Kyōto Minami-za is located a two-minute walk from Kyoto-Kawaramachi Station. The hours of performances are subject to change quite often, so checking the listed hours the day of a given performance is recommended.
Previous guests of Gion Hatanaka say:
"This ryokan is amazing! The location was very conveniently located. There is a gorgeous shrine right next door. The room was spectacular. I felt like I was in the Edo period of Japan. There is a en suite that features an amazing bamboo tub."
"We stayed here for one night to have a truly authentic, traditional Japanese experience. The staff were very lovely and it was fun sleeping on futons, using the hot tubs and eating at low tables."
"Everything about this place is nice and well run. The staff are wonderful and the food is a unique experience that I'm happy I had."
FIND & BOOK A HOTEL IN KYOTO TODAY
Live Music at Jittoku
Jittoku is a café with a cool-as-can-be atmosphere that lets you get up-close-and-personal with live bands. Built in what was once a sake warehouse, this spot is the Japanese equivalent of attending a live show at your favorite Western speakeasy. If you want to get a first look at the up-and-comers in Japan's music scene, this is the place to go enjoy the best of Kyoto nightlife.
Whenever a band is playing, the cover charge to get in is about ¥1,000. But, if you pop in during an open mic night, it's free. You'll find that the acts booked here cover every genre under the sun — from blues, to jazz, to rock, to bluegrass, whatever type of music you fancy, it's likely Jittoku has an act you'll love. As with many live music venues, you'll also find alcohol and snacks available here. Keep in mind, though, that the legal drinking age is 20 in Japan.
Jittoku is located near Nijo Castle, a 15-minute walk from Nijojo-mae Station, and is open every evening from 5:30 p.m. to midnight.
Previous guests of Aoi Hotel Kyoto – Luxury Apartment say:
"The 201 unit was very spacious – with a family room, dining table, small kitchen, two comfortable beds, balcony with river view, Japanese style room, and large bathroom with two sinks, bath tub and shower. The bathroom also had a 2-in-1 dryer which was a bonus since we had been travelling for 3 weeks and needed to do laundry."
"Our room had a balcony that looks at the river. Location is very central and a lot of places are of walking distance."
"Beautifully designed boutique hotel with supreme river view and great location. Staff are friendly and helpful."
FIND & BOOK A HOTEL IN KYOTO TODAY
Kyoto Nightlife | Eating Kaiseki in Pontocho Alley
Rumored to be the street with the most ambiance in all of Japan, Pontocho Alley is at its most beautiful after dark, making it a key locale of Kyoto nightlife. The narrow alleyway is lined with a number of lanterns and signs, bringing an alluring magic to the street. If you arrive in the early evening, it's likely you'll encounter a maiko or geiko accompanying her guests to one of the many high-end establishments along the alley. Though many of the bars and restaurants along Pontocho Alley are pricey and exclusive, requiring connections just to get in, there are a number of spots with more accessible prices that welcome visitors from far and wide.
Pontocho Alley is a quick two-minute walk across the Kamo River from Gion-Shijo Station.
Pontocho Fujita
Though Pontocho Fujita is just one of the many restaurants along Pontocho Alley that receive rave reviews from past guests, this is the go-to spot if you want to experience kaiseki cuisine.
What is kaiseki?
Kaiseki is a traditional Japanese dining experience made up of many courses of fresh, delectable dishes. More than just a cuisine style, kaiseki is also seen as a beautiful form of art. The chef at Pontocho Fujita takes great care in the selection of every aspect of the meal, and has been known to share about the origin and quality of his ingredients with guests. Kaiseki chefs meticulously choose everything from the local, in-season ingredients, to the dishes in which each course is served, to the artful way the ingredients are arranged in the dish. Kaiseki often consists of at least five main courses — an appetizer, sashimi (bite-size pieces of raw fish), a simmered dish, a grilled dish and a steamed course. Additional courses may be included, as determined by the chef and depending on the seasonality or availability of the ingredients.
Pontocho Fujita hours (reservations recommended)
Sunday: 11:30 a.m. to 2 p.m., 5-10 p.m.
Monday: Closed
Tuesday: 5-10 p.m.
Wednesday: 5-10 p.m.
Thursday: 11:30 a.m. to 2 p.m., 5-10 p.m.
Friday: 11:30 a.m. to 2 p.m., 5-10 p.m.
Saturday: 11:30 a.m. to 2 p.m., 5-10 p.m.
Hello Dolly
While strolling along the scenic Pontocho Alley enjoying Kyoto nightlife, you'll want to be sure to head over to Hello Dolly for delightful cocktails. This gorgeous little bar is known to feature live jazz bands, which provide the perfect backdrop to the views of the river through the large windows. Keep in mind that there is a cover charge to get into this small, exclusive locale, so it's recommended that you make the most of it by ordering some drinks and taking in the tunes. Fans love the wide selection of Japanese whiskeys on the menu at this staple of Kyoto nightlife.
Hello Dolly hours
Sunday: 6 p.m. to 12:30 a.m.
Monday: 7 p.m. to 1:30 a.m.
Tuesday: 6 p.m. to 1:30 a.m.
Wednesday: 6 p.m. to 1:30 a.m.
Thursday: 6 p.m. to 1:30 a.m.
Friday: 6 p.m. to 1:30 a.m.
Saturday: 6 p.m. to 1:30 a.m.
Mamehachi
If you're a foodie exploring Pontocho Alley, Mamehachi is a must. This little spot can seat about 10 people, so there may be a waiting list to enter. But it's well worth the wait if you're interested in exploring the many variations of Japanese tofu. Mamehachi boasts a delightful array of tofu dishes, affording guests the opportunity to try this delicacy in many different styles, textures, recipes and methods of preparation. Once you've tasted the many courses available here, you will be nothing short of a tofu connoisseur. Keep in mind, though, that the options marked vegetarian on the menu may still be made with dashi stock, which is derived from fish, so if you are strict in your diet, ensure you ask the staff for clarifications where needed.
Mamehachi is open every day from 11:30 a.m. to 3 p.m., and then reopens from 5-10 p.m.
Previous guests of Cross Hotel Kyoto say:
"This place looks recently renovated. Either that or it is very well kept. Room is very clean and comfortable, and I really love the modern Japanese toilet & bathroom. Bathroom is spacious with bath tub, and a shower area with a little stool."
"Fantastic location in a vibrant area of Kyoto close to restaurants that satisfy all tastes. The street outside runs along a narrow canal which, we were lucky, looked even prettier thanks to the cherry blossoms all around. Warm, courteous staff and a very interesting breakfast spread."
"This hotel is at a great location with many good food options around. I love that it's near to the shopping area, market and some subway stations too. The staff were also very helpful when I needed some help to make a dinner reservation."
FIND & BOOK A HOTEL IN KYOTO TODAY