The heart of Osaka's transportation system lies largely in Namba, and navigating the trains in Namba can be a little tricky. While there is one main Namba Station, there also is a Namba Nankai Station and JR Namba Station. Each is close to Namba Parks shopping and recreation center, and booking a hotel in Namba is easiest for tourists traveling from Kansai International Airport to Osaka.

Popular attractions and landmarks in Namba
Nambayasaka Shrine: enter through a Japanese-style lion's head to find Namba's central place of worship.
Hozenji Yokocho: saunter through an alleyway and relish Edo-era stone pavement while soaking up the modern vibe from trendy restaurants, Japanese bars and boutiques.
Hozenji Temple: make a wish with locals on a moss-covered statue of Fudomyoo at this Buddhist temple dating to the 17th century.
Denden Town: find cheap electronics, video games and cosplay stores in Nipponbashi on the outskirts of Namba.
Namba Grand Kagetsu: shows at this performing arts theater are in Japanese, but even if you don't speak the language, you won't have any trouble understanding Japanese slapstick comedy.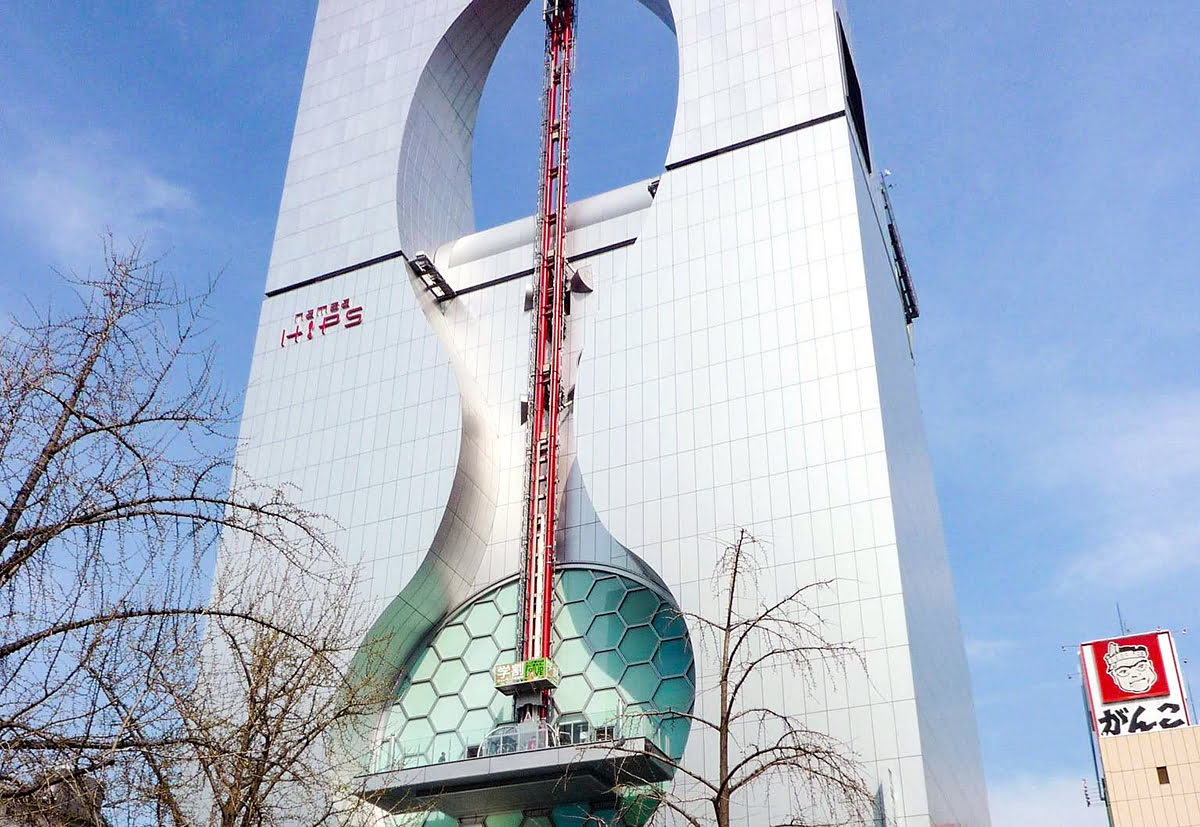 Great places to shop in Namba
Namba Parks: catch a breath of fresh air in the rooftop garden of the eco-conscious shopping mall brimming with international boutiques and restaurants.
Namba HIPS: this all-inclusive complex includes fitness and spa facilities, a darts and sports bar, a golf course and even karaoke and pachinko. Feeling daring? Climb aboard the Yabafo on the 12th floor: this amusement ride is the first ride ever to be constructed into a building. Its other claim to fame is that it drops passengers 243 feet (74 meters) at 50 mph (22 mps).
Sennichimae Doguyasuji Shotengai: sample carefully crafted good while shopping down Osaka's "Kitchenware Street," famed for its bountiful selections of Japanese knives, kitchen supplies and cooking utensils.
Namba Marui and OIOI shopping malls: find more than 150 trendy fashion shops in these side-by-side shopping centers that indulge Osaka's youth culture.
Best places to eat in Namba
Kuromon Ichiba Market: find fresh produce and already-prepared Japanese street food at this covered market in Nipponbashi.
Soemon-cho (Souemoncho): see a refined side of Osaka nightlife, restaurants and bars in this entertainment district, where many shops don't open until the sun goes down.
Dotonbori: follow Dotonbori Canal (Dotombori) down a neon-lit pathway to find a smorgasbord of local eateries, street food vendors and cheap restaurants. The best thing to eat is takoyaki (octopus-filled balls), but the avenue also is famous for Glico snacks and hungry hip youngsters.
Dotonbori Konamon Museum: make your own takoyaki at this fun museum that offers hands-on workshops and explains the origin of Osaka's most popular snack.
Okonomiyaki Mizuno: prepare for a long queue and the best tasting Japanese pancake you've ever tasted. Okonomiyaki Mizuno is famous for loading theirs up with toppings like pork belly, fresh seafood and vegetables drizzled in a mind-blowingly yummy brown sauce.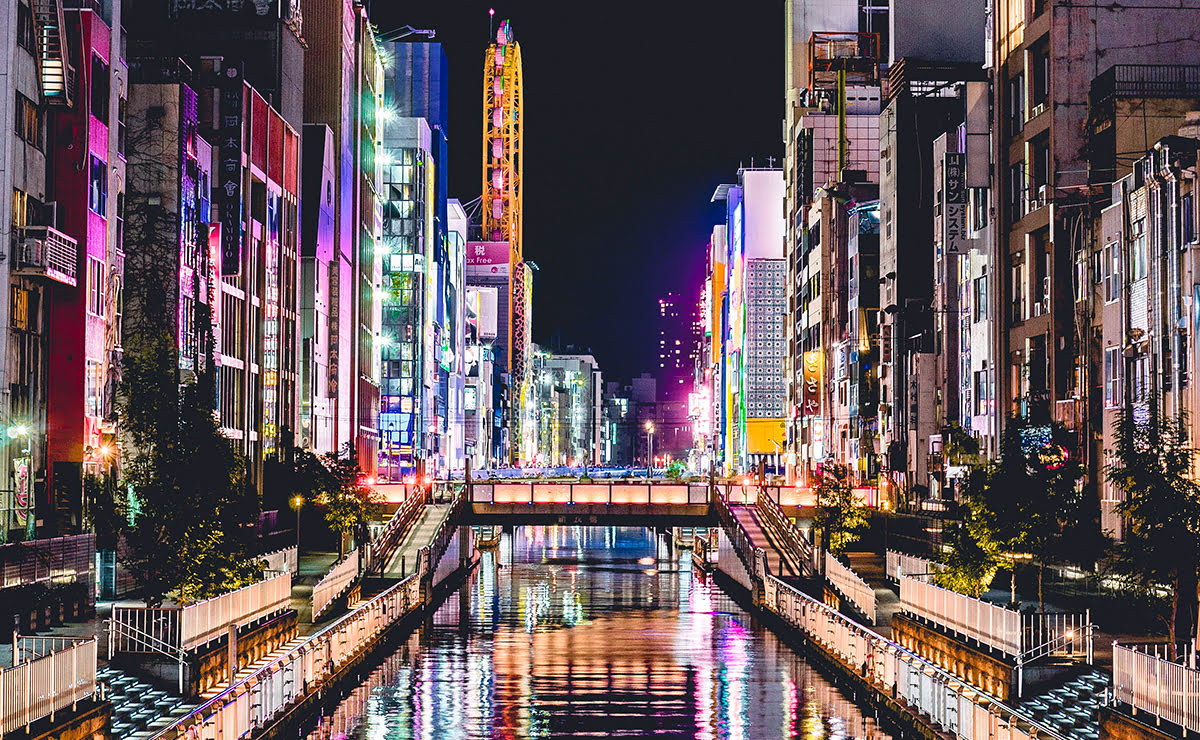 Cool places for Namba nightlife
Dotonbori: who doesn't like to party on the banks of a canal? Start at the Glico running man sign and pub crawl your way down the Tombori River Walk.
Soemon-cho (Souemoncho): sip wine in a Michelin star restaurant or find a cocktail in a rooftop bar that never closes.
Hozenji Yokocho: enjoy a cocktail in a chic restaurant and a beer in an izakaya in this historic district known for its traditional décor and classy establishments.
Transportation in Namba
Namba is a conglomerate of subway stations, but the main connecting lines are Namba Station, JR Namba Station and Namba Nankai Station (NAMBA STN.).
Namba Station: this main station is closest to Namba City and Namba Parks, and it provides service to scenic Nara Prefecture to the east and Kobe and Hanshin (Tigers) Koshien Stadium to the west.
Namba Nankai Station (NAMBA STN.): passengers coming to Namba from Kansai International Airport will arrive in Namba at this station. Day trips to Wakayama Prefecture and Mount Koya start at this station.
JR Namba Station: in west Namba, this station delivers passengers to the OCAT (Osaka City Air Terminal) building and Hotel Monterey Grasmere Osaka.
Check In to a guest house or hostel near Namba Station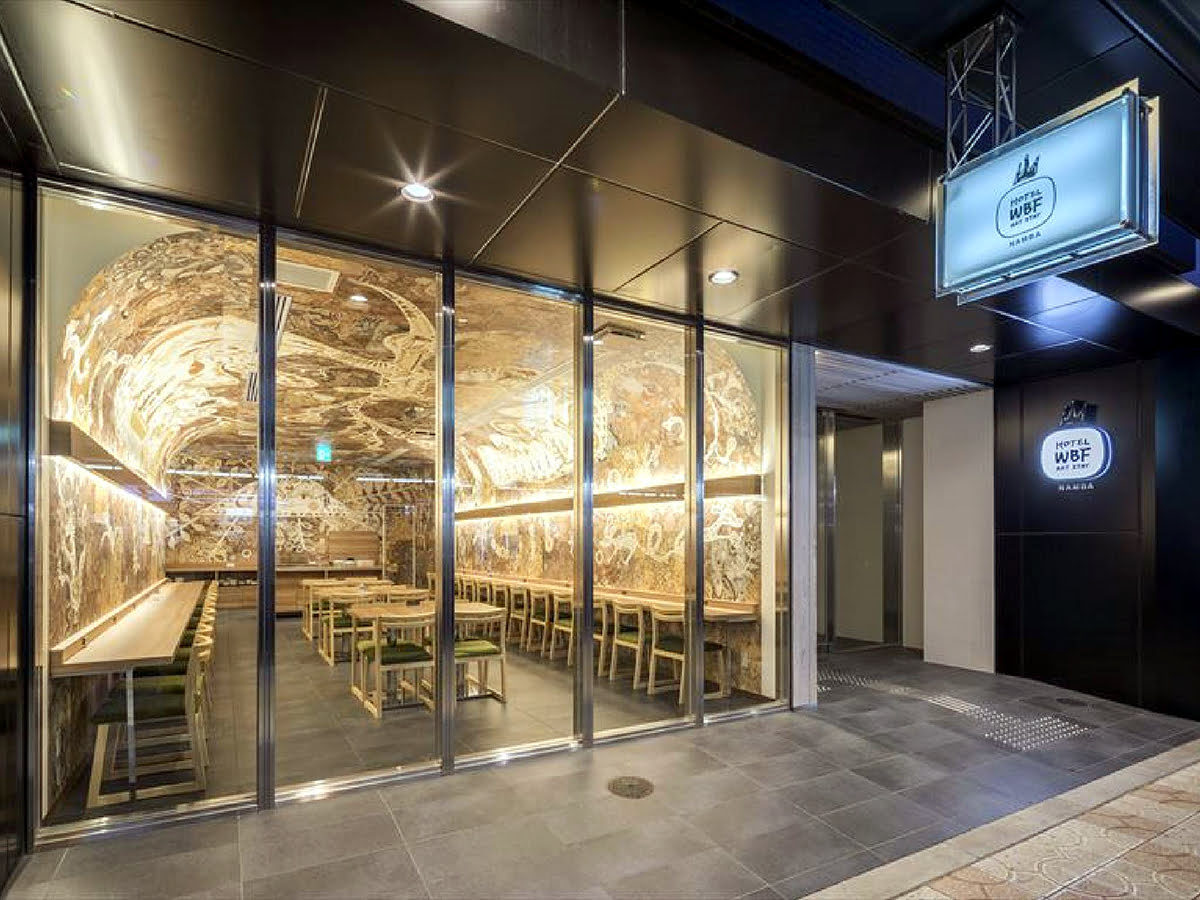 Hotel WBF Art Stay Namba
Hotel Relief Namba Daikokucho
Hotel Ichiei
Step Out to Namba