Osaka has been labeled one of the best places to visit in Japan, and Osaka travel embraces Japanese culture with historic attractions like Osaka Castle and Dotonbori. Looking for more contemporary things to do in Osaka? Reserve tickets online to some of the city's ultramodern points of interest, like Universal Studios Japan and Osaka Aquarium Kaiyukan.

1. Enjoy unlimited amusement park rides with two-day tickets to UNIVERSAL STUDIOS JAPAN
It's no secret that one of the must-see tourist attractions in Osaka is Universal Studios Japan. After all, more than 10 million people go there every year! Buy a one- or two-day studio pass to enjoy unlimited access to the park's eight sections, which include The Wizarding World of Harry Potter and Minion Park. Add a USJ Express Pass and get speedy access to the park's most popular rides, like The Flying Dinosaur in Jurassic Park and The Amazing Adventures of Spider-Man in New York.
Amusement park sections at Universal Studios Japan
Universal Wonderland
Amity Village
The Wizarding World of Harry Potter
Jurassic Park
San Francisco
Minion Park
New York
Hollywood
Discover more about USJ attractions & tickets to Universal Studios Japan
Check In to Hotel Sobial Osaka, Step Out to Universal Studios Japan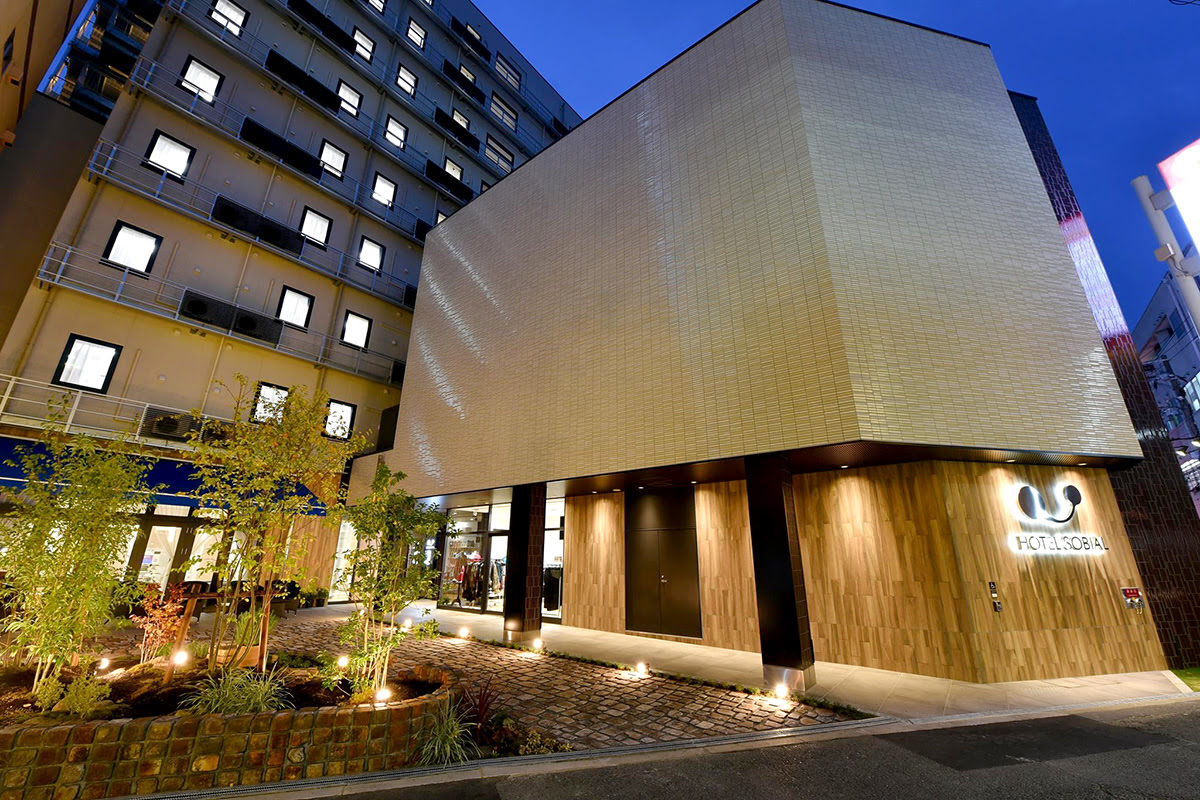 Discover more hotels and resorts near Universal City Walk Osaka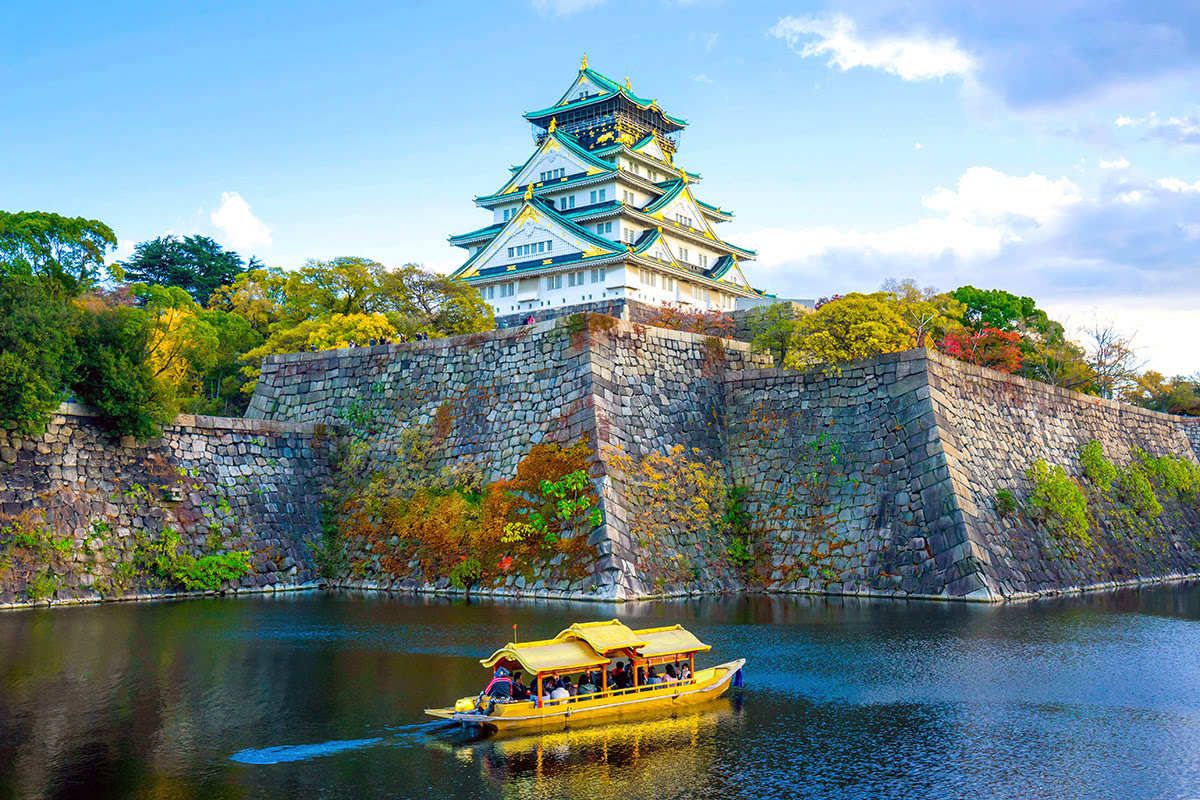 2. Savor spectacular history while photographing seasonal foliage at OSAKA CASTLE
Osaka Castle is not only one of the most popular places to visit in Osaka, but it also is one of the most iconic landmarks in Japan. The castle played a historical role in unifying Japan in the 16th century, when the first rendition of the Main Tower was built. Today, visitors can savor a bird's-eye view of the castle grounds from the observation deck of Osaka Castle Museum, housed inside the Main Tower, as well as a close-up view of each of the castle's 13 historic structures. Osaka Castle is open year 'round, and each season accentuates the fantastic sightseeing available. During spring, admire cherry blossoms at Nishinomaru Garden and apricot flowers in Ume Grove. Photograph the best fall foliage in Omoide-no-mori (Grove of Remembrance).
13 historical landmarks inside Osaka Castle
Ote-mon Gate
Sakura-mon Gate
Ichiban-yagura Turret
Inui-yagura Turret
Rokuban-yagura Turret
Sengan Turret
Tamon Turret
Kinmeisui Well
Kinzo Storehouse
Enshogura Gunpowder Magazine
Castle walls, around Ote-mon Gate (three sections)
Learn more about Osaka Castle hours and entrance fees
Check In to Hotel The Lutheran, Step Out to Osaka Castle
Things to do in Osaka: Discover more hotels and guesthouses near Osaka-Jo Hall
3. Pet a shark after playing with sea lions at OSAKA AQUARIUM KAIYUKAN
Take a virtual tour of the Pacific Ocean at Osaka Aquarium Kaiyukan, which features up-close views of some of the world's most intriguing marine life. Follow sea lions and schools of fish through spiraling tunnels that lead visitors from the seventh floor all the way down to the fourth. These mesmerizing exhibitions showcase the aquarium's most popular attractions, including Japan Forest and Antarctica. During the two-and-a-half-hour tour, visitors also love to watch feeding times and take part in hands-on activities, like bonding with seals in their natural habitat … and petting sharks and stingrays!
Permanent exhibits at Kaiyukan
Fish Underpass – Aqua Gate
Japan Forest
Aleutian Islands
Monterey Bay
Gulf of Panama
Ecuador Rain Forest
Antarctica
Tasman Sea
Great Barrier Reef
Pacific Ocean
Seto Inland Sea
Check In to Hotel Universal Port, Step Out to Osaka Aquarium Kaiyukan
Discover more hotels and apartments near Osakako Station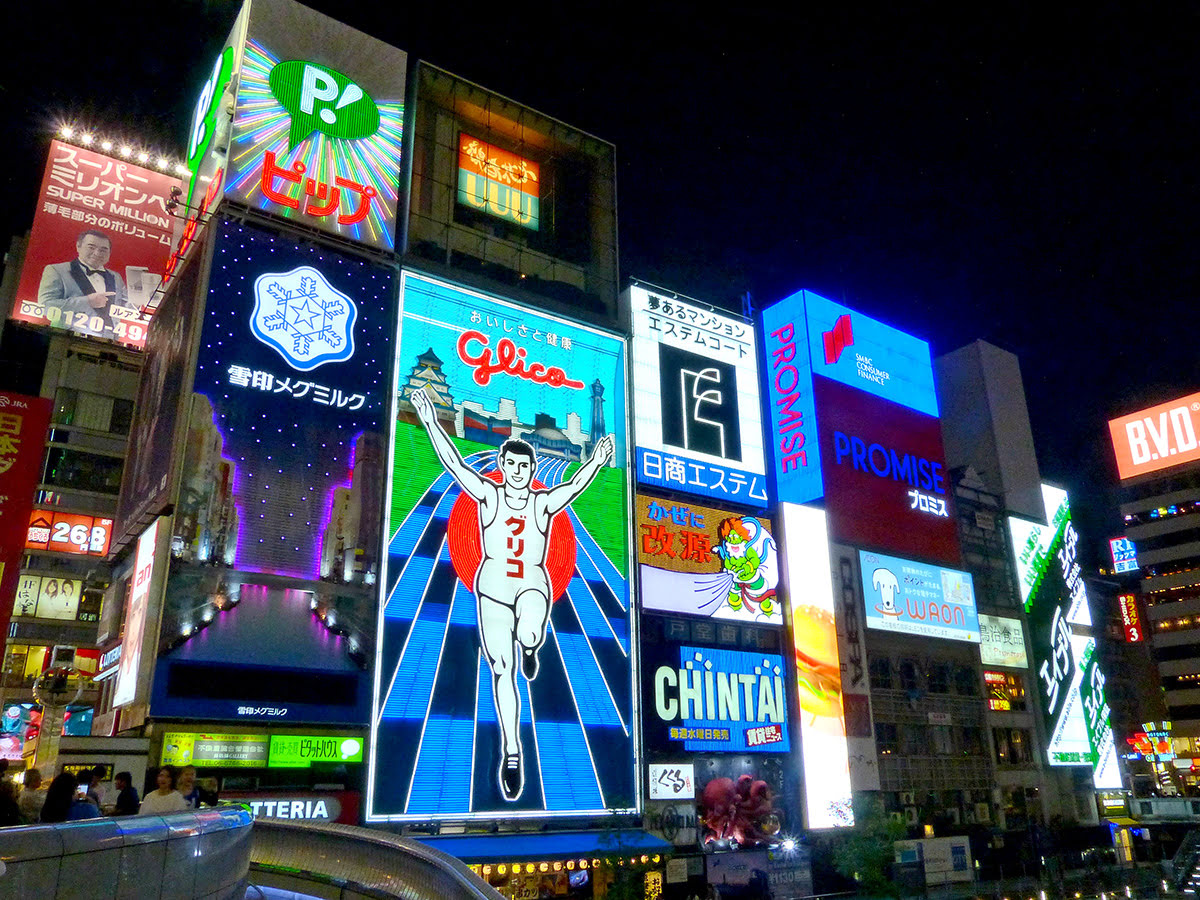 4. Get swept up in Japanese food culture in DOTONBORI
Foodies know that one of the best things to do in Osaka is to eat in Dotonbori, so if you're a rookie to this region, head to Hozenji Yokocho alley. This stone-paved section of Minami is packed with long-standing Japanese restaurants and bars eager to placate Osaka's kuidaore (extravagant street food) culture. For one of the district's most distinguished dining experiences, look for the giant, mechanical crab on the awning of Kani Doraku. Order from the take-away shop in front of the restaurant, or if you want to crack open some crabs onsite, make a reservation in advance, as wait times can be more than an hour. While the district is best loved for its food choices, Dotonbori also maintains its fair share of theaters, nightclubs, shopping boutiques and tourist attractions, including the Glico Man billboard at Ebisu Bridge and Kuidaore Taro, the drum-playing clown in the Nakaza Cuidaore Building.
Best Japanese foods to try in Dotonbori
Tokoyaki (octopus balls)
Okonomiyaki (Japanese savory pancake)
Ramen (noodles in rich pork bone broth)
Kitsune udon (thick noodles in light broth)
Kushikatsu (deep fried meat skewers)
Taiyaki (stuffed pastry shaped like a fish)
Check In to Dotonbori Hotel, Step Out to Glico Man billboard
Things to do in Osaka: Discover more hostels and hotels near Osaka-Namba Station in Dotonbori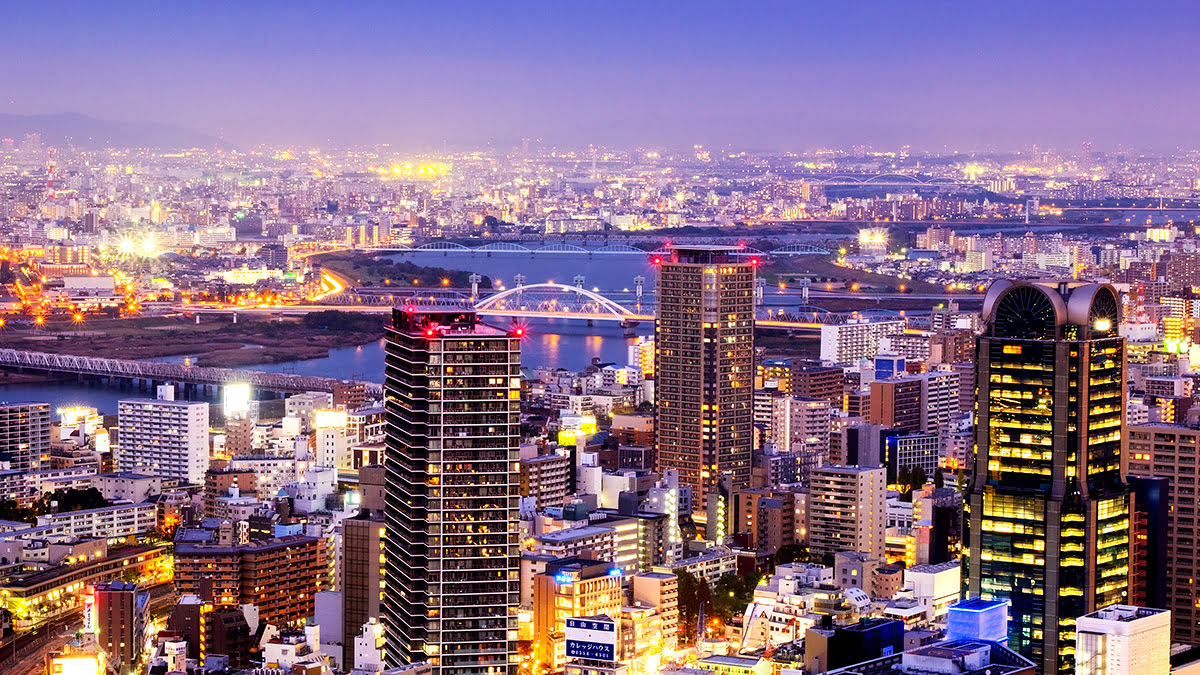 5. View Mount Rokko from the Umeda Sky Building and KUCHU TEIEN OBSERVATORY
Located on the banks of the Yodo River in the Umeda Sky Building, the Kuchu Teien Observatory offers a lingering look of Awaji Island and the Mount Rokko ridgeline, as well as a panoramic view of Osaka. The observation platform serves as a bridge that connects the two towers of the Kuchu Teien Observatory, also called the Floating Garden Observatory. At ground level, visitors are welcome to find some shade while hunting koyo (fall foliage) in Naka-Shizen no mori garden or grab some lunch at Takimikoji food street in the basement of the tower. Visit the Umeda Sky Building during November and December and find the area illuminated to the hilt during the annual German Christmas Market.
Check In to Hotel Monterey Osaka, Step Out to Kuchu Teien Observatory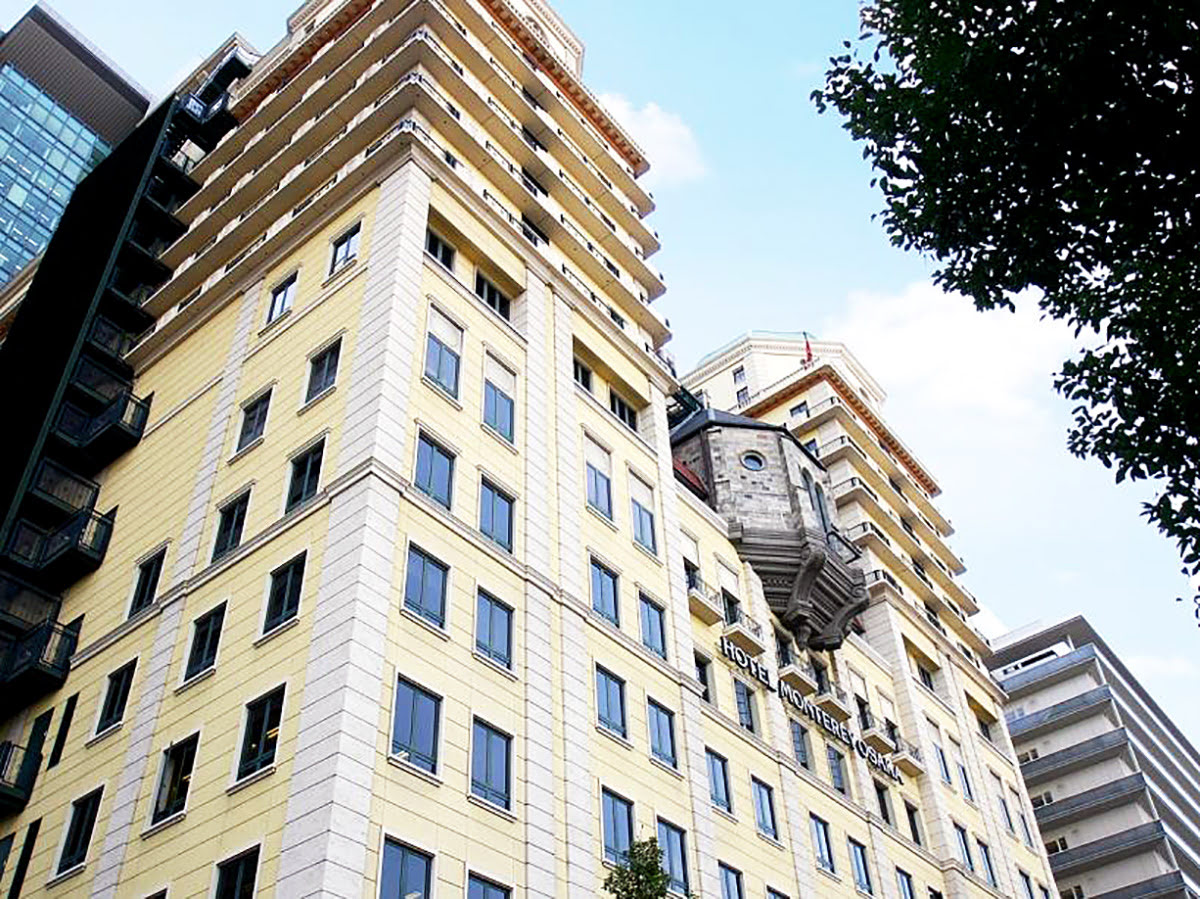 Discover more hotels and serviced apartments near Umeda Sky Building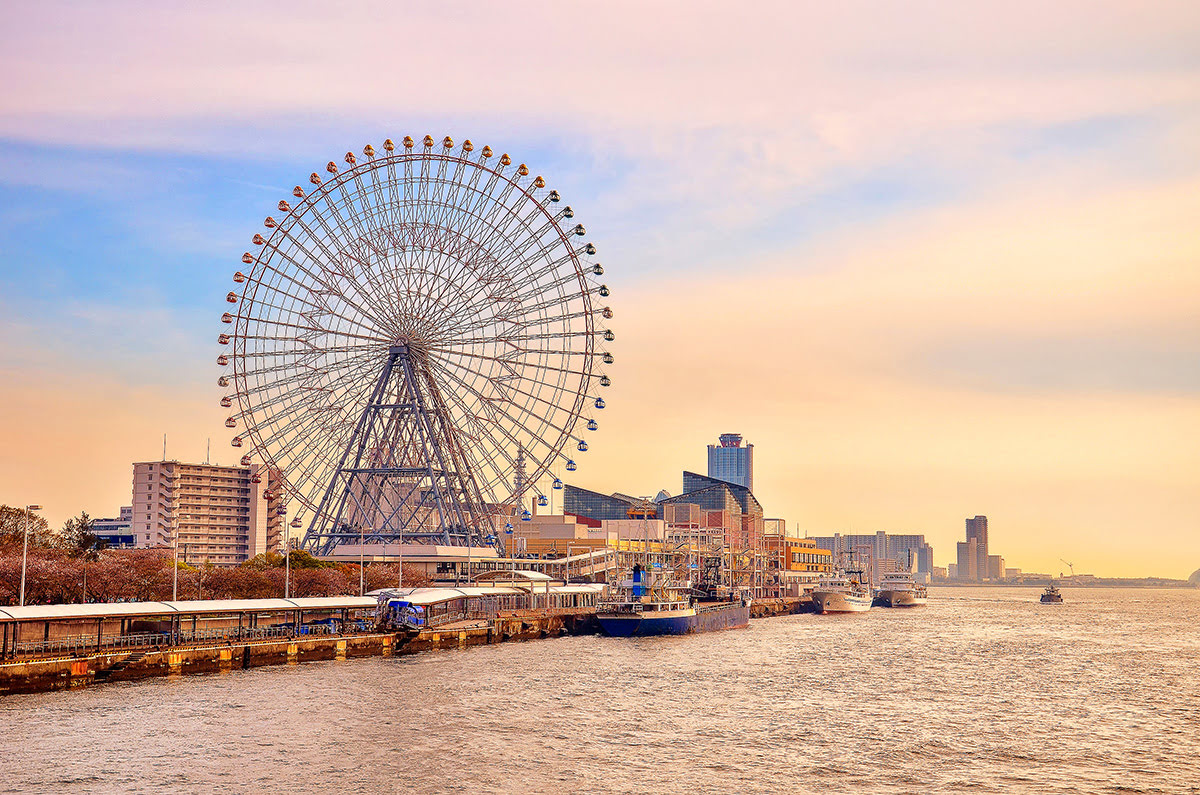 6. Look over Osaka Bay and Awaji Island from a seat on the TEMPOZAN GIANT FERRIS WHEEL
See Osaka like you've never seen it before during a 17-minute ride on the Tempozan Giant Ferris Wheel in Tempozan Harbor Village. Once the tallest Ferris wheel in the world, the Tempozan Giant Ferris Wheel offers breathtaking views of Osaka Bay, Mount Ikoma and Akashi Kaikyo Bridge, which connects the mainland to Awaji Island. Photographers particularly love the area at night when the wheel lights up according to the next day's weather: orange indicates a sunny day; green lights mean clouds, and blue lights let visitors know it's going to rain.
Check In to Hotel Seagull Tempozan Osaka, Step Out to Tempozan Giant Ferris Wheel
Discover more things to do in Osaka near Tempozan Harbor Village

7. Photograph Japanese architecture in an ancient Buddhist shrine at SUMIYOSHI-TAISHA
Famous for its architecture and cherished for its historical significance, Sumiyoshi-Taisha, also known as Sumiyoshi Grand Shrine, is one of Japan's oldest religious sites. The shrine was founded in the third century, before the introduction of Buddhism, and is one of only three shrines to be considered "purely Japanese," based on its architectural style called Sumiyoshi-zukuri. Cross the iconic Sorihashi arched foot bridge to enter the grounds, where visitors can tour the four main shrine halls and wander through sacred trees that are more than 1,000 years old. Tour Sumiyoshi-taisha on the first three days of the year and witness more than two million locals praying for health and prosperity during hatsumōde, the first Shinto shrine visit of the Japanese new year.
What to do at Sumiyoshi-Taisha
The Stone Stage and waterfall
Sumiyoshi Taisha, Kisshoden wedding venue and costume rental service
Unohana Garden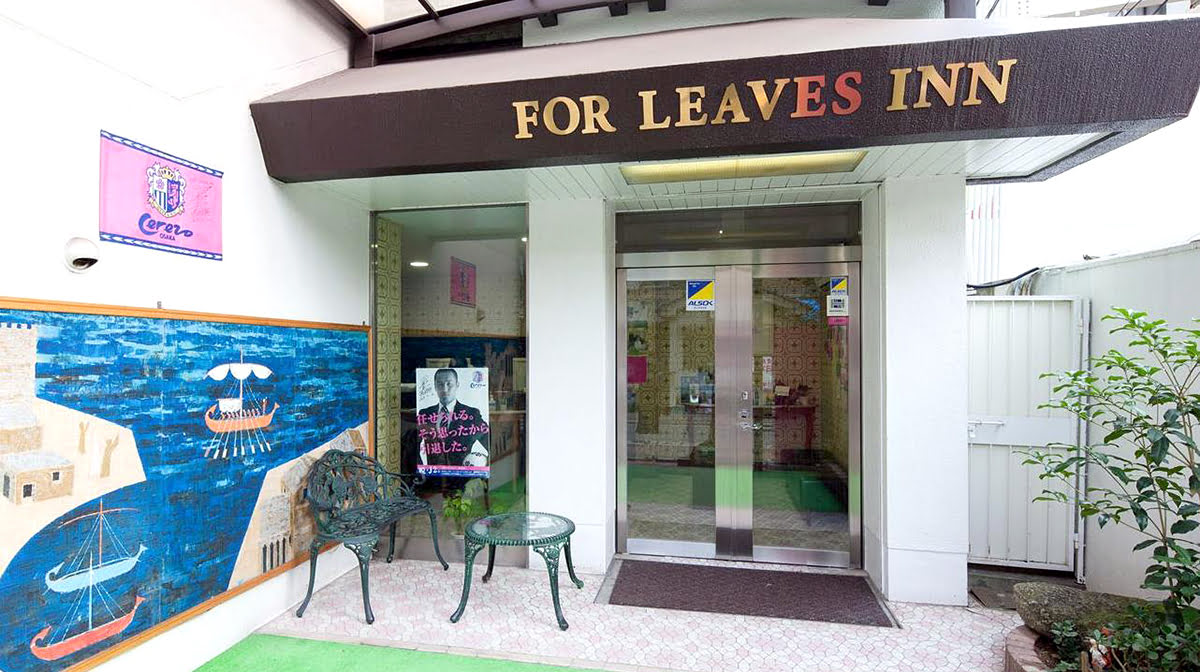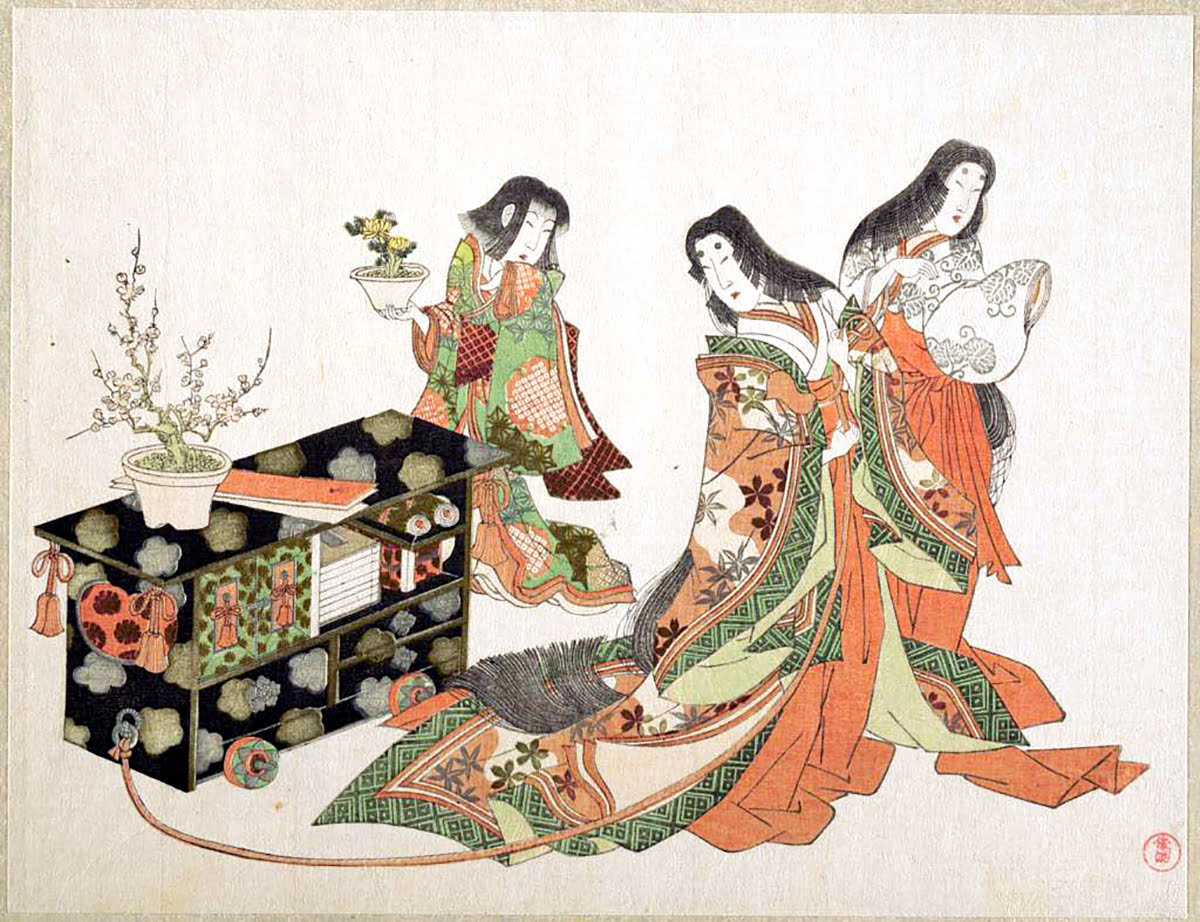 8. View rare & exotic Japanese art made with woodblocks at KAMIGATA UKIYOE MUSEUM
Take a tour of the only museum in the world with a permanent display of Kamigata ukiyoe, or Japanese woodblock prints from the former Osaka-Kyoto region known as Kamigata. With more than 50 pieces of art in its permanent collection, the Kamigata Ukiyoe Museum showcases traditional art and culture from the Edo area, particularly Kabuki actors of the day.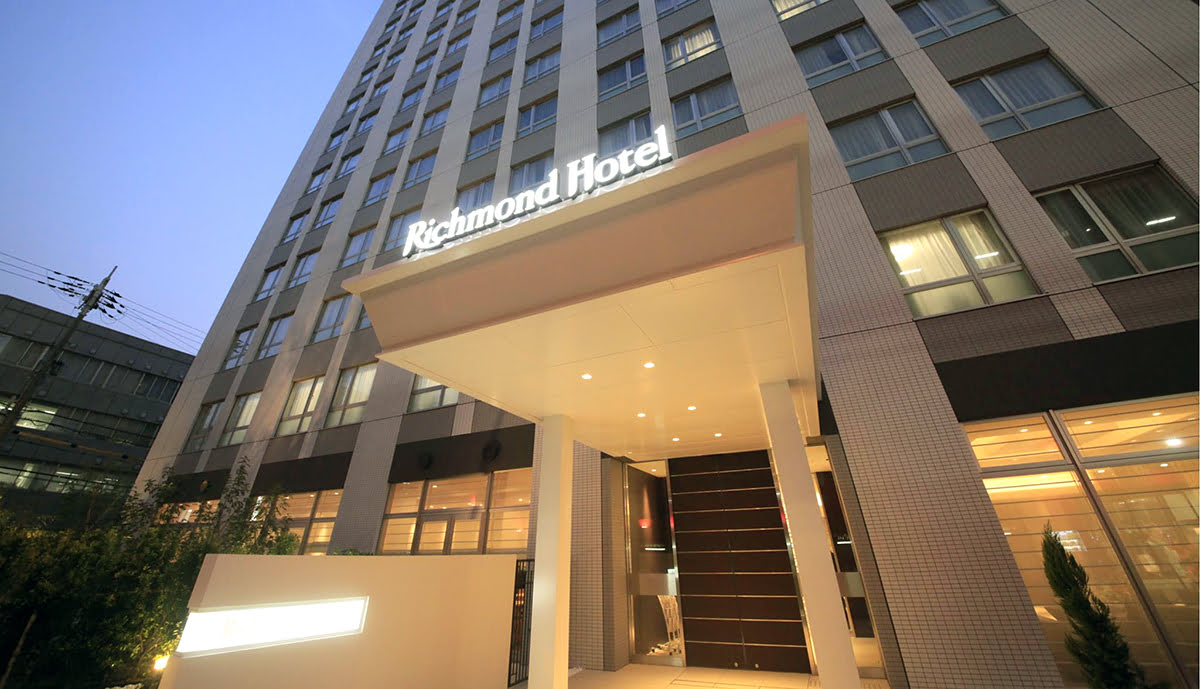 9. Float under the neon lights of Dotombori during a TOMBORI RIVER CRUISE
Enjoy a 20-minute waterfront cruise along the Tombori River Walk to view some of the best attractions in Dotombori. The Tombori River Cruise captures some of Dotonbori's most famous sights and reveals many secrets about events that have taken place in Naniwa Ward. Buy tickets on the first floor of the Don Quijote Dotombori supermarket and board near the front entryway at Tazaemon-bashi Bridge boat dock, also called the Tombori River Cruise Landing Platform.
Things to see in Osaka Minami on the Dotombori waterfront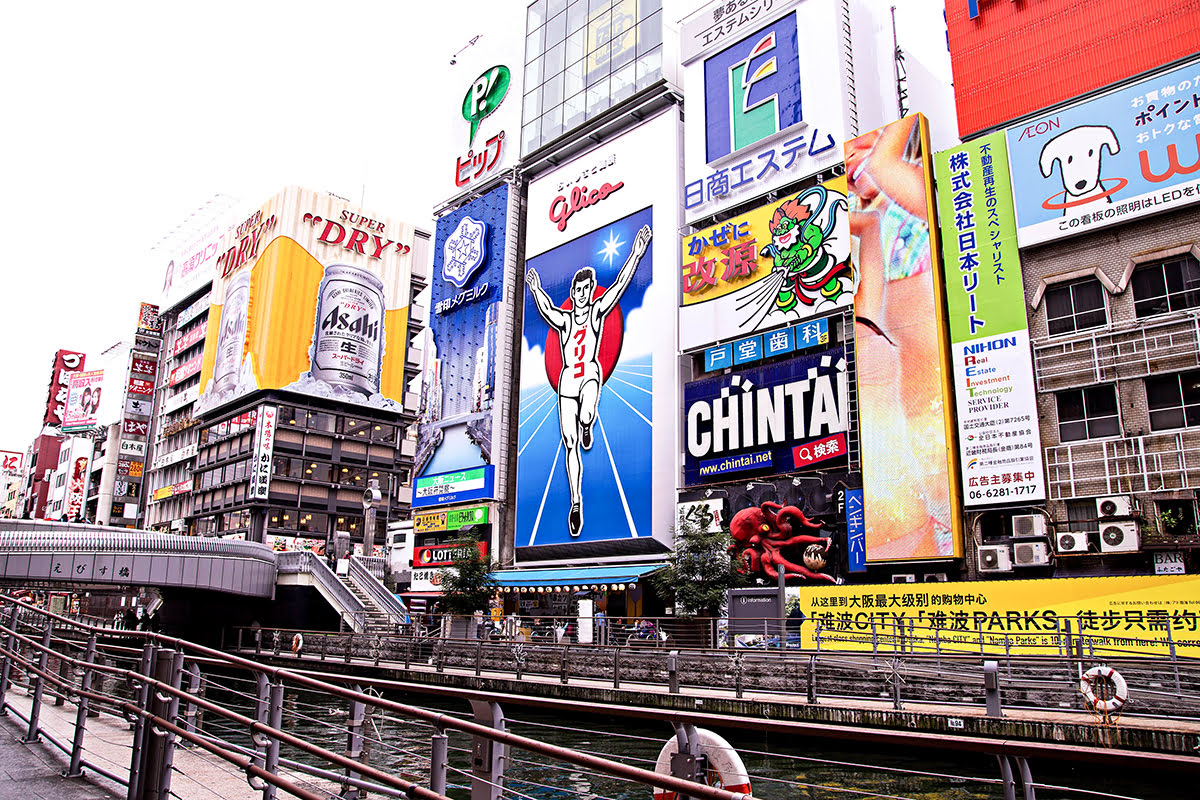 10. Take an Osaka bus tour and ferry ride on WONDER LOOP OSAKA & OSAKA WONDER CRUISE
Buy a two-day hop-on, hop-off bus and boat ticket and enjoy endless rides to some of the most popular things to do in Osaka. Take an epic selfie on the waterfront with the Glico running man sign and get a glimpse of Osaka Castle while drifting down the O River. Jump on a boat at the Wonder Cruise Dotonbori River Port, or board a bus from any of the 14 Wonder Loop Osaka bus stops.
Bus stops for Wonder Loop Osaka
11. Walk through a traditional village & wear a Japanese kimono at OSAKA MUSEUM OF HOUSING AND LIVING
Discover Japanese culture and history while viewing exhibits of traditional Japanese housing from the Meiji, Taisho and Showa periods. The Osaka Museum of Housing and Living also features a remarkable replica of an entire cityscape from the Edo period, as well as dozens of Japanese artifacts dating from the 1800s to the 1950s. Guests are invited to try on a Japanese kimono and experience daytime and nighttime atmospheres through an illumination exhibit. Find the Osaka Museum of Housing and Living in the Kita District, next to Tenjimbashisuji Shopping Street.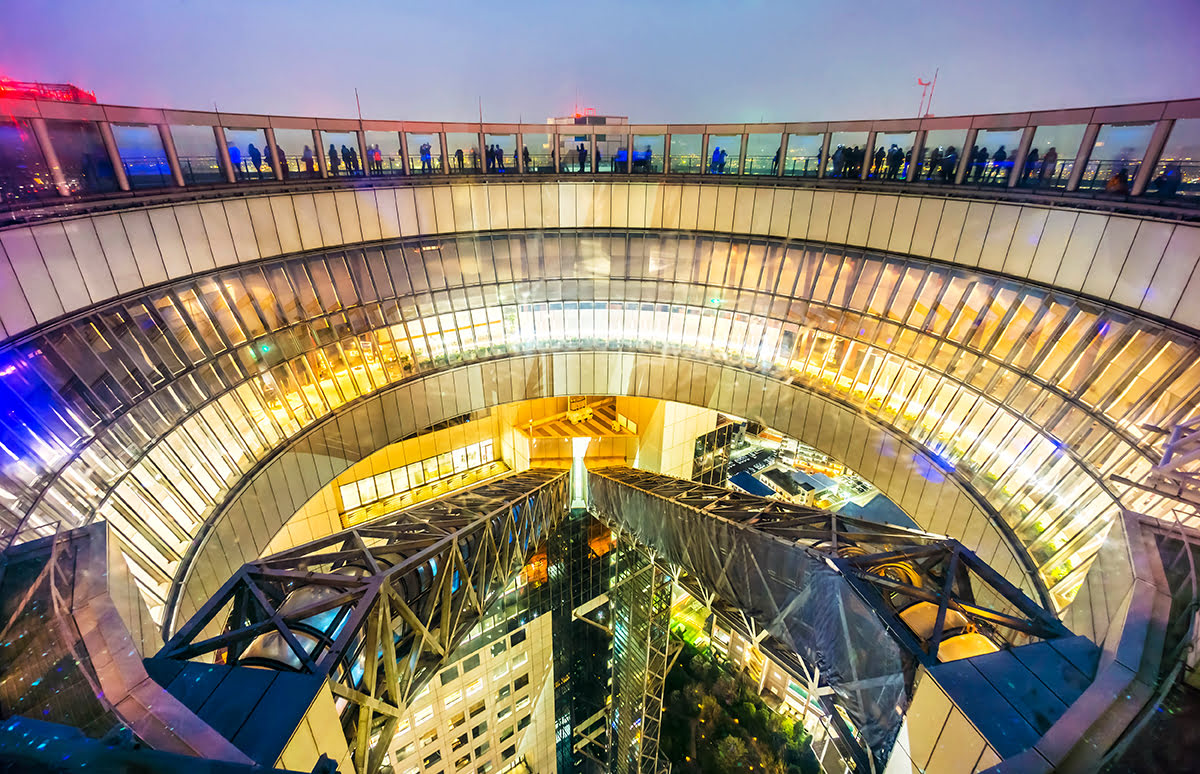 12. Tour a floating garden and photograph Osaka's skyline from the UMEDA SKY BUILDING
Also known as Shin Umeda City, the Umeda Sky Building offers views of the Yodo River and the Umeda skyline. The 40-floor building features two towers connected by a Floating Garden Observatory on the 39th floor. Snap a panoramic photo from a height of 568 feet (173 meters) on an open-air deck and then venture below the tower to shop in an underground market. At ground level, visitors will find an urban garden, complete with walking trails, a plant nursery and scenic streams and waterways.
What to do near Umeda Sky Building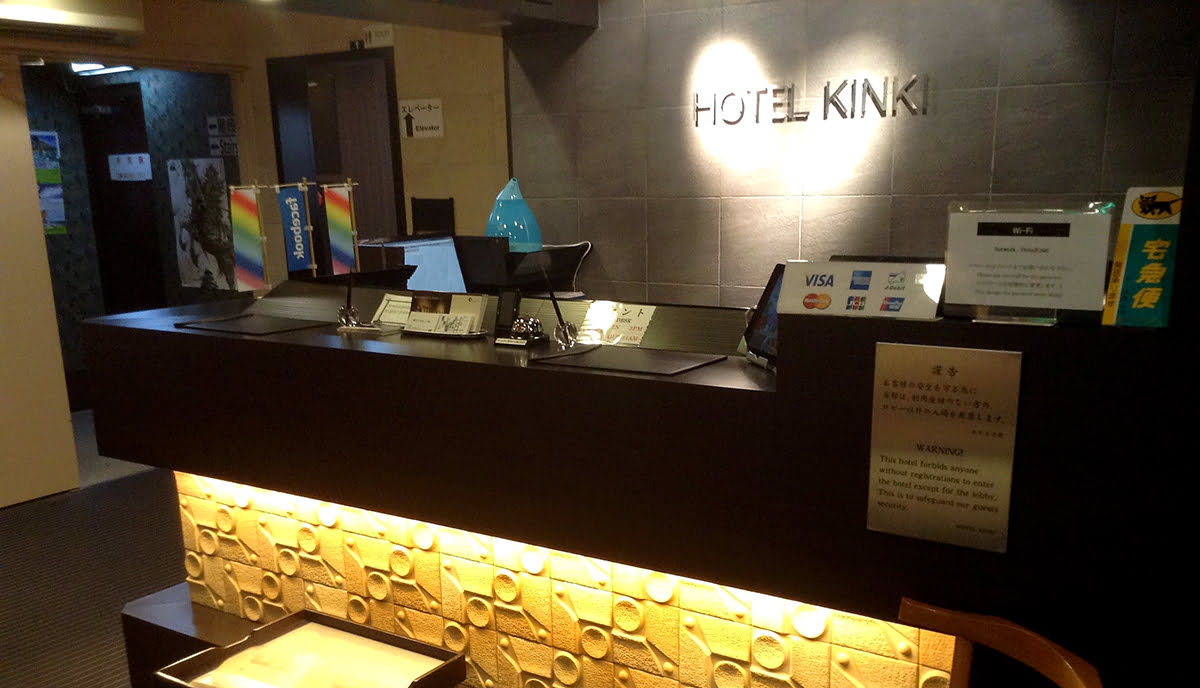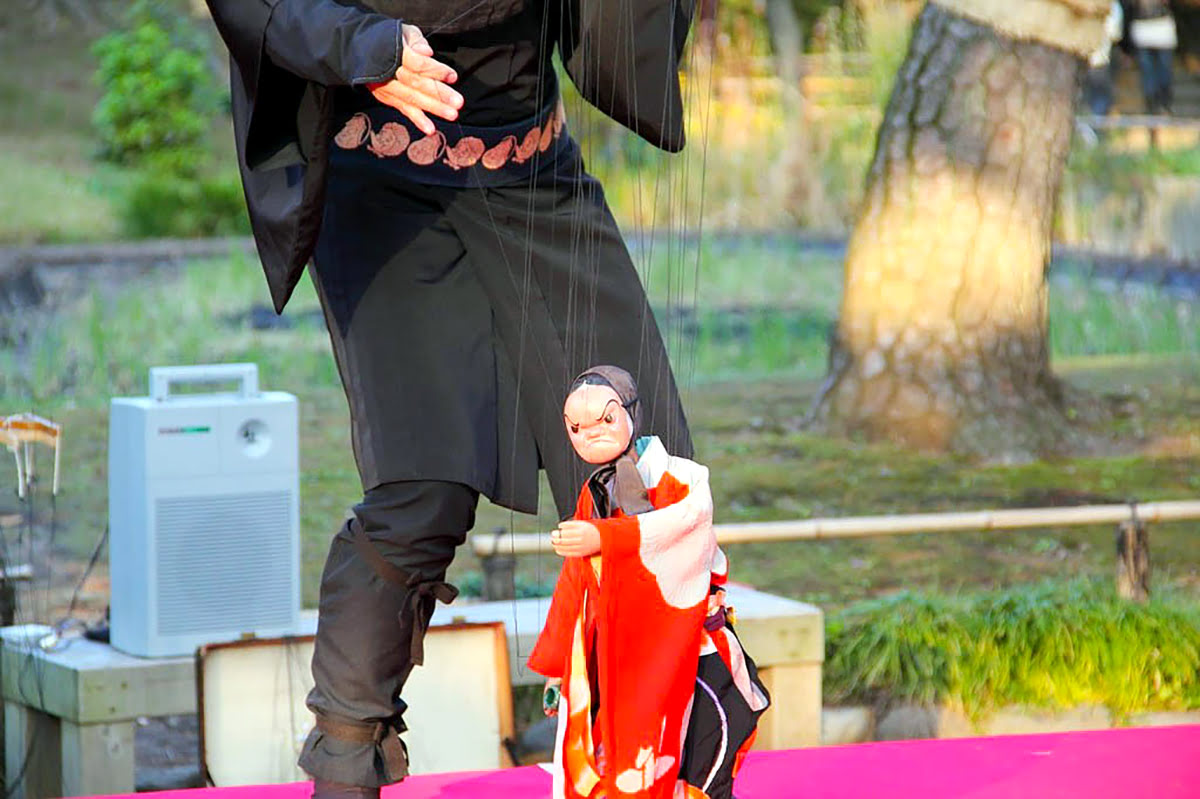 13. Discover a rare Japanese art form while watching a puppet show at NATIONAL BUNRAKU THEATER
Watch a rare art form developed in the 17th century that ranks as one of the three great theatrical traditions of Japan. The National Bunraku Theater features traditional Japanese puppet shows, and the performance hall in Nippombashi is one of the only places in the world to catch a show today. A mix of complex puppetry, narration and musical compositions, bunraku once served as a primary source of entertainment for Japanese nobility. Osaka is considered the capital for bunraku, and the tradition was designated by UNESCO in 2003 as a part of the Intangible Cultural Heritage of Humanity. The National Bunraku Theater hosts about five performances per year. English-speaking spectators can purchase audio guides for additional charges, and brochures are available in English, Chinese, Korean and French.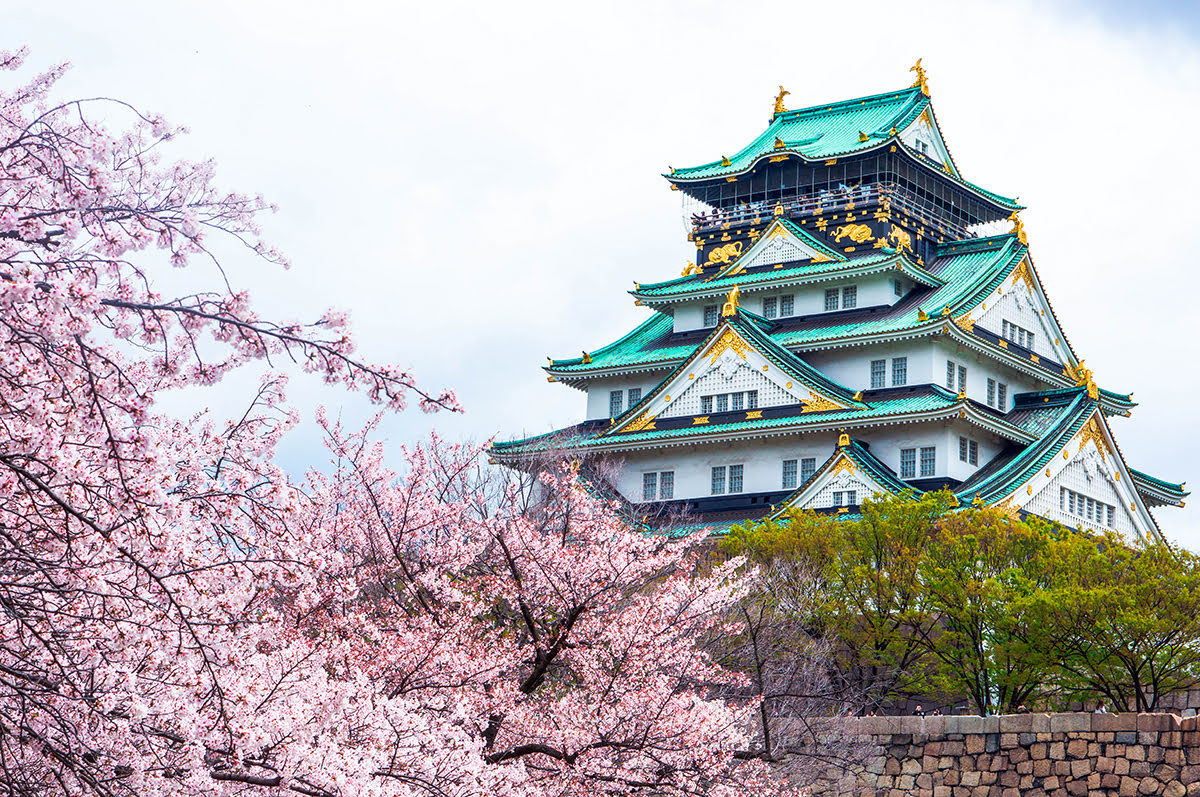 Best time to visit Osaka
Spring
View more than 600 cherry trees in full bloom around Osaka Castle at Nishinomaru Garden in Osaka Castle Park. Hours are extended from 9 a.m. to 9 p.m. during spring, and when the sun goes down, tourists can enjoy an illuminated view of the grounds.

The March Grand Tournament also takes place in spring. This two-week event kicks off in mid-March and features some of the country's most famous sumo wrestlers. Buy tickets the day of any match on the website or at EDION Arena Osaka (Osaka Prefectural Gymnasium), where the tournament takes place.
Summer
The weather in Osaka makes Japan's third largest city appealing year-round, but sightseers who want an authentic taste of Japanese tradition should show up at the end of July for the Tenjin Matsuri (summer festival), which starts July 24 at Temmangu shrine. Started in the 10th century, Tenjin Matsuri is noted as one of Japan's top three festivals and attracts millions of onlookers and participants every year. Locals kick off the two-day event by praying by the waterfront for peace, safety and prosperity for Osaka. On the second day, locals don traditional costumes and take part in street performances, and the festival is capped with a fireworks procession down the Okawa River.
Fall
Viewing fall foliage in Japan is not just a sightseeing adventure. It's a national sport! Locals call it koyo hunting, and participants can score massive likes with Instagram posts from Osaka Castle Park and Expo '70 Commemorative Park. Besides an entire park full of reds, oranges and yellows, visitors also can Snapchat fun selfies with the Tower of the Sun statue and tour the Expo '70 Pavilion heritage museum.
Winter
"Ooh and aah" all the way down Midosuji Boulevard while reveling in one of the world's longest illuminated streets. The section of road spans more than 1.75 miles (3 kilometers) and remains lit from mid-November to New Year's Eve. Winter illumination is a bonus for this star attraction, as this high-class shopping street features flagship stores like Louis Vuitton and Chanel and runs through Osaka's central districts of Umeda, Shinsaibashi, Dotonbori, Americamura and Namba.

During the last two weeks of December, visit Osaka to attend the Osaka Hikari Renaissance, a part of the annual Osaka Festival of Lights event. The display stretches more than a quarter mile (600 meters) from Osaka City Hall to Nakanoshima Park.
Check In to a hotel or apartment in Osaka
RIHGA Royal Hotel Osaka
Hotel Sunplaza2 Annex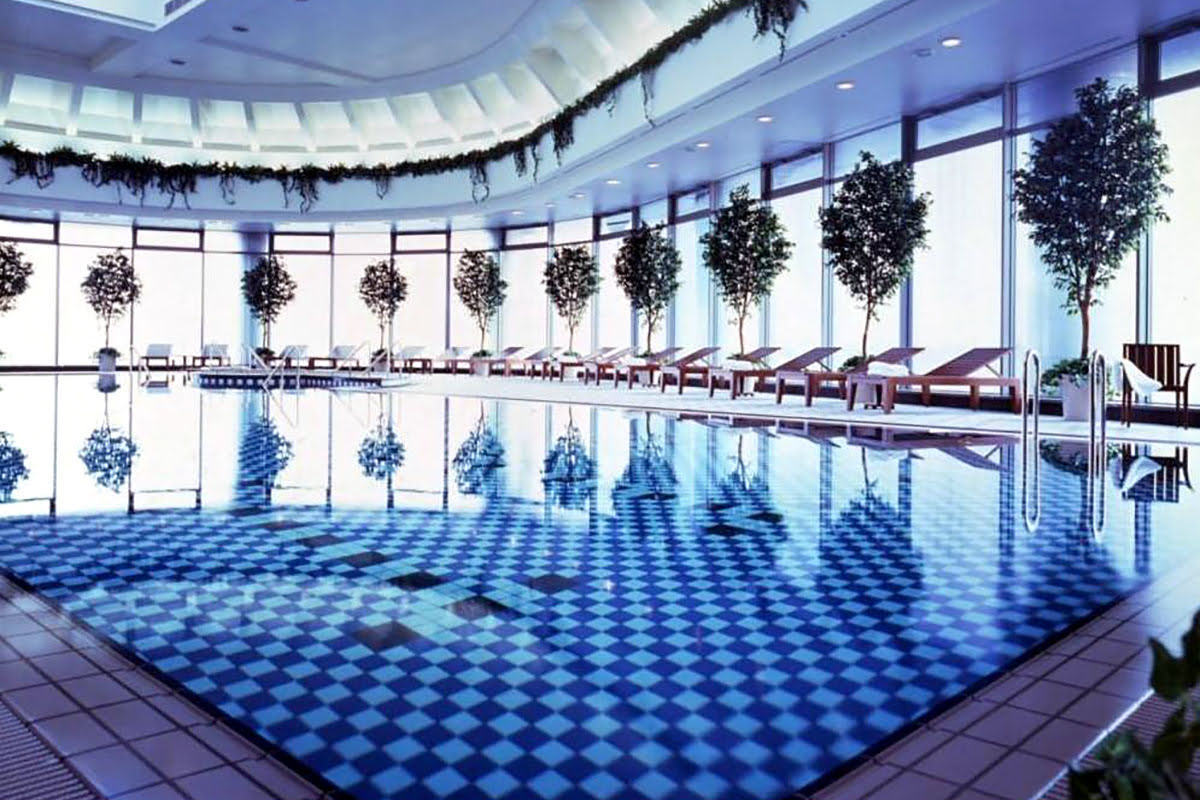 Imperial Hotel Osaka
Step Out to Namba