One of Japan's most famous winter events, hosting as many as 2.5 million visitors from home and abroad every year, "Sapporo Snow Festival" will finally start on Monday, February 4th (Thursday, January 31st at Tsudome Site)! The first event of this 70-year old snow festival dates back to 1950, when local junior and senior high school students created six snow sculptures at Odori Park which then served as a snow dump. This exerted an initial impact on citizens and sculptures have gradually become gigantic and highly elaborated. Now, the event has expanded to exhibit numerous stunningly impressive snow works.
This year's 70th commemorative festival will see various celebratory activities. As well as the main venue "Odori Site", "Tsudome Site" offering snow activities and "Susukino Site" exhibiting ice sculptures are your definite must-visit. You will even forget the severe coldness of Sapporo in its festive mood and sparkling atmosphere all over the city. Do not miss every single spectacular highlight of Sapporo Snow Festival, the can't-wait event not only for tourists but for local citizens!
Dates
– Odori Site/Susukino Site: February 4th (Mon) to 11th (Mon/National holoday)
– Tsudome Site: January 31st (Thu) – February 11th (Mon/National holoday)
---
1. It is just spectacular, the main venue "Odori Site" displaying as many as 110 snow sculptures
Among others, the highlights of the main venue "Odori Site" are five 15 meter-tall gigantic snow sculptures. This year, visitors can appreciate a variety of thematic snow works inspired by the world's famous "Star Wars", Sapporo-originated vocaloid "Miku Hatsune", "Helsinki Cathedral" from Finland and many more! Attraction is not only at daytime but night-time, such as striking projection mapping experience.
Besides, 110 highly elaborated snow sculptures in every size are lined up through the city from 1 to 12 chome. In contrast to sculptures under daytime blue sky, illuminated versions in the night-time (-22:00) will lead you to an unique and mystical atmosphere.
Many works created by Sapporo citizens!
Every year, many small- and mid-sized works made by local groups, institutions, and schools from Sapporo hog the limelight. Through its 70 years of history, the event has witnessed highly skilled snow works made by locals inspired by high-profile names or characters, social circumstances, and artistry. With innovative design, unique works serve as the perfect photo spot for tourists. This year, over 80 local participants are taking part, and now devoting themselves to working in spite of snowy, chilly weather.
Access
[Sapporo Snow Festival main venue: Odori Park] Nishi 1 – 12 chome, Odori, Chuo-ku, Sapporo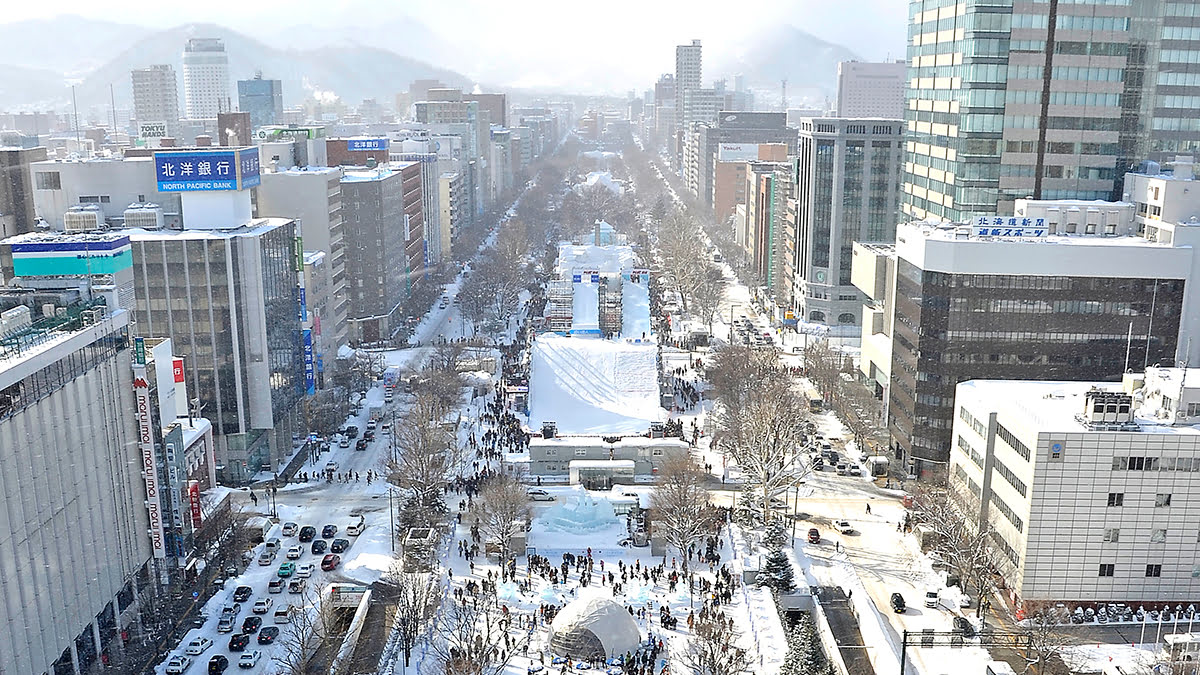 An array of food stalls offering delicious Hokkaido cuisine
Food stalls offering dynamically cooked Hokkaido's winter specialties, such as fresh scallops, crabs, or oysters. Shops serving hot and steaming rice bowls or ramen. With its aroma from stalls, "Hokkaido Food Square" at "Odori Site" whets the locals and tourists' taste buds. Cooked in a dynamic way, fresh ingredients produce simple and homely Hokkaido savor. Find and enjoy your favorite Hokkaido cuisine to your hearts' and stomachs' content!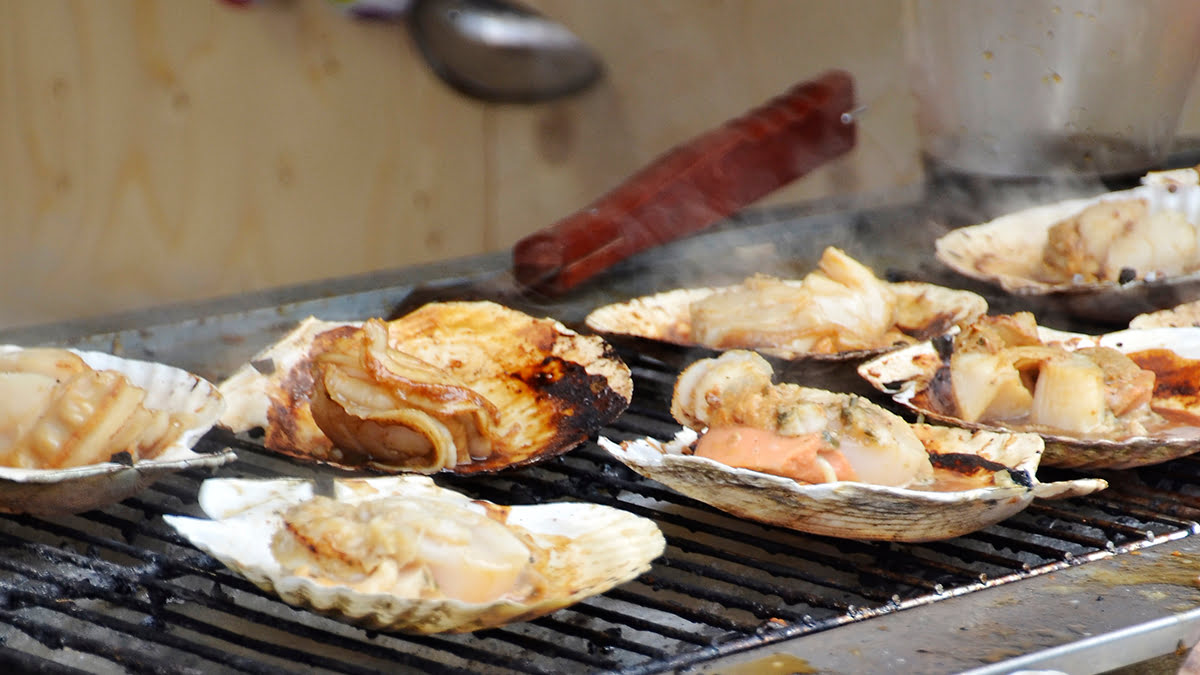 Enjoy ice skating, one of the highlights of Odori Site!
Outdoor ice skating rink at "Odori Site" is always bustling with many people. Located in 1 chome venue at the foot of TV tower, the facility offers spacious 17.5 x 20 meters rink, perfect for family use. Romantic atmosphere produced at illuminated rink after sunset also makes ultimate dating destination. Just bring yourselves as rental ice skates are available.
Access
[Sapporo Snow Festival main venue: Odori Park (ice skating rink)] Nishi 1 chome, Odori, Chuo-ku, Sapporo
---
2. "Tsudome Site", full of indoor/outdoor winter activities
"Tsudome Site" will be open one step ahead of other venues on Thursday, January 31st. With its concept of being a playground for all ages, the site offers its grand 10 meter-high, 100 meter-long tube slider as well as snow activities including ice slides or snow rafting for anyone from adults to children. If you are sensitive to cold, just go inside and enjoy various attractions at warmer indoor venues. After activities, you can savor special cuisine at "Hokkaido Gourmet Fair" or many other cafes. At the first day on Thursday, January 31st, the snow works contest will be held, followed by a series of exciting events such as YOSAKOI performance on weekend.
Access
[Sapporo Snow Festival venue: Tsudome] 885-1 Sakaemachi, Higashi-ku, Sapporo
Subway Toho Line "Sakaemachi Station"/Shuttle bus is available from "Odori Site"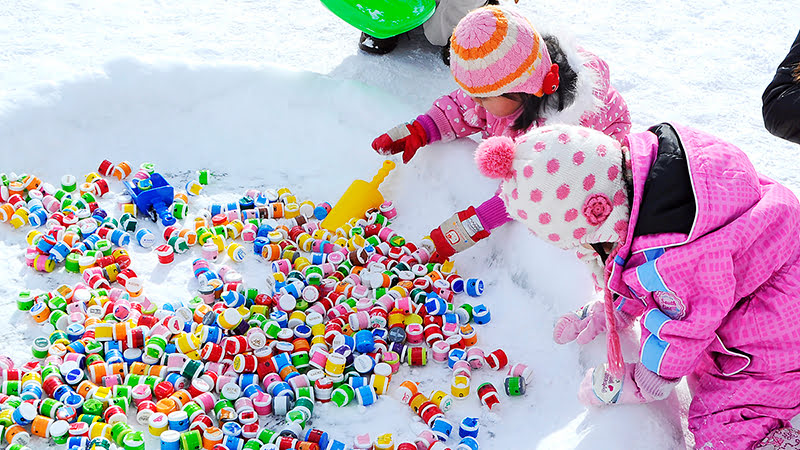 ---
3. "Susukino Site" exhibiting mystical ice sculptures
At Susukino, Hokkaido's biggest entertainment district, 60 ice sculptures in every size are brightened up with illumination. 350 meter-long venue from the town center called "Susukino intersection" all the way down to Minani 7 jo provides the visitors mystical immersive experience in an icy world. At "Fureai Square", you can touch or ride on the ice sculptures, and highly recommended illumination street serves as an ultimate shooting spot. Warm yourself at the "Ice bar" serving you hot drinks, which is your another must-visit.
Access
[Sapporo Snow Festival venue: Susukino] Nishi 3, 4 chome, Minami 4 – 7 jo, Chuo-ku, Sapporo
---
4. Exclusive for this year! 70th commemorative project of Sapporo Snow Festival
This year's snow festival will feature the special events as the 70th commemoration. Already causing a buzz among people is the "AR sculpture of Snow Miku" at 2 chome. By using dedicated apps of smartphones and tablets, you can enjoy the sculpture of Snow Miku via AR (augumented reality), and AR-enabled Snow Muku will navigate sculptures etc. within the event venue (rental mobile device is available). Interactive snow game "Let's throw snow balls!" where you throw snow balls at LED wall and animation projected on the wall changes accordingly, will provide people of any age and nationality with exiting experience. At the underground passage of Sapporo station street, AR-enabled events will recollect 70 year-history of the festival and mock-ups of past snow sculptures and posters will be displayed.
Access
[Sapporo Snow Festival main venue: Odori Park] Nishi 1 – 12 chome, Odori, Chuo-ku, Sapporo
---
5. Hospitality services 2019
This winter, we will offer a variety of hospitality services to realize fully enjoyable Sapporo experience for tourists. One of the services is the "Shared Taxi", available for a month starting from January 25th, offering reasonable rides to designated tourist destinations or accommodations.
You can enjoy your city tours by using this service during snow festival period.
*Details are subject to change.
*Images are for illustrative purposes only.
---
Recommended accommodation, best suited to enjoying Sapporo Snow Festival!
Search for accommodation in Sapporo with Agoda
Sapporo View Hotel Oodori Kouen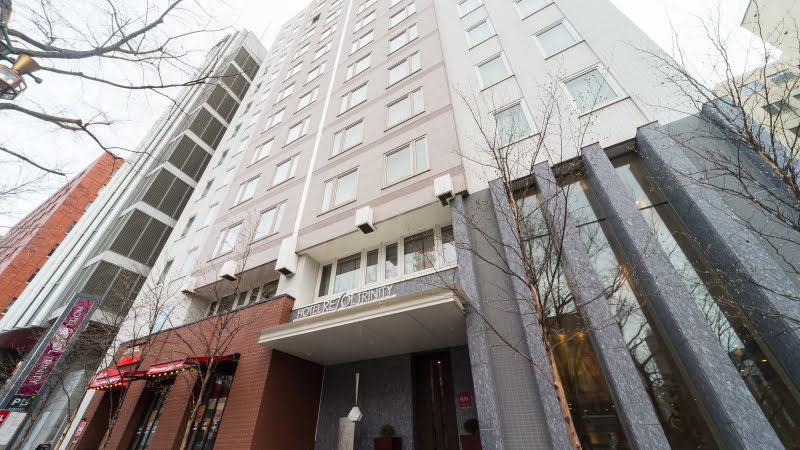 Hotel Resol Trinity Sapporo
Best Western Sapporo Odori
Hotel Okura Sapporo
Hotel WBF Sapporo Odori Koen
Sapporo Grand Hotel
Royton Sapporo Hotel
Unizo Inn Sapporo
Dormy Inn Premium Sapporo Hot Spring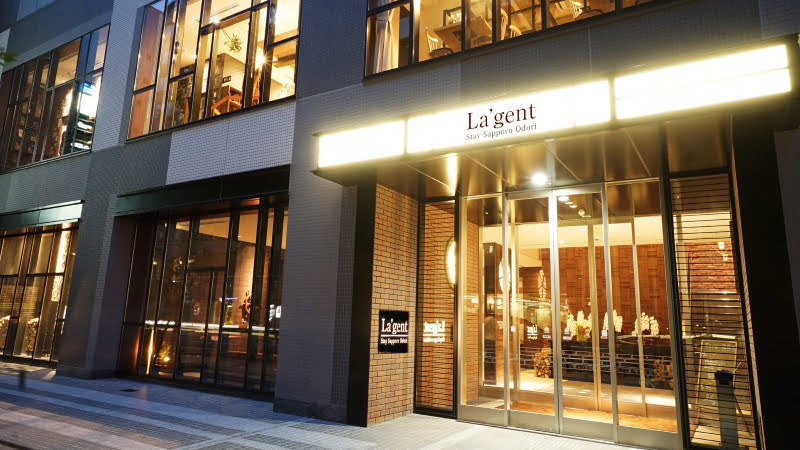 La'Gent Stay Sapporo Odori