Tokyo is the most populous metropolitan area in the world, so it's not surprising that Tokyo shopping offers visitors a seemingly endless list of shopping malls, markets and shopping districts. Learn where to shop in Tokyo by deciding first what you want to buy!

Intro to Tokyo shopping
For fast fashion and department stores, you'll want to head for Shibuya or Shinjuku. If you're after tech gear or anything anime-related, Akihabara is your target. Fashionistas have a couple of options – Harajuku for trendy street wear and Ginza for luxury labels. Shoppers who relish the hunt and have an eye for a hidden gem should plan to explore the vintage and secondhand shops in Shimokitazawa.
When you're ready for a break from the hustle and bustle of the more chaotic sections of the city, schedule an afternoon of shopping in Daikanyama and Nakameguro where you can stroll alongside the Meguro River in between boutique visits. Visitors who would like to incorporate some sightseeing into their Tokyo shopping itinerary will want to plan a visit to Asakusa where they can fit in shopping before or after a visit to Sensoji Temple. Shoppers looking to pick up some souvenirs before heading home will want to plan an expedition to Nihonbashi, a district known for shops featuring traditional Japanese crafts and foods.
Tokyo Shopping | Shibuya
In addition to being home to the two busiest rail stations in the world, Shibuya is one of Japan's essential fashion centers. The shops in this colorful and chaotic district definitely cater to a youthful clientele, but with more than 100 stores in the Shibuya 109 mall alone, there's likely something for everyone. Another mall worth checking out is Shibuya Hikarie . It is known for its themed floors which house restaurants, as well as boutiques, that sell everything from clothing to home décor. When you're ready to grab a bite to eat or check out some smaller shops, make your way to Spain-zaka Slope, a pedestrian street that's lined with restaurants and boutiques.
As you explore Shibuya, make sure have a go at the famous "Scramble Crossing" outside Shibuya Station where all of the lights turn red at the same time and pedestrians cross haphazardly from every direction.
6 more can't-miss shops in Shibuya
UNIQLO – Japan's most popular clothing brand
Shibuya MODI – 10-story shopping complex
Shibuya OIOI – department store chain
Bershka – fast fashion
Postalco – stationary
Mega Don Quijote – an extra-large outpost of Japan's popular bargain retail chain
Tokyo Shopping | Daikanyama & Nakameguro
If you're craving a less chaotic shopping day away from the busiest sections of the city, visit the quiet enclaves of Daikanyama and Nakameguro. These neighboring districts are packed with high-end boutiques, charming coffee shops, and hip book stores. Home to a number of embassies and a lively community of expats from around the world, Daikanyama is one of Tokyo's most culturally diverse and artistic districts, and neighboring Nakameguro is home to lots of art galleries and gourmet food shops.
Both regions boast luxury stores like Vivienne Tam, but these high-end shops are nestled next to more accessible retailers and reasonably-priced cafes. Shoppers on the hunt for the perfect pair of jeans will want to visit Hollywood Ranch Market, Tokyo's best denim store. Those searching for the perfect souvenir should head for Okura, a store that sells clothing and accessories that have been naturally died to a deep indigo using a centuries-old Japanese method. Finally, one of the area's hottest shopping spots is Daikanyama T-Site, a complex of three inter-connected buildings that are home to a variety of shops, including the very popular Tatsuya Books Daikanyama. For a truly unique souvenir of your trip to Tokyo, visit The Container, a thriving art gallery in a converted shipping container that sells the work of some of the world's most cutting-edge artists.
7 things for non-shoppers to do in Daikanyama and Nakameguro
Toast with a craft beer at Spring Valley Brewery Tokyo.
Take a class at the Tokyo outpost of the world-famous culinary school, Le Cordon Bleu.
Visit Asakura House, a rare example of the architecture of the Taisho period.
Have a picnic in Saigoyama Park where you might catch a glimpse of Mount Fuji on a clear day.
Grab a smoothie at Marugo Deli Ebisu
Pop into Matsunosuke for a slice of their famous apple pie
Stroll along the Meguro River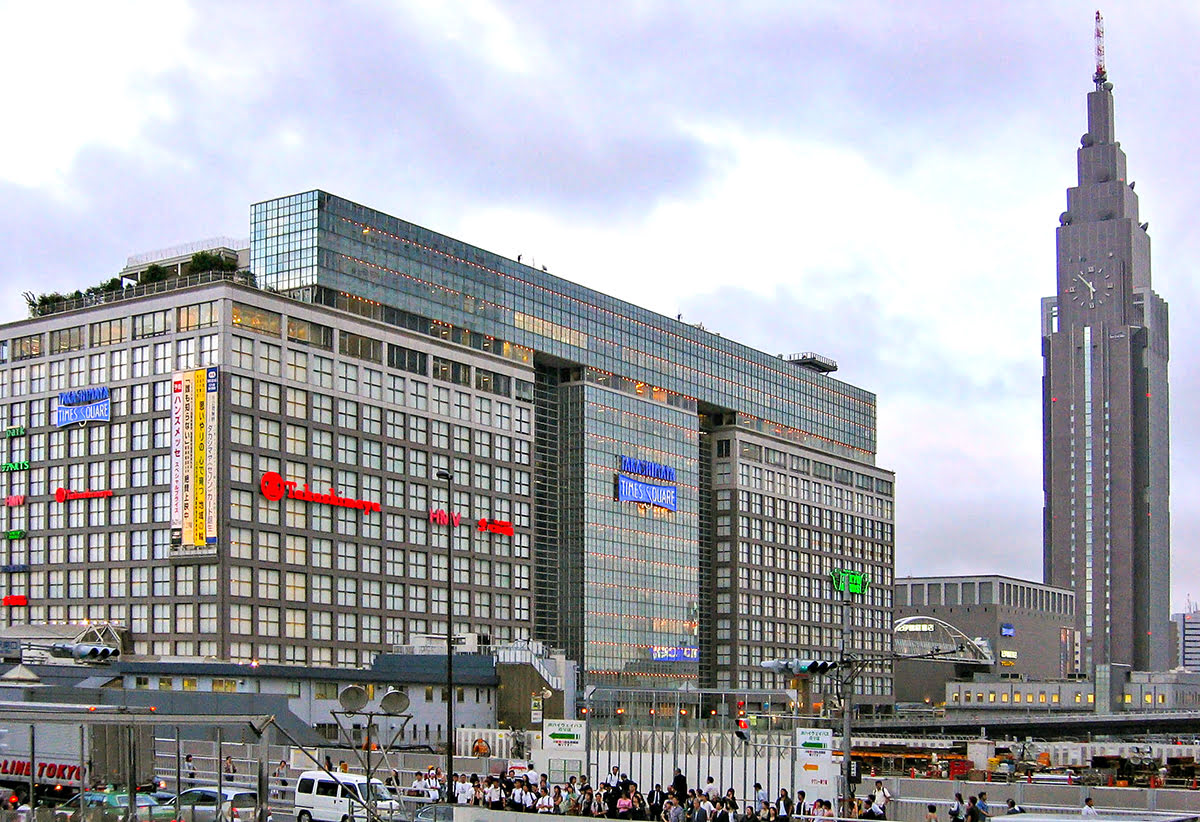 Tokyo Shopping | Shinjuku
If you want to get all of your shopping done in one place and you can handle a bit of chaos, Shinjuku is the stop for you. When you first step out of Shinjuku Station , you may experience sensory overload. Located in the heart of the city, Shinjuku is characterized by the tall buildings, bright neon lights, and bustling crowds that people often picture when they think of modern Tokyo. Whether you're shopping for souvenirs, clothes, or electronics, you'll find it all in Shinjuku.
On the district's eastern side, keep an eye out for Takashimaya Times Square, a massive complex of shops and restaurants including Tokyu Hands Shinjuku, a popular DIY shop, and Kinokuniya, the city's biggest bookstore. If you're in the market for cameras or electronics, make your way across town to Shinjuku West Exit Camera Town.
5 more Shinjuku department stores worth a visit
Tokyo Shopping | Harajuku & Aoyama
The neighboring districts of Harajuku and Aoyama offer visitors two distinct shopping experiences. Harajuku is the epicenter of Japanese youth culture, and its street fashion is an internationally-recognized phenomenon. Takeshita Dori, Harajuku's main drag, is lined with trendy boutiques and fast food spots catering to young shoppers. Check out WEGO for a good sampling of the fast fashion that Harajuku is famous for, or visit Kiddy Land to pick up a Hello Kitty or Pikachu souvenir.
If Harajuku is the playground of the young and hip, Aoyama is the domain of Tokyo's wealthy elite. The district is centered on Omotesando, a charming, tree-lined street that is known as Tokyo's Champs-Elysees. You'll find some of the city's most expensive boutiques on Omotesando, but if you're not in the market for high fashion, make sure to check out Oriental Bazaar, a huge souvenir shop with high-quality, uniquely Japanese goods.
5 stores to visit for the ultimate Harajuku shopping experience
Daiso – Tokyo's most famous 100 yen shop
Milk – one of Harajuku's most iconic brands
Tokyo Bopper – for shoes you won't find anywhere else
TRIO – a shop selling vintage merchandise from J-Pop icons
Cute Cube – a store celebrating kawaii culture
Tokyo Shopping | Akihabara
Known as the center of otaku or "geek" culture, Akihabara is the go-to destination if you are shopping for electronics or anything gaming or manga-related. "Otakus," those interested in the unique subculture, will want to head directly to Mandarake, the eight-story complex dedicated to manga and anime. Mandarake sells everything from comic books and action figures to cosplay clothes and accessories. Akiba, as it is commonly known, is also one of the best places in the world to buy high-tech gear. If you're only going to check out one electronics store, make it Yodobashi Camera; it's the region's largest electronics and camera store.
7 more Akihabara shopping spots for electronics, anime, manga & all things otaku
Gamers/Kadoma
Radio Center
Janpara
Animate
Tokyo Shopping | Ginza
Tokyo's most upscale shopping district is, fittingly, built on the site of a former mint and comprises some of the city's most valuable real estate. Ginza translates to "silver mint," and the area is now packed with the flagship stores of internationally-known luxury brands. If haute couture isn't on your shopping list, Ginza still has plenty to offer. For tax-free souvenirs, check out Don Quijote, one of the most popular destinations for foreign visitors. If you're looking for more reasonably-priced, casual clothing, Ginza offers several department stores as well as a massive outpost of the iconic Japanese brand, Uniqlo. Finally, pop into Itoya, a huge stationary store with an impressive selection of pens, paper, and related products.
Where to shop like a celeb (or window shop like a regular person) in Ginza
Chanel
Dior
Prada
Louis Vuitton
Bvlgari
Cartier
Burberry
Hermes
Step out to Ginza
Tokyo Shopping | Shimokitazawa
Shoppers who love the hunt will want to include Shimokitazawa on their Tokyo shopping itinerary. This former farming village has evolved into one of Tokyo's hippest neighborhoods and the perfect place to look for used and vintage clothes. Easily accessed from Shibuya Station, Shimokitazawa is paradise for fashionistas who want to spend a little time combing through the racks in search of hidden treasure. One can't-miss shop is New York Joe Shimokitazawa, which as its name suggests, allows customers to buy or trade gently used clothing. Even if you're not shopping, it's worth a visit just to check out the architecture – the store is in a converted bathhouse. Shoppers looking for clothes from a bygone era should make sure that their Tokyo shopping spree includes a stop at Flamingo Tokyo. The store stocks primarily American clothing from the 1940s through the 1980s. Shoppers looking for hippie or disco gear should head to Grapefruit Moon, a small shop that is packed with high-quality clothes from the '60s and '70s.
4 best vintage stores in Shimokitazawa
Rag Tag Shimokitazawa – national chain that sells used fashion brands at a variety of price points
Haight & Ashbury – the store to visit if you're looking for some truly antique fashion: items date back to the 19th century
Chicago – massive thrift store with an eclectic collection that includes Hawaiian shirts and yukata (summer kimono)
Stick Out – every used clothing item costs 700 yen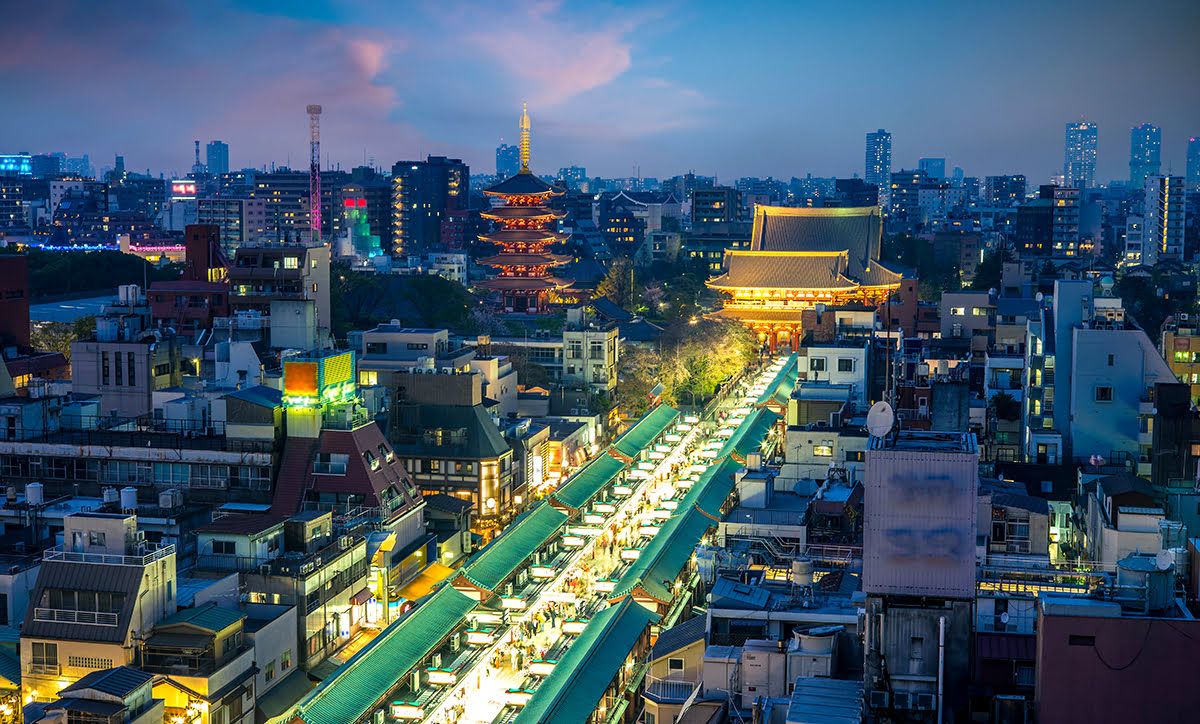 Tokyo Shopping | Asakusa
Located in northeast Tokyo, Asakusa is dominated by Sensoji Temple, which is a popular destination for visitors and locals alike. Asakusa is a unique section of Tokyo because it escaped the worst of the bombing during World War II, and as a result, retained more of the older architecture than anywhere else in the city. Walking through Asakusa gives you a small glimpse of old Tokyo.
The streets surrounding Sensoji, are lined with shops and stalls selling temple-related trinkets. The main access to the temple is Nakamise Road where you will find plenty of souvenir shopping options. Visitors looking for traditional Japanese crafts will do well to explore the shops in Asakusa. Shoppers in the market for new duds can visit Asakusa Rox, a mall that boasts nine levels of clothing shops. Finally, foodies and home chefs shouldn't miss the chance to visit Kappabashi Street, which is also known as Kitchen Town. This region is packed with stores selling fake food and everything you need to outfit your kitchen. This is also a good spot to do some souvenir shopping since you'll find a wide variety of reasonably-priced chopsticks.
Where to shop for traditional Japanese gifts in Asakusa
Yamakichi – best shop for ceramics and lacquer ware
Edo Kiriko Ojima – studio that sells intricately-cut glass for which Tokyo is famous
Kururi – small store selling tenugui, traditional Japanese cloths that resemble hand towels
Kurodaya – boutique offering an array of Japanese stationery, washi tape, and woodblock prints
Tokyo Shopping | Nihonbashi
Visitors who want to shop for traditional Japanese gifts or souvenirs will want to plan a stop in Nihonbashi. The area is famous for the bridge after which it is named that serves as the zero kilometer origination point of Gokaido, The Five Highways of Edo period. Nihonbashi was also Tokyo's primary commercial district from the early 1600s through the late 1800s, and many of the area stores have been around for centuries. Nihonbashi is also home to MITSUKOSHI Nihonbashi Main Branch, Japan's oldest department store chain. The current version of the flagship store is seven stories of shops, and one could easily lose a day browsing here. For a more unique shopping experience, check out Coredo Muromachi , a shopping complex that spans three buildings. Buildings one and two are where you want to be when hunger strikes. They feature tea and sweet shops, a variety of restaurants serving up global cuisine, as well as a number of gourmet food shops. In building three, you'll find shops selling a variety of traditional Japanese gifts and souvenirs like chopsticks, lacquer ware, imabari (bacteria-fighting) towels, and kimonos.
Where to shop and what to buy in Nihonbashi
Yubendo – calligraphy pens and accessories
Kuroeya – lacquer ware
Haibara – stationery
Nihonbashi Saruya – handmade toothpicks
Yagicho Honten – a dried-foods store selling everything you need to make dashi, a traditional Japanese broth
Step out to Nihonbashi
If you have any money left after shopping in Tokyo …
In the event that you have visited all of the shopping districts listed above, and you somehow have time and money remaining, you can pad out your Tokyo shopping itinerary with visits to one or more of the following regions of the city.
Kuramae is a revitalized warehouse district on the Sumida River that is a great place to spend an afternoon browsing in the shops of the hip artisans who call the area home.
Jimbocho is located just north of the Imperial Palace and is widely known as Tokyo's book district thanks to the high concentration of book publishers and shops in the area.
Koenji is an up-and-coming artistic neighborhood that is known as a haven for music lovers in search of an illusive vintage record.
Kichijōji is an area west of Shinjuku that is the perfect spot for those shopping for home goods, particularly antique furniture.
Ochanomizu is your go-to region if you're shopping for musical instruments.