This post is also available in: ไทย
It's springtime in Japan, and the best places to see cherry blossoms are starting to buzz with adventurous travelers on sakura tours! Follow cherry blossom season in Japan from Kyushu in the south to Sapporo in the north for a sightseeing extravaganza that will make photographers drool. Japan's awesome transportation system allows travelers to zip from sakura viewing hot spots in Nagasaki to lively cherry blossom festivals in Hokkaido – and anywhere else tourists want to see cherry blossoms in Japan!

Maizuru Park | Fukuoka
1. Kyushu Region
Best time to see cherry blossoms in southern Japan: 18 March to 6 April
Best cherry blossom views in Kyushu
Maizuru Park, Fukuoka: at the site of Fukuoka Castle Ruins, one of Fukuoka's most popular landmarks, more than 1,000 cherry blossoms bloom in springtime. Visitors can attend the Fukuoka Castle Sakura Matsuri anytime from mid-March to early April. The festival features nighttime illuminations, street food vendors and local activities.
Access to Maizuru Park: use Akasaka Station or Ohori Koen Station. Fukuoka Castle Ruins is about a 5-minute walk from both.
Omura Park, Nagasaki: the Site of the Kushima Castle springs to life during cherry blossom season in Nagasaki with more than 20 types of sakura and an excess of 2,000 trees to showcase them all. Omura is the prime location to view Omura Zakura, a rare type of double-layered cherry blossom designated as a natural monument by the Japanese government.
Access to Omura Park: take the bus to Omura Park. The closest stations are Shiyakushomae Bus Stop and Park Iriguchi Bus Stop.
Mifuneyama Rakuen, Saga: when March rolls around in Saga, the blooms of more than 2,000 cherry blossom trees and 200,000 azaleas blanket the area known as Mifuneyama Rakuen. The mountainous landscape draws sightseers from throughout Japan, who not only come to bask in the scenic hillside garden but also to celebrate spring at the annual month-long Flower Festival.
Access to Mifuneyama Rakuen: the most convenient way for backpackers and visitors to get to Mifuneyama Rakuen from Fukuoka is by train. Travelers can board at Hakata Station in Fukuoka and get out at Takeo-Onsen Station in Takeo. The garden is 1.5 miles (2.4 kilometers) from the station.
Travel time to Mifuneyama Rakuen from nearby airports
By car from Fukuoka Airport: a little more than 1 hour

By car from Nagasaki Airport: about 40 minutes

By car from Saga Airport: about 50 minutes
Suizenji Park (Suizenji Koen), Kumamoto: renowned for its landscaped gardens, bustling lake and scenic picnicking areas, Suizenji Koen blooms in spring with more than 150 cherry blossom trees. Photographers love to see cherry blossoms covering Suizenji Park Mt., a miniature replica of Mount Fuji.
Access to Suizenji Park (Suizenji Koen): from JR Kumamoto Station, the park is a 30-minute tram ride. Board the tram at the station and get off at Suizenji Koen tram stop.
The Philosophers' Path (Tetsugaku no michi) | Kyoto
2. Kansai Region
Best time to see cherry blossoms in south-central Japan: 22 March to 5 April
Best cherry blossom views in Kansai
The Philosophers' Path (Tetsugaku no michi), Kyoto: named one of the Top 100 Roads of Japan, The Philosophers' Path in Kyoto features more than 500 cherry blossom trees along an offshoot of the Biwa Canal. Stroll down a cobblestone path beginning at Ginkakuji (Silver Pavilion) and end your sakura tour in the quaint neighborhood of Nanzenji. The road is named after Nishida Kitaro, who is said to have meditated on the road during his daily walk to Kyoto University.
Access to The Philosophers' Path: take bus number 5, 17 or 100 from Kyoto Station to reach Ginkakuji and the start of The Philosophers' Path in about 40 minutes.
Maruyama Park, Kyoto: along with cherry blossoms, food stand vendors and local merchants pop up in Maruyama Park during sakura season. The park is located next to Yasaka Shrine, one of Kyoto's most popular tourist attractions, and is admired for nighttime illuminations of its unique weeping cherry blossoms, called shidare-zakura.
Access to Maruyama Park in Kyoto: take bus number 100 or 206 from Kyoto Station to Gion Bus Stop. For a better sightseeing experience, get off at Gojo-zaka or Kiyomizu-michi bus stop and walk from Kiyomizu-dera temple, along the Keihan Railway and through the narrow streets of Higashiyama Ward, to Maruyama Park. The walk takes about 20 minutes.
Nara Park, Nara: walk through a shady garden of nara-no-yaezakura, or small sakura, in Nara Park, loved for the wild deer that roam freely among various wildlife and natural scenery. The park includes Kyoto landmarks, like Kofukuji Buddhist temple, Kasuga-taisha shrine, Todaiji Temple and Nara National Museum. Nara Prefectural Museum and Isuien Neiraku Museum are near the entrance to Nara Park.
Access to Nara Park: take the train to Kintetsu Nara Station. The park is a 5-minute walk. Alternatively, visitors can walk from Nara Station, which takes about 20 minutes. The footpath along Sanjo Road (Sanjo Dori) begins at the historic Old JR Nara Station, goes through an assortment of local boutiques and Japanese eateries and leads to Nara National Museum, just before the entrance to the park. Buses also stop at several locations around Nara Park.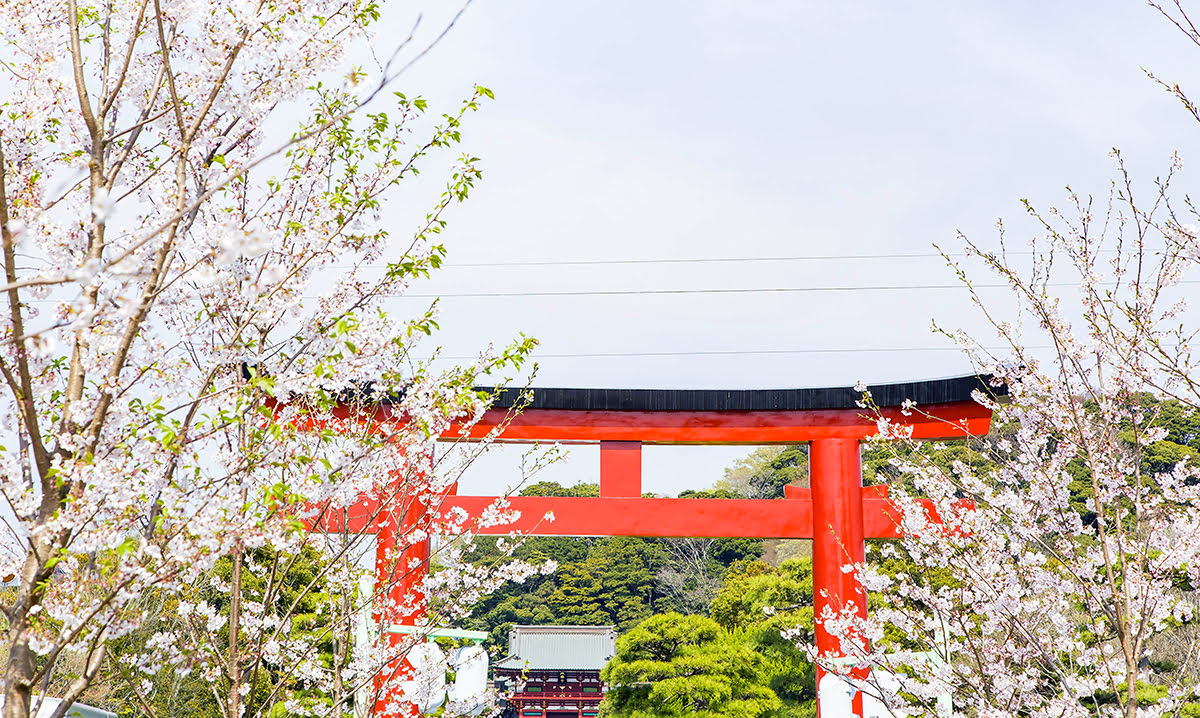 Tsurugaoka Hachimangu | Kamakura
3. Kanto Region
Best time to see cherry blossoms in north-central Japan: 22 March to 14 April
Best cherry blossom views in Kanto
Tsurugaoka Hachimangu, Kamakura: just an hour from Tokyo, Kamakura hosts cherry blossom tours at Tsurugaoka Hachimangu, a Shinto shrine surrounded by lush green space and a relaxing pond area. While viewing the pink blooms throughout the grounds, visitors can stop by the Kamakura Kokuhoukan Museum, Great Ginko Tree and Genpei Pond.
Access to Tsurugaoka Hachimangu: take a 15-minute walk from Kamakura Station to get a bonus view of cherry blossoms in Dankazura, the historic neighborhood just outside Komachi Dori shopping street.
Sankeien Garden, Yokohama: containing a rich display of traditional Japanese structures and landmarks, Sankeien Garden features more than 300 budding cherry blossom trees each spring. The sakura tour includes walks through Honmoku City Park, Honmokurinkai Park and Honmokuhiroba Park. Visitors can enjoy tours of several shrines on the grounds as well as scenic views over the Lily Pond from Kanshinbashi Bridge and Kankatei Arbor. The Three-Story Pagoda also is an Insta-worthy attractions.
Access to Sankeien Garden: take bus number 8 or 148 from Yokohama Station to Honmoku Shimin Koen Mae Bus Stop. The ride is about 25 minutes, and the garden is a 5-minute walk from the bus stop.
Kumagaya Sakura Tsutsumi, Saitama: join the Cherry Blossom Festival in early April to view sakura along a natural landscape on the banks of the Arakawa River. The 2-kilometer stretch of cherry blossom trees and rapeseed flowers has been named one of the 100 Best Sakura Spots in Japan. During the Cherry Blossom Festival, visitors can see cherry blossoms while experiencing traditional street food, souvenirs and local festivities along the strip.
Access to Kumagaya Sakura Tsutsumi: take a train to Kumagaya Station. The ride from Tokyo takes less than an hour, and the park is a 7-minute walk from the station.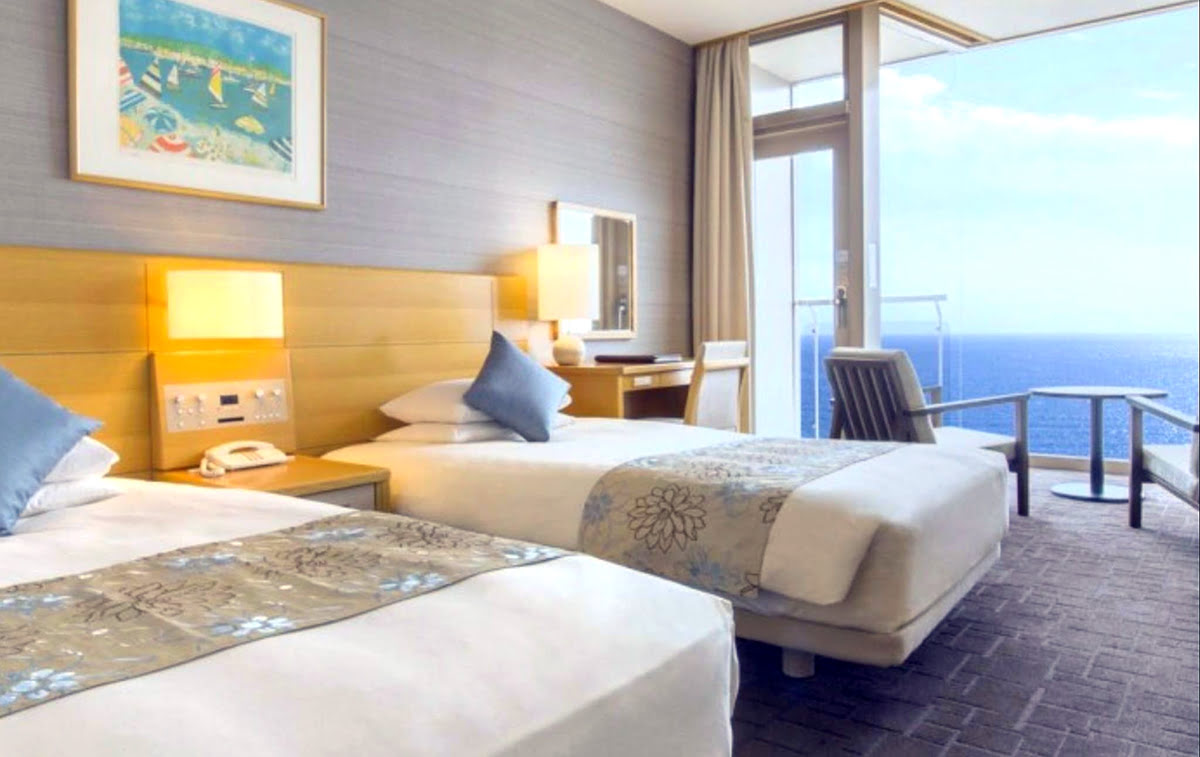 Koiwai Farm | Iwate, Aomori
4. Tohoku Region
Best time to see cherry blossoms in northern Japan (Honshu): 5 April to 26 April
Best cherry blossom views in Tohoku
Wada City Central Park, Towada: Wada City Central Park hosts the Towada Spring Festival during sakura season in Japan. The blossoms from the trees cover the park grounds with pink petals and local women take part in a sakura-yabusame tournament. Sakura-yabusame is a horseback archery sport once reserved for male participants only. In modern times, however, women have shown not only an interest in the sport but also great skill in the ancient practice.
Access to Wada City Central Park: public transportation from Aomori to Towada is available from mid-April to early November. Take the train from Shin-Aomori Station to Shichinohe-Towada Station. From there, get a taxi to take you to Wada City Central Park in Towada. The trip takes less than 30 minutes.
Natsui Senbonzakura, Fukushima: enjoy a 5-kilometer stretch of cherry blossoms along the Natsui River in this rural community in northern Japan. The sakura viewing spot is known as Natsui Senbonzakura, or The Thousand Cherry Trees of Natsui. During springtime celebrations, the area is lined with pink blooms and unique koinobori, also called carp streamers, which are colorful windsocks decorated like carp fish.
Access to Natsui: take the train from Ononiimachi Station in Ono to Natsui Station. The ride takes about 5 minutes.
Koiwai Farm, Iwate: take a reprieve from the bustling city to view cherry blossoms at Koiwai Farm, which features green pastures as well as roaming sheep and a cattle barn. Nestled in the foothills of Mount Iwate, Koiwai Farm is dotted with cherry blossoms trees but is famous for its "Lonesome Cherry Blossoms," a single tree perched on a hill with Mount Iwate in the background.
Access to Koiwai Farm in Iwate: from Morioka Station in Akita, take the number 10 bus for Amihari Onsen. The bus goes directly to Koiwai Farm. Travel time is about 40 minutes.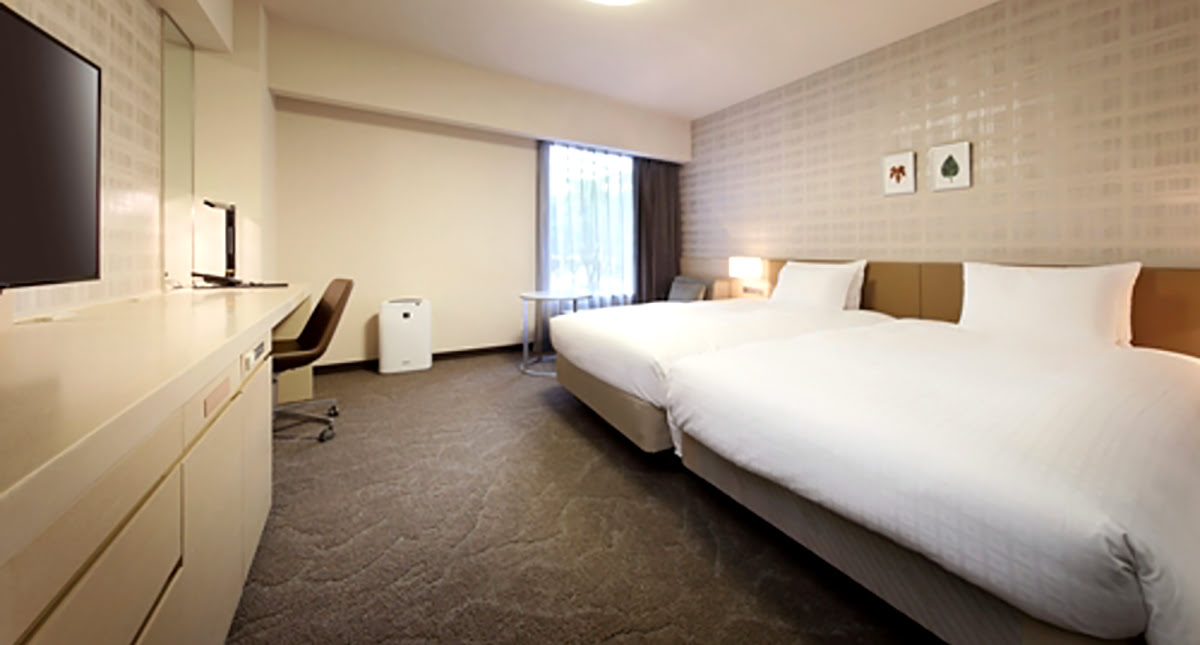 Goryokaku | Hokadate, Hokkaido
5. Hokkaido
Best time to see cherry blossoms in northern Japan (Hokkaido): 28 April to 18 May
Most popular sakura viewing spots in Hokkaido
Matsumae Park, Matsumae: Matsumae Park celebrates sakura season for a month during the Matsumae Cherry Blossom Festival, when visitors can admire a whopping 10,000 varieties of cherry trees in full bloom. The park also contains this historic Matsumae Castle and Matsumae shrines.
Access to Matsumae Park: take the train to Kikonai Station in Hokkaido and jump on a bus to Kokkaido Shinkansen or South Hokkaido Railway. Both routes take about one and a half hours and make stops at Matsumae Park.
Goryokaku, Hakodate: this star-shaped fort is well visited by tourists throughout the year because of its unique architecture and scenic moat. However, it is most admired during spring when cherry blossoms color the grounds in varying hues of pink. The gardens showcase Somei Yoshino cherry blossom tree, which are prevalent in other sakura viewing areas but rare in Hokkaido. Goryokaku features more than 1,600 Yoshino cherry trees, which produce tiny, light pink flowers that are so pale they almost appear white. During cherry blossom viewing season, Goryokaku fills up with local street food vendors and merchants. Try the grilled mutton, a Hokkaido specialty, and stick around for nighttime illuminations and a boat ride on Iris Pond!
Access to Goryokaku in Hakodate: take a train to Hakadote Station, and from there access the tram to Goryokaku-Koen-Mae Station.