As the political and financial epicenter of South Korea, Seoul is always buzzing with activity, and some of the best luxury hotels in Seoul suit any budget. Located in the northwest region of South Korea, Seoul serves as the capital of the country and is home to a booming shopping scene, historical shrines and religious practices that date back more than 2000 years. Stunning architecture and a plethora of colorful flora and fauna accessorize the cityscape like a fine piece of jewelry.

1. Shilla Stay Guro Hotel
For as little as 69 USD per night, Shilla Stay Guro Hotel offers a relaxing 5-star retreat for those who wish to be in proximity to all the action of the city. Shilla Stay Guro Hotel is located at 596 Siheung-daero, Sindaebang-dong, Dongjak-gu, and has over 300 rooms. Each room is adorned in plush modern furnishings and has amazing views of the city skyline beyond.
Shilla Stay Guro Hotel features a meeting room with LCD screens and a crisp surround sound system that can be reserved for half-day and full-day meetings; an onsite restaurant that dolls out breakfast, lunch, and dinner items; a fully equipped fitness center with weights, yoga mats, and exercise equipment, and an business center that is decked out in ambient decor that inspires ideas and creativity.
2. The Westin Chosun Seoul
Standing tall as a city staple for over 100 years, The Westin Chosun Seoul is considered to be one of the top hotels in Seoul. With rooms starting at just 178 USD per night during non-peak travel months, you can choose from deluxe or executive level accommodations. This 5-star luxury hotel is located at 106 Sogong-ro, Sogong-dong, Jung-gu in the heart of the downtown district and provides quick access to world-renowned restaurants, corporate business offices, art galleries, and the shopping district.
When staying at The Westin Chosun Seoul, you can take advantage of a panoramic fitness center that includes free weights, a heated swimming pool, treadmills, stair climbing equipment, and a variety of exercise classes. There are also onsite restaurants that offer an assortment of American and Asian fare, as well as a bar that serves up signature cocktails and ice cold beer all day long.
Whether you select a deluxe or executive room to stay in, you will receive the royal treatment along with linens and furnishings that will not disappoint! Each room is adorned in western style decor with a hip and modern vibe.
3. Lotte Hotel Seoul
Ideal for visitors who crave extravagance and insist on high-class accommodations, Lotte Hotel Seoul is among the best hotels in Seoul. From the moment you walk through the front doors and into the lobby, your eyes will be in for an amazing treat. This place is adorned in ultra modern decor that showcases classy elegance with new age flair.
Lotte Hotel Seoul is located just minutes from Seoul Incheon International Airport at 30 Eulji-ro, Euljiro 1(il)-ga, Jung-gu, near the heart of the downtown district. Room rates start at 163 USD per night and you will receive exceptional service during your stay. At Lotte Hotel Seoul you can choose from the following room/suite options:
Deluxe Room
Superior Room
Junior Suite
Royal Suite
Grand Deluxe Room
Premier Room
Executive Grand Deluxe Room
Executive Premier Room
Charlotte Suite Room
Presidential Suite
Lotte Hotel Seoul prides itself in creating the ultimate guest experience and offers the following amenities for all to enjoy:
Hotel Museum
Hotel Gallery
Golf driving range
Sulwhasoo spa
Color lit indoor heated pool
Beauty salon
Fitness center
Hotel Sauna
Crystal ballroom
Meeting suites
Business center
8 in house restaurants and bars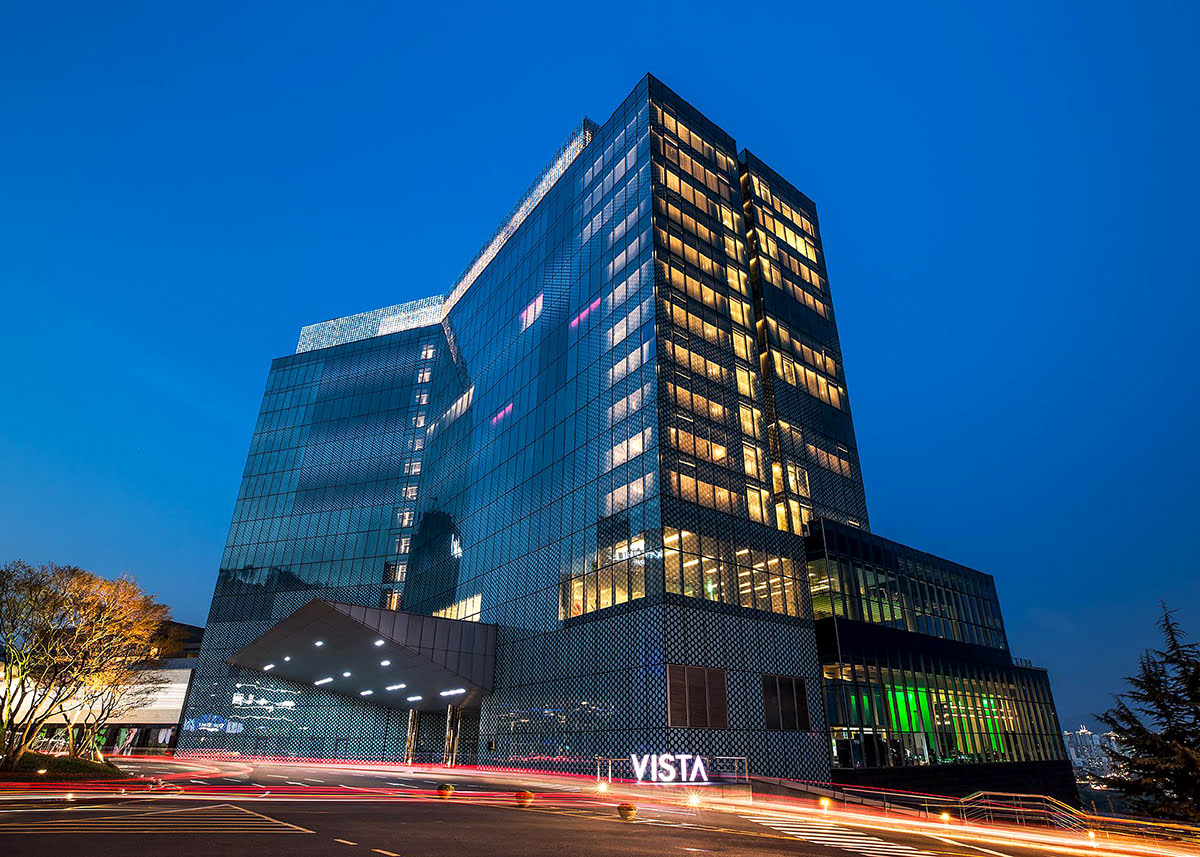 4. Vista Walkerhill Seoul
Nestled in along the cascading slopes of Acha Mountain, Vista Walkerhill Seoul is an urban oasis for the travel weary soul, and you can snag a room for less than 200 USD per night when you book your stay during the non-peak travel months. Vista Walkerhill Seoul is located at 177 Walkerhill-Ro Gwangjang-Dong, Gwangjin-Gu, Gwangjin-Gu and features unforgettable views of the mountains, harbor, and Seoul's incredible skyline.
Featuring white decor and oversize windows, each room has an open and airy feel that is very modern and chic. At night, you can rest upon a bed that feels like you are sleeping on a cloud while enjoying the ambient back light of the city. Amenities at Vista Walkerhill Seoul include a heated indoor pool, a full-service spa, free parking, a flat screen TV, two tennis courts, a golf course, a fitness center with complimentary classes, and a guest services desk.
When staying at Vista Walkerhill Seoul you do not need to travel far to get good food or an ice cold boozy beverage; there are two fine dining restaurants and a night lounge that serves up a variety of signature cocktails.
5. Grand Hyatt Seoul
Designed with a luxurious lodging experience in mind, Grand Hyatt Seoul offers 5-star accommodations on an 18-acre property. When you arrive, you will be welcomed by manicured gardens, picturesque views, and warm smiles from all who work hard to give you an experience of a lifetime. Grand Hyatt Seoul is being completely remodeled to maximize the space of each room and to incorporate touches of both Korean and Western culture.
Grand Hyatt Seoul is located at 322 Sowol-ro, Hannam-dong, just under eight miles from Gimpo Airport and within walking distance from the main attractions of downtown Seoul. Depending on what kind of mood you are in, you can book a room that showcases views of the mountains, the river, or the city skyline; Grand Hyatt Seoul has 615 to choose from! Each room comes complete with a mini bar, satellite TV, Wi-Fi, and furnishings that promote a relaxing stay.
Along with all of the amenities offered in your private suite, feel free to roam around the public areas of the hotel and take advantage of the day spa, fitness center, the Grand Ballroom, the business meeting rooms, the onsite heated pool, the concierge service, and the free hotel shuttle service. Grand Hyatt Seoul even offers six onsite restaurants that serve up a variety of gourmet menu items.
6. JW Marriott Hotel Seoul
Complete with marble bathroom walls, freshly pressed white linen bedding, and breathtaking views of downtown Seoul, JW Marriott Hotel Seoul is considered to be one of Korea's best kept secrets! This exquisite hotel does not hold back when it comes to rest, relaxation, and good times to be had. While you are visiting, venture out of your room and check out the virtual golf course, the indoor sauna and spa, the giant heated swimming pool, the executive lounge, the buffet, the fitness center, or even one of its fine dining restaurants.
JW Marriott Hotel Seoul is located in the heart of the Gangnam district at 176, Sinbanpo-ro, Seocho-gu, and offers quick access to all of the business offices and attractions in the downtown area. Reserve your room at JW Marriott Hotel Seoul for as little as $252 per night and lodge like a celebrity for a price you can afford.
7. Grand InterContinental Hotel Seoul Parnas
Whether you will be in Seoul for a couple of days or a couple of weeks, rest up in ambient Korean style luxury when you book a room at Grand Intercontinental Hotel Seoul Parnas. This property is located within a few footsteps of Samseong Subway Station so you can ensure you will get to your business meetings and other great adventures in a timely manner. Rooms at Grand InterContinental Hotel Seoul Parnas start at $182 per night, depending on the time of year you book a visit, and you can choose between a standard room, deluxe room, or premier room with several different bed arrangement options.
Grand InterContinental Hotel Seoul Parnas is located in the heart of the downtown district, near the shopping centers and business offices, at 521 Teheran-ro Gangnam-gu. Begin your stay by strolling around the manicured gardens, and then head inside to check out all of the 5-star accommodations that are waiting for you.
Upgrade your stay by joining Club InterContinental and enjoy exclusive benefits such as complimentary refreshments and a nightly turn down service, a welcome gift upon your arrival, entry into the VIP lounge, and other amazing benefits.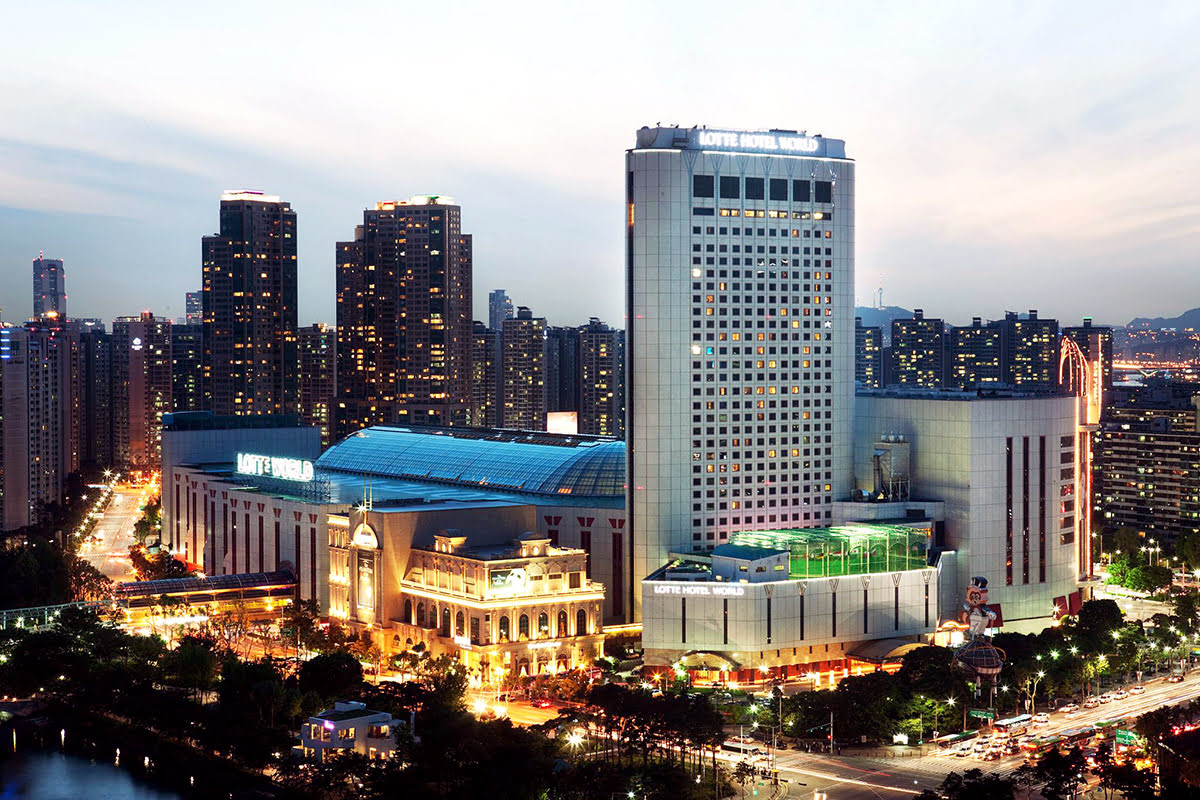 8. Lotte Hotel World
Are you planning a family trip to Seoul's magical Lotte World indoor theme park, or have a flair for the unique and want to stay in a hotel room that is decked out in Korean cartoon characters? Lotte Hotel World is a place where fun meets functional and where luxury meets whimsical!
This hotel boasts magnificent views of Seokchon Lake and Songpa Naru Park (Seokchon Lake Park) and the city skyline of Seoul Whether you choose a family room, double male room, or a deluxe room, you will get to retreat back to a relaxing sanctuary that is adorned in muted natural colors, and soft high-quality bed linens. The character rooms are vibrant and bright, and inspire imagination and creativity.
Rooms at Lotte Hotel World start at just 162 USD per night during non-peak travel days. The hotel is considered to be the gateway to Lotte World Adventure and it offers restaurants and activities that bring out the kid in just about anyone. It is located at 240, Olympic-ro and has over 460 rooms and suites, as well as a luxury spa and sauna, fitness room, meeting room, business center, 4 bars and restaurants, and 6 elegant banquet spaces.
9. Imperial Palace Seoul
Receive the royal treatment from the moment you step through the front doors of Imperial Palace Seoul in the Gangnam district of downtown Seoul. Choose between a modern business class room, a day spa inspired suite, a club hideaway, or a deluxe guest room and experience the tranquility of upscale Korean design.
Reserve your stay at one of the luxury hotels in Seoul for as little as 107 USD per night and experience a taste of the good life … if only just for a little while. Imperial Palace Seoul is conveniently located in the heart of the city at 640 Eonju-ro, Nonhyeon 2(i)-dong, Gangnam-gu, and provides quick access to world-class dining, a plethora of shopping opportunities, and all of the beautiful attractions of the city.
As a guest at Imperial Palace Seoul you can dine in the ambient light of the Garden Terrace or enjoy fresh Japanese cuisine at Restaurant Manyo. There is also two different in-house bars, a cafe, buffet, and other classy restaurants to choose from. If you want to burn some energy without leaving the comfort of the hotel grounds, feel free to stop by the fitness center, visit the arcade, or walk around inside the culture center.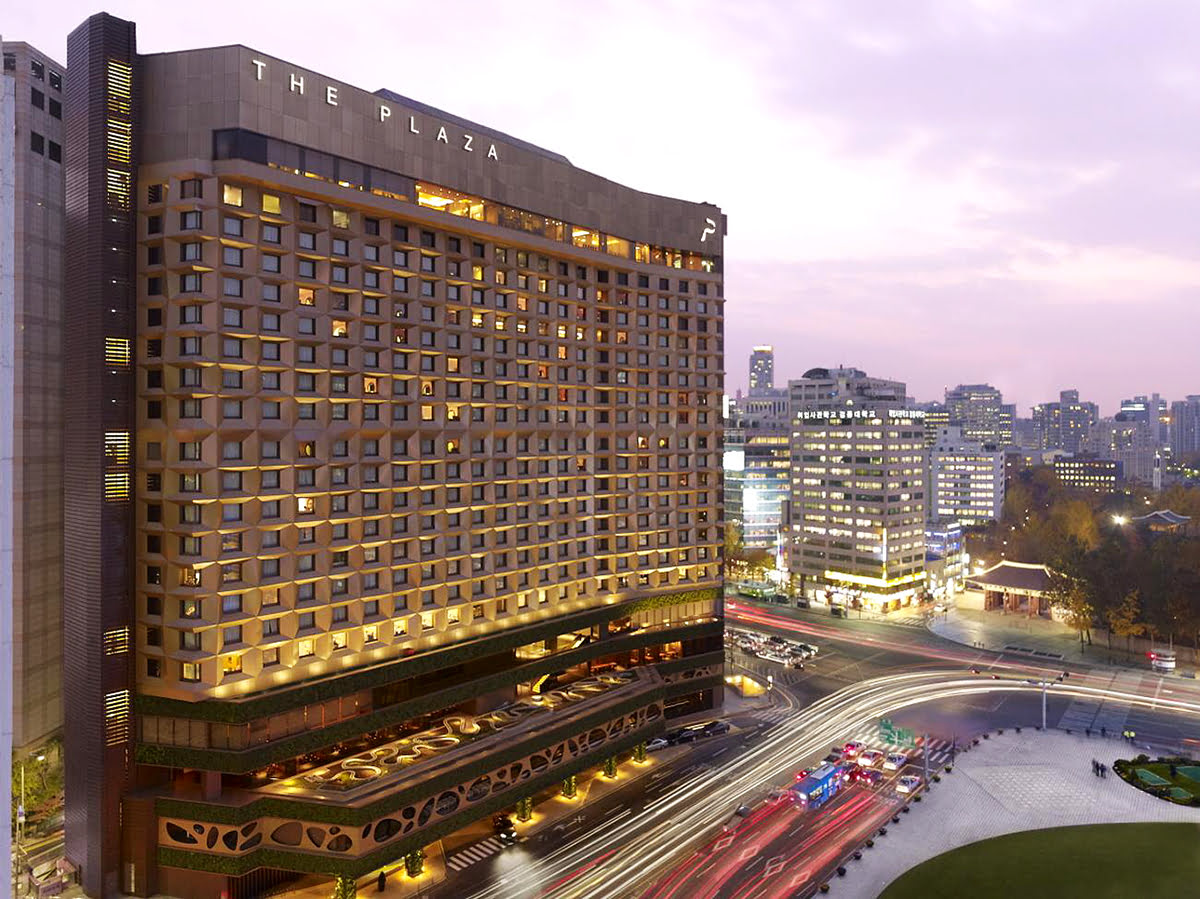 10. THE PLAZA Seoul Autograph Collection
A local boutique hotel with world-class attitude, THE PLAZA Autograph Collection in downtown Seoul features all of the luxury accommodations of a nationally acclaimed hotel chain without all of the cookie-cutter design. This chic and modern hotel features elegant rooms with clean lines, simple furnishings, and a pop of color in all of the right spots.
You can snag a room with a spectacular view of the city for less than $160 per night and be close to all of the urban action you crave. THE PLAZA Autograph Collection is rated as a 5-star hotel and is located at 119 Sogong-ro, Taepyeongno 2(i)-ga, Jung-gu, right near Seoul Plaza. This hotel features a fully-equipped fitness center, a business center for those visiting for work-related matters, a day spa, gift shop, and gourmet restaurants featuring fresh menu items from all over the world.
The Best Time to Visit Seoul
During the mid to late spring months, the abundance of cherry blossom trees that line the streets and parks of Seoul come alive and cast a sweet fragrance over the city for all to enjoy. It is during this time that the weather begins to warm up and you can experience the true beauty of this majestic city. Whether you are heading to Seoul on business or pleasure, try to book your travels before the summer months to get the best rates on your hotel stay and do not have to deal with as much tourist traffic. Between the months of April and June, you will experience warm temperatures that hover between 65°F and 80°F.
Getting Around the City
For stress and worry-free transport around downtown Seoul, consider using the subway system whenever possible. There are nine different subway lines that run several different routes around the city. Subway fare will be dependent on the route you take and where you are going, but most trips can be completed for less than 2,000 won.
Seoul also has an easy to navigate bus system. There are four different bus route districts within Seoul, and each of them is color coded so you always know you are catching the right one. Yellow buses run routes around the Central Business District, blue buses travel from the suburbs into the downtown area and back, Green buses run between the subway lines and other public transport points, and the red buses are express lines for business commuters.
You can also rent a car before you depart from the airport and explore Seoul and other parts of South Korea on your own terms. In order to rent a car, you must be at least 21 years of age and are required to have an International Driving Permit along with your United States driver's license. While driving around Seoul, use caution during peak congestion times and make sure you know the rules of the road before getting behind the wheel.
Dining, Shopping, and Entertainment in Seoul
Myeong Dong is the place to go for an international shopping adventure that is out of this world. This place has above ground and underground stores that sell everything from Korean cartoon characters to hot international designer labels. The shopping district also features several restaurants, art galleries, and other must-see attractions.
Namdaemun Night Market is a fun place for those who are looking for a traditional Korean shopping experience that is filled with local stores, restaurants, and shops that sell odds and ends. History buffs will enjoy strolling around the exhibits offered at Seoul Museum of History. Seoul is also home to hundreds of fabulous restaurants that doll out everything from traditional Korean food to world-class fusion concoctions. When you arrive into the city, ask around and learn where the locals love to eat.