Gangnam-gu is a fashionable district of Seoul that is packed with upscale attractions including shopping, nightclubs, and things to see and do. This rich district on the south bank of the River Han is a busy place with nightclubs, restaurants, shopping, and places to fit yourself into the famous song "Gangnam Style" by PSY. There is even a spot at Gangnam station where visitors can dance to the famous song and see themselves on a big screen. Find some of the best area attractions in the Gangnam area in our handy guide.
Shopping in Gangnam
The Gangnam district is well-known for its upscale shopping, complete underground shopping centers, and high-end designer labels. Plenty of shiny modern glass-fronted shops greet you in this bustling district's busy shopping area. Shopping and window shopping in Gangnam is one of the major attractions in Seoul, and it should be on every traveller's list of things to do while in Gangnam, Seoul.
Underground Shopping
While in the neighborhood, check out the fun Gangnam Underground Shopping Area for a unique shopping experience. The climate-controlled shopping mall is an attraction in itself and has many shops with designer-label clothing as well as the typical phone accessory shops, electronics, and places to grab food. Samsung is a Korean brand, so you can expect to find plenty of Samsung gadgets, electronics, and accessories.
Designer Shopping
The Gangnam district is a popular shopping destination for major designer name brands including Versace, Chanel, and Louis Vuitton as well as Kimmy J, Rare Market, and Jaju. With so many designer shops in close proximity to one another, Gangnam shopping is an attraction not to be missed by anyone who is even a little bit fashion conscious, or even just fashion curious.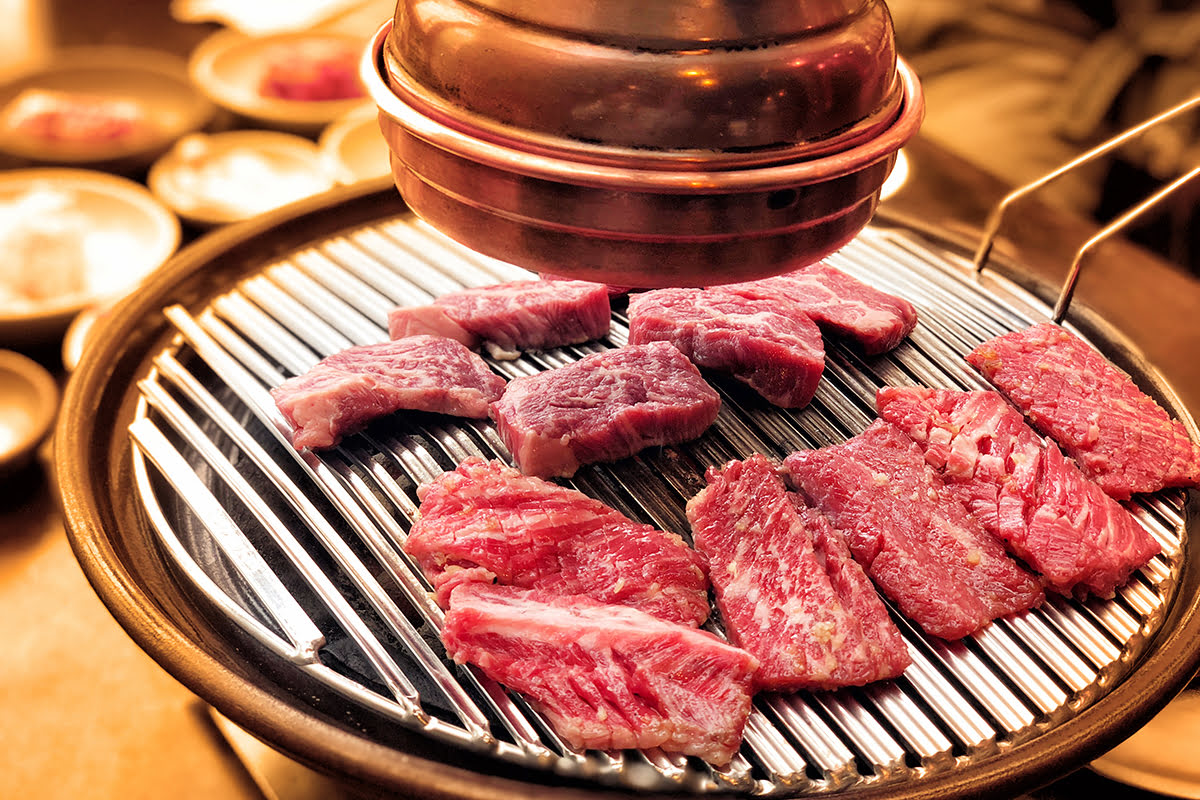 Restaurants in Gangnam
One of the delights and attractions in visiting Korea is the food, and Gangnam, Seoul has plenty. From sit-down restaurants to street food stalls and ice cream, you can find a range of tastes and dishes in the area. Look for deep fried rice cakes, fish cakes, and Korean fried chicken along the streets in this dynamic and tasty city.
Western Style Restaurants
Gangnam has an abundance of restaurants with a wide range of tastes. Stop in to the popular Brick Oven New York Pizza to try one of their fresh-baked pizzas. This family-friendly dining spot located at 31 Gangnam-daero 102-gil, Yeoksam-dong, Gangnam-gu allows you to choose your toppings and make half and half orders. Dos Tacos, located at 455 Gangnam-daero, Seocho 4(sa)-dong, Seocho-gu has California Tex-Mex style Mexican food that wouldn't be out of place in the American Southwest. The menu is full of nachos and burritos with both vegetarian and meat-filled options.
Korean Restaurants
If you're looking for some more authentic Korean food, stop in to Yang Good, a Korean BBQ restaurant with grilled beef, lamb, and chicken. This family-friendly restaurant is located at Nonhyeon-ro, 95 Gil KR Seoul, Gangnam-gu 15. Check out Gaon for fine Korean dining and wine pairings. This classy restaurant with an address of 317 Dosan-daero, Sinsa-dong, Gangnam-gu has traditional Korean favorites served in a stylish dining room.
[
Gangnam Nightlife
Nightclubs or dance clubs in Gangnam are busy and lively. The district is a very good place to dance until dawn. There isn't exactly a nightclub district, so the clubs aren't right next to each other, but it is easy to get from one address to another by taxi. Many of the dance clubs in Seoul are open until 6 or 7 am, and the clubs in Gangnam are no exception. You can easily dance the entire night away in Gangnam nightclubs.
Dance Clubs
Check out Club Octagon, located at B1/B2 New Hilltop Hotel, 152 Nonhyeon-dong, which is built in an unusual octagon shape and has multiple levels, each with different music styles, large video screens, and high-end food and drinks menus. Club Answer, at 125-16 Cheongdam-dongm Gangnam-gu, is open seven nights of the week, so it is perfect when you're on vacation and have forgotten what day of the week it is anyway, or if your time in Gangnam doesn't happen to fall on a weekend.
Quiet Places in Gangnam
Gangnam is a busy district in a busy city and it can feel overwhelming at times. Finding a quiet place to stop and take a breather can be a welcome break. Look for small green spaces with benches for sitting and trees to provide some shade, or stop into one of the district's peaceful Buddhist temples or open public parks.
Buddhist Temples
To escape the crowded bustle and noise of the city, pay a visit to the famous Bongeunsa Buddhist Temple in Gangnam. This quiet place is an oasis of calm amid the busy city. The temple dates back to 794 and is located at 531 Bongeunsa, Bongeunsa-ro, Gangnam-gu, Seoul, South Korea, and you can take a short break there for an hour or stay much longer, including over night stays for the purposes of meditation and learning.
Historic Spots
Stop in to Samneung Park for a taste of history and quiet amid the frantic busy-ness of Seoul. Samneung Park is home to the burial mounds of two kings and is firmly rooted in Seoul's history. The tombs of King Jungjong and King Seongjong are designated UNESCO World Heritage sites, and the park is surrounded by a forest that makes it feel like you have simply escaped the city entirely.
Public Transportation in Gangnam
The Gangnam district, like most of Seoul, is well-served by the Seoul subway system and the regional bus network. There is also an express bus system as well as an airport bus and taxi services. Gangnam attractions are easily accessed by the transit system.
Seoul Subway System
Gangnam is served by the Seoul subway system, with lines 2 and 3 providing the primary service through the district. The Seoul subway system is made up of lines 1 through 9 as well as several named lines. The circular Line 2 connects to Gangnam Station, and Line 3 connects to the express bus terminal. You can use the efficient subway system to get to major attractions in the area.
Bus Services
Seoul has a good regional public bus system that is color-coded. Buses are blue, red, yellow, or green and the routes correspond to the physical color. Each color of bus has its own fare schedule and regional area. The Gangnam Express Bus Terminal is Seoul's main bus terminal and is the easiest way to get from central areas to the outskirts of the city.
Taxi Services
International Taxis can be booked for travel anywhere in Seoul, and have drivers who have foreign language proficiencies. Taxis go to and from both airports and can also be hailed at city taxi stands. Payment can be made by credit card, and the taxis have a government-supervised operation. International taxis can be booked in advance by phone or on the website, so you can be sure you can get to the attractions you want to visit on time.
Entertainment and Celebrity in Gangnam
Several Korean entertainment companies have their headquarters in Gangnam. JYP, SM, and CUBE have their offices and studio space in Gangnam. Korean celebrities and K-Pop personalities can sometimes be seen coming and going to the buildings. These are popular locations for fans of K- pop music or Korean television.
Hotels in Gangnam
Accommodation in Seoul is generally inexpensive. Room rates at hostels or guesthouses can start as low as $25 a night, and upscale accommodations near Gangnam attractions can be found for reasonable rates. With a wide range of accommodation choices, you are sure to find a hotel or house near to the attractions you want to visit.
Ocloud Hotel Gangnam: Located at 1303-14 Seocho 4(sa)-dong [(12 Sapyeong-daero 58-gil)], Seocho-gu, Gangnam, the hotel boasts air-conditioning and free wifi in all guest rooms. Step out to the Museum of Korean Embroidery at 34 Nonhyeon-ro 132-gil, Nonhyeon-dong, Gangnam-gu to see examples of women's artistry from the Joseon period, including some national treasures. The Museum has free admission.
L7 Gangnam by LOTTE: Check in to a 4-star hotel with air-conditioning and free wifi in all guest rooms. Step out to Coex Aquarium to see hundreds of live aquatic species including penguins and marine mammals in 90 exhibition tanks.
The Riverside Hotel: Situated at 6 Gangnam-daero 107-gil, Seocho-gu, Apgujeong, the hotel is close to the Sinsa subway station and offers free wifi in all guest rooms. Step out to Sinsa Boulevard, Gangnam's major shopping avenue with gentrified shops, cafes, and places to grab a quick bite. Venture down the side streets to find smaller shops and fewer crowds.
Ocloud Hotel Gangnam
L7 Gangnam by LOTTE
The Riverside Hotel
Discover more hotels and apartments near Gangnam