The best advice when going on a Thai street food safari in Bangkok is to go hungry and always save room for more! Peck your way through Bangkok's most notorious eating enclaves, where you'll find local standbys like mango sticky rice, fried rice (khao pad) and stir-fried pork with holy basil (pad krapow) and a whole lot more!
AGODA EXTRA: Known as the drink that "gives you wings," Red Bull Energy Drink was created in 1976 in Bangkok. Called Krating Daeng at the time, the product was discovered by an Australian entrepreneur, who partnered with the original inventor to develop the beverage sold around the world today.
---
1. Line up on SILOM ROAD for the tastiest curries and rice dishes on the street
Show up anytime during midday in Silom to experience lunch like a local in one of the most lively business districts in the city. Head down Convent Road (Soi Convent) and Sala Daeng Soi 2 to grab a variety of street snacks, and then take a seat beside locals to feast on these dishes that have been served on the same street corner for years.

Try this combo:

Khao mok gai: The Thai version of Indian biryani, khao mok gai consists of chicken and rice infused with curry flavors and topped with crispy-fried shallots. The best part of this dish is the sweet and sour sauce you drizzle on top, and the line speaks for its popularity!

Kuay teow: The secret to this simple, rice noodle soup is in the broth, a combination of peppery, salty and a hint of sweet. The whole bowl is loaded with your choice of pork or fish meatballs, pork slices and sometimes dumplings, as well as tasty greens and a handful of bean sprouts. For an extra kick, top it with a couple spoonfuls of fish sauce and chili peppers that always come as an accompaniment.

Freshly-squeezed pomegranate juice: Quench your thirst after a walk down Silom with a bottle of icy-cold pomegranate juice squeezed fresh while you wait.
Check In to Chamberlain Hostel Bangkok, Step Out to Silom Road near Sala Daeng BTS Station
Discover more hotels and hostels in Silom
---
2. Head to YAOWARAT ROAD for the best Chinese food in CHINATOWN
It might sound odd to suggest eating Chinese food while surrounded by the most authentic Thai food in the world, but Bangkok's Chinatown has come by its reputation honestly and deserves a proper sampling. Follow your nose to popular dishes like handmade dim sum and oyster omelettes, and don't leave without trying these Yaowarat staples.
Try this combo:

Kway chap: Pork soup with rolled rice noodles and an addictive peppery broth.

Toasted bread: Get in line for this buttery roll filled with everything from condensed milk to chili paste. It's toasty on the outside, warm and gooey on the inside, and you'll want to try as many flavors as you can stuff into one box.

Traditional dessert: Sweet treats come in all shapes and flavors in Chinatown.Traditional dessert bowls, though, are made with crushed ice topped with fresh fruits, local grains, lentils and a generous ladleful of sweet and creamy coconut milk.
Check In to 103 Bed and Brews, Step Out to Yaowarat Road
Explore more hostels and historic hotels in Chinatown
---
3. Backpack down KHAOSAN ROAD for grilled seafood and street food
When the sun goes down, the street food vendors come out on Khao San Road. Fill up on grilled chicken and fresh papaya salad, and wash it all down with a beer or cocktail in one of Khao San Road's open-air restaurants and pubs.
Try this combo:

Pad Thai: Rice noodles stir-fried with eggs, firm tofu, dried shrimp and garlic. Lime wedges, dried chilies and chopped peanuts added at the end bring the whole dish together.

Som tum (green papaya salad): Shredded, green papaya (or mango) combined with chopped tomato, green beans and dried shrimp and topped with fish sauce, lime, chilies and peanuts.

Grilled squid: Grilled snacks are plentiful along Khao San Road, and grilled squid is one you'll definitely want to grab on the go while you're browsing.
Check In to Casa Nithra Bangkok, Step Out to Khaosan Road
Explore more backpacker stays and hostels in the Khaosan Area
---
4. Discover a fresh fruit and vegetable paradise at TALING CHAN FLOATING MARKET
A combination of a traditional floating market and walking street, Taling Chan Floating Market is a cultural adventure as well as a culinary safari. The market is lined with Thai street food vendors serving up Thai curries, fried snacks and stir-fried grub. Sit down for a picnic, and watch local farmers boat in fresh fruits and vegetables right before your eyes.
Try this Thai street food combo:

Salt-crusted grilled fish (pla pao): Coated with a thick layer of salt and grilled until the meat is fall-apart tender, this street food is served whole – often in a paper wrapper – with a snappy sweet and spicy dipping sauce on the side.

Dried fruit: Local fruits are taken to a new level as they are sliced by hand, coated with sugar and dried until they reach the perfect chewiness.

Thai milk tea (chai yen): Recognized easily by its bright orange color, Thai milk tea is a heavenly combination of black tea, cardamom, cloves and condensed milk.
Check In to Baan Kachitpan, Step Out to Taling Chan Floating Market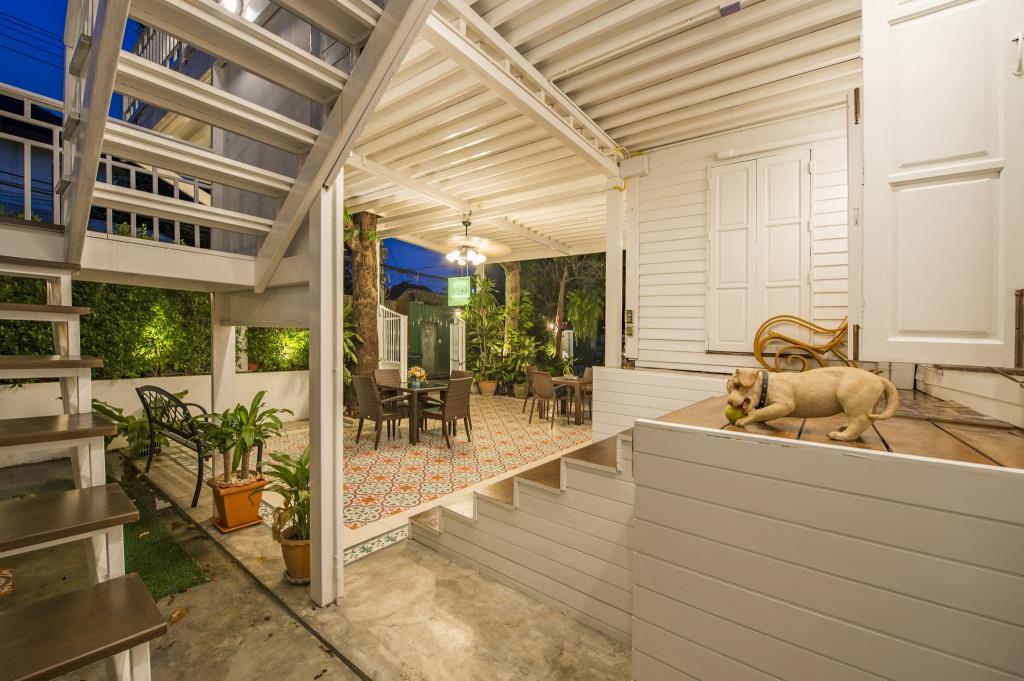 Explore more hotels and apartments near Bangkok Noi Canal
---
5. Experience the best fine dining and international cuisine on SUKHUMVIT ROAD
While Thai street food is easy to find anywhere on Sukhumvit Road, the area is best known for its selection of international and upscale eating establishments. Take the BTS Skytrain to BTS Skytrain to Nana or Asok stations for overwhelming selections of Japanese, Korean, Mexican, Italian and more, as well as international fast food chains. Some favorites in the area include Dine in the Dark, Cabbages and Condoms and Vientiane Kitchen.
Check In to The Salil Hotel Sukhumvit 57 – Thonglor, Step Out to Sukhumvit Road
Discover more hostels and guest houses near Sukhumvit MRT Station