Chatuchak Market is a sprawling market located in the Chatuchak District of Bangkok. It is often known as "Chatuchak Weekend Market" as most of the vendors are open on Saturdays and Sundays. Not only is Chatuchak Market the largest market in the city, but it is the largest market in all of Thailand (and possibly in the entire world). There are over 15,000 booths selling a diverse array of merchandise and food, and it is estimated that more than 200,000 visitors come through the market every weekend. It is popular among locals and considered to be a must-visit destination for travelers as well. Here is everything you need to know for a successful trip to this hustling and bustling Bangkok landmark.
Shopping at Chatuchak Weekend Market
There is virtually no limit to what you can buy at Chatuchak Market – it is truly a shopper's paradise. As long as you are willing to look, you will be able to find everything you came in for, and plenty more on top of that. Hunting for what you want amidst the thousands of booths is part of the experience, as is being open to all sorts of new and unique items that pop up along the way. The best part of shopping at Chatuchak Market is that almost all of the merchandise is available at local bargain prices rather than at the tourist prices you might find in other areas of the city. It is a great place to get all sorts of necessities and souvenirs.
What you can buy at Chatuchak Market
New and vintage clothing
Fashion accessories
Cosmetics
Electronics
Travel accessories
New and used books
Traditional handicrafts
Home decor
Furniture
Pets and pet accessories
Plants and gardening tools
Flowers
Artwork
Ceramics
Antiques
Collectibles
Chatuchak Market street food
On top of being Bangkok's main shopping hub, Chatuchak Market is also one of the best places to try authentic Thai street food in all of its delectable forms. Food vendors are located all around the market, both inside and outside, making it easy to find somewhere to eat when you need a break from shopping. There are plenty of stalls selling filling meals for a great price, quick bites that you can eat on the go, and cold desserts to keep you cool on hotter days. Chatuchak Market should be a stop on the itinerary of every foodie who visits Bangkok.
Foods to try at Chatuchak Market
Coconut ice cream: Easily the most popular Thai street dessert, coconut ice cream is sweet, creamy, and can be enjoyed with a variety of toppings. Pick up a bowl for just 50 baht.
Ice popsicles: Made out of all sorts of different juices and pops, ice popsicles are a quick and tasty way to beat the heat.
Frozen banana: Yet another cold treat, the frozen bananas at Chatuchak Market are dipped in chocolate and coated with nuts for a sweet and filling bite.
Grilled honey roasted pork: For a snack that is both sweet and savory, you can't go wrong with soft and tender grilled honey roasted pork.
Paella: That's right, this classic Spanish dish is a big hit at Chatuchak Market, and you need to grab yourself a bowl while you are there.
Pad Thai: For more quintessential Thai cuisine, track down one of the many vendors serving Pad Thai throughout Chatuchak Market.
Grilled skewers: Cooked on a smoky charcoal grill, these skewers are available in all sorts of meat and seafood options.
Grilled sausages: Full of flavor and easy to eat on-the-go, grilled sausages are a favorite staple at markets in Bangkok.
Fish cakes: Another great option for finger food, fish cakes are a delicious combination of fish paste, red curry, kaffir lime leaves, long beans, and local chili.
Crispy pancakes: A simple snack made of rice flour and topped with coconut cream, crispy pancakes are a sweet and light dessert that you'll always have room for.
Chatuchak Market opening hours
Chatuchak Market does not have strict operating hours as vendors can open when they please. Some stalls may be open during the week, but the weekend is when every stall is operating and locals and visitors flood in. On Saturdays and Sundays, the market is listed as being open from 9 a.m. to 6 p.m. However, plenty of vendors stay open as late as midnight as long as there are people around to buy.
The plant and flower vendors at Chatuchak Market are open from about 12 p.m. to 6 p.m. on Tuesdays, from 6 a.m. to 6 p.m. on Wednesdays, and from 6 p.m. to 12 a.m. on Thursdays.
For the famed Chatuchak Market atmosphere and the largest possible selection of merchandise and food, make sure you visit on the weekend.
How to get to Chatuchak Weekend Market
Chatuchak Market is highly accessible through Bangkok's public transportation system using both the Bangkok Mass Transit System (BTS) and the Metropolitan Rapid Transit (MRT), which means you can likely get to it from wherever you are in the city. Mass transit is highly recommended as the roads around the market are sure to be congested on the weekend.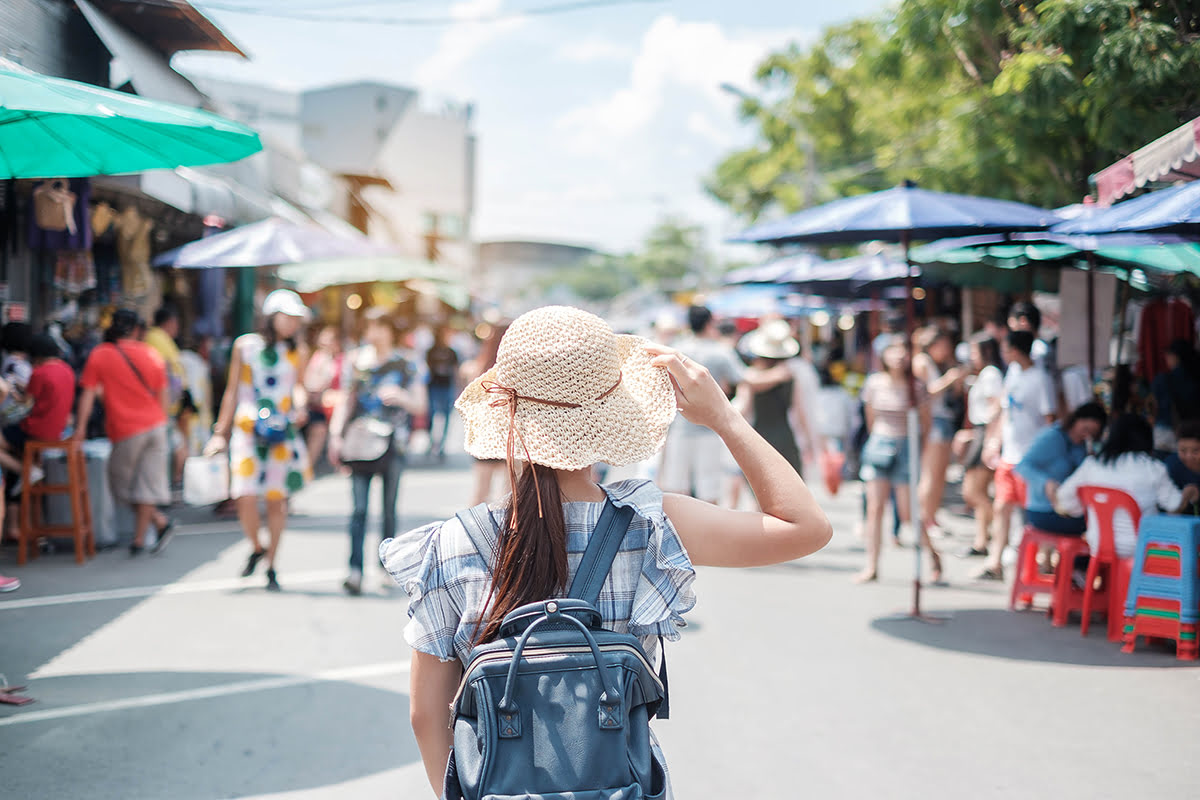 Navigating Chatuchak Market
Chatuchak Market may be the largest market you will ever visit, but it is designed in a well-organized manner that makes it far more easily navigable than you might expect. There is one main thoroughfare that circles the market. Branching off from this main road are smaller alleyways called "soi" just like alleyways out on the street. These different alleyways are grouped and divided into 27 different sections. The entrance gates are also numbered and can help you keep track of where you are. You'll find free maps at the information kiosks located along the main road.
The numbered alleyways and sections at Chatuchak Market are great for getting your bearings and will help keep you from getting lost. However, they won't really help you find the merchandise you need unless you are looking for a specific stall, as different types of goods are located throughout the market. Thankfully, there is a Chatuchak Guide app that you can download to both iOS and Android devices that not only has a live map to ensure you always know where you are, but that lets you search for different stores and products. The app also offers users real-time promotions to help them find the best deals in the market.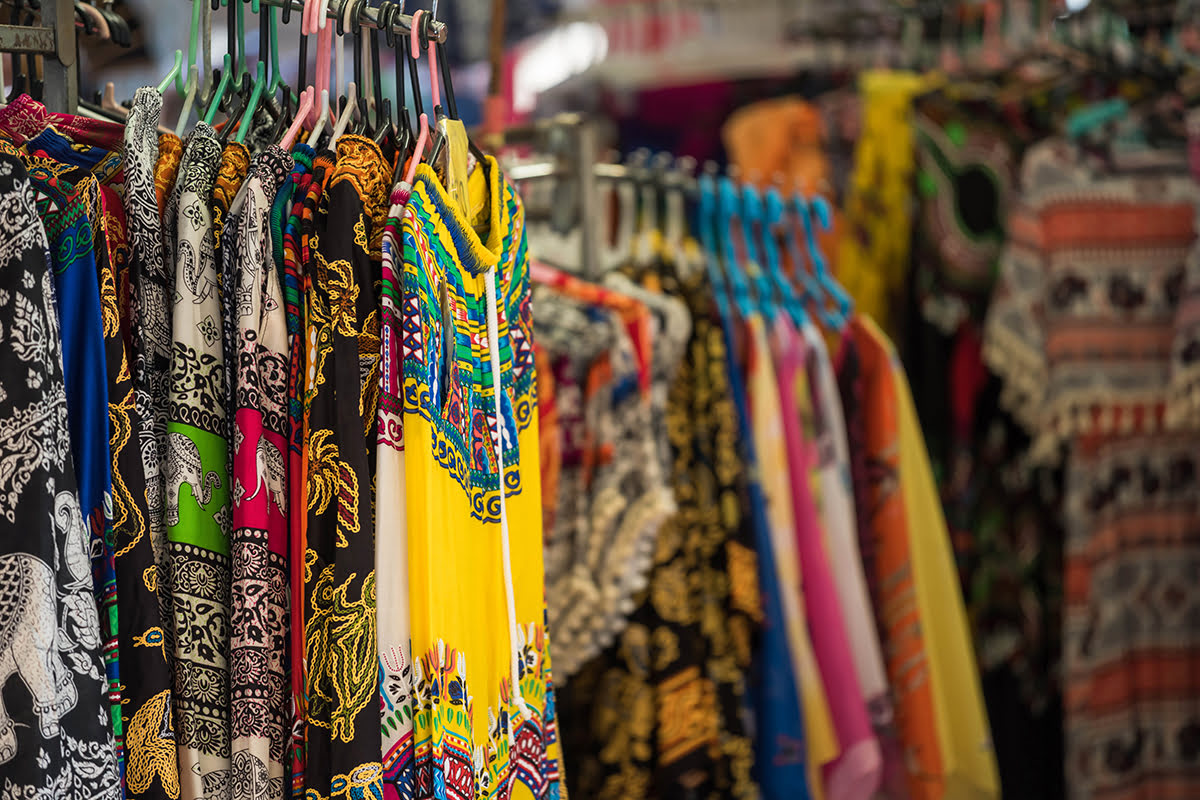 Tips for visiting Chatuchak Market
Chatuchak Market can seem a bit intimidating at first, as it is hard to imagine the sheer size and scope of it before you get there. However, you shouldn't let that put you off from visiting this iconic Bangkok landmark. With a bit of preparation, a strategic shopping approach, and a good attitude, you'll have a great time exploring and finding unique treasures to bring home. Make the most of your visit to Chatuchak Market by following these five tips.
1. Download the app and pick up a map
First-timers to Chatuchak Market should definitely arm themselves with a navigational tool before tackling a shopping trip in this maze of shops and alleyways. If you didn't download the app before arriving, then you can do it here as there is free Wi-Fi available at the market. However, if you cannot download the Chatuchak Guide app, then picking up a map is a must. Even if you do have the app, a backup map can be helpful in case you lose service or power, or if you simply prefer to look at a paper map. Plus, it makes a great free souvenir to take home!
2. Give yourself plenty of time
To really get the full Chatuchak Market experience, you'll want to spend at least half a day here. A full day is best if you have the room in your itinerary. Even if you have an idea of what you want to buy, the best strategy when it comes to shopping at this one-of-a-kind market is to let the sights and sounds lead you to surprising finds. Make sure you and your party decide on a meeting spot in case anyone gets separated! It is recommended that you arrive as close to 9 a.m. as possible so you can browse the shops among smaller crowds as the market begins to fill up for the day. This will also allow you to enjoy cooler temperatures before the afternoon heat comes rolling in. As the day progresses, remember to stay hydrated and opt for some of the many cool treats sold around the market.
3. Dress for success
When you're getting ready to go to Chatuchak Market, it's a good idea to choose a light and comfortable outfit. Shorts, T-shirts, and tank tops are the norm here. Comfortable shoes like sneakers or sandals are a must, as you will be doing a lot of walking, so pick your most trusted pair. As always when traveling around Bangkok, a hat will help to protect you from the strong sun. A good-sized backpack can come in handy as well, especially if you do a lot of shopping and need a place to carry it all. You should also make sure that you have plenty of cash in a secure pocket as many stalls and food vendors are cash-only.
4. Haggle for the best deals
Chatuchak Market already has some of the best deals in town, but there's no reason why you can't try to get an even lower price! Since you don't need to worry about driving a hard bargain, this is a good place to practice your haggling skills if you don't have much experience in it. When you are interested in an item, ask for a price that is a little lower than what you want to pay. Try to stick to your price until the vendor quotes you a deal you are comfortable with. A friendly attitude can go a long way with most of the vendors, who will usually be willing to lower the price within a reasonable limit. Getting around a 10% discount is the norm here, depending on what you are buying.
5. Relax with a foot massage
Even if you wore your most comfortable shoes, Chatuchak Market can quickly tire out your feet. If you need to take a moment to rest, then you should stop by Feel Good Massage. This small but air-conditioned salon located near the west end of the market is a favorite among locals, and for good reason. You can get a high-quality foot massage performed by a talented and experienced massage therapist at a cost of only 150 baht for half an hour, 200 baht for 45 minutes, or 250 baht for 60 minutes. Make sure to come by at least an hour earlier to book your appointment to ensure that there will be an opening for you when you need a break. You will leave feeling completely refreshed and ready to continue shopping or to head out to see some other attractions in the area.
Top attractions around Chatuchak Market
Chatuchak Market may be the main destination in the Chatuchak District and, in fact, in all of north Bangkok, but there are quite a few attractions within easy walking distance that you can visit when you are finished shopping or if you need a mid-day break from the crowds. Here are five other spots worth checking out while you are in the area.
Chatuchak Park
A large green space located between Chatuchak Market and Chatuchak Park MRT Station, Chatuchak Park offers a welcome change of pace from the fast-paced and crowded shopping scene. The park is thin and long and laid out along Phahonyothin Road, one of Thailand's four major highways. Chatuchak Park is among the oldest park in the city, having been completed in 1980 on land that was donated from the State Railway of Thailand. The center of the park is taken up by an artificial lake that is crossed by bridges and beautified with fountains. There is plenty of space to walk and lots of places to sit in the sun or under the shade of a tree while you look over the purchases you made at the market. Chatuchak Park is popular among the locals and has great facilities and food vendors.
Queen Sirikit Park
Just beside Chatuchak Park, to the north of Chatuchak Market, you'll find another beautiful green space known as Queen Sirikit Park. This is an exquisitely landscaped park with numerous small ponds full of fish, lotus flowers, and more than 200 species of water lilies. You'll also find colorful ornamental flower beds as well as many different types of hibiscus, bamboo, and palm tree species. Decorative fountains and lampposts complete the lovely theming. If you like, you can rent a bicycle to explore the wide and spacious paths at Queen Sirikit Park. The park was built in 1992 to commemorate the 60th birthday of the Queen Mother Sirikit. It is a popular place to celebrate Mother's Day, which in Thailand takes place on August 12th, Queen Sirikit's birthday.
Children's Discovery Museum
Located inside Queen Sirikit Park, the Children's Discovery Museum is a great place to go if you've got little ones in tow. It's a nice treat if they were well-behaved while shopping at the market. There are numerous interactive indoor and outdoor exhibits here that will keep kids entertained for hours on end, allowing you to sit down and rest. The exhibits are hands-on and highly educational, teaching kids about nature and the environment, dinosaurs, architecture, the human body, technology, and more. The outdoor area also has water fountains where kids can cool down in hotter temperatures. There's something here to entertain kids of all interests and energy levels. Best of all, entry to the museum is completely free, so you don't have to worry about saving money for admission while shopping.
Rod Fai Park
Completing the trifecta of parks around Chatuchak Market is Rod Fai Park, which lies just to the north of Queen Sirikit Park. Officially known as Wachirabenchatat Park, it was previously used as a golf course, which is why there are so many expansive green spaces today. There are also tennis, basketball, and swimming facilities located here. It is a very popular spot among locals who like to take part in outdoor leisure activities like walking, jogging, and cycling. It is also a popular area for a picnic as there are plenty of shady trees to camp out under. This is a fantastic place for seeing wildlife such as birds, lizards, and turtles in the middle of the city. If you're looking for a time-out in nature away from the bustling streets of Bangkok, Rod Fai Park is an ideal place to unwind.
Bangkok Butterfly Garden and Insectarium
In between Rod Fai Park and Queen Sirikit Park, you will find this serene little sanctuary full of thousands of colorful and intricately patterned butterflies. The Bangkok Butterfly Garden and Insectarium is a lofty, enclosed conservatory covering about 2.4 acres of land area that houses hundreds of different butterfly species, including the Siam Tree Nymph Butterfly, Giant Silkworm Butterfly, and Golden Birdwing Butterfly. Large ferns, beautiful wildflowers, and calming water features mimic the butterflies' natural environments and informative displays explain all about the butterfly lifecycle. The Bangkok Butterfly Garden and Insectarium is a great place for the whole family or anyone in your travel party. It is also a prime spot for taking pictures. To get a great shot for posting on social media, wait for one of the beautiful butterflies to land on your head and snap a pic.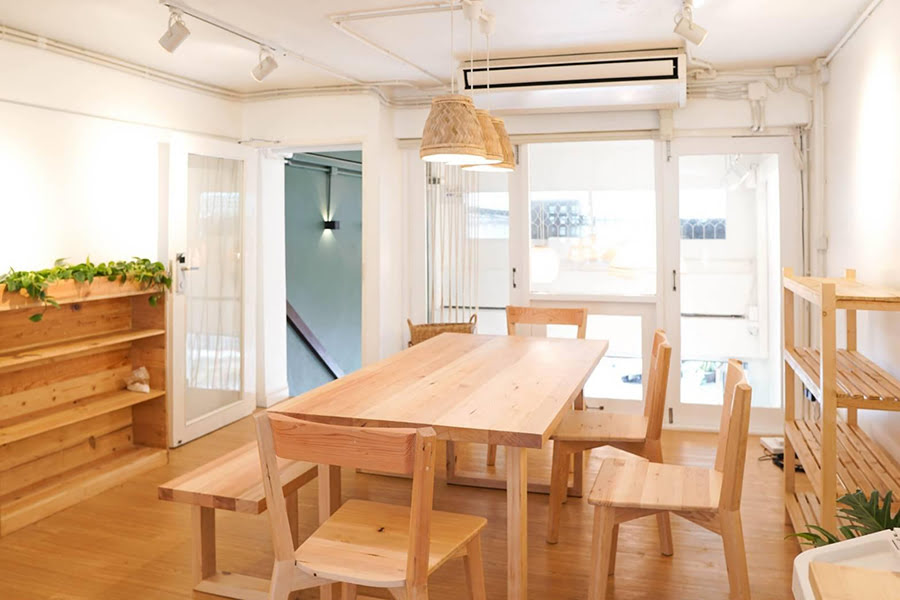 Simple to Sleep Hostel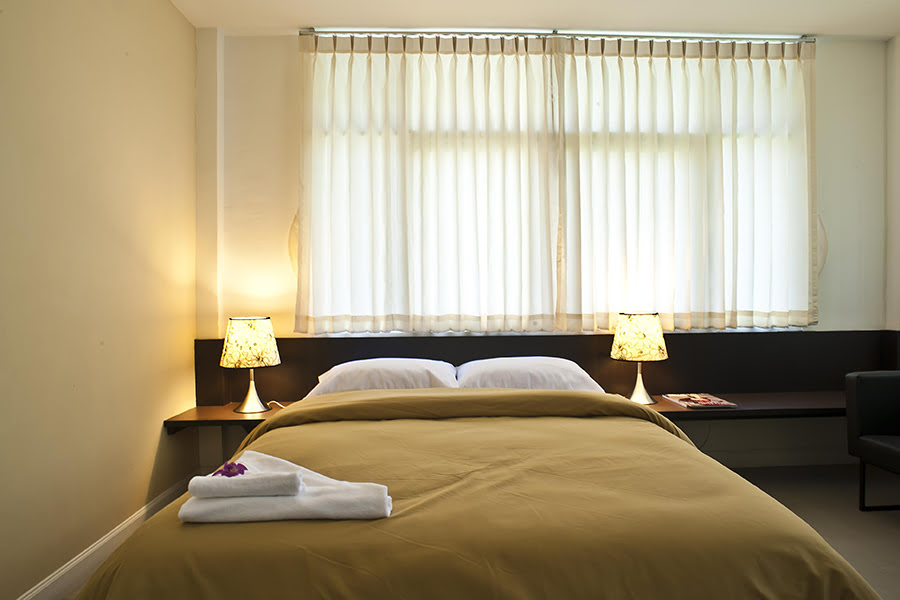 G9 Bangkok Hotel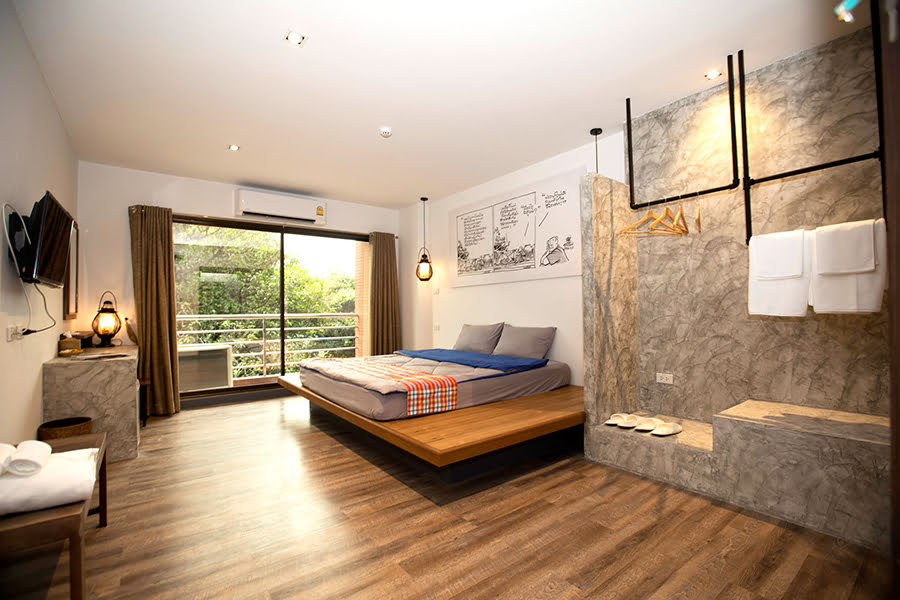 Boutique Poo-Yai Ma @ BP Place
FIND & BOOK A HOTEL IN BANGKOK TODAY