Explore the majesty of Thailand's popular capital city, Bangkok, when you cruise its central river. The Chao Phraya, or River of Kings, swirls through the dense urban glory of skyscrapers, markets, mansions, temples and iconic neighborhoods full of homes, shopping and gorgeous green space. Many travelers choose Bangkok as their starting base and point of return when discovering the jungles or towns of Thailand–and there's a lot to see in this magnificent destination. Soak in the highlights of the city with a river cruise that meanders past memorable landmarks and showcases the best cityscapes you can see during your trip here. While many cities are made for walking, Bangkok is made for cruising. Discover the different ways you can float through Asia's City of Angels and things to see during the cruises in Bangkok.
Bangkok River Tours Set Sail Through The City
Cruising Bangkok is both relaxing and invigorating. Let the steady tides of the river carry you through the city, giving you the chance to marvel at the panoramas, take amazing pictures and meet other travelers who love the drama of Thailand just like you.
City cruises are a low-key way to see a lot in a comfortable amount of time. They offer a slower pace than a city bus tour, but they're able to show off more than just walking or negotiating taxi cabs. The tempo is perfect for anyone who wants to immerse themselves in the visual appeal of Bangkok.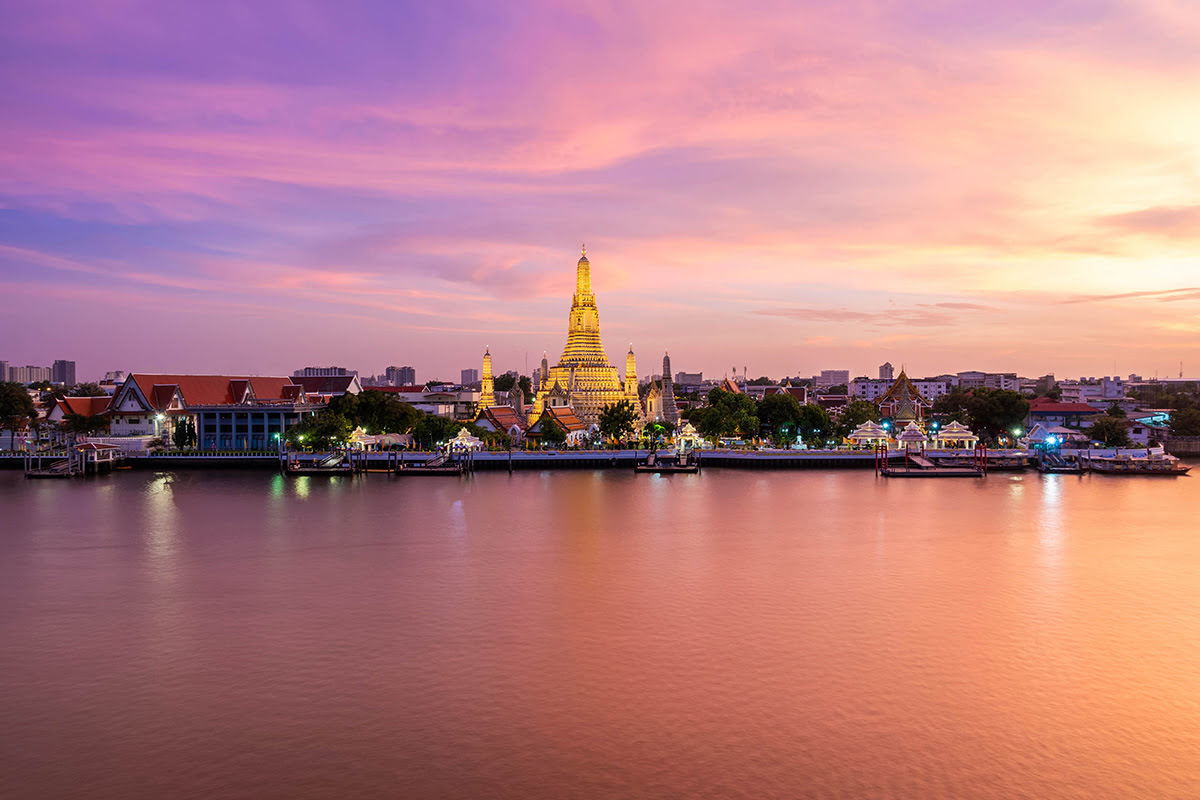 What You'll See During Cruises in Bangkok
The list of sights you can see from Bangkok's Chao Phraya River is monumental. City cruises are often a favorite with travelers because you can see so much from an incredible vantage. In Bangkok and Thailand's other areas, much of life happens along the waterways, making it even more significant.
Check out the array of landmarks and icons you can view from traditional and modern Thai boats. Some cruise tours may allow you to hop on and hop off to see deeper into the city's favorite spots.
Temple Of The Reclining Buddha (Wat Pho)
The Reclining Buddha is a can't-miss for anyone making their way through Bangkok. It ranks with Bangkok's largest temples and features the Buddha in repose. The exterior gleams with a gold-leaf finish worthy of worship.
Nearest pier to Wat Pho: Tha Thien Pier (N8).
Temple Of Dawn (Wat Arun)
Wat Arun is one of the main reasons people visit Thailand. Made famous by its glistening spires and fantastic height against the backdrop of the city, Wat Arun is exceptional to view during the day or lit up at night.
Nearest pier to Wat Arun: Wat Arun Ratchawararam pier
Grand Palace
Another iconic spot to see, the Grand Palace was the original home of Thailand's kings. The monarchy in Thailand is very important to its people, who uphold their king as not just head of state, but an adherent of Buddhism. The grounds also contain the Temple of the Emerald Buddha or Wat Phra Kaew, a site revered as highly sacred by locals. When visiting, be certain to follow the dress code–no shorts and no sleeveless shirts.
Nearest pier to The Grand Palace: Tha Chang Pier (N9).
National Museum of Royal Barges
The National Museum of Royal Barges offers a fabulous collection of royal barges. The procession of these barges is one of Bangkok's most beloved traditions, but the king reserves processions for special occasions, so not all travelers get to see one. At this museum, you can take a closer look at the painstaking detail that goes into eight different barges, carved from teak and ornamented with gold leaf, bright colors and carvings of legendary figures.
Nearest pier to the National Museum of Royal Barges: Wang Lang (N10).
Khao San Road
When you're in more of a party mood, Khao San Road is the place to be. Known as a hub for backpackers and locals who love to hang out, you can find an energetic vibe here that levels up from the rest of Bangkok's vibrant atmosphere. Check out bars, restaurants, tattoo parlors and more before getting back on your riverboat or cruise tour.
Nearest pier to Khao San Road: Tha Phra Arthit (N13)
The Beauty of the Chao Phraya River
Experiencing the Chao Phraya River may become one of your most treasured memories from your time in Bangkok. The river is the lifeblood of the city, running in a ribbon through several towns in Thailand before meeting the beauty of Bangkok and eventually flowing southward into the Gulf of Thailand.
You may find an abundance of life along this river. Cruising Bangkok gives you the chance to see how many different kinds of lifestyles exist in this city, especially if you begin to traverse the canals that diverge from the main river.
Bangkok's Canals
The canals are a major part of life here. They're called khlongs in Thai, but many foreigners or non-native speakers use the word interchangeably. You can feel confident using the local term and sounding both natural and informed. Cruise Bangkok's khlongs on a group tour or as part of a spontaneous adventure to see for yourself how these secondary and tertiary waterways foster culture and community.
Some of Thailand's most important landmarks are along these canals. Since this is a major draw for travelers, it gives you a great chance to follow the waters deeper into the city.
On the way to main attractions, keep your eyes peeled for signs of daily living and commerce, like shipments of teak floating to port. Teak, a strong wood with an attractive natural grain, is one of Thailand's most noteworthy exports.
Market life often happens in the khlongs. Here, the pace slows even more so that you can truly understand the hidden rhythms of Bangkok behind its glimmering river shores and one-of-a-kind skyline.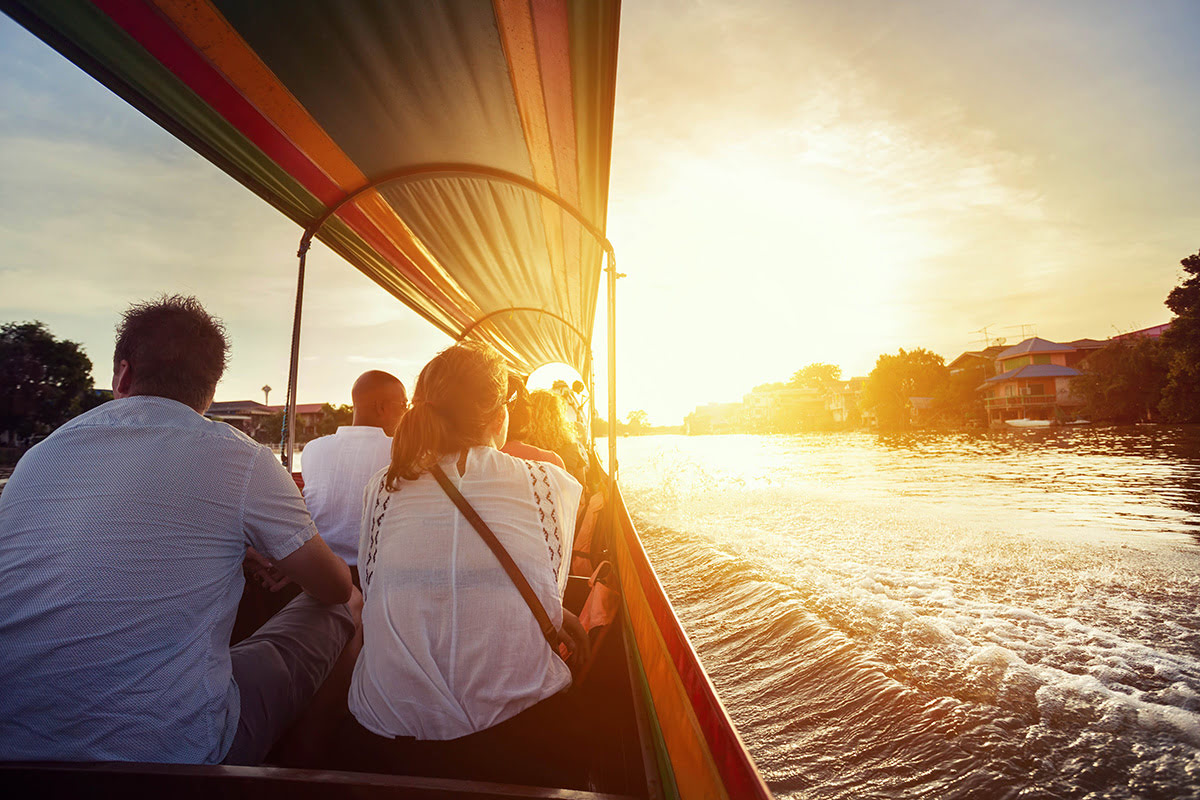 Thai Riverboats Are Made for Cruising
Getting in and around the waterways of Bangkok is made easy thanks to several different types of boats. Each is designed for a unique style of travel or for cruising particular waters.
Water travel is extremely common in Bangkok. Think of it in some neighborhoods as being similar to catching a bus to go to another part of town. Much like New York City's subways, you can use the boats of Bangkok to go to dazzling attractions, to transfer into other areas of the city or to sit back and people watch for awhile while deciding what to do next.
Learn about the six main kinds of boats you can enjoy on your tour around Bangkok
Chao Phraya Express: These express boats zoom you from one pier to the next. Take them when looking to cover distance.
Ferries: The ferries cross the Chao Phraya River. They can take you into different neighborhoods that are slightly more removed from the main current of the river. Ferry stops are still central within the city.
Private River Cruises: These cruises include dinner cruises, sightseeing tours and guided boat rides that may share fun facts with travelers to orient you to what you're viewing.
Long Tail Boats: This style of boat is a typical, authentic Thai watercraft. Experience it when you take some sightseeing tours or when you travel into slower waters. The low sides give you a great view of what's around you.
Canal Boats: These peaceful watercraft are the way into the khlongs. Compact and often community-oriented, they are an authentic way to cruise Bangkok.
Hotel Shuttles: Many hotels help you get around by providing you with shuttle service. Much like ground transportation, these shuttles can take you to the landmarks you want to see most.
Check In to Ramada Plaza Bangkok Menam Riverside, Step Out to Aistique – The Riverfront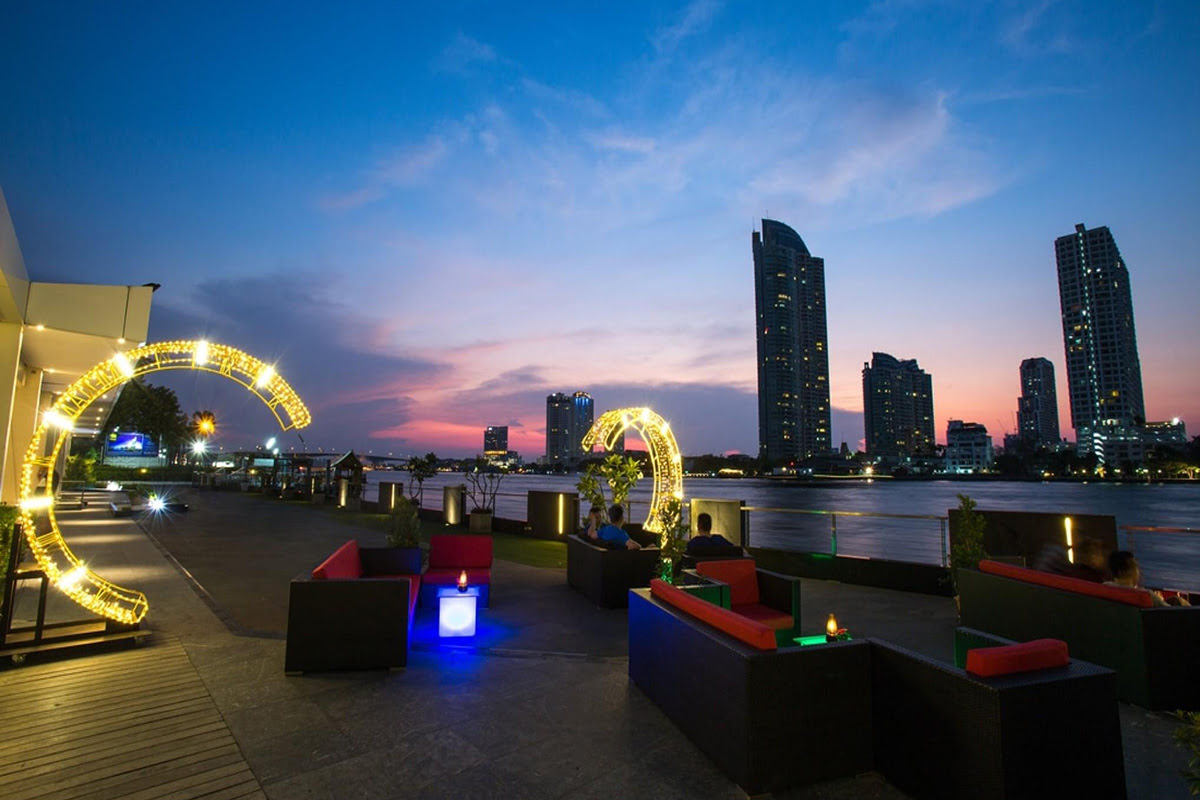 FIND & BOOK A HOTEL IN BANGKOK TODAY
Dinner Cruises for Sunset and Beyond
Enhance your cultural experience when you take a dinner cruise in Bangkok. These cruises combine the unique beauty of the city from the Chao Phraya River or other nearby waters while treating you to the rich array of flavors and textures that have made Thai cuisine a favorite around the world.
These cruises may feature communal seating or tables of small groups. Others have private tables, just like in Bangkok's finest restaurants.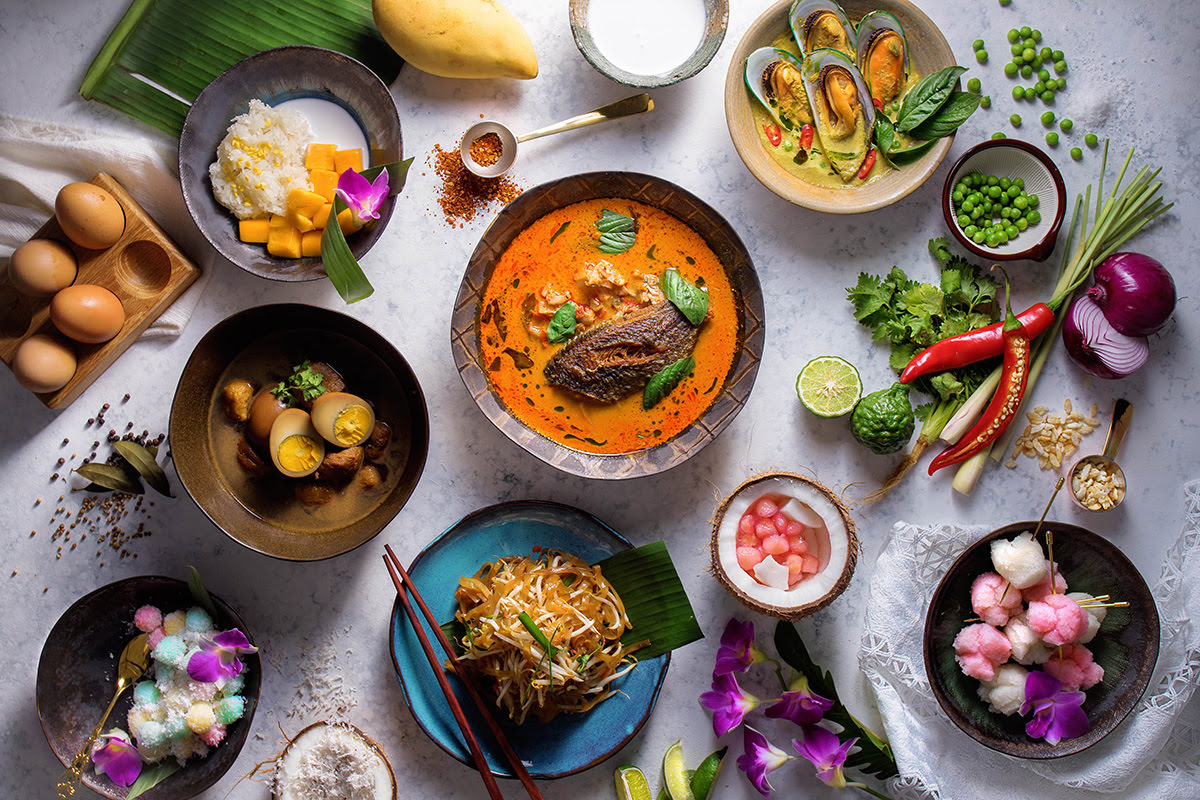 Thailand's Culinary Delights
Cuisine in Thailand is a wondrous experience. Flavored and fragranced with spices, herbs, exotic produce, tropical layers and rich aftertastes, the meals you enjoy on a Bangkok cruise leave a lasting impression. Look for classic local and international dishes.
Thai curry is beloved all around the world. The paste infuses a protein, like tofu or chicken, plus a medley of vegetables with mouthwatering flavor. Often, lemongrass leads with a remarkable aroma.
Rice and rice noodles are a staple. Rice is often of the jasmine variety and imparts a sweet flavor. Rice noodles may come in soups or on their own to be doused in sauce or protein-based main courses.
Fermented vegetables are popular and may be heavily spiced to complement the tangy bite of vinegar or other pickling.
Stir-fries may be popular on some cruises. This preparation style comes from China, but many skilled Thai chefs adopt the techniques for local flavors like coconut, pineapple or lime.
What to Wear for Dinner Cruises in Bangkok
When enjoying a dinner cruise in Bangkok, wear clothing that is comfortable, yet refined. Cruises may include white tablecloth service, beautiful orchids or other flowers in a vase, plus fine furniture, made of local wood or rattan.
In these instances, you definitely want to dress to impress. You'll be glad you did once you see the glamour of major world attractions lit up against Bangkok's nighttime skyline.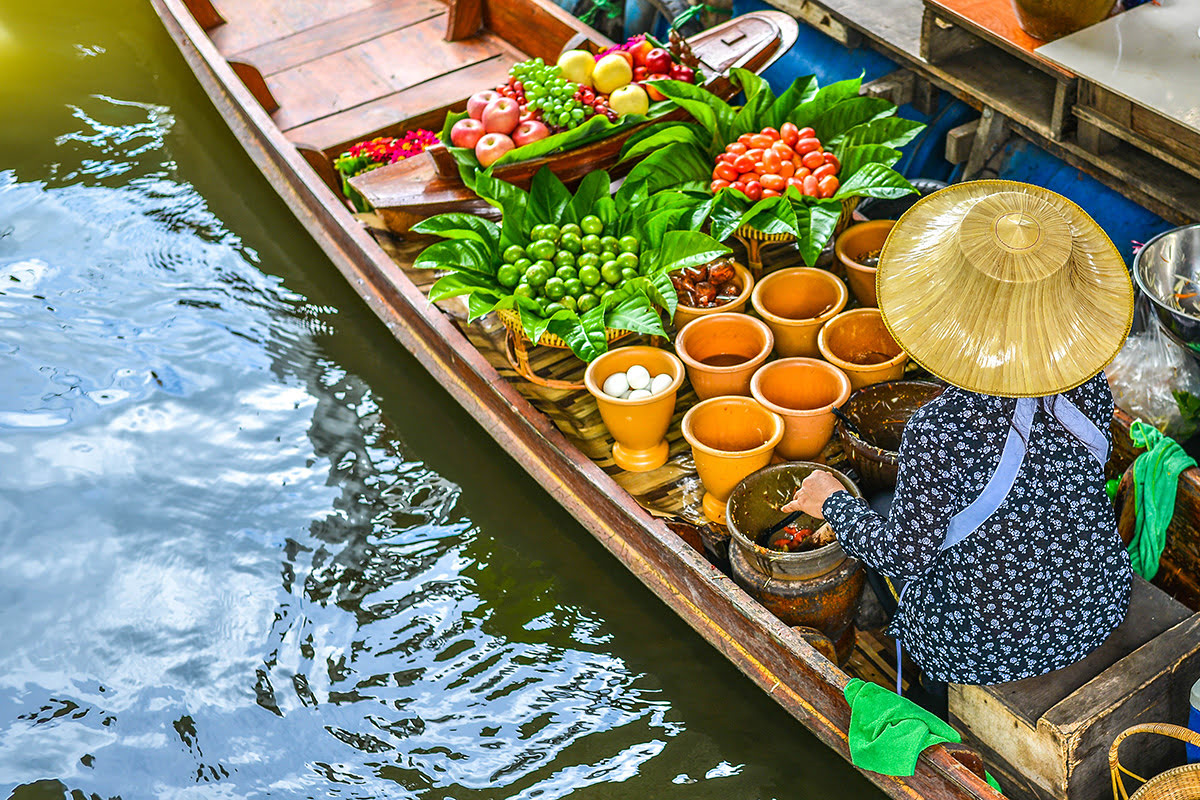 Floating Markets Showcase Authentic Culture
Traveling by boat through the waterways of Bangkok allows you to visit the floating markets. Here, merchants set up their wares, including food, textiles, toys and more, on their boats or along piers and the banks of canals or khlongs.
Locals and travelers alike meet the merchants in their own boats, often as part of a group if you're traveling, and buy from where they are. In many cases, there's no need to disembark.
The Markets To Visit When Cruising Bangkok
Check out some of the best floating markets in/near Bangkok to explore goods and wares you can enjoy while traveling or once back home.
Check In to CHANN Bangkok-Noi, Step Out to Taling Chan Floating Market
FIND & BOOK A HOTEL IN BANGKOK TODAY